Table of contents: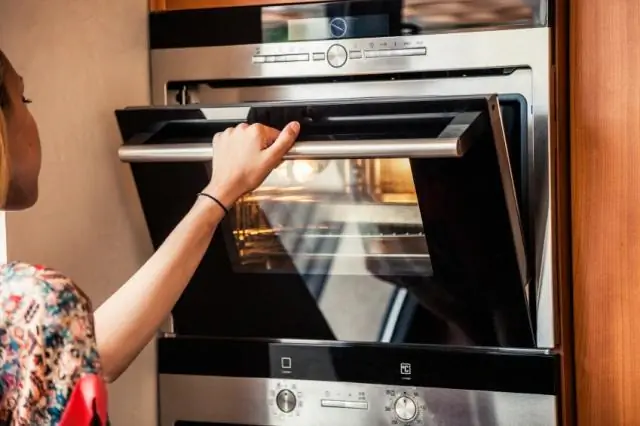 Video: Ovenkor - Instructions For The Use Of Tablets, Price, Analogs, Reviews
Ovenkor
Ovenkor: instructions for use and reviews
1. Release form and composition
2. Pharmacological properties
3. Indications for use
4. Contraindications
5. Method of application and dosage
6. Side effects
7. Overdose
8. Special instructions
9. Application during pregnancy and lactation
10. Use in childhood
11. For violations of liver function
12. In case of impaired renal function
13. Drug interactions
14. Analogs
15. Terms and conditions of storage
16. Terms of dispensing from pharmacies
17. Reviews
18. Price in pharmacies
Latin name: Ovenkor
ATX code: C10AA01
Active ingredient: simvastatin (simvastatin)
Manufacturer: Ozone, LLC (Russia)
Description and photo update: 2018-25-10
Prices in pharmacies: from 129 rubles.
Buy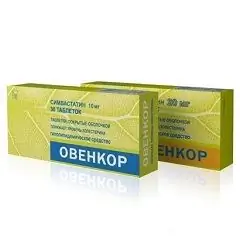 Ovenkor is a drug with hypolipidemic action.
Release form and composition
Ovenkor dosage form - coated tablets: white, round biconvex (10 or 30 pieces in blisters, in a cardboard box 10, 20, 40, 60, 80 and 100 packages; 10, 14, 20, 28, 30, 40, 50 or 100 pcs. In polymeric containers, in a cardboard box 1 container).
Composition of 1 tablet:
active substance: simvastatin - 10 or 20 mg;
auxiliary components: polyethylene glycol-4000, talc, titanium dioxide, castor oil, butylhydroxyanisole, microcrystalline cellulose, ascorbic acid, lactose, citric acid, corn and pregelatinized starches, magnesium stearate, hydroxypropyl methylcellulose.
Pharmacological properties
Pharmacodynamics
Ovenkor is one of the hypolipidemic agents obtained synthetically from the fermentation product of the pathogenic fungus-saprophyte Aspergillus terreus. Inactive lactone in the body is metabolized with the subsequent formation of a hydroxy acid derivative.
The active metabolite of simvastatin inhibits 3-hydroxy-3-methyl-glutaryl-CoA reductase (HMG-CoA reductase). This enzyme catalyzes the initial reaction of formation of mevalonate from HMG-CoA. The conversion of HMG-CoA to mevalonate is an early stage in the synthesis of cholesterol; therefore, the use of simvastatin does not lead to the accumulation of potentially toxic sterols in the body. HMG-CoA is easily metabolized to acetyl-CoA, which takes part in many synthesis processes in the body.
The main properties of simvastatin:
a decrease in the plasma content in the blood of TG (triglycerides), LDL and VLDL (low and very low density lipoproteins) and total cholesterol (with heterozygous familial and non-familial forms of hypercholesterolemia, with mixed hyperlipidemia, high cholesterol is a risk factor);
an increase in HDL (high density lipoprotein) and a decrease in the ratio of LDL to HDL and total cholesterol to HDL.
The effect of therapy appears 14 days after the start of the systematic intake of Ovenkor. The time to reach the maximum therapeutic effect is 4–6 weeks. With continued treatment, the effect persists, after discontinuation of the drug, a gradual return of the cholesterol content to the initial level is observed.
Pharmacokinetics
Simvastatin is highly absorbed. The maximum concentration in blood plasma after oral administration is reached in about 1.3–2.4 hours, after 12 hours it decreases by 90%. The connection with blood plasma proteins is approximately 95%.
It has the effect of the first passage through the liver: hydrolysis with the formation of an active derivative - beta-hydroxy acids, other active and inactive metabolites are also found.
The half-life of active metabolites is 1.9 hours.
It is excreted mainly in the form of metabolites with feces (60%). In the inactive form, the kidneys are excreted approximately 10-15%.
Indications for use
hypercholesterolemia: primary hypercholesterolemia (type IIa and IIb) in patients with an increased risk of coronary atherosclerosis in cases of ineffectiveness of diet therapy with low cholesterol and other non-drug measures (weight loss and exercise); a combination of hypercholesterolemia and hypertriglyceridemia, which are not corrected by adherence to a special diet and physical activity;
Ischemic heart disease (coronary artery disease): to prevent myocardial infarction, reduce the risk of cardiovascular disorders (stroke or transient ischemic seizures), death, revascularization procedures, and to slow the progression of coronary atherosclerosis.
Contraindications
Absolute:
liver disease in the active phase, a persistent increase in the activity of liver enzymes of unknown origin;
porphyria;
myopathy;
age up to 18 years;
pregnancy and lactation;
an individual intolerance to any component of the drug, as well as other statin drugs (HMG-CoA reductase inhibitors) in history.
Relative (Ovenkor is appointed under medical supervision):
excessive alcohol consumption;
arterial hypotension, acute infectious diseases in a severe course, pronounced endocrine / metabolic disorders, disturbances in the water and electrolyte balance, trauma, surgical interventions (including dental ones) or other conditions in which the development of severe renal failure may occur;
conditions after organ transplantation during therapy with immunosuppressants (associated with an increased risk of renal failure and rhabdomyolysis);
epilepsy;
decreased / increased tone of skeletal muscles of unknown origin.
Ovenkor instructions for use: method and dosage
Ovenkor is taken orally 1 time a day in the evening, washed down with water in sufficient quantity. The time of taking the drug should not be associated with food intake.
Before starting the use of Ovenkor, the patient is prescribed a standard hypocholesterol diet, which should be followed throughout the course of treatment.
With hypercholesterolemia, the daily dose ranges from 10–80 mg.
The recommended starting dose for hypercholesterolemia is 10 mg. The maximum is 80 mg per day. Changes (selection) of the dose should be carried out at intervals of 4 weeks. In most cases, the optimal effect is observed when taking the drug in a daily dose of up to 20 mg.
With homozygous hereditary hypercholesterolemia, Ovenkor is usually prescribed 40 mg in 1 dose or 80 mg in 3 doses (20 mg in the morning and afternoon, 40 mg in the evening).
Effective doses of Ovenkor in case of ischemic heart disease or the presence of a high risk of its development are 20-40 mg per day. At the beginning of therapy, 20 mg is usually prescribed, the dose can be increased with a 4-week break. If the LDL content is less than 75 mg / dL (1.94 mmol / L) and total cholesterol is less than 140 mg / dL (3.6 mmol / L), the dose is reduced.
At a maximum dose of 10 mg, Ovenkor is prescribed for CRF (chronic renal failure) with CC (creatinine clearance) less than 30 ml / min or against the background of combination therapy with cyclosporine, danazol, gemfibrozil or other fibrates (with the exception of fenofibrate), niacin in lipid-lowering doses (up to 1000 mg per day). With simultaneous use with amiodarone or verapamil, the daily dose of Ovenkor should not exceed 20 mg.
Side effects
digestive system: abdominal pain, constipation / diarrhea, flatulence, nausea, pancreatitis, hepatitis, vomiting, increased activity of liver enzymes, alkaline phosphatase and CPK (creatine phosphokinase);
sensory organs and nervous system: headache, asthenic syndrome, peripheral neuropathy, dizziness, insomnia, paresthesias, muscle cramps, impaired taste, blurred vision;
immunopathological and allergic reactions: hot flashes, eosinophilia, skin hyperemia, arthritis, vasculitis, angioedema, rheumatic polymyalgia, thrombocytopenia, increased ESR, reversible drug-induced lupus-like syndrome, fever, urticaria, photosensitivity, shortness of breath;
dermatological reactions: rarely - dermatomyositis, skin rash, alopecia, itching;
musculoskeletal system: weakness, myopathy, muscle cramps, myalgia; rarely - rhabdomyolysis;
other reactions: palpitations, anemia, decreased potency, acute renal failure.
Overdose
Specific symptoms of Ovenkor overdose have not been identified (cases of taking the drug at a dose of 450 mg are known)
Therapy: measures aimed at reducing the absorption of the substance (induction of vomiting, intake of activated carbon); symptomatic treatment under the control of kidney and liver function, serum CPK levels.
In the case of the development of myopathy with rhabdomyolysis and acute renal failure (the violation is rare, but it can be severe), Ovenkor's reception is immediately canceled, the administration of a diuretic and sodium bicarbonate (by intravenous infusion) is indicated. If necessary, hemodialysis is performed.
Rhabdomyolysis can cause hyperkalemia, which is controlled by intravenous calcium chloride or calcium gluconate, glucose infusion in combination with insulin, potassium ion exchangers, or, in severe cases, by hemodialysis.
special instructions
At the beginning of treatment, there may be a transient increase in the level of liver enzymes.
Before prescribing the drug and regularly in the future, studies of hepatic function should be carried out. The frequency of monitoring the activity of liver enzymes: the first three months - every 6 weeks, then during the remaining first year - once every two months, then - once every six months. Functional tests to measure liver function are also done at higher doses. If the dose is increased to 80 mg per day, control should be carried out once every three months. Ovenkor is discontinued in cases of a persistent increase in transaminase activity (3 times compared to the initial level).
During pregnancy, the abolition of lipid-lowering drugs does not have a significant effect on the results of long-term therapy of primary hypercholesterolemia.
Ovenkor is not recommended for women of childbearing age who do not use contraceptives.
If you have decreased thyroid function (hypothyroidism) or if you have some kidney disease (nephrotic syndrome) if your cholesterol level is high, the underlying disease should be treated first.
Taking Ovenkor can lead to the development of myopathy with the subsequent occurrence of rhabdomyolysis and renal failure.
If you experience unexplained pain, muscle soreness, muscle weakness, or lethargy, you should consult your doctor, especially if the disorder is accompanied by fever or malaise. If myopathy is suspected / diagnosed, therapy is discontinued.
To diagnose the occurrence of myopathy, it is recommended to regularly measure the value of CPK. In the differential diagnosis of chest pain, the drug should be taken into account.
Ovenkor is effective as monotherapy and when combined with bile acid sequestrants.
The doctor determines the duration of treatment individually.
Application during pregnancy and lactation
According to the instructions, Ovenkor is contraindicated for women during pregnancy / lactation.
There is limited data on the development of abnormalities in newborns whose mothers took the drug. Women of childbearing age who are taking simvastatin must use contraceptive methods. When pregnancy occurs, Ovenkor is immediately canceled.
Pediatric use
For patients under 18 years of age, the drug is not prescribed (the effectiveness and safety of Ovenkor in this group of patients have not been established).
For violations of liver function
Ovenkor is contraindicated in patients with liver disease in the active phase and a persistent increase in the activity of liver enzymes of unknown origin.
With impaired renal function
In severe renal failure, therapy should be carried out under the control of renal function.
Drug interactions
erythromycin, immunosuppressants, telithromycin, clarithromycin, cytostatics, antifungal agents (ketoconazole, itraconazole), nefazodone, fibrates, high doses of nicotinic acid, HIV protease inhibitors: increased risk of myopathy;
danazol, cyclosporine, gemfibrozil and other fibrates (excluding fenofibrate), niacin, amiodarone, verapamil, diltiazem: risk of myopathy / rhabdomyolysis;
oral anticoagulants (phenprocoumon, warfarin): risk of bleeding, monitoring of blood clotting parameters is required before starting treatment and quite often in the initial period of therapy;
digoxin: an increase in its plasma level;
colestipol, cholestyramine: decreased bioavailability (Ovenkor can be taken 4 hours after taking these drugs, while the development of an additive effect is noted);
grapefruit juice (more than 1000 ml per day): a significant increase in the level of inhibitory activity against HMG-CoA reductase in blood plasma (the combination should be avoided).
Analogs
Ovenkor's analogs are: Simvalimit, Sinkard, Zorstat, Simvastatin, Holvasim, Simgal, Zokor, Simvor, Simlo, Vazilip, Simvastol.
Terms and conditions of storage
Store in a place protected from light and moisture at temperatures up to 25 ° C. Keep out of the reach of children.
The shelf life is 3 years.
Terms of dispensing from pharmacies
Dispensed by prescription.
Reviews about Ovenkor
According to reviews, Ovenkor is an effective drug. At the same time, it is noted that in order to achieve a decrease in cholesterol indicators, adherence to the prescribed diet is required. There is evidence of the development of significant side effects that lead to discontinuation of therapy.
Price for Ovenkor in pharmacies
The price of Ovenkor is unknown, since the drug is not available in pharmacies. The approximate price for analogs is: Simvastatin (30 tablets of 10 mg) - from 41 rubles, Vasilip (14 tablets of 10 mg) - from 124 rubles.
Ovenkor: prices in online pharmacies
Drug name
Price
Pharmacy
Ovenkor 10 mg film-coated tablets 30 pcs.
129 RUB
Buy
Ovenkor 20 mg film-coated tablets 30 pcs.
193 r
Buy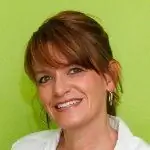 Maria Kulkes Medical journalist About the author
Education: First Moscow State Medical University named after I. M. Sechenov, specialty "General Medicine".
Information about the drug is generalized, provided for informational purposes only and does not replace the official instructions. Self-medication is hazardous to health!
Popular by topic