Table of contents: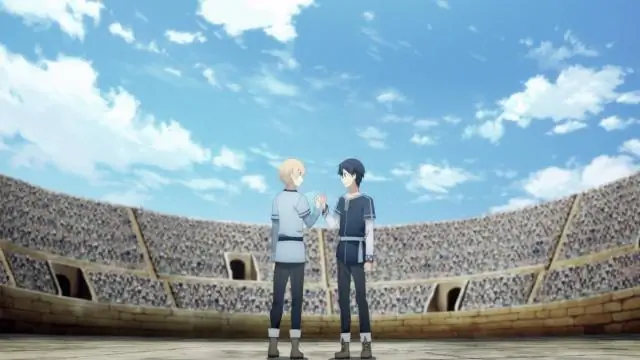 Rulid
Rulid: instructions for use and reviews
1. Release form and composition
2. Pharmacological properties
3. Indications for use
4. Contraindications
5. Method of application and dosage
6. Side effects
7. Overdose
8. Special instructions
9. Application during pregnancy and lactation
10. Use in childhood
11. In case of impaired renal function
12. For violations of liver function
13. Use in the elderly
14. Drug interactions
15. Analogs
16. Terms and conditions of storage
17. Terms of dispensing from pharmacies
18. Reviews
19. Price in pharmacies
Latin name: Rulid
ATX code: J01FA06
Active ingredient: roxithromycin (roxithromycin)
Producer: Sanofi-Winthrop Industry (France)
Description and photo updated: 2019-27-08
Prices in pharmacies: from 1032 rubles.
Buy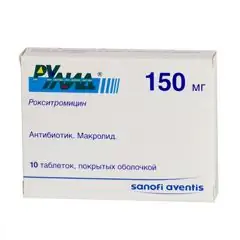 Rulid is an antibiotic belonging to the macrolide group.
Release form and composition
Dosage form - tablets, film-coated: round, convex on both sides, white, with engraving "164" on one side; on a cross section - white (in blisters of 10 tab., in a cardboard box 1 blister and instructions for use of Rulid).
Active ingredient: roxithromycin - 150 mg in 1 tablet.
Auxiliary components: povidone K30, poloxamer, corn starch, talc, colloidal silicon dioxide, hyprolose, magnesium stearate.
Shell composition: dextrose, propylene glycol, titanium dioxide, hypromellose.
Pharmacological properties
Pharmacodynamics
The active ingredient in Rulid is roxithromycin, which is a semi-synthetic antibiotic from the macrolide group.
Shows activity against the following microorganisms: Clostridium spp. (including Clostridium perfringens), Chlamydia trachomatis, Chlamydia pneumoniae, Chlamydia psittaci, Campylobacter jejuni, Moraxella (Branhamella) catarrhalis, Borrelia burgdorferi, Bordetella pertussis, Campylobacter coli, Gardnebacterium sulphate, Gardinercus sulphate, Gardine bacteria meningitidis, Porphyromonas spp., Streptococcus spp., Propionibacterium acnes, Peptostreptococcus spp., Listeria monocytogenes mobiluncus, Legionella pneumophila, Streptococcus pneumoniae, Pasteurella multocida, Rhodococcus Stalin.
Ureaplasma urealyticum, Haemophilus influenzae and Vibrio cholerae are moderately susceptible to roxithromycin.
Resistant to the action of Rulid: Methi-R Staphylococcus, Bacteroides fragilis, Mycoplasma hominis, Pseudomonas spp., Enterobacteriaceae, Nocardia, Fusobacterium, Acinetobacter spp.
Pharmacokinetics
After oral administration, the drug is rapidly absorbed. In the acidic environment of the stomach, roxithromycin is more stable than other macrolides. When taken 15 minutes before meals, no changes in pharmacokinetics are noted.
After taking Rulid at a dose of 150 mg, the maximum concentration of the drug in the blood (C max) in adults is reached after 2.2 hours and averages 6.6 ml / l. The half-life (T ½) after a single dose of 150 mg is 10.5 hours. When using the drug at a dose of 150 mg 2 times a day for 10 days, the equilibrium plasma state is achieved between 2-4 days, C max is 9.3 mg / l. Taking Rulid at 12-hour intervals ensures that therapeutic plasma concentrations are maintained throughout the day.
After a single dose of 300 mg, C max is reached after 1.5 hours and is 9.7 mg / l. Taking Rulid 300 mg every 24 hours for 11 days provides a C max of 10.9 mg / l.
In children, C max with a double intake of a daily dose of 2.5 mg / kg is determined after 2 hours and is 8.7-10.1 mg / l.
Roxithromycin penetrates well into many tissues of the body (especially the lungs, palatine tonsils and prostate gland). It penetrates well into cells, especially into neutrophilic leukocytes and monocytes, and stimulates their phagocytic activity.
96% binds to blood proteins. The binding is saturable, with a concentration of roxithromycin above 4 mg / l it decreases.
Roxithromycin is partially metabolized. It is excreted mainly unchanged with feces and urine. In an adult with normal liver and kidney functions, 65% of the drug is excreted in the feces.
In renal failure, the excretion of roxithromycin and its metabolites by the kidneys is about 10% of the dose received, but there is no need to adjust the dose of Rulid.
In patients with severe hepatic impairment, C max and T ½ increase.
Roxithromycin passes into breast milk in small quantities (no more than 0.05% of the dose).
Indications for use
respiratory tract infections: sinusitis, tonsillitis, acute pharyngitis, bronchitis, pneumonia (including those caused by atypical pathogens such as Moraxella (Branhamella) catarrhalis, Chlamydia pneumonia, Legionella pneumophila, Chlamydia psittaci), bacterial infections in chronic obstructive pulmonary diseases;
infections in odontology;
genital infections (excluding gonorrhea), including cervicovaginitis and urethritis;
infections of the skin and soft tissues.
Contraindications
simultaneous use of ergot alkaloids (ergotamine and dihydroergotamine), cisapride, colchicine;
glucose-galactose malabsorption;
children under 4 years old and weighing up to 40 kg;
period of pregnancy and lactation;
hypersensitivity to Rulid components or other macrolides.
Carefully:
severe renal failure;
myasthenia gravis;
congenital lengthening of the QT interval;
conditions contributing to the occurrence of cardiac arrhythmias (clinically significant bradycardia, uncorrected hypomagnesemia or hypokalemia);
simultaneous use of drugs that can lead to the development of ventricular arrhythmias;
elderly age.
Rulid, instructions for use: method and dosage
Rulid tablets should be taken orally before meals: swallow whole and drink plenty of water.
Adults and children weighing more than 40 kg are prescribed 1 tablet 2 times a day (at intervals of 12 hours). Adults can take 2 tablets once a day.
Patients with hepatic impairment are prescribed 1 tablet 1 time per day.
The duration of treatment is determined individually, depending on the type of infection, the activity of the pathogen and the severity of the course of the disease.
Side effects
skin and allergic reactions: skin rashes, urticaria, erythema multiforme, purpura, redness, urticaria, weakness, angioedema, toxic epidermal necrolysis, Stevens-Johnson syndrome; rarely - anaphylactic shock;
from the gastrointestinal tract: abdominal pain, nausea, vomiting, diarrhea (in some cases with blood); in some cases - pancreatitis, pseudomembranous colitis;
from the central nervous system: paresthesia, headache, dizziness;
from the side of the psyche: confusion, hallucinations;
from the respiratory system: bronchospasm;
from the senses: changes in smell (including anosmia) and taste (including ageusia);
from the hearing organs: tinnitus, hypoacusia (incomplete hearing loss), temporary hearing loss;
from the liver: increased liver enzymes, hepatocellular or cholestatic acute hepatitis, sometimes with the development of jaundice;
from the blood and lymphatic system: thrombocytopenia, neutropenia, agranulocytosis, eosinophilia;
others: superinfection.
Overdose
In case of an overdose of Rulid, gastric lavage should be performed. Further treatment is symptomatic. There is no specific antidote to roxithromycin.
special instructions
When Rulid is prescribed to patients with hepatic insufficiency, liver function should be monitored during treatment.
If you suspect the development of pseudomembranous colitis, Rulid should be canceled immediately. You can not take drugs that inhibit intestinal peristalsis.
Influence on the ability to drive vehicles and complex mechanisms
During treatment, care must be taken when driving and performing work that requires speed of reactions and increased attention. In case of the development of side effects from the central nervous system (for example, dizziness, confusion, etc.), you should refrain from potentially dangerous activities.
Application during pregnancy and lactation
Rulid tablets are contraindicated for use during pregnancy.
If treatment is required during lactation, breastfeeding should be discontinued.
Pediatric use
Rulid's appointment is contraindicated in children weighing less than 40 kg. Also, this dosage form is not used in children under 4 years of age.
With impaired renal function
Patients with renal insufficiency should not exceed the daily dose of Rulid 300 mg (150 mg 2 times a day).
For violations of liver function
Patients with hepatic impairment should not exceed the daily dose of Rulid 150 mg.
Use in the elderly
Elderly patients do not need to adjust the dose of Rulid.
Drug interactions
Simultaneous use is contraindicated:
vasoconstrictor ergot alkaloids (dihydroergotamine and ergotamine): the risk of developing ergotism and necrosis of limb tissues increases;
colchicine: its potentially fatal side effects increase;
cisapride: May prolong the QT interval and / or cause cardiac arrhythmias (usually with pirouette-type ventricular tachycardia).
Simultaneous use is not recommended:
dopamine receptor agonists - ergot alkaloids (such as cabergoline, bromocriptine, pergolide, lisuride): their plasma concentrations increase, their activity may increase and the appearance of signs of overdose;
terfenadine: its serum concentration rises, which can lead to the development of severe ventricular rhythm disturbances (usually this is ventricular tachycardia of the "pirouette" type);
astemizole, pimozide: May prolong the QT interval and / or cause heart rhythm disturbances.
Concomitant use requiring caution:
cyclosporine: there is a slight increase in its plasma concentration (it is necessary to control the level of cyclosporine in the blood and the functional state of the kidneys);
atorvastatin, simvastatin: the risk of increased side effects, including the development of rhabdomyolysis, increases (drugs should be used in lower doses);
drugs that are mainly metabolized by the CYP3A isoenzyme (for example, rifabutin): their systemic exposure may increase;
warfarin and other indirect anticoagulants (for example, fluindione, acenocoumarol and phenindione): prothrombin time or international normalized ratio increases (these indicators must be monitored);
digoxin and other cardiac glycosides: their absorption increases, as a result of which glycosidic intoxication may develop (dizziness, headache, diarrhea, nausea, vomiting, slowing of cardiac conduction or the development of cardiac arrhythmias) (with the simultaneous use of drugs, it is necessary to monitor the electrocardiogram and, if possible, determine serum concentration of cardiac glycosides);
drugs that can cause lengthening of the QT interval and contribute to the development of ventricular arrhythmias (including pirouette-type ventricular tachycardia): class IA and III antiarrhythmic drugs (including dronedarone, bepridil, sotalol, amiodarone), amisulpride, aminazine, arsenic, cyamemazine, citalopram, diphemanil methyl sulfate, erythromycin, domperidone, dofetilide, levomepromazine, flupenthixol, droperidol, haloperidol, fluphenazine, dolasetron, levofloxacin, mechafantrine, esulpbutilidin, sialopram, and chilofantrine pentamidine, sultopride, pipothiazine, vandetanib, sertindole, lumefantrine, zuclopenthixol, toremifene, methadone, vincamine, tiapride, disopyramide.
Concurrent application to be taken into account:
theophylline: its plasma concentration increases slightly;
midazolam: its effect may be enhanced and prolonged.
Analogs
Rulid's analogues are: Roxid, Brilid, Xitrocin, Roxithromycin, Roxithromycin DS, Roxithromycin Sandoz, Esparoxy.
Terms and conditions of storage
Store at temperatures up to 25 ° C out of reach of children.
The shelf life is 3 years.
Terms of dispensing from pharmacies
Dispensed by prescription.
Reviews about Rulida
Doctors prescribe the drug in cases where the patient has developed microbial resistance to the main antibiotics. Patients leave positive feedback about Rulida, describe the high efficiency already in the first days of therapy, indicate its good tolerance and the absence of pronounced adverse reactions during the period of taking the pills.
Rulid price in pharmacies
The price of Rulid is approximately 1192-1630 rubles. per pack of 10 tablets of 150 mg.
Rulid: prices in online pharmacies
Drug name
Price
Pharmacy
Rulid 150 mg film-coated tablets 10 pcs.
1032 RUB
Buy
Rulid tablets p.p. 150mg 10 pcs.
1431 RUB
Buy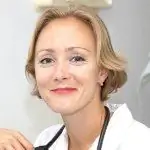 Anna Kozlova Medical journalist About the author
Education: Rostov State Medical University, specialty "General Medicine".
Information about the drug is generalized, provided for informational purposes only and does not replace the official instructions. Self-medication is hazardous to health!
Popular by topic