Table of contents:
Video: Rokona - Instructions For The Use Of Tablets, Price, Reviews, Analogues
Rocona
Rokona: instructions for use and reviews
1. Release form and composition
2. Pharmacological properties
3. Indications for use
4. Contraindications
5. Method of application and dosage
6. Side effects
7. Overdose
8. Special instructions
9. Application during pregnancy and lactation
10. Use in childhood
11. In case of impaired renal function
12. For violations of liver function
13. Use in the elderly
14. Drug interactions
15. Analogs
16. Terms and conditions of storage
17. Terms of dispensing from pharmacies
18. Reviews
19. Beginning of formPrice in pharmacies
Latin name: Rokona
ATX code: N06AB08
Active ingredient: fluvoxamine (Fluvoxamine)
Manufacturer: JSC "Rafarma" (Russia)
Description and photo update: 2019-14-12
Prices in pharmacies: from 477 rubles.
Buy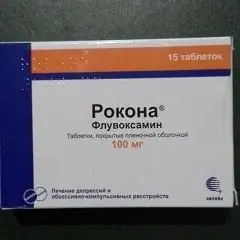 Rocona is an antidepressant drug.
Release form and composition
The drug is produced in the form of film-coated tablets: biconvex, round, covered with a white or almost white shell, white or almost white at a break; there is a risk on one side, a risk on the other side and an engraving corresponding to the dosage: 50 mg tablets - "FLM 50", 100 mg tablets - "FLM 100" (in blisters of 10 or 15 pcs., in a cardboard box 1, 2, 3 or 4 blisters and instructions for use of Rokona).
Composition for 1 film-coated tablet:
active substance: fluvoxamine maleate - 50 mg or 100 mg;
auxiliary components of the tablet core: corn starch, sodium stearyl fumarate, mannitol, colloidal silicon dioxide, pregelatinized starch;
film shell: titanium dioxide, talc, hypromellose, polyethylene glycol 6000.
Pharmacological properties
Pharmacodynamics
Fluvoxamine is a potent serotonin reuptake inhibitor. Its affinity for serotonin receptors is minimal. Fluvoxamine is slightly associated with histamine, dopamine, m-choline, α- and β-adrenergic receptors. The drug has a high affinity for σ 1 (sigma1) -receptors and is their agonist.
Pharmacokinetics
Fluvoxamine is completely absorbed in the gastrointestinal tract. In 3-8 hours after taking Rokona, the maximum concentration of the active substance is observed in the blood. After primary hepatic metabolism, the absolute bioavailability of fluvoxamine is 53%. Food intake does not affect pharmacokinetics. About 80% of fluvoxamine binds to plasma proteins. The volume of distribution is 25 l / kg.
The main metabolism occurs in the liver with the participation of the isoenzyme 2D6 of cytochrome P450. With a single dose of Rokona, the average elimination half-life is 13-15 hours. With multiple doses, it is extended to 17-22 hours. The equilibrium concentration of fluvoxamine in blood plasma is usually observed after 10-14 days of therapy.
The drug is biotransformed in the liver. The main pathway is oxidative demethylation. As a result, up to nine metabolites are formed, excreted by the kidneys. Two metabolites have little activity, others seem to be inactive.
Fluvoxamine significantly inhibits cytochrome P450 isoenzymes 1A2 and 2C19. Inhibition of cytochrome P450 isoenzymes 2C9, 2D6 and 3A4 is more moderate.
After taking a single dose, the pharmacokinetics of fluvoxamine are linear. The concentration of a single dose is slightly less than the equilibrium concentration. This disproportion is more pronounced at higher doses.
The pharmacokinetics of the drug is the same in patients with renal insufficiency, in the elderly and in healthy people. In liver diseases, the metabolism of fluvoxamine is reduced.
In children aged 6–11 years, the equilibrium concentration is twice as high as in adolescents aged 12–17 years. Plasma concentrations in adolescents and adults are similar.
Indications for use
Rocona is used for OCD (obsessive-compulsive disorder) and depression of various etiologies.
Contraindications
Absolute:
children under 8 years old;
joint reception with ramelteon;
simultaneous administration with MAO (monoamine oxidase) inhibitors and tizanidine (treatment with MAO inhibitors begins no earlier than 1 week after the end of Rokona therapy);
increased individual sensitivity to the main or auxiliary ingredients of the drug.
Relative (Rocon tablets are used with caution):
renal failure;
liver failure;
bleeding tendency;
epilepsy;
a history of convulsions;
the period of pregnancy and breastfeeding;
children and adolescents from 8 to 18 years old;
elderly age.
Rokona, instructions for use: method and dosage
Rocon tablets are taken orally with water. They cannot be chewed, but can be divided into two equal parts.
For depression of various origins, the initial dose of the drug for adults is 50 mg or 100 mg. It is taken in the evening, once. After 3-4 weeks, the dose is recommended to be reviewed and adjusted. Perhaps a gradual increase in the dose to an effective one.
As a rule, the effective dose is 100 mg per day and is selected for each patient individually, depending on the response to the treatment. Some patients require up to 300 mg of fluvoxamine per day. Daily doses exceeding 150 mg are divided into 2-3 doses.
According to the official WHO recommendation, antidepressant therapy is continued for at least 6 months of remission after an episode of depression. In order to prevent relapses, it is recommended to take 100 mg of Rocona once a day, every day.
In children and adolescents under the age of 18, the drug is not used to treat depression, as there is no relevant clinical experience.
For OCD (obsessive compulsive disorder), the recommended starting dose for adults is 50 mg. It is taken once a day for 3-4 days. Then the dose is gradually increased until an effective daily dose of 100–300 mg is reached. Daily doses of up to 150 mg are usually taken once, preferably in the evening. Doses over 150 mg are recommended to be divided into 2-3 doses. The maximum daily dose of Rokona for adults is 300 mg.
If the therapeutic response to Rocona is good, then the treatment is continued, taking an individually adjusted daily dose. But when no improvement is observed after 10 weeks, the treatment should be reviewed. No specific studies have been conducted to determine the optimal duration of fluvoxamine supplementation for OCD. It is believed that with a good therapeutic response, it is advisable to continue using the drug beyond 10 weeks. The minimum effective maintenance dose is also selected individually. The need to prolong the course should be assessed periodically. Some experts recommend that patients who respond well to medication receive concomitant psychotherapy. The effectiveness of Rocona in long-term treatment (more than 24 weeks) has not been confirmed.
Children and adolescents over 8 years of age with OCD are prescribed Rokon in an initial daily dose of 25 mg (in one dose, preferably before bedtime). Then every 4-7 days the dose of the drug is increased by 25 mg until the effective dose is reached, usually 50-200 mg per day. The maximum daily dose for children and adolescents is 200 mg. Doses over 50 mg are recommended to be divided into 2 doses (if two different doses are received, then the larger of them is taken in the evening).
Do not stop taking the drug abruptly. The dose of Rokona is reduced gradually, over 1–2 weeks, since in the event of a sudden or insufficiently smooth cessation of therapy, a withdrawal syndrome may develop (the symptoms of the condition are listed in the chapter "Side effects"). If such symptoms occur, you can resume treatment at the previously prescribed dose, and later try again to cancel the drug, but even more smoothly (according to the scheme recommended by the doctor).
In patients with renal or hepatic impairment, therapy is started with lower doses and under strict medical supervision.
Side effects
Reception of Rokona can cause the development of the following negative side reactions from systems and organs:
digestive system: often - dry mouth, vomiting, nausea, abdominal pain, dyspeptic disorders, diarrhea or constipation;
hepatobiliary system: rarely - liver dysfunction (increased activity of liver enzymes);
cardiovascular system: often - tachycardia / palpitations; infrequently - orthostatic hypotension;
nervous system and psyche: often - anxiety, headache, irritability, dizziness, anxiety, insomnia, tremors, drowsiness; infrequently - ataxia, aggressiveness, hallucinations, extrapyramidal disorders, confusion; rarely - mania, convulsions; frequency unknown - dysgeusia, psychomotor agitation / akathisia, suicidal behavior and thinking, paresthesia, neuroleptic malignant syndrome, serotonin syndrome;
sense organs: frequency unknown - mydriasis, glaucoma;
musculoskeletal system: infrequently - pain in muscles and joints; frequency unknown - bone fractures;
endocrine system: frequency unknown - Parkhon's syndrome (syndrome of inappropriate antidiuretic hormone secretion), increased prolactin levels;
metabolism and nutrition: often - anorexia; frequency unknown - decrease or increase in body weight, hyponatremia;
lymphatic system and blood: frequency unknown - various bleeding (purpura, bleeding from the gastrointestinal tract, hemorrhage into the skin, gynecological bleeding);
urinary system: frequency unknown - urinary disorders (urinary incontinence, enuresis, urinary retention, nocturia, pollakiuria);
genitals and mammary gland: infrequently - delayed ejaculation; rarely - lactorrhea; frequency unknown - menstrual irregularities (menorrhagia, amenorrhea, metrorrhagia, hypomenorrhea), lack of orgasm;
skin and subcutaneous fat: often - increased sweating; infrequently - skin hypersensitivity reactions (itching, rash, Quincke's edema); rarely - hypersensitivity reactions;
other reactions: often - malaise, asthenia; frequency unknown - withdrawal syndrome (including in newborns whose mothers took fluvoxamine in late pregnancy).
Withdrawal symptoms that sometimes occur after you stop taking Rokona include the following symptoms: headache, vomiting and / or nausea, dizziness, diarrhea, palpitations, sweating, sleep disturbances (including vivid dreams and insomnia), anxiety, irritability, emotional lability, agitation, sensitivity disorders (visual disturbance, paresthesia, sensation of electric shock), tremor, confusion. Usually the listed symptoms are moderate or mild and go away on their own, but sometimes they can be quite severe and / or persist for a long time. That is why Rocona should be canceled gradually, avoiding a sharp dose reduction.
In children and adolescents, the following side effects were most common: hyperexcitability, insomnia, dyspepsia, drowsiness, asthenia and hyperkinesia. Seizures have been reported outside clinical studies.
Overdose
The most typical symptoms of Rokona's overdose are dizziness, drowsiness and gastrointestinal disturbances (vomiting, nausea and diarrhea). Sometimes liver dysfunctions, cardiovascular disorders (lowering blood pressure, bradycardia, tachycardia), convulsions and coma are possible.
The range of therapeutic doses of fluvoxamine is quite wide, so deaths, even as a result of serious overdose, are extremely rare. The highest recorded dose to date taken by a patient is 12 g (this person has been completely cured). Serious complications have been reported in cases where drug overdose was deliberate and fluvoxamine was taken in combination with other drugs.
In the first 1-2 hours after poisoning, the patient should wash the stomach. The patient is given activated charcoal, if necessary, osmotic laxatives are prescribed. Further therapy is symptomatic. Dialysis and forced diuresis are ineffective. There is no specific antidote.
special instructions
It is not recommended to drink alcohol during treatment with Rokona.
Clinical deterioration, suicidal ideation and suicide
Depression is associated with an increased risk of suicidal thoughts, suicidal behavior, and self-harm. This risk persists until significant improvements occur, but since they may appear only after a few weeks of therapy or even later, patients should be monitored all this time.
The risk of suicide is especially high in the early stages of the recovery process (this is confirmed by clinical practice).
In other mental disorders, in the treatment of which Rocona is used, it is also possible to increase the risk of suicidal actions. Sometimes these conditions are associated with major depression, so patients with other mental disorders should also be monitored.
It has been established that persons with a history of suicidal behavior or ideation before starting therapy are at greater risk of attempted suicide and / or suicidal thoughts, therefore, during treatment, they require careful monitoring. Monitoring the patient's condition for the occurrence of suicidal thoughts is necessary not only at the beginning of therapy, but also after each dose change.
In patients aged 18-24 years, the risk of suicidal behavior while taking antidepressants is slightly increased, therefore, before prescribing Rokona to people under 25 years of age, the expected benefit from the drug and the risk of suicide should be correlated.
Psychomotor agitation
Psychomotor agitation associated with taking Rokona is characterized by excruciating and unpleasant anxiety. The patient is unable to stand or sit quietly due to the need for constant movement. This condition most often develops in the first few weeks of therapy. As the dose is increased, the symptoms of akathisia may worsen.
Renal and / or hepatic impairment
For patients with renal or hepatic insufficiency, Rocon is prescribed in low initial doses. Patients should be under strict medical supervision. Sometimes drug treatment is accompanied by an increase in the activity of liver enzymes with the appearance of characteristic symptoms. In this case, you must stop therapy.
Nervous system disorders
Fluvoxamine is used with caution in patients with a history of seizures. It is not recommended to use the drug in case of unstable epilepsy, and persons with stable epilepsy should be treated under the strict supervision of a physician. If epilepsy attacks occur or if they increase, Rokona's therapy is discontinued.
In clinical practice, isolated cases of serotonin syndrome have been described, as well as a condition similar to neuroleptic malignant syndrome. It is assumed that these conditions may be associated with the use of fluvoxamine alone or in combination with other neuroleptic and / or serotonergic drugs. Such syndromes can cause potentially life-threatening conditions, for example, rapid changes in breathing, pulse, blood pressure, as well as hyperthermia, muscle stiffness, changes in mental status, etc. In these cases, Rokona therapy should be discontinued and appropriate treatment initiated.
Eating and metabolic disorders
Sometimes, while taking fluvoxamine, hyponatremia may develop, which is usually reversible after discontinuation of the drug. Isolated cases of hyponatremia have been associated with a syndrome of inappropriate antidiuretic hormone secretion. Most often, this condition developed in elderly patients.
During treatment, especially at the beginning of therapy, it is possible to impair control over glucose levels (impaired glucose tolerance, hypo- or hyperglycemia). When Rokona is prescribed to patients with diabetes mellitus, it may be necessary to change the dose of the antidiabetic agent.
Side effects such as nausea are common. Sometimes nausea is accompanied by vomiting. Usually, this side effect disappears on its own within the first two weeks of therapy.
Hematological disorders
Due to the risk of various hematological manifestations (purpura, ecchymosis, bleeding), fluvoxamine is prescribed with caution to elderly patients, patients with a tendency to bleeding (including a history) and people who simultaneously receive drugs that affect platelet function (tricyclic drugs) with Rokona. antidepressants, non-steroidal anti-inflammatory drugs, phenothiazines, etc.), as well as drugs that increase the risk of bleeding.
Other indications
Experience with the use of fluvoxamine in the presence of electroconvulsive therapy is limited, therefore such treatment is carried out with caution.
Rokone is used with caution in patients with a history of hypomania / mania. If the patient develops a manic phase, then fluvoxamine should be discontinued.
Influence on the ability to drive vehicles and complex mechanisms
In healthy volunteers who took Rocone in doses up to 150 mg, no effect of fluvoxamine on the ability to drive vehicles and other complex mechanisms was found, or this effect was insignificant. Given the likelihood of drowsiness and dizziness during treatment with the drug, it is recommended to exercise caution when working with potentially dangerous and complex mechanisms before establishing an individual reaction to Rokona.
Application during pregnancy and lactation
According to the available data, SSIS (selective serotonin reuptake inhibitors) used during pregnancy, especially in late pregnancy, may increase the risk of persistent pulmonary hypertension (this pathology occurs in about 5 out of 1000 newborns).
During pregnancy, the use of Rokona is not recommended, except for those episodes when the need for the drug is due to the clinical condition of the patient.
Some cases of withdrawal syndrome in newborns whose mothers took fluvoxamine in the last weeks of pregnancy are described.
Some infants after exposure to SSRIs in the late stages were observed convulsive disorders, nausea, difficulty breathing and / or feeding, cyanosis, unstable body temperature, irritability, drowsiness, continuous crying, tremors, difficulty falling asleep, hypoglycemia, impaired muscle tone, lethargy, increased neuro-reflex excitability. If these symptoms occur in a newborn, longer hospitalization may be required.
It is not recommended to take Rocona during lactation, as small amounts of fluvoxamine are secreted in breast milk.
The reproductive toxicity of fluvoxamine has been studied in animal experiments. It has been shown that this substance, in doses 4 times higher than the maximum recommended for humans, affects the reproductive function of females and males, increases the risk of fetal death and reduces its body weight. In prenatal and postnatal studies, the incidence of perinatal mortality was higher (experiments were carried out on puppies).
During pregnancy planning, Rokone should not be taken, except when taking the drug is necessary (determined by the patient's clinical condition).
Pediatric use
Rocona is contraindicated in children under 8 years of age for the treatment of OCD and in children and adolescents under the age of 18 for the treatment of depression (there is no sufficient clinical experience with the drug in this category of patients). In addition, there are no long-term data on the safety of fluvoxamine regarding the development, growth and establishment of exploratory and cognitive behavior.
With impaired renal function
In renal failure, treatment should be started with low doses of Rocona, under medical supervision.
For violations of liver function
Rocona is prescribed with caution to patients with impaired liver function. The starting dose should be lower than in individuals with normal liver function. If the activity of liver enzymes increases, fluvoxamine should be discontinued.
Use in the elderly
For elderly patients, the dose of Rocona is increased more slowly and with extreme caution.
Drug interactions
It is forbidden to take fluvoxamine simultaneously with MAO inhibitors (the risk of serotonin syndrome is increased) and ramelteon (the maximum concentration of ramelteon increases by almost 70 times).
Rocona can slow down the metabolism of drugs metabolized by some isoenzymes of the cytochrome P450 system (1A2, 2C19, 2C9, 2D6, 3A4). Such drugs, for example, cyclosporine, phenytoin, theophylline, carbamazepine, amitriptyline, clozapine, midazolam, diazepam, etc., can have increased plasma concentrations, and are also excreted more slowly if taken together with fluvoxamine.
With the simultaneous use of fluvoxamine with ropinirole, an increase in the plasma concentration of the latter is possible; with propranolol - the concentration of propranolol in plasma may increase; with warfarin - there is an increase in the concentration of warfarin and an increase in prothrombin time; with thioridazine - it is possible to increase its cardiotoxicity.
In patients who consume large amounts of caffeine-containing beverages, an increase in the plasma concentration of caffeine is possible, therefore, during treatment with Rokona, it is recommended to reduce the consumption of these drinks, especially in the case of adverse effects of caffeine (nausea, tremors, insomnia, palpitations, anxiety).
With simultaneous use with astemizole, sildenafil, terfenadine, cisapride, plasma concentrations of these drugs may increase, increasing the risk of paroxysmal ventricular tachycardia such as pirouette and / or lengthening of the QT interval (joint administration is not recommended).
Rocona does not affect the concentration of digoxin and atenolol in blood plasma.
Tramadol, triptans, SSRIs, St. John's wort preparations and lithium preparations, when taken together with Rocona, can enhance its serotonergic effect.
Indirect anticoagulants increase the risk of hemorrhages (such patients require medical supervision).
Analogs
Rokona's analogs are Anafranil, Amitriptyline, Amitriptyline-grindex, Brintellix, Velafax, Imipramine, Clomipramine, Mirtazonal, Paroxetine, Trittiko, Zoloft, Fevarin, etc.
Terms and conditions of storage
Store out of the reach of children at a temperature not exceeding 25 ° C.
The shelf life of the tablets is 3 years.
Terms of dispensing from pharmacies
Dispensed by prescription.
Reviews about Rocon
According to reviews, Rocona is an effective treatment for OCD and depression. Psychotherapists prescribe a drug to improve the quality of sleep and mood, and eliminate anxiety. The tablets are convenient to take, they are cheaper than some analogues.
The main disadvantage is the potential side effects. The patients complained of insomnia, pain and cramps in the legs, daytime sleepiness, and weakness at the beginning of admission. Some users were not satisfied with Rokona's price, since the cost of the course treatment is quite high.
The beginning of the formPrice for Rocona in pharmacies
The price of Rokona in the form of tablets, film-coated, 50 mg (in packs of 15 pcs.) Is 470-625 rubles. Tablets with a dosage of 100 mg (in packs of 15 pcs.) Can be purchased for 555-700 rubles.
Rocona: prices in online pharmacies
Drug name
Price
Pharmacy
Rokona 50 mg film-coated tablets 15 pcs.
477 r
Buy
Rocona tablets p.p. 50mg 15 Pcs.
RUB 528
Buy
Rokona 100 mg film-coated tablets 15 pcs.
555 RUB
Buy
Rocona tablets p.p. 100mg 15 pcs.
626 r
Buy
Rokona 100 mg film-coated tablets 30 pcs.
1167 RUB
Buy
Rocona pills p.p. 100mg 30 pcs
1185 RUB
Buy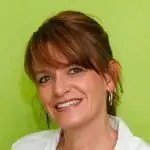 Maria Kulkes Medical journalist About the author
Education: First Moscow State Medical University named after I. M. Sechenov, specialty "General Medicine".
Information about the drug is generalized, provided for informational purposes only and does not replace the official instructions. Self-medication is hazardous to health!
Popular by topic