Table of contents: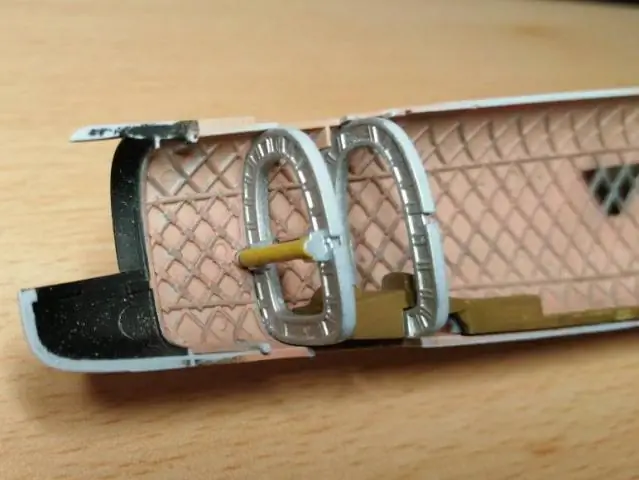 Video: Ratch - Instructions For The Use Of Tablets, Price, Reviews, Analogues
Ratsch
Ratch: instructions for use and reviews
1. Release form and composition
2. Pharmacological properties
3. Indications for use
4. Contraindications
5. Method of application and dosage
6. Side effects
7. Overdose
8. Special instructions
9. Application during pregnancy and lactation
10. Use in childhood
11. In case of impaired renal function
12. For violations of liver function
13. Use in the elderly
14. Drug interactions
15. Analogs
16. Terms and conditions of storage
17. Terms of dispensing from pharmacies
18. Reviews
19. Price in pharmacies
Latin name: Retch
ATX code: A03FA07
Active ingredient: itoprid (Itopride)
Manufacturer: Saneka Pharmaceuticals a.s. (Saneca Pharmaceuticals, as) (Slovak Republic)
Description and photo updated: 2019-11-12
Prices in pharmacies: from 290 rubles.
Buy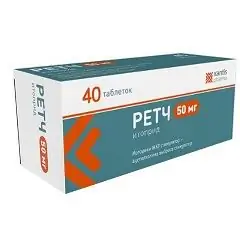 Retch is a drug that improves the tone and motility of the gastrointestinal tract (GIT) by stimulating the release of acetylcholine.
Release form and composition
Dosage form - tablets: from almost white to pure white, biconvex, round, with a risk on one side (10 pcs. In blisters made of polyvinyl chloride / polyvinylidene chloride / aluminum; in a cardboard box 1-7, 9 or 10 blisters and instructions for the use of Retch).
Composition for 1 tablet:
active substance: itopride hydrochloride - 50 mg;
auxiliary components: lactose monohydrate - 65.56 mg; anhydrous colloidal silicon dioxide - 0.84 mg; pregelatinized starch - 1.2 mg; croscarmellose sodium - 1.2 mg; magnesium stearate - 1.2 mg.
Pharmacological properties
Pharmacodynamics
The active ingredient Retcha - itopride, enhances gastrointestinal motility by inhibiting acetylcholinesterase and antagonism of D 2 -dopamine receptors. It activates the release of acetylcholine and inhibits its destruction.
D 2 -receptors are located in the trigger zone of the vomiting center, as a result of which itopride, interacting with them, suppresses (reduces) the gag reflex. The drug has a dose-dependent suppression of vomiting caused by the intake of apomorphine.
Due to antagonism with D 2 receptors and dose-dependent inhibition of acetylcholinesterase activity, itopride triggers propulsive gastric motility.
With functional dyspepsia, Retch's action leads to the relief of the severity of its symptoms (for example, a general assessment of the patient's well-being, postprandial heaviness in the abdomen, early satiety).
In patients with diabetic gastroparesis, the use of itopride promoted the forced evacuation of both solid and liquid fractions of gastric contents.
In gastroesophageal reflux disease (GERD), itopride for the lower esophageal sphincter reduces the amount of transient relaxation and shortens the period of hyperacidity in the esophagus (pH <4).
The drug, by a specific action on the smooth muscles of the gastrointestinal tract, accelerates the transit of gastric contents and improves gastric emptying. Retch has no effect on serum gastrin concentrations.
Pharmacokinetics
absorption: itopride in the gastrointestinal tract is absorbed quickly and almost completely. The indicator of relative bioavailability is 60%, which is due to the metabolism of the first pass through the liver. C max (maximum plasma concentration) after taking a dose of 50 mg - 0.28 μg / ml. T Cmax (time to reach C max) - 0.5–0.75 hours. Repeated oral administration of Retch at a dose of 50–200 mg 3 times a day for 1 week maintains the linear nature of the pharmacokinetics of the substance, while its cumulation is minimal;
distribution to tissues and organs: itopride is 96% bound to plasma proteins, mainly albumin. Communication with α 1 -acid glycoprotein - less than 15%. The volume of distribution in tissues is 6.1 l / kg, in high concentrations the substance is found in the liver, small intestine, kidneys, adrenal glands and stomach. Slightly in therapeutic doses, itopride penetrates into the brain / spinal cord and into breast milk;
metabolism: itopride is metabolized in the liver, 3 metabolites have been identified, including one with insignificant activity that has no pharmacological significance (~ 2-3% of that of the original substance). The primary metabolite in humans is N-oxide, formed by oxidation of the quaternary amino-N-dimethyl group, biotransformed by FMO3 (flavin-dependent monooxygenase). The number and effectiveness of human isoenzymes is variable and depends on genetic polymorphism, in rare cases leading to the development of an autosomal recessive pathology known as trimethylaminuria (fish odor syndrome). Itopride does not inhibit or induce cytochrome P 450 isoenzymes CYP2C19 and CYP2E1, does not affect the activity of the hepatic enzyme UDPGT (uridine diphosphate glucuronisyltransferase);
excretion: itopride with metabolites is excreted by the kidneys, after a single oral administration in therapeutic doses in healthy volunteers, the elimination of itopride was 3.7%, and its primary metabolite N-oxide was 75.4%. T 1/2 (half-life) Retch is 6 hours, in patients with trimethylaminuria it increases.
Indications for use
Retch is recommended for the treatment of functional (non-ulcer) dyspepsia or chronic gastritis, expressed by the following gastrointestinal symptoms caused by impaired gastrointestinal motility or delayed gastric emptying:
loss of appetite;
fast saturation;
feeling of heaviness and fullness in the stomach after eating;
bloating;
pain / discomfort in the epigastric region;
nausea, vomiting, heartburn.
Contraindications
Absolute:
gastrointestinal bleeding, mechanical obstruction or perforation of the stomach;
children and adolescents up to 16 years old;
pregnancy and breastfeeding;
primary lactase deficiency, hypolactasia, congenital glucose-galactose malabsorption;
individual hypersensitivity to itopride or any auxiliary ingredient of Retch.
With caution, Retch tablets are prescribed for violations of liver and / or kidney function, elderly patients, as well as people who develop cholinergic side effects associated with an increase in the effect of acetylcholine during drug therapy can aggravate the course of the underlying disease.
Ratch, instructions for use: method and dosage
Retch tablets are intended for oral administration.
Recommended dosing regimen: before meals, 1 tablet (50 mg) 3 times a day.
The maximum daily dose is 3 tablets (150 mg).
The doctor may reduce the indicated dose of Retch, taking into account the age of the patient and the severity of symptoms.
If you miss the next dose, you should not take a double dose to compensate for the missed dose. Further, it is advisable to take the tablets at regular intervals.
There are data from clinical studies of treatment with itopride for up to 8 weeks.
Side effects
Frequency of adverse reactions Retch [according to the classification of WHO (World Health Organization): very common (≥ 0.1); often (≥ 0.01 and <0.1); infrequently (≥ 0.001 and <0.01); rarely (≥ 0.000 1 and <0.001); extremely rare (<0.000 1, including isolated cases); with an unknown frequency - according to the available data, it is not possible to determine the frequency of this reaction]:
blood and lymphatic system: infrequently - leukopenia; with an unknown frequency - thrombocytopenia;
immune system: rarely - itching, rash, flushing of the skin; with an unknown frequency - anaphylaxis;
endocrine system: infrequently - hyperprolactinemia; with an unknown frequency - gynecomastia;
central and peripheral nervous system: infrequently - headache, dizziness, irritability, sleep disturbance; with an unknown frequency - tremor;
digestive system: infrequently - constipation or diarrhea, abdominal pain, hypersalivation; with an unknown frequency - jaundice, nausea;
musculoskeletal and connective tissue: infrequently - back pain, chest pain;
results of laboratory and instrumental studies: infrequently - an increase in the level of creatinine and biochemical nitrogen of urea in the blood; with an unknown frequency - an increase in the activity of ACT (aspartate aminotransferase), ALT (alanine aminotransferase), GGTP (gamma-glutamyl transpeptidase), alkaline phosphatase (alkaline phosphatase) and bilirubin concentration;
other reactions: infrequently - fatigue.
Overdose
There have been no reports of an overdose of itopride to date.
Cases of Retch overdose in humans have not been described.
In case of unintentional drug intoxication, gastric lavage and symptomatic therapy are recommended.
special instructions
Due to the fact that itopride potentiates the effect of acetylcholine, cholinergic side reactions may develop during therapy.
If symptoms of galactorrhea and gynecomastia appear during therapy, taking Ratch tablets should be temporarily interrupted or stopped completely.
Influence on the ability to drive vehicles and complex mechanisms
The effect of itopride on human psychomotor functions has not yet been studied.
Since the use of Retch can cause dizziness, during the period of therapy, care must be taken when performing potentially hazardous activities that require increased concentration of attention and high speed of psychomotor reactions, including when driving vehicles, other moving mechanisms, performing the functions of an operator, a dispatcher and etc.
Application during pregnancy and lactation
There are insufficient data on the safety and efficacy of using itopride hydrochloride during gestation. Pregnant women can be prescribed Retch only if there is no adequate alternative therapy, provided that the potential benefits to the mother exceed the predicted risks to the fetus.
Due to the likelihood of developing a negative side effect on the infant, as well as the available data on the release of itopride during lactation with milk in rats, breastfeeding must be stopped during therapy.
Pediatric use
In pediatric practice, Retch is contraindicated for the treatment of children and adolescents under 16 years of age.
With impaired renal function
Patients with impaired renal function during therapy with itopride should be under close medical supervision.
Retch should be used with caution in this category of patients, if necessary, the dose should be reduced. If the patient's condition does not return to normal, the course should be interrupted.
For violations of liver function
Patients with impaired liver function during therapy with itopride should be under close medical supervision.
Retch should be used with caution in this category of patients, if necessary, the dose should be reduced. If the patient's condition does not return to normal, the course should be interrupted.
Use in the elderly
Elderly patients should take Ratch tablets with caution.
Drug interactions
Warfarin, diazepam, diclofenac, ticlopidine, nifedipine and nicardipine, when taken simultaneously with itopride, do not exhibit pharmaceutical interactions.
At the level of isoenzymes of the cytochrome P 450 system, metabolic interaction is not expected, since the biotransformation of itopride mainly occurs with the participation of flavin-containing monooxygenases.
Since itopride enhances the motor function of the gastrointestinal tract, this may affect the absorption of other drugs when taken together orally. Special attention should be paid to the simultaneous administration of drugs with prolonged release of the active substance, a narrow therapeutic index, or enteric coated.
Teprenone, cetraxal, antiulcer drugs (cimetidine, ranitidine) do not affect the prokinetic efficacy of itopride.
Anticholinergic drugs (M-cholinergic blockers) reduce the effectiveness of itopride, and simultaneous use with M-cholinomimetics, as well as cholinesterase inhibitors, can enhance its cholinergic effect.
Analogs
Retch's analogs are Brulium Lingvatabs, Ganaton, Domidon, Domperidon Geksal, Gastropom-Apo, Domperidon-Credopharm, Domrid, Domstal-O, Itopra, Itomed, Limzer, Peridonium, Cinnaridon, etc.
Terms and conditions of storage
Store in original packaging at temperatures up to 25 ° C. Keep out of the reach of children.
Shelf life is 2 years.
Terms of dispensing from pharmacies
Dispensed by prescription.
Reviews about Retch
In isolated reviews of Retch, patients characterize it as a well-acting, high-quality drug at an affordable cost.
Price for Retch in pharmacies
The approximate price for Retch, tablets with a dosage of 50 mg, is per package: 40 pcs. - 291 rubles., 70 pcs. - 506 rubles.
Retch: prices in online pharmacies
Drug name
Price
Pharmacy
Retch 50 mg film-coated tablets 40 pcs.
RUB 290
Buy
Retch tablets 50mg 40pcs
RUB 319
Buy
Retch 50 mg film-coated tablets 70 pcs.
RUB 400
Buy
Retch tablets 50mg 70pcs
462 r
Buy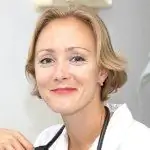 Anna Kozlova Medical journalist About the author
Education: Rostov State Medical University, specialty "General Medicine".
Information about the drug is generalized, provided for informational purposes only and does not replace the official instructions. Self-medication is hazardous to health!
Popular by topic