Table of contents: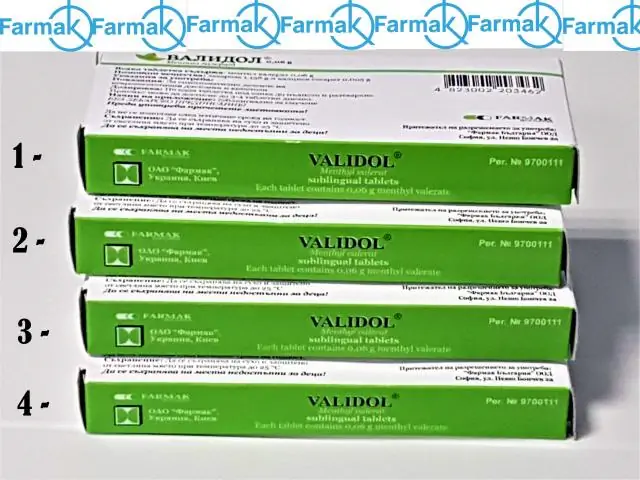 Remeron
Remeron: instructions for use and reviews
1. Release form and composition
2. Pharmacological properties
3. Indications for use
4. Contraindications
5. Method of application and dosage
6. Side effects
7. Overdose
8. Special instructions
9. Application during pregnancy and lactation
10. Use in the elderly
11. Drug interactions
12. Analogs
13. Terms and conditions of storage
14. Terms of dispensing from pharmacies
15. Reviews
16. Price in pharmacies
Latin name: Remeron
ATX code: N06AX11
Active ingredient: mirtazapine (mirtazapine)
Producer: Organon (Netherlands), MSD Pharmaceuticals LLC (Russia)
Description and photo update: 2019-14-08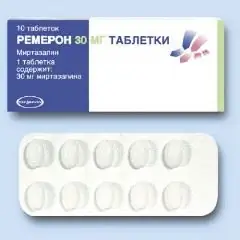 Remeron is a tetracyclic antidepressant with a predominantly sedative effect.
Release form and composition
Dosage form - film-coated tablets:
15 mg: yellow, oval, convex on both sides, on one side embossed code "TZ" above "3" on both sides along the lines, on the other side - "ORGANON";
30 mg: red-brown, oval, convex on both sides, on one side there is an embossed "TZ" code above "5" on both sides along the lines, on the other side - "ORGANON";
45 mg: white, oval, convex on both sides, on one side embossed "TZ" code above "7" on both sides along the lines, on the other side - "ORGANON".
The tablet core is a homogeneous pressed structure, white.
Tablets are packaged in 10 pieces. in blisters, 1 or 3 blisters are placed in a cardboard box.
Remeron's active substance: mirtazapine, in 1 tablet - 15, 30 or 45 mg.
Auxiliary components: colloidal silicon dioxide, magnesium stearate, lactose monohydrate, hyprolose, corn starch.
Shell composition:
Tablets 15 mg: Opadray 04F22715 yellow (titanium dioxide, macrogol 8000, hypromellose, iron oxide yellow dye);
Tablets 30 mg: Opadray 04F23084 orange (titanium dioxide, macrogol 8000, hypromellose, dyes iron oxide yellow and iron oxide red);
Tablets 45 mg: Opadray OY-S-28914 white (titanium dioxide, macrogol 8000, hypromellose).
Pharmacological properties
Remeron has established itself as an effective drug for the treatment of patients with depressive conditions in which the clinical picture was dominated by such symptoms as weight loss, inability to experience feelings of joy and pleasure, sleep disturbances (mainly expressed in early awakenings), psychomotor retardation, anhedonia (loss of interest). Also, the tool is applicable for conditions accompanied by mood swings during the day and suicidal thoughts. The antidepressant effect of Remeron usually begins to manifest itself 1-2 weeks after starting treatment.
Pharmacodynamics
Mirtazapine is an antagonist of presynaptic α 2 -adrenergic receptors in the central nervous system and activates serotonergic and central noradrenergic transmission of nerve impulses. In this case, the enhancement of serotonergic transmission is carried out exclusively through serotonin 5-HT 1 receptors, since mirtazapine provides blocking of serotonin 5-HT 2 and 5-HT 3 receptors. It is assumed that both enantiomers of the active substance of Remeron are characterized by antidepressant activity: in the case of the S (+) - enantiomer, this is realized by blocking serotonin 5-HT 2 - and α 2 -adrenoreceptors, and in the case of the R (-) - enantiomer, by blocking serotonin 5 -NT 3-receptors. The sedative properties of mirtazapine are due to its antagonistic activity towards H 1 -histamine receptors.
Mirtazapine is generally well tolerated. For him, m-anticholinergic blocking activity is practically uncharacteristic, and in the recommended doses it has a limited effect on the cardiovascular system (for example, orthostatic hypotension).
The use of Remeron in pediatric practice has been studied in two randomized, double-blind, placebo-controlled trials. In them, children aged 7-18 years suffering from major depressive disorder (n = 259) received mirtazapine during the first 4 weeks in accordance with a flexible dosing regimen (doses of 15-45 mg), and for the next 4 weeks they took the drug in fixed doses (15, 30 or 45 mg). The information obtained in the course of the studies confirmed the absence of significant differences between taking mirtazapine and placebo. During the experiment, 48.8% of children treated with Remeron had significant (more than 7%) weight gain compared to the placebo group (this figure was 5.7%). Also, patients often showed hypertriglyceridemia (in children taking mirtazapine, this figure was 2.9%,in those taking placebo - 0%) and urticaria (in children taking mirtazapine, this indicator was 11.8%, in those taking placebo - 6.8%).
Pharmacokinetics
When Remeron is taken inside, mirtazapine is absorbed quickly enough, and its bioavailability is 50%. The maximum concentration of the substance in the blood plasma is reached approximately 2 hours after ingestion. The degree of binding of mirtazapine to plasma proteins is 85%. On average, the half-life varies from 20 to 40 hours (in some cases, up to 65 hours). In young patients, there is a tendency to a reduction in the half-life. The equilibrium concentration of mirtazapine in blood plasma is established 3-4 days after the start of treatment and remains unchanged in the future.
When taking mirtazapine in therapeutic doses, its pharmacokinetic parameters linearly depend on the dose of the drug that has entered the body. Food intake does not affect the pharmacokinetics of Remeron.
Mirtazapine is actively involved in metabolic processes and is excreted through the kidneys and intestines for several days. The main metabolic pathways of this substance in the body include oxidation and demethylation with further conjugation. The formation of 8-hydroxymetabolite mirtazapine occurs with the participation of cytochrome P 450 isoenzymes (CYP1A2 and CYP2D6), and N-oxidized and N-demethylated metabolites are probably formed under the action of the CYP3A4 isoenzyme. Demethylmirtazapine has pharmacological activity.
In patients with hepatic and / or renal insufficiency, the clearance of mirtazapine is reduced.
Indications for use
According to the instructions, Remeron is a drug for the treatment of depression.
Contraindications
Age under 18;
Lactose intolerance, lactase deficiency, glucose-galactose malabsorption;
Lactation period;
Hypersensitivity to any component of Remeron.
Carefully:
Epilepsy;
Organic brain damage;
Renal / hepatic impairment;
Heart disease (angina pectoris, conduction disturbances, recent myocardial infarction);
Cerebrovascular diseases (including a history of ischemic stroke);
Arterial hypotension or conditions that can lead to its development (including hypovolemia and dehydration);
Drug abuse;
Drug dependence on drugs that affect the central nervous system;
Mania and hypomania;
Violation of urination, including with prostatic hyperplasia;
Diabetes;
Acute angle-closure glaucoma, increased intraocular pressure;
Concomitant use of benzodiazepines;
Pregnancy (if the expected benefits outweigh the potential risks).
Instructions for use of Remeron: method and dosage
Remeron should be taken orally by swallowing the tablets whole and washed down with liquid if necessary.
The recommended starting dose is 15-30 mg. The effective daily dose is determined individually.
In patients with hepatic and renal insufficiency, the clearance of mirtazapine may be reduced, which should be taken into account when selecting the dose of the drug.
You can take Remeron 1 time a day, preferably at the same time, in the evening before bedtime. It is also possible to take 2 times a day, in this case the daily dose is divided into 2 parts - a lower one (it is taken in the morning) and a higher one (it is taken at night).
The duration of treatment - until the symptoms of depression disappear completely, usually 4-6 months, after which the dose is gradually reduced, until the drug is completely discontinued.
The maximum allowable daily dose of Remeron is 45 mg.
If no improvement is noted within 2-4 weeks, treatment should be discontinued.
Side effects
From the nervous system: very often (≥1 / 10) - drowsiness (usually occurs in the first weeks of treatment, can lead to impaired concentration), headache, sedation; often (> 1/100 and ≤1 / 10) - tremor, dizziness, lethargy; infrequently (> 1/1000 and ≤1 / 100) - fainting, restless legs syndrome, paresthesia; rarely (> 1/10 000 and ≤1 / 1000) - myoclonus; very rarely (≤1 / 10,000, including isolated cases) - paresthesia of the oral mucosa, serotonin syndrome, convulsions (stroke);
From the side of the psyche: often - confusion, unusual dreams, insomnia, anxiety; infrequently - psychomotor agitation (including akathisia, hyperkinesia), agitation, mania, nightmares, hallucinations; frequency not established - suicidal behavior, suicidal ideation;
From the side of the blood and lymphatic system: the frequency has not been established - agranulocytosis, aplastic anemia, granulocytopenia, thrombocytopenia, eosinophilia;
Musculoskeletal and connective tissue disorders: often - back pain, arthralgia, myalgia;
From the side of the vessels: often - orthostatic hypotension; infrequently - arterial hypotension;
From the gastrointestinal tract: very often - dry mouth; often - diarrhea, nausea, vomiting; infrequently - decreased sensitivity of the oral mucosa; frequency not established - edema of the oral mucosa;
From the liver and biliary tract: rarely - increased serum transaminase activity;
From the endocrine system: the frequency has not been established - violation of the secretion of antidiuretic hormone;
From the side of metabolism and nutrition: very often - increased appetite, weight gain;
From the skin and subcutaneous tissues: often - skin rashes;
Others: often - local edema; infrequently - fatigue.
Depression can have a number of symptoms that are difficult to differentiate from side effects, so it is difficult to tell if they are due to illness or Remeron.
Overdose
The available information regarding an overdose of Remeron suggests that its symptoms are usually mild. There are reports of CNS depression, which manifested itself in a prolonged sedative effect and disorientation in space, combined with a slight increase or decrease in blood pressure and tachycardia. However, taking a dose that is much higher than the therapeutic dose (especially in case of an overdose due to the simultaneous administration of several drugs) can entail the risk of more serious consequences, including death. In such cases, symptoms such as torsades de pointes and lengthening of the QT interval are observed.
In case of an overdose, symptomatic therapy is prescribed, which ensures the maintenance of vital body functions, and also regularly monitors cardiac activity using an ECG. It is also recommended to administer activated charcoal or perform gastric lavage.
special instructions
When using Remeron, keep in mind:
Paranoid ideas may increase;
The depressive phase of manic-depressive psychosis during therapy can transform into a manic phase;
There may be worsening psychotic symptoms;
Older people are usually more sensitive to the drug, especially with regard to side effects;
In young people under 24 years of age with mental disorders or depression, antidepressants increase the risk of suicidal thoughts and behavior, therefore, the drug should be prescribed after a careful assessment of the benefit / risk ratio, and during treatment, special observation should be established in order to identify violations or changes in behavior in time;
Reducing the dose when drowsy usually does not result in less sedation, but may reduce the effectiveness of the antidepressant.
If signs of jaundice appear, Remeron should be canceled.
It is recommended to avoid alcohol consumption during treatment.
Bone marrow suppression (granulocytopenia or agranulocytosis) is rarely observed with mirtazapine. However, the patient should be warned to see a doctor if symptoms such as sore throat, stomatitis, fever, and other signs of flu-like syndrome develop.
Remeron is not addictive. However, in the course of the post-registration experience, it was found that with an abrupt termination of treatment after prolonged use of the drug, the development of a withdrawal syndrome is possible. The most commonly reported symptoms were anxiety, agitation, headache, dizziness, and nausea. It is worth noting that these same signs may be associated with the underlying disease, but it is still recommended to cancel the drug gradually.
Like other antidepressant drugs, Remeron can reduce concentration, therefore, during treatment, one should refrain from driving and performing potentially hazardous work that requires speed of psychophysical reactions and increased attention.
Application during pregnancy and lactation
There is limited evidence that there is no increased risk of congenital fetal malformations when pregnant women are taking mirtazapine. In the course of experiments on animals, a clinically significant teratogenic effect was not found, however, a toxic effect of Remeron on the fetus was observed.
Epidemiological evidence suggests that the use of serotonin reuptake inhibitors during pregnancy, especially in the last trimester, may increase the risk of persistent pulmonary hypertension of the newborn (PPHN). Despite the fact that clinical trials confirming the relationship between taking mirtazapine and the development of PLHN have not been carried out, the potential risk is considered to be quite high, given the mechanism of action of mirtazapine (increased serotonin levels). Therefore, Remeron is prescribed with caution to pregnant women. If the drug was taken immediately before the onset of labor, or shortly before childbirth, in the postnatal period, it is recommended to regularly monitor the condition of the newborn in order to timely identify possible signs of withdrawal syndrome.
The results of studies in animals and limited information concerning humans confirm that mirtazapine is excreted in breast milk in small quantities. Before you start taking Remeron, you should correlate the expected benefits of treatment for the mother and the potential risks to the child's health.
Reproductive toxicity studies of mirtazapine in animals have not shown any effect of this substance on fertility.
Use in the elderly
For elderly patients, Remeron is prescribed in the same dose as for adults. To obtain a satisfactory and safe response to therapy, the dose of the drug must be increased only under the supervision of a physician.
Elderly patients are often more sensitive to adverse reactions to this drug. Limited evidence from clinical trials suggests that side effects are no higher in these patients than in other age groups, but they are often more pronounced.
Drug interactions
Remeron should be used with caution in conjunction with HIV protease inhibitors, potent inhibitors of the CYP3A4 isoenzyme (for example, ketoconazole), azole antifungals, nefazodone, erythromycin, since the concentration of mirtazapine in plasma may increase.
Inducers of the isoenzyme CYP3A4 (carbamazepine, phenytoin) increase the clearance of mirtazapine by about 2 times, which leads to a 45-60% decrease in its plasma concentration. When using such combinations, an increase in the dose of Remeron may be required, and after the abolition of the inducer of the isoenzyme CYP3A4, a decrease.
Cimetidine can increase the bioavailability of mirtazapine by more than 50%, so a decrease in the dose of Remeron may be required, and after cimetidine is discontinued, an increase.
Mirtazapine should not be administered in combination with monoamine oxidase inhibitors and within two weeks after their withdrawal.
Mirtazapine at a daily dose of 30 mg caused a slight increase in the international normalized ratio (INR) in patients treated with warfarin. A more pronounced effect cannot be ruled out when taking a higher dose of mirtazapine. For this reason, the INR should be monitored when using this combination.
Remeron can enhance the sedative effect of benzodiazepines and other sedatives, as well as the depressive effect of alcohol on the central nervous system.
With the simultaneous use of other serotonergic drugs with mirtazapine (for example, venlafaxine or selective serotonin reuptake inhibitors), there is a risk of developing serotonin syndrome. And although, according to the post-registration experience, such a probability is minimal, when using such a combination, one should carefully select the doses and monitor the patient's condition in order to detect in time signs of the onset of sustained serotonergic overstimulation.
Analogs
Remeron's analogs are: Alventa, Velaksin, Venlaxor, Venlift, Gelarium Hypericum, Deprexor, Deprivit, Intriv, Coaxil, Medofaxin, Mianserin, Neuroplant, Pyrazidol, Trittico, Prefaxin, Negrustin, Valdoxan, Melaxinor Azafaxen, Venenlabla, Lerivon, Intriv, Deprim, Depressil, Welbutrin, Brintellix, Calixta, Myrtel, Mirazep, Mirzaten Q-Tab, Mirtastadin, Mirtazapine, Mirtazapine Canon, Esprital, Mirzaten, Mirtalan.
Terms and conditions of storage
Store at temperatures from 2 to 30 ° C in a place protected from light and moisture, out of reach of children.
The shelf life is 3 years.
Terms of dispensing from pharmacies
Dispensed by prescription.
Reviews about Remeron
As testimonials testify, Remeron is most often prescribed for vegetative-vascular dystonia and panic attacks. Experts say that the drug is well tolerated, improves sleep, increases appetite and allows the patient to return to a full life. Sometimes you have to resort to additional means to eliminate side effects. It must be remembered that Remeron is a rather serious drug, and that it is dangerous to use it without consulting a doctor who will develop a treatment regimen.
Patients claim that the drug eliminates well endogenous depression and the symptoms that accompany it (migraines, dizziness, shortness of breath), but sometimes it helps to increase appetite, insomnia, and increases nervous excitement. Many of them, having undergone a course of treatment, say that, at last, they were able to feel again like people living a full life.
Price for Remeron in pharmacies
On average, the price of Remeron with a dosage of 30 mg is 1224-1772 rubles (a package includes 10 tablets) or 3499-4574 rubles (a package includes 30 tablets). The drug in other dosages is currently not on sale.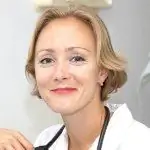 Anna Kozlova Medical journalist About the author
Education: Rostov State Medical University, specialty "General Medicine".
Information about the drug is generalized, provided for informational purposes only and does not replace the official instructions. Self-medication is hazardous to health!
Popular by topic