Table of contents: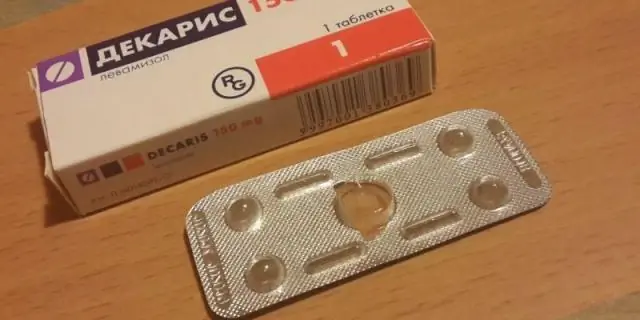 Video: Relpax - Instructions For The Use Of Tablets, Reviews, Analogues, Price
Relpax
Relaxax: instructions for use and reviews
1. Release form and composition
2. Pharmacological properties
3. Indications for use
4. Contraindications
5. Method of application and dosage
6. Side effects
7. Overdose
8. Special instructions
9. Application during pregnancy and lactation
10. In case of impaired renal function
11. Drug interactions
12. Analogs
13. Terms and conditions of storage
14. Terms of dispensing from pharmacies
15. Reviews
16. Price in pharmacies
Latin name: Relpax
ATX code: N02CC06
Active ingredient: Eletriptan (Eletriptan)
Producer: Pfizer Manufacturing Deutschland (Germany)
Description and photo update: 2019-07-08
Prices in pharmacies: from 549 rubles.
Buy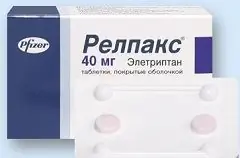 Relaxax is an anti-migraine drug.
Release form and composition
Dosage form - film-coated tablets: orange, round biconvex, engraved with "Pfizer" on one side, "REP 20" or "REP 40" on the other (20 mg or 40 mg: 2, 3, 4, 6 or 10 pcs. In a blister, in a cardboard box 1, 2, 3, 4, 5, 6 or 10 blisters).
The active ingredient of Relpax is eletriptan (in the form of hydrobromide), in 1 tablet - 20 mg or 40 mg.
Auxiliary components: croscarmellose sodium, magnesium stearate, lactose monohydrate, microcrystalline cellulose.
The composition of the film shell: Opadry orange OY-LS-23016 - lactose monohydrate, hypromellose, triacetin, sunset yellow dye with aluminum varnish (E110), titanium dioxide (E171); Opadry clear YS-2-19114-A - triacetin, hypromellose.
Pharmacological properties
Pharmacodynamics
The active ingredient of Relpax - eletriptan - is included in the group of selective agonists of neuronal 5-HT 1 D and serotonin vascular 5-HT 1B receptors. Also, the substance is characterized by a high affinity for 5-HT 1 F serotonin receptors and a moderate effect on the work of 5-HT 7, 5-HT 1 E, 5-HT 2 B and 5-HT 1 A serotonin receptors.
Eletriptan has a more pronounced selective effect on serotonin receptors located in the carotid arteries than on serotonin receptors located in the femoral and coronary arteries. The anti-migraine activity of Relpax can be explained by the ability of its active component to constrict intracranial blood vessels, and also to be an inhibitor of neurogenic inflammation.
Pharmacokinetics
After oral administration, eletriptan is sufficiently completely and at a high rate absorbed into the gastrointestinal tract (absorption reaches approximately 81%). The absolute oral bioavailability in patients of both sexes is approximately 50%. The maximum concentration of eletriptan in blood plasma is observed on average 1.5 hours after administration. The pharmacokinetics of a substance is characterized by a linear relationship when therapeutic doses are administered in the range of 20–80 mg.
The maximum level of eletriptan and the area under the concentration-time curve (AUC) are increased by about 20-30% when taking the drug after eating a fatty meal. When taken orally during a migraine attack, the AUC decreases by about 30%, and the time to reach the maximum concentration in blood plasma increases to 2.8 hours.
With regular use at a dosage of 20 mg 3 times a day for 5–7 days, the pharmacokinetics of the active substance of Relpax remains linear with predictable cumulation. When taken in higher daily doses (40 mg 3 times a day or 80 mg 2 times a day) and a course of treatment lasting more than 7 days, the cumulation of eletriptan exceeds the expected one by ~ 40%.
When administered intravenously, the volume of distribution of eletriptan is 138 liters, which indicates an effective distribution in the tissues. The substance binds to blood plasma proteins to a moderate extent (about 85%).
In vitro studies prove that the primary metabolism of eletriptan is due to the action of the isoenzyme CYP3A4 of cytochrome P 450 in the liver. This is confirmed by an increase in the content of this compound in the blood plasma when combined with erythromycin, which is a potent selective inhibitor of the CYP3A4 isoenzyme. It was found that the CYP2D6 isoenzyme also takes part in the metabolism of eletriptan, although clinical studies have not revealed the effect of the polymorphism of this element on the pharmacokinetics of Relpax.
When eletriptan is taken, two main circulating metabolites of this substance are formed, which are mainly responsible for an increase in the total radioactivity of blood plasma after administration of eletriptan containing a labeled carbon isotope C 14.
The metabolite formed by N-oxidation has no pharmacological activity, while the metabolite formed by N-demethylation has an activity comparable to that of eletriptan. The third substance of radioactive plasma has not been identified at the moment. It is believed to be a mixture of hydroxylated metabolites that are excreted through the kidneys and intestines.
The content of the active N-demethylated metabolite in blood plasma does not exceed 10–20% of the total concentration of eletriptan in the body, therefore it does not significantly affect the therapeutic effect of Relpax.
After intravenous administration, the total clearance of the active substance of the drug is approximately 36 l / h, and the half-life reaches 4 hours. The mean renal clearance after oral administration is approximately 3.9 l / h. The share of non-renal clearance accounts for about 90% of the total clearance, which indicates the elimination of eletriptan from the body in the form of metabolites, mainly with urine and feces.
Clinical and pharmacological studies and pharmacokinetic analysis indicate that the patient's gender has practically no effect on the level of eletriptan in blood plasma.
In patients aged 65–93 years, an insignificant and statistically insignificant decrease in the clearance of eletriptan by 16% and a statistically significant increase in the half-life (from approximately 4.4 to 5.7 hours) were found in comparison with these indicators in younger patients. The effect of eletriptan on blood pressure fluctuations in older people may be stronger than in younger patients.
Patients with liver dysfunctions (stages A and B according to the Child-Pugh classification) showed a statistically significant increase in AUC (by 34%) and half-life, as well as a slight increase in the maximum concentration of eletriptan in the blood (by 18%), but these phenomena are not clinically significant.
In patients with mild (CC 61–89 ml / min), moderate (CC 31–60 ml / min) or severe (CC less than 30 ml / min) renal dysfunctions, no changes in eletriptan pharmacokinetics or its degree of binding to blood proteins were found.
Indications for use
The use of Relpax is indicated for the relief of migraine attacks without and with aura.
Contraindications
Uncontrolled arterial hypertension;
Suspected ischemic heart disease (IHD) or its presence: previous myocardial infarction, angina pectoris, asymptomatic myocardial ischemia (confirmed), Prinzmetal's angina pectoris;
Violation of cerebral circulation or an indication in the history of a transient ischemic attack;
Occlusive pathology of peripheral vessels;
Severe liver dysfunction;
Relief of ophthalmoplegic, basilar or hemiplegic migraine;
Concomitant use of other agonists of serotonin 5-HT 1 receptors;
Concomitant use of erythromycin, ketoconazole, itraconazole, clarithromycin, josamycin (CYP3A4 inhibitors) and / or ritonavir, nelfinavir, indinavir (protease inhibitors);
Age under 18;
Lactase deficiency, lactose intolerance, glucose-galactose malabsorption syndrome;
Hypersensitivity to drug components.
In addition, the use of ergotamine and its derivatives (including methysergide) is contraindicated within 24 hours before or after taking Relpax.
Care should be taken to prescribe the drug to patients with concomitant therapy with selective serotonin reuptake inhibitors and selective serotonin and norepinephrine reuptake inhibitors (due to the risk of developing serotonin syndrome while taking eletriptan and other serotonergic drugs), as well as at a dose above 40 mg in case of violation kidney function.
Instructions for the use of Relpax: method and dosage
The tablets are taken orally, without chewing, with a sufficient amount of water.
Taking Relpax should be started when the first symptoms of migraine appear, although it is effective at all stages of an attack of the disease.
The recommended starting dose for patients aged 18 to 65 years is 40 mg.
If the headache has subsided, but resumes within 24 hours after taking the drug, then 40 mg is shown to relieve it again, but not earlier than 2 hours after the first tablet.
Patients in whom the initial dose did not give a clinical effect within the first two hours, it is not recommended to take the second dose to stop this attack.
In the absence of an adequate effect from a dose of 40 mg when stopping the next migraine attack, 80 mg of the drug can be taken as an initial dose.
The maximum daily dose of Relpax is 160 mg.
With mild or moderate liver dysfunction, dose adjustment is not required.
Side effects
Undesirable effects of Relpax registered in clinical trials:
Cardiovascular system: often - tachycardia, heart palpitations; rarely - increased blood pressure (BP), angina pectoris, bradycardia, shock;
Mental disorders: infrequently - confusion, insomnia, impaired thinking, depersonalization, agitation, euphoria, depression; rarely - emotional lability;
Nervous system: often - headache, drowsiness, dizziness, myasthenia gravis, impaired sensitivity (tingling sensation), muscle hypertonicity, hypesthesia; infrequently - speech impairment, hyperesthesia, ataxia, tremor, impaired taste, hypokinesia, stupor;
Organs of balance and hearing: often - vertigo; infrequently - ringing and / or pain in the ears;
Lymphatic system: rarely - lymphadenopathy;
Organ of vision: infrequently - pain in the eyes, blurred vision, impaired tearing, photophobia; rarely - conjunctivitis;
Metabolism: infrequently - anorexia;
Hepatobiliary system: rarely - increased activity of aspartate aminotransferase, hyperbilirubinemia;
Digestive system: often - dry mouth, nausea, indigestion, abdominal pain; infrequently - glossitis, diarrhea; rarely - tongue edema, constipation, belching, esophagitis;
Dermatological reactions: often - increased sweating; infrequently - itchy skin, rash; rarely - urticaria, skin pathologies;
Urinary system: infrequently - frequent urination, polyuria;
Musculoskeletal system: often - back and / or muscle pain; infrequently - arthrosis, joint pain, bone pain; rarely - myopathy, arthritis, convulsions, myalgia;
Reproductive system and mammary glands: rarely - menorrhagia, pain in the mammary glands;
Mediastinal, respiratory, thoracic disorders: often - a feeling of tightness in the throat; infrequently - yawning, dyspnea; rarely - a change in the timbre of the voice, asthma;
Infections: often - rhinitis, pharyngitis; rarely - respiratory tract infections;
General disorders: often - hot flashes to the face, feeling of warmth, chills, pain or feeling of constriction and / or pressure in the chest, asthenia; infrequently - thirst, general weakness, peripheral edema, swelling of the face.
In addition, side effects found in post-marketing studies:
Cardiovascular system: arterial hypertension;
Immune system: allergic reactions;
Digestive system: rarely - ischemic colitis, vomiting;
Nervous system: rarely - fainting.
Overdose
In case of an overdose of Relpax, arterial hypertension or other disorders of the cardiovascular system may occur. When taking high doses of the drug, the stomach is washed and symptomatic treatment is performed.
The half-life of eletriptan is approximately 4 hours, so in case of an overdose, the patient should remain under medical supervision for at least 20 hours or until the clinical symptoms of the overdose completely disappear. The effectiveness of hemodialysis and peritoneal dialysis in reducing plasma concentrations of eletriptan has not been proven.
special instructions
According to the instructions, Relaxax should be prescribed only for the treatment of migraine with a confirmed diagnosis. The drug should not be taken for atypical headaches, since the narrowing effect of the drug on the vessels of the brain can be dangerous if the pain is associated with a ruptured aneurysm, stroke, or other serious pathologies.
In addition, when prescribing, the doctor should take into account the results of a preliminary examination of the patient for the presence or risk of developing cardiovascular diseases.
The tablets are recommended to be taken exclusively during the headache phase, because taking the drug during the appearance of the aura does not prevent the development of the headache.
Clinical studies have confirmed the therapeutic effect of Relpax on the relief of symptoms accompanying migraine (photophobia, nausea, vomiting, phonophobia) and the treatment of headache returning during an attack.
The drug is not intended for use as a prophylaxis.
Patients, especially in old age or with impaired renal function, should take into account that a dose of 60 mg and above can cause a transient, slight increase in blood pressure.
Due to the possible appearance of drowsiness or dizziness while taking the drug or the disease itself, patients are advised to be careful when driving vehicles and mechanisms both during a migraine attack and after the direct use of Relpax.
Application during pregnancy and lactation
Clinical experience with the use of Relpax during pregnancy is practically absent. Prescribing a drug is advisable only in cases where the potential benefits of treatment for the mother outweighs the perceived risks to the fetus.
Eletriptan passes into breast milk. With a single dose of Relpax 80 mg for 24 hours, approximately 0.02% of the dose taken is excreted in breast milk. The risk of exposure to the drug on the newborn will be minimal if the mother refuses to breastfeed within 24 hours after taking Relpax.
Laboratory experiments on animals have not confirmed the teratogenic effect of the drug on the fetus.
With impaired renal function
In patients with renal dysfunction, the hypertensive effect of Relpax is enhanced, therefore, the drug should be prescribed in doses exceeding 40 mg per day with caution. When taking the drug in daily doses of 60 mg or more, there is a slight and temporary increase in blood pressure.
Drug interactions
Clinically significant interaction of Relpax with tricyclic antidepressants, beta-blockers, selective serotonin reuptake inhibitors (SSRIs), flunarizine has not been established.
Studies have confirmed that there is no effect on the pharmacokinetics of eletriptan beta-blockers, SSRIs, tricyclic antidepressants, estrogen-containing hormone replacement drugs, calcium channel blockers, oral estrogen-containing contraceptives.
With simultaneous use with monoamine oxidase (MAO) inhibitors, pharmacokinetic interaction is unlikely, since eletriptan is not a MAO substrate.
Ingestion of caffeine 1 hour later or ergotamine 2 hours after taking Relpax leads to an additive, albeit insignificant, increase in blood pressure. Therefore, an interval of 24 hours should be observed between the use of eletriptan and ergotamine-containing or ergotamine-like drugs, including dihydroergotamine.
The effect of therapeutic doses of Relpax on the cytochrome P 450 system has not been established.
The combination with serotonergic drugs increases the risk of developing serotonin syndrome.
Analogs
Relpax analogues are: Imigran, Kofetamin, Zomig, Amigrenin, Sumatriptan.
Terms and conditions of storage
Store at temperatures up to 30 ° C. Keep out of the reach of children.
The shelf life is 3 years.
Terms of dispensing from pharmacies
Dispensed by prescription.
Reviews about Relpax
According to reviews, Relpax has established itself as an effective drug for migraines. Patients indicate that even after taking 1 tablet, their symptoms characteristic of a migraine attack completely disappeared. Symptoms become less severe about 30 minutes after taking the drug.
Side effects include nausea, drowsiness, tremors, etc. Some patients believe that after using Relpax, it is advisable to sleep in order to minimize the risk of side effects. There are also reviews of people suffering from migraines, who claim that taking the drug did not improve their condition at all.
The price of Relaxax in pharmacies
On average, the price of Relpax 40 mg in pharmacy chains ranges from 480 to 550 rubles (for a pack of 2 tablets).
Relaxpax: prices in online pharmacies
Drug name
Price
Pharmacy
Relpax 40 mg film-coated tablets 2 pcs.
549 r
Buy
Relax pills p.p. 40mg 2 pcs.
RUB 612
Buy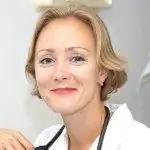 Anna Kozlova Medical journalist About the author
Education: Rostov State Medical University, specialty "General Medicine".
Information about the drug is generalized, provided for informational purposes only and does not replace the official instructions. Self-medication is hazardous to health!
Popular by topic