Table of contents: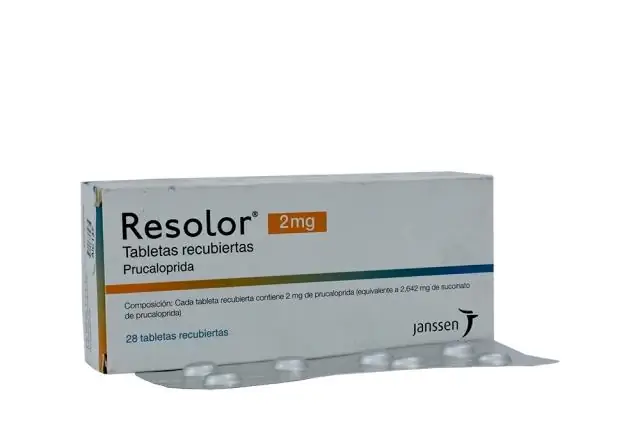 Video: Resolor - Instructions For The Use Of Tablets, Price, Reviews, Analogues
Resolor
Resolor: instructions for use and reviews
1. Release form and composition
2. Pharmacological properties
3. Indications for use
4. Contraindications
5. Method of application and dosage
6. Side effects
7. Overdose
8. Special instructions
9. Application during pregnancy and lactation
10. Use in childhood
11. In case of impaired renal function
12. For violations of liver function
13. Use in the elderly
14. Drug interactions
15. Analogs
16. Terms and conditions of storage
17. Terms of dispensing from pharmacies
18. Reviews
19. Price in pharmacies
Latin name: Resolor
ATX code: A06AX05
Active ingredient: prucalopride (prucalopride)
Manufacturer: Janssen-Silag S.p. A. (Italy)
Description and photo update: 2018-24-10
Prices in pharmacies: from 1272 rubles.
Buy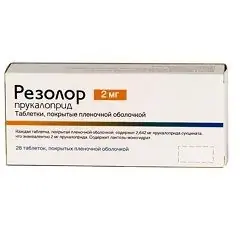 Resolor is a laxative intended for the symptomatic treatment of chronic constipation.
Release form and composition
Dosage form Resolor - film-coated tablets: round, biconvex; with a white or almost white shell and the inscription PRU 1 engraved on one of the sides - at a dosage of 1 mg, with a pink shell and an inscription PRU 2 engraved on one of the sides - at a dosage of 2 mg; the core is almost white or white in cross section (in an aluminum blister 7 pcs., in a cardboard box 1, 2, 3, 4, 5, 6, 7 or 8 blisters).
Composition of 1 tablet:
active substance: prucaloprid succinate - 1.321 or 2.642 mg, which corresponds to the content of 1 or 2 mg of prucaloprid, respectively;
auxiliary ingredients (core): lactose monohydrate, microcrystalline cellulose, magnesium stearate, colloidal silicon dioxide;
film coat: hypromellose 6 cP, titanium dioxide, macrogol 3000, lactose monohydrate, triacetin; for the pink shell - dye red iron oxide (E172), dye yellow iron oxide (E172), indigo carmine (E132).
Pharmacological properties
Pharmacodynamics
Prucaloprid, the active ingredient of Resolor, is a dihydrobenzofurancarboxamide that enhances intestinal motility by stimulating one of the serotonin receptor subtypes. Prucalopride is a selective, high-affinity 5-HT 4 receptor agonist. The effect on other types of receptors in the course of in vitro experiments was observed only at very high concentrations of prucalopride (at least 150 times higher than its affinity for HT 4 receptors).
Pharmacokinetics
absorption: prucaloprid is quickly and well absorbed from the gastrointestinal tract; the maximum concentration of the substance in the blood plasma is observed 2-3 hours after a single oral dose of 2 mg. The absolute bioavailability of prucaloprid succinate is more than 90%, while food intake does not affect the level of bioavailability;
distribution: the active substance is distributed throughout all body tissues; the volume of its distribution in equilibrium (Vd ss) is 567 liters. Approximately 30% binds to blood plasma proteins;
metabolism: prucaloprid is metabolized in the human liver in vitro for quite a long time, forming only small amounts of metabolites. After oral administration of 14 C-labeled prucalopride in the urine and feces, eight metabolites are found in small amounts in urine and feces. The main metabolite is R107504, which is formed during the O-demethylation of the active substance and the oxidation of the resulting alcohol to a carboxylic acid. It is less than 4% of the dose taken. As a result of studies with a radioactive label, it was found that about 85% of prucalopride remains unchanged, the metabolite R107504 is present in a small amount in blood plasma;
excretion: the drug is excreted mainly unchanged, approximately 60% - with urine, 6% - with feces. With the excretion of unchanged prucalopride by the kidneys, the processes of passive filtration and active secretion occur. The average value of the plasma clearance of the active substance is 317 ml / min, the final half-life (T 1/2) is approximately 1 day. The equilibrium concentration of the drug occurs on the 3-4th day of use, the minimum and maximum plasma concentration in the equilibrium state when 2 mg of prucaloprid is taken once a day are 2.5 and 7 ng / ml, respectively. The coefficient k of the drug is in the range of 1.9–2.3 (for oral administration once a day).
The pharmacokinetic parameters of prucaloprid are linearly dependent on the dose in the range up to 20 mg / day. With prolonged use of the drug once a day, the indicators of pharmacokinetic processes do not depend on the duration of therapy.
Studies of pharmacokinetic processes in patients aged 4-12 years after a single dose of prucaloprid at a dose of 0.03 mg / kg showed: its maximum concentration in blood plasma (C max) is the same as after an adult dose of 2 mg, and the area under the pharmacokinetic the curve (AUC) of the unbound fraction of prucaloprid is 30-40% less than in adults, and does not depend on the child's age. The average end-phase T 1/2 in children is approximately 19 hours.
In patients with impaired renal function of moderate (CC 25–49 ml / min) and weak (CC 50–79 ml / min) severity after a single dose of prucaloprid at a dose of 2 mg, its plasma concentration increases by 51 and 25%, respectively. In patients with severe renal failure (CC less than 24 ml / min), the concentration of the active substance in the blood plasma is 2.3 times higher than in healthy people.
Liver dysfunction, in all likelihood, does not have a clinical effect on the pharmacokinetic parameters of prucaloprid.
Experiments have shown that when prucaloprid is taken by elderly patients at a dose of 1 mg / day, its C max and AUC are higher than in young patients by 26 and 28%, respectively. This may be due to decreased kidney function in older people.
As a result of population analysis, it was found that the total clearance of prucaloprid succinate is interrelated with creatinine clearance (CC) and does not depend on the patient's body weight, sex, age, race.
Indications for use
According to the instructions, Resolor is indicated for the symptomatic treatment of chronic constipation, mainly in women, when the use of other laxatives was not effective enough in eliminating symptoms.
Contraindications
Absolute:
intestinal obstruction or perforation due to functional and / or anatomical damage to the intestinal wall, complete or partial intestinal obstruction, severe inflammatory bowel diseases, for example, ulcerative colitis, Crohn's disease, megacolon / megarectum of toxic origin;
renal dysfunction requiring dialysis;
lactose intolerance (hypolactasia), congenital lactase deficiency, glucose-galactose malabsorption;
age up to 18 years;
pregnancy and lactation;
individual hypersensitivity to prucaloprid or any auxiliary component of the Resolor.
Since the use of Resolor in patients with clinically unstable and severe forms of concomitant diseases has not been studied, care must be taken when prescribing the drug to patients with diseases of the lungs, liver, neurological, cardiovascular (in particular, a history of ischemic heart disease, heart rhythm disturbances), endocrine diseases, mental disorders, acquired immune deficiency syndrome, oncological diseases.
Instructions for use Resolor: method and dosage
Resolor tablets are taken orally at any time of the day, regardless of the time of the meal.
The recommended dosage regimen for some categories of patients:
age from 18 to 65 years in the absence of severe concomitant diseases: 2 mg once a day;
elderly age (over 65 years): start taking from 1 mg once a day, if necessary, increase the dose to 2 mg once a day;
with impaired renal function: with severe renal failure [glomerular filtration rate (GFR) less than 30 ml / min / 1.73 m 2] - 1 mg once a day; for moderate and mild renal impairment - 2 mg once a day;
with impaired liver function: in severe hepatic failure (class C according to the Child-Pugh classification) - 1 mg once a day; for violations of liver function of moderate and mild severity - 2 mg 1 time per day.
Since the mechanism of action of prucalopride to stimulate intestinal motility is specific, an increase in the dose of more than 2 mg / day, in all likelihood, will not lead to a significant increase in the effect.
If within 4 weeks the use of Resolor 1 time per day does not bring the desired result, it is necessary to examine the patient again and determine the advisability of continuing therapy.
Side effects
When using Resolor, most often (in about 20% of patients taking the drug), the following side reactions were observed: headache, nausea, abdominal pain, diarrhea. Undesirable effects developed, as a rule, in the first days of therapy and after a few days usually disappeared without requiring discontinuation of the drug. Other adverse reactions were observed sporadically and were of moderate or mild severity.
The frequency of reported adverse reactions when using the recommended dose of 2 mg prucaloprid per day according to a special scale (very often - more than 1/10; often - 1 / 100-1 / 10; infrequently - 1 / 1000-1 / 100; rarely - 1/10 000-1 / 1000; extremely rarely - less than 1/10 000):
from the gastrointestinal tract: very often - abdominal pain, diarrhea, nausea; often - flatulence, vomiting, rectal bleeding, dyspepsia, intestinal noises of a pathological nature; infrequently - anorexia;
from the central nervous system (CNS): very often - headache; often - dizziness; infrequently - tremor of the limbs;
from the genitourinary system: often - frequent urination;
on the part of the cardiovascular system: infrequently - palpitations;
the body as a whole: often - weakness; infrequently - feeling unwell, fever.
Overdose
As a result of studies of the results of using prucalopride in healthy volunteers, it was found that the drug is well tolerated when the dose is increased to 20 mg / day, which exceeds the recommended therapeutic dose by 10 times.
In case of an overdose of Resolor, symptoms may occur caused by an increase in the listed adverse reactions, including nausea, headache, diarrhea, and abdominal pain.
Treatment in case of drug overdose consists of supportive and symptomatic therapy, since there is no specific antidote. If there is significant fluid loss due to vomiting / diarrhea, it may be necessary to correct the body's fluid and electrolyte balance.
special instructions
With the development of severe diarrhea, the effectiveness of oral contraceptives may decrease, therefore, the use of additional contraceptives is recommended during this period.
No development of Resolor dependence or withdrawal syndrome was identified.
Studies have shown that taking Resolor in therapeutic (2 mg) and supra-therapeutic (10 mg) doses does not affect the QT interval (cardiac electrical systole), and the frequency of QT-related negative events and ventricular arrhythmias is quite low and comparable to that. frequency while taking placebo.
Influence on the ability to drive vehicles and complex mechanisms
The effect of prucaloprid on the ability to control transport and mechanisms has not been studied. However, due to the fact that the use of Resolor in some cases can cause dizziness and weakness (especially at the beginning of treatment), performing work associated with an increased risk of accidents, including driving vehicles, requires caution.
Application during pregnancy and lactation
The safety of taking Resolor in pregnant women has been little studied. The relationship between the use of prucaloprid and reported cases of miscarriage in clinical trials has not been proven (taking into account the presence of other risk factors). As a result of animal studies, no direct or indirect negative impact on the course of pregnancy, embryo development and the course of labor has been identified.
Prucalopride is able to pass into breast milk, but its intake in therapeutic doses, most likely, does not have any effect on a newborn baby.
Due to insufficient experimental data, the use of Resolor during pregnancy and breastfeeding is not recommended.
Pediatric use
The use of Resolor in children and adolescents under the age of 18 is not recommended.
With impaired renal function
In severe renal failure, it is necessary to reduce the dose of Resolor by half (1 mg once a day). There is no need to adjust the dose in cases of moderate and weak renal impairment.
For violations of liver function
Patients with severe hepatic impairment should reduce the dose of Resolor to 1 mg / day. With moderate and mild liver dysfunctions, there is no need to adjust the dose.
Use in the elderly
It is recommended to start taking Resolor in patients over 65 years of age at a dose of 1 mg / day, increasing it as needed to 2 mg / day.
Drug interactions
Prucaloprid in therapeutic doses has a weak ability to pharmacokinetic interactions, therefore, it is unlikely to affect the metabolism of drugs used simultaneously with it. Despite the fact that prucalopride is able to bind to a small extent with P-glycoprotein (Pgp), it does not affect Pgp activity at clinically significant concentrations.
The use of prucaloprid simultaneously with some substances can lead to the development of the following effects:
ketoconazole, verapamil, cyclosporin A, quinidine and other active Pgp inhibitors: increase in prucaloprid AUC by approximately 40%. This effect is not clinically significant and is most likely associated with the inhibition of the active secretion of the substance by Pgp in the kidneys. Prucaloprid can be transported in the kidneys and other vectors. And theoretically, if there is a suppression of the activity of all transporters involved in the transport of substances in the kidneys, including Pgp, the level of systemic exposure to prucaloprid can increase by 75%;
warfarin, digoxin, ethyl alcohol, paroxetine: no clinically significant effect of prucaloprid on their pharmacokinetics;
erythromycin: an increase in its concentration in blood plasma by 30%, which is most likely a consequence of the high pharmacokinetic variability of erythromycin, and not the result of the action of prucaloprid;
cimetidine, probenecid, paroxetine, erythromycin: in therapeutic doses, they do not affect the pharmacokinetics of prucaloprid;
atropine-like substances: weakening of the effects of prucaloprid, mediated through HT 4 receptors.
The simultaneous use of Resolor with drugs that can increase the QTc interval requires caution.
The interaction of prucaloprid with food was not found.
Analogs
Vegaprat is an analogue of Resolor.
Terms and conditions of storage
Store in its original packaging to protect from moisture, at a temperature not exceeding 25 ° C, out of the reach of children.
Shelf life is 3 years.
Terms of dispensing from pharmacies
Dispensed by prescription.
Reviews about Resolor
Reviews about Resolor are very diverse. A significant part of users note its high laxative effect and do not complain about side effects. However, in many patients, the drug causes undesirable effects of varying degrees of intensity and in different combinations, such as bloating and abdominal pain, nausea, dizziness, and some users did not feel any laxatives or side effects of the drug.
Price for Resolor in pharmacies
The average price for Resolor (for a pack of 28 tablets) is roughly: in a dose of 1 mg - 1500 rubles, in a dose of 2 mg - 2300 rubles.
Resolor: prices in online pharmacies
Drug name
Price
Pharmacy
Resolor 1 mg film-coated tablets 28 pcs.
1272 RUB
Buy
Resolor 2 mg film-coated tablets 28 pcs.
2089 RUB
Buy
Resolor tablets p.o. 2mg 28 pcs.
RUB 2404
Buy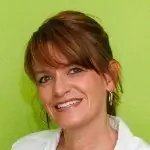 Maria Kulkes Medical journalist About the author
Education: First Moscow State Medical University named after I. M. Sechenov, specialty "General Medicine".
Information about the drug is generalized, provided for informational purposes only and does not replace the official instructions. Self-medication is hazardous to health!
Popular by topic