Table of contents: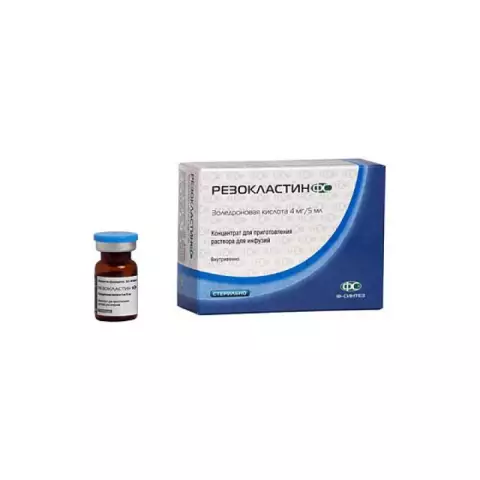 Video: Rezoklastin - Instructions For Use, Price, Reviews, Analogues, 5 Mg
Resoclastin
Rezoklastin: instructions for use and reviews
1. Release form and composition
2. Pharmacological properties
3. Indications for use
4. Contraindications
5. Method of application and dosage
6. Side effects
7. Overdose
8. Special instructions
9. Application during pregnancy and lactation
10. Use in childhood
11. In case of impaired renal function
12. For violations of liver function
13. Drug interactions
14. Analogs
15. Terms and conditions of storage
16. Terms of dispensing from pharmacies
17. Reviews
18. Price in pharmacies
Latin name: Rezoklastin
ATX code: M05BA08
Active ingredient: zoledronic acid (Zoledronic acid)
Manufacturer: Nativa, LLC (Russia); Pharmstandard-UfaVITA (Russia)
Description and photo update: 2019-08-07
Prices in pharmacies: from 3850 rubles.
Buy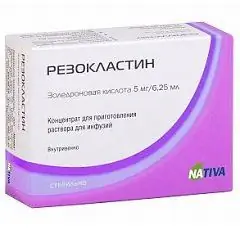 Resoclastin is a drug that inhibits bone resorption.
Release form and composition
Dosage form - concentrate for the preparation of solution for infusion: transparent colorless liquid (in a cardboard box 1 bottle of 10 ml with a solution concentration of 4 mg / 5 ml or 5 mg / 6.25 ml, placed in a plastic or cardboard support, and instructions for use Resoclastin).
Composition for 1 ml of concentrate:
active substance: anhydrous zoledronic acid - 0.8 mg (zoledronic acid monohydrate - 0.85 mg);
auxiliary components: sodium citrate dihydrate - 5.5 mg; D-mannitol - 44 mg; water for injection - up to 1 ml.
Pharmacological properties
Pharmacodynamics
Zoledronic acid monohydrate, the active substance of Resoclastin, belongs to a new class of highly effective bisphosphonates that selectively affect bone tissue. The substance helps to suppress the activity of osteoclasts, however, it does not have an undesirable effect on the formation, mechanical properties and mineralization of bone tissue.
The selective interaction of bisphosphonates with bone tissue occurs due to their high affinity for mineralized bone tissue. But the exact molecular mechanism that ensures the inhibition of osteoclast activity remains unclear to date.
In addition to the inhibitory effect, zoledronic acid has a direct antitumor effect on bone resorption, which ensures the effectiveness of the use of Resoclastin in bone metastases.
It has been established that zoledronic acid, due to the suppression of cell proliferation and induction of apoptosis, has a direct antitumor effect on breast cancer and myeloma cells, which reduces the likelihood of their metastasis.
Due to inhibition of osteoclastic resorption of bone tissue, there is a decrease in the growth of tumor cells; anti-pain and anti-angiogenic activity is noted. Zoledronic acid also inhibits the proliferation of human endothelial cells. In tumor-induced hypercalcemia, there is a decrease in serum calcium in the blood.
In patients with postmenopausal osteoporosis (with T-score values for bone mineral density of the femoral neck below - 2.5), therapy with zoledronic acid shows a statistically significant decrease in the risk of vertebral fractures, as well as a decrease in the likelihood of one or more new (repeated) vertebral fractures.
When using Resoclastin in patients with Paget's bone disease, there is a fast, long-term and statistically significant therapeutic response, as well as normalization of the level of bone metabolism and the plasma concentration of alkaline phosphatase (ALP) in the blood.
Also, zoledronic acid is highly effective in patients who have previously received oral bisphosphonate therapy. It was found that in most cases, the maintenance of the therapeutic response against the background of the use of the drug is observed during the entire period of treatment (approximately 2 years).
Zoledronic acid in patients with postmenopausal osteoporosis and Paget's bone disease has no effect on the quality of normal bone. During the period of therapy, there is no violation of the processes of bone remodeling and mineralization, and Resoclastin also contributes to the preservation of the normal trabecular bone architectonics.
Pharmacokinetics
The pharmacokinetic parameters of zoledronic acid do not depend on the dose.
The level of the substance in the blood serum rises rapidly after the start of the infusion and reaches the C max (maximum concentration) at the end of the infusion. After that, there is a rapid decrease in concentration from its maximum value: after 4 hours - by 10%, after 24 hours - less than 1% with a further prolonged period of low concentrations, which do not exceed 0.1% of C max, before repeated infusion by 28 th day.
Zoledronic acid binds to plasma proteins at a level of 56%. Plasma clearance does not depend on the dose of the substance, age, gender, race and weight of the patient. Does not undergo metabolism.
Unchanged, 20-50% of the dose is excreted by the kidneys in three stages. The first two phases are characterized by rapid elimination of the substance from the systemic circulation with T 1/2 (half-life) of 0.24 and 1.87 hours, respectively. The third phase is long, its T 1/2 is 146 hours.
Cumulation of the drug with repeated injections every 28 days is not observed. During the first 24 hours, 23 to 55% of the administered dose is found in urine. The rest of the zoledronic acid binds to the bone tissue, after which there is a slow reverse release of the substance into the systemic circulation and its elimination by the kidneys. Up to 3% of the dose is excreted by the intestines.
An increase in the duration of the infusion from 5 to 15 minutes leads to a decrease in the concentration of zoledronic acid by 30% at the end of the infusion, but does not affect the AUC (area under the concentration-time curve).
Renal clearance of zoledronic acid positively correlates with CC (creatinine clearance) and varies from 42 to 108% of CC, averaging 55-113%. In patients with severe renal failure (with CC ≤ 20 ml / min), the substance clearance is 37%, with moderate renal failure (with CC 20-50 ml / min) - 72% of the values of zoledronic acid clearance with CC greater than 84 ml / min …
Indications for use
hypercalcemia (in patients with an albumin-corrected serum calcium concentration ≥ 12 mg / dL or 3 mmol / L), which is induced by malignant tumors;
metastatic bone lesions against the background of malignant solid tumors and myeloma (in order to reduce the risk of spinal cord compression, pathological fractures caused by a tumor of hypercalcemia and reduce the need for radiation therapy);
Paget's bone disease;
primary osteoporosis in postmenopausal and senile form;
secondary osteoporosis.
Contraindications
Absolute:
severe renal failure (in patients with CC ≤ 30 ml / min);
pregnancy and lactation;
age up to 18 years;
individual intolerance to the components of the drug, as well as other bisphosphonates.
Relative (Resoclastin is prescribed under medical supervision):
impaired renal function;
severe liver failure;
bronchial asthma (if patients have hypersensitivity to acetylsalicylic acid).
Rezoklastin, instructions for use: method and dosage
Resoclastin is administered by intravenous drip, for at least 15 minutes.
The dosage regimen of Resoclastin is determined by the indications:
hypercalcemia due to malignant tumors (with a calcium concentration corrected for albumin ≥ 3 mmol / l or 12 mg / dl): once at a dose of 4 mg, the infusion should be carried out provided the patient is adequately hydrated;
metastatic bone disease in myeloma and malignant solid tumors: every 3-4 weeks, 4 mg; additionally, calcium is administered orally at a daily dose of 500 mg and vitamin D at a daily dose of 400 IU (international units);
primary osteoporosis in postmenopausal and senile form: 1 time per year Resoclastin 5 mg;
secondary osteoporosis: once a year Resoclastin 5 mg; in case of insufficient intake of calcium and vitamin D in the body, calcium and vitamin D preparations are additionally prescribed; the duration of therapy is determined individually, based on the patient's condition;
Paget's bone disease: a single dose of 5 mg; all patients during the first 10 days after the administration of zoledronic acid are recommended to take the daily intake of calcium and vitamin D (associated with a high level of bone metabolism);
Paget's bone disease (retreatment): After the first injection of Resoclastin, there is a long period of remission. There are no special data on the repeated therapy of Paget's bone disease, however, if a relapse of the disease is detected in patients, the possibility of re-administration of the drug may be considered, which is based on the following criteria: lack of normalization of serum alkaline phosphatase activity, increase in its activity over time, presence of clinical signs of bone disease Paget, which are detected during a medical examination 12 months after the first dose of Resoclastin.
Patients with severe renal impairment before treatment of hypercalcemia caused by malignant tumors must first carefully assess the balance of benefit with possible risk. Patients with a serum creatinine concentration of <4.5 mg / dL or <400 μmol / L do not need to adjust the dosage regimen.
Patients with CC <30 ml / min (severe renal impairment) are not recommended to use Resoclastin for the treatment of metastatic bone lesions in malignant solid tumors and myeloma.
For mild or moderate renal impairment, Resoclastin is prescribed depending on the QC value:
50-60 ml / min: 3.5 mg;
40-49 ml / min: 3.3 mg;
30-39 ml / min: 3 mg.
Serum creatinine concentration should be determined prior to each dose of Resoclastine. In the event of violations of renal function, the next administration of the drug should be postponed.
Renal dysfunction is determined based on the following parameters:
normal baseline creatinine values (<1.4 mg / dl): an increase in serum creatinine in the blood by 0.5 mg / dl;
abnormalities in baseline creatinine levels (> 1.4 mg / dl): an increase in serum creatinine in the blood by 1 mg / dl.
Resoclastin therapy can be resumed only after the concentration of creatinine reaches values that exceed the initial value by no more than 10%, at the dose that was used before the interruption of therapy.
The Resoclastin solution must be prepared under aseptic conditions. Before the introduction of the drug, you need to dilute 1 bottle of the concentrate in 100 ml of an infusion solution that does not contain calcium (5% dextrose solution; 0.9% sodium chloride solution).
It is recommended to use the solution immediately after preparation. It can be stored for up to 24 hours at 2-8 ° C. Before the introduction of Resoclastin, it is necessary to keep it indoors until it warms up to room temperature.
The drug is administered using a separate intravenous infusion system.
Side effects
Possible adverse reactions (> 10% - very common;> 1% and 0.1% and 0.01% and <0.1% - rarely; <0.01% - very rare):
respiratory system: infrequently - cough, shortness of breath;
digestive system: often - vomiting, nausea, anorexia; infrequently - constipation, diarrhea, dyspepsia, abdominal pain, stomatitis, xerostomia;
nervous system: often - headache; infrequently - anxiety, dizziness, sleep disorders, paresthesia, disturbances in taste, hyperesthesia, hypesthesia, tremor; rarely - confusion of consciousness;
cardiovascular system: infrequently - pronounced decrease / increase in blood pressure; rarely - bradycardia;
immune system: infrequently - hypersensitivity reactions; rarely - angioedema;
urinary system: often - renal dysfunction; infrequently - hematuria, acute renal failure, proteinuria;
musculoskeletal system: often - arthralgia, bone pain, generalized pain, myalgia; infrequently - muscle cramps;
hematopoietic organs: often - anemia; infrequently - leukopenia, thrombocytopenia; rarely - pancytopenia;
organ of vision: often - conjunctivitis; infrequently - blurred vision; very rarely - episcleritis, uveitis;
skin and skin appendages: infrequently - increased sweating, itching, rash (including erythematous and macular);
laboratory parameters: very often - hypophosphatemia; often - hypocalcemia, increased serum concentrations of urea and creatinine; infrequently - hypokalemia, hypomagnesemia; rarely - hypernatremia, hyperkalemia;
local reactions: the formation of infiltration, pain, swelling, irritation at the injection site;
others: often - fever, flu-like syndrome (including chills, general malaise, fever, painful condition); infrequently - peripheral edema, asthenia, weight gain, chest pain.
With the use of zoledronic acid, like other bisphosphonates, the development of osteonecrosis of the jaw was sometimes noted (usually after tooth extraction or other dental intervention).
In very rare cases, a decrease in blood pressure during treatment led to circulatory collapse or fainting.
Overdose
main symptoms: hypocalcemia, accompanied by clinical manifestations;
therapy: with the development of hypocalcemia, accompanied by clinical manifestations, an infusion of calcium gluconate is prescribed; in case of an overdose, the patient requires constant medical supervision.
special instructions
Before the introduction of the drug, it is necessary to exclude the presence of dehydration in the patient. If necessary, it is recommended to administer saline before, during or after the infusion of Resoclastin. Excessive water content in the body (overhydration) of the patient must also be avoided, which is associated with the existing risk of developing complications from the cardiovascular system.
During the use of the drug, renal function should be carefully evaluated. Risk factors for the development of impaired renal function include dehydration, previous renal failure, repeated use of zoledronic acid or other bisphosphonates, therapy with nephrotoxic drugs, and too rapid administration of Resoclastin.
It should be borne in mind that when prescribing other bisphosphonates against the background of bronchial asthma, cases of bronchospasm were observed in patients with hypersensitivity to acetylsalicylic acid, but such episodes were not recorded during therapy with zoledronic acid.
Against the background of the use of bisphosphonates, including zoledronic acid, osteonecrosis of the jaw may occur. In this regard, before starting therapy, it is necessary to provide for a dental examination and if risk factors are identified (including anemia, coagulopathy, infections, poor hygiene or diseases of the oral cavity, concomitant chemotherapy or radiation therapy, treatment with corticosteroids), carry out the necessary preventive procedures. During the use of Resoclastin, patients with risk factors should, if possible, avoid dental surgery.
In order to reduce the frequency of side effects immediately after the administration of Resoclastin, the use of paracetamol or ibuprofen is recommended.
Influence on the ability to drive vehicles and complex mechanisms
Patients should be careful when driving motor vehicles.
Application during pregnancy and lactation
Rezoclastin is not prescribed during pregnancy / lactation.
Pediatric use
Since the safety profile of Resoclastin in patients under 18 years of age has not been studied, it is contraindicated to use the drug in this age group of patients.
With impaired renal function
severe renal failure: therapy is contraindicated;
renal dysfunction: Resoclastin should be used under medical supervision.
For violations of liver function
Patients with severe hepatic insufficiency are prescribed with caution, since there are no data on its use in this group of patients.
Drug interactions
It is impossible to use solutions containing calcium or any bivalent cations (in particular Ringer's lactate solution) as solvents.
Do not mix Resoclastin with other drugs.
Possible interactions:
aminoglycosides: drugs unidirectionally affect the concentration of calcium in the blood serum, which leads to an increase in the likelihood of hypomagnesemia and hypocalcemia;
drugs with potentially nephrotoxic effects: caution should be exercised in combination therapy;
thalidomide: in patients with multiple myeloma, the risk of developing impaired renal function may be increased.
Analogs
Rezoclastin analogues are Rezoklastin FS, Zoleriks, Veroclast, Blaztera, Zometa, Aklasta, Rezorba, Zoledreks.
Terms and conditions of storage
Store in a place protected from light at temperatures up to 25 ° C. Keep out of the reach of children.
Shelf life is 2 years.
Terms of dispensing from pharmacies
Dispensed by prescription.
Reviews about Rezoklastin
Patients leave quite a variety of reviews about Resoclastin. Most often, it is noted that the drug does not have a therapeutic effect immediately. Many point to the development of pronounced side effects.
Price for Resoclastin in pharmacies
The approximate price for Rezoklastin, a concentrate for the preparation of a solution for infusion, for 1 bottle (bottle) is: 4 mg / 5 ml - 5106–7400 rubles; 5 mg / 6.5 ml - 10 339-11 453 rubles.
Rezoklastin: prices in online pharmacies
Drug name
Price
Pharmacy
Rezoclastin 4 mg / 5 ml concentrate for preparation of solution for infusion 5 ml 1 pc.
3850 RUB
Buy
Rezoklastin concentrate for preparation of solution for infusion 4 mg / 5 ml bottle 5 ml
RUB 6253
Buy
Rezoclastin 5 mg / 6.25 ml concentrate for preparation of solution for infusion 6.25 ml 1 pc.
RUB 13347
Buy
Rezoklastin conc. prigot. solution for inf. 5 mg / 6.25 ml vial 6,250 ml No. 1
RUB 14331
Buy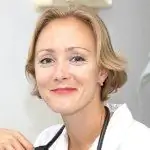 Anna Kozlova Medical journalist About the author
Education: Rostov State Medical University, specialty "General Medicine".
Information about the drug is generalized, provided for informational purposes only and does not replace the official instructions. Self-medication is hazardous to health!
Popular by topic