Table of contents: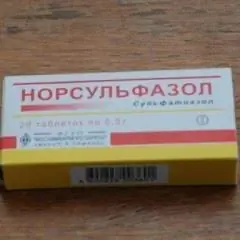 Video: Norsulfazole - Instructions For Use, Indications, Doses, Analogues
Norsulfazole
Instructions for use:
1. Release form and composition
2. Indications for use
3. Contraindications
4. Method of application and dosage
5. Side effects
6. Special instructions
7. Drug interactions
8. Analogs
9. Terms and conditions of storage
10. Terms of dispensing from pharmacies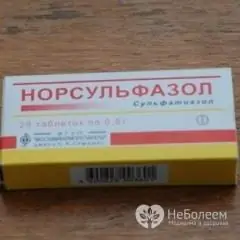 Norsulfazole is a sulfanilamide drug with antimicrobial bacteriostatic action.
Release form and composition
Dosage form - tablets: white with a yellowish tinge, with a dividing line (10 pcs. In a package).
The active ingredient is norsulfazole, in 1 tablet - 0.25 g or 0.5 g.
Indications for use
The use of Norsulfazole is indicated for infectious pathologies caused by staphylococcus, pneumococcus, hemolytic streptococcus, gonococcus, Escherichia coli, including streptococcal and staphylococcal sepsis, pneumonia, gonorrhea, cerebral meningitis, dysentery.
Contraindications
Chronic renal failure;
Oppression of bone marrow hematopoiesis;
Deficiency of glucose-6-phosphate dehydrogenase;
The period of pregnancy and breastfeeding;
Intolerance to sulfa drugs.
Method of administration and dosage
The tablets are taken orally.
Before prescribing Norsulfazole, it is recommended to conduct a test aimed at confirming the sensitivity of the microflora of the disease to it.
Recommended dosing regimen for adults:
Staphylococcal infections: the first dose is 3-4 g, then 1 g 4 times a day, the duration of treatment is 3-6 days;
Meningitis, pneumonia: first dose - 2 g, then 1 g every 4-6 hours, course of therapy - 20-30 g;
Dysentery: a special therapy regimen - 6-4-3 g per day.
The daily dose of the drug for adults should not exceed 7 g, single dose - 2 g.
When treating children, the drug is prescribed at intervals of 4-6-8 hours in a single dose corresponding to the child's age:
From 4 months to 2 years: 0.1-0.25 g each;
From 2 to 5 years: 0.3-0.4 g each;
From 6 to 12 years old: 0.4-0.5 g each.
The dose of the first dose should be doubled.
Side effects
Dyspepsia;
Functional kidney disorder (crystalluria);
Leukopenia;
Neuritis;
Development of allergic reactions.
special instructions
It is recommended to accompany the use of the drug with an abundant alkaline drink.
The antimicrobial activity of norsulfazole is significantly inferior to antibiotics, therefore the drug is currently classified as a II series of drugs used only for the treatment of patients with hypersensitivity to antibiotics or in the case of developing resistance to them.
Drug interactions
The hematotoxicity of Norsulfazole increases with the simultaneous use of drugs with myelotoxic effect.
Analogs
Norsulfazole analogs are: Sulfathiazole, Sulfathiazole sodium.
Terms and conditions of storage
Keep out of reach of children, protected from light, dry place.
Expiration date - see the package.
Terms of dispensing from pharmacies
Dispensed by prescription.
Information about the drug is generalized, provided for informational purposes only and does not replace the official instructions. Self-medication is hazardous to health!
Popular by topic