Table of contents:

Video: Neohepatect - Instructions, Use For Newborns, Price, Analogs, Reviews
Neohepatect
Neohepatect: instructions for use and reviews
1. Release form and composition
2. Pharmacological properties
3. Indications for use
4. Contraindications
5. Method of application and dosage
6. Side effects
7. Overdose
8. Special instructions
9. Application during pregnancy and lactation
10. In case of impaired renal function
11. Use in the elderly
12. Drug interactions
13. Analogs
14. Terms and conditions of storage
15. Terms of dispensing from pharmacies
16. Reviews
17. Price in pharmacies
Latin name: Neohepatect
ATX code: J06BB04
Active ingredient: human immunoglobulin against hepatitis B virus (Immunoglobulin human hepatitis B virus)
Manufacturer: Biotest Pharma, GmbH (Germany)
Description and photo update: 09.10.2019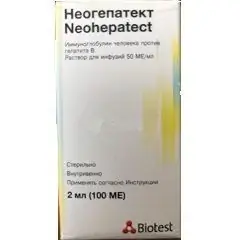 Neohepatect is a medical immunobiological preparation (MIBP) against hepatitis B, containing human immunoglobulin.
Release form and composition
The drug is produced in the form of a solution for infusion: a pale yellow or colorless, slightly opalescent or transparent liquid (2, 10 or 40 ml each in a colorless glass bottle, sealed with a stopper with an aluminum cap; in a cardboard box 1 bottle and instructions for use of Neohepatect) …
1 ml of solution contains:
active ingredients: human plasma proteins - 50 mg, including immunoglobulin G (IgG) - not less than 96% (distribution of IgG subclasses: IgG1 - 59%, IgG2 - 35%, IgG3 - 3%, IgG4 - 3%); immunoglobulin A (IgA) - no more than 2 mg (4%); the content of antibodies against hepatitis B virus - 50 international units (IU);
additional substances: water for injection - up to 1 ml, glycine - 300 μmol.
Pharmacological properties
Pharmacodynamics
Neohepatect is an immunoglobulin (Ig) preparation made from donor plasma that has a high titer of antibodies against hepatitis B. IgG subclasses are distributed in accordance with their alignment in the plasma of healthy donors.
MIBP has antiviral and immunomodulatory pharmacological effects.
Pharmacokinetics
Bioavailability of Neohepatect with intravenous (IV) infusion is 100%. The drug is quickly enough distributed between plasma and extravascular fluid, while after 3-5 days, there is an equilibrium between the intra- and extravascular space.
The half-life (T 1/2) of the drug is approximately 22 days. Utilization of immunoglobulin G and IgG complexes is carried out by cells of the macrophage system.
Indications for use
Neohepatect is recommended for use in immunoprophylaxis of hepatitis B in the following groups of patients:
newborns born to mothers carrying hepatitis B surface antigen;
patients who have not been vaccinated against hepatitis B or who do not have documented vaccinations and who are at risk of contracting the hepatitis B virus due to contact with material for which there is suspicion of infection (including cases of damage to the integrity of the skin due to injection with an injection needle or direct contact with the membrane mucous membrane); In this case, the introduction of Neohepatect should be carried out simultaneously with the vaccination against hepatitis B (combined active and passive immunization), the started vaccination must be continued according to the instructions for use of the vaccine; if a patient at risk of contracting hepatitis was vaccinated according to the full scheme and he developed a sufficient number of antibodies - at least 10 IU / L of serum, the administration of immunoglobulin is not indicated;if the number of antibodies to the HBs antigen cannot be established within 24 hours after contact with contaminated material, then under any conditions it is necessary to carry out combined prophylaxis (vaccine and Ig);
persons with a tendency to bleeding who need immediate prevention of hepatitis B, since the introduction of intramuscular (IM) drugs can lead to local hemorrhages.
Also, the introduction of Neohepatect is indicated in the following cases:
the presence of an increased risk of infection with the hepatitis B virus before or simultaneously with vaccination against hepatitis B (before surgery, hemodialysis, re-blood transfusion);
prevention of reinfection with hepatitis B virus after liver transplantation due to liver failure that was induced by hepatitis B virus;
lack of an immune response (a sufficient number of antibodies to hepatitis B) after vaccination in people who need constant prophylaxis due to the ongoing threat of hepatitis B.
Contraindications
Absolute contraindications to the use of Neohepatect are hypersensitivity to human Ig and other blood products (especially in rare cases of IgA deficiency in the blood and the presence of antibodies against IgA), as well as hypersensitivity to other components of the immunobiological agent.
MIBP should be used with extreme caution during pregnancy.
Neohepatect, instructions for use: method and dosage
Before using Neohepatect, visually check the drug for the possible presence of impurities and sediment. It is allowed to introduce only a transparent or slightly opalescent solution. Before the introduction, it should be heated by keeping it for several minutes at room temperature.
Neohepatect is administered intravenously by infusion. It is not required to pre-dilute the solution. Infusion should be carried out at an initial rate of 0.1 ml / kg / h, in case of good tolerance of the drug, 10 minutes after the start of the infusion, the rate can be gradually increased to 1 ml / kg / h.
Persons at risk, primarily the elderly and patients with impaired renal function, need to inject Neohepatect solution at a minimum speed.
Based on clinical experience, it has been established that Neohepatect in newborns born to mothers who are carriers of HBs antigen is well tolerated when administered in a dose of 2 ml for 5–15 minutes.
It is not allowed to mix Neohepatect solution with other medicines.
An opened bottle must be used immediately, the unused residue of the product cannot be stored due to the threat of bacterial contamination.
Recommended dosage regimen of Neohepatect (if there are no other prescriptions):
prevention of hepatitis B in newborns whose mothers are infected with the hepatitis B virus: immediately after birth, inject once at a dose of 30-100 ME (0.6-2 ml) per 1 kg of body weight; in this case, urgent vaccination against hepatitis B is required, the first vaccine administration can be carried out on the same day as the IV infusion of Neohepatect, only in different parts of the body;
prevention of hepatitis B in non-immunized persons after contact with material in which the presence of the hepatitis B virus is suspected: given the nature of the contact, the solution is administered as early as possible, at a dose of at least 500 IU (10 ml), preferably no later than 72 hours after contact;
prevention with a high risk of hepatitis B infection (in particular, in hemodialysis units): prescribed once in a dose of 8-12 IU (0.16-0.24 ml) / kg, but not exceeding 500 IU (10 ml) every 2 months until the formation of seroconversion after vaccination;
lack of an immune response after vaccination - a measurable number of antibodies to hepatitis B, in persons who need constant prophylaxis: appoint a dose of 500 IU (10 ml) for adults and 8 IU (0.16 ml) / kg for children every 2 months; the minimum protective antibody titer is 10 mIU / ml;
prevention of hepatitis B virus reinfection after liver transplantation associated with hepatitis B: adults are recommended at a dose of 10,000 ME / day on the day of transplantation perioperatively, then for 7 days at 2,000-10,000 ME / day (40-200 ml / day); if it is necessary to maintain an antibody level of more than 100–150 IU / L in HBV-DNA-negative patients and above 500 IU / L in HBV-DNA-positive patients; children need to adjust the dose for body surface area based on the formula: 10,000 IU / 1.73 m².
Side effects
Possible side reactions from systems and organs:
immune system: rarely - hypersensitivity; extremely rare - anaphylactic shock;
nervous system: rarely - headache;
cardiovascular system: rarely - arterial hypotension, tachycardia;
digestive tract: rarely - nausea, vomiting;
skin and subcutaneous tissues: rarely - itching of the skin (pruritis), erythema, skin reactions;
musculoskeletal and connective tissues: extremely rare - arthralgia;
general disturbances and the condition of the injection sites of the solution: rarely - malaise, chills, fever.
During the use of Neohepatect, cases of reversible hemolytic anemia / hemolysis, reversible aseptic meningitis, increased serum creatinine levels and / or acute renal failure have also been reported.
During the period of prevention of infection of the transplanted organ, isolated cases of intolerance may be recorded, possibly due to an increase in the interval between injections.
There are reports of thromboembolic reactions in the elderly, patients with cardiac or cerebral ischemia, as well as with severe hypovolemia or excessive body weight.
Overdose
The clinical manifestations of Neohepatect overdose are unknown.
special instructions
When using Neohepatect, there is a possibility of thromboembolic complications, as a result of this, persons with risk factors for these complications should be careful.
Patients should regularly monitor serum levels of antibodies to HBs hepatitis B antigen (HBsAg).
Some side effects can develop more often with too high infusion rate, as well as with hypo- or agammaglobulinemia, with or without IgA deficiency. Therefore, when introducing Neohepatect, it is necessary to strictly adhere to the recommendations specified in the section "Method of administration and dosage".
The patient must be under medical supervision throughout the infusion and after its completion for at least 20 minutes due to the possible development of unwanted side effects. Specific allergic reactions are recorded in very rare cases.
The drug contains IgA, as a result of which, in patients with IgA deficiency in the blood, the formation of antibodies to this Ig is likely, in addition, they have an increased risk of anaphylactoid reactions. Before using Neohepatect, it is required to assess the balance between the benefits of its use and the threat of the possible development of hypersensitivity reactions.
In some cases, Neohepatect is able to initiate a drop in blood pressure with the subsequent development of an anaphylactoid reaction, even in those individuals who previously tolerated its use normally.
It is necessary to immediately stop the infusion if you suspect an allergic / anaphylactic reaction. In the event of shock, it is required to carry out anti-shock therapy, guided by modern recommendations for its implementation.
Neohepatect, causing a transient increase in blood levels of various passively carried antibodies, can provoke false positive serological results. Passive transfer of antibodies to erythrocyte antigens, for example, A, B, D, can change the results of individual serological tests for antibodies to these cellular components of the blood, in particular, the direct antiglobulin test (DAT, direct Coombs test).
Additional data on preparations containing human immunoglobulin from donor plasma
The standard measures aimed at preventing the development of infection due to the use of drugs obtained from blood cells or blood plasma of a person (including donors) include monitoring the blood of individual donors and plasma pools for specific markers, and the presence of stages in the production process. inactivation / elimination of viruses. Despite this, when using drugs prepared from blood or blood plasma, the risk of transferring infectious agents cannot be completely excluded. This also applies to unknown or newly discovered viruses and other pathogens.
The interventions are considered effective against enveloped viruses such as human immunodeficiency virus (HIV), hepatitis B virus and hepatitis C virus, and less effective against non-enveloped viruses - hepatitis A and parvovirus B19.
According to the available clinical experience indicating the absence of transmission of hepatitis A virus or parvovirus B19 with Ig, it can be assumed that the content of antibodies is of great importance in ensuring antiviral safety.
Each time Neohepatect is infused, it is strongly recommended to record the batch number of the drug in order to be able to establish, if necessary, a connection between the patient's condition and the batch of the drug.
Influence on the ability to drive vehicles and complex mechanisms
There are no data indicating that Neohepatect may have a negative effect on the psychophysical state of the patient, including the ability to drive a car or to maintain complex mechanisms.
Application during pregnancy and lactation
During pregnancy, Neohepatect should be used with extreme caution, since the safety of its use in pregnant women has not been established in the course of controlled clinical trials. At the same time, long-term clinical experience of using Ig indicates the absence of a negative effect of these funds on the course of pregnancy or on the fetus and newborns.
Injected Ig is excreted in breast milk and may promote the transmission of protective antibodies to newborns.
No harmful effects of Neohepatect on fertility have been identified.
With impaired renal function
In the presence of renal dysfunction, Neohepatect is recommended to be administered at a minimum rate.
Use in the elderly
Elderly people should be infused with Neohepatect at the lowest rate.
Drug interactions
It is forbidden to add any other drugs to the Neohepatect solution, since a change in the electrolyte content or pH value can cause precipitation or denaturation of the protein.
After the administration of Ig over a period of 6 weeks to 3 months, the effectiveness of using live attenuated (attenuated) vaccines against the following viral diseases may decrease: rubella, measles, chickenpox and mumps. Vaccination against these viral lesions should be carried out no earlier than 3 months after the administration of Neohepatect.
The interval between Ig and measles vaccine can be extended up to 1 year, so patients who need to be vaccinated against measles need to be tested for specific antibodies first.
Analogs
The analogue of Neohepatect is Antihep.
Terms and conditions of storage
Store in a place protected from light and moisture, at a temperature of 2–8 ° C, without freezing.
Shelf life is 2 years.
Terms of dispensing from pharmacies
Dispensed by prescription.
Reviews about Neohepatect
On specialized sites and forums, reviews about Neohepatect are very rare, but, as a rule, they are positive. Patients report positive results of treatment after using the drug in accordance with the recommended dosage regimen.
There are no complaints about the occurrence of undesirable phenomena.
Price for Neohepatect in pharmacies
The price of Neohepatect, solution for infusion (50 IU / ml), can be 8,200 rubles per bottle, with a volume of 2 ml, and 36,700 rubles per bottle, with a volume of 10 ml.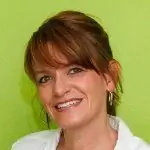 Maria Kulkes Medical journalist About the author
Education: First Moscow State Medical University named after I. M. Sechenov, specialty "General Medicine".
Information about the drug is generalized, provided for informational purposes only and does not replace the official instructions. Self-medication is hazardous to health!
Popular by topic