Table of contents:
Video: Neurocholine - Instructions For Use, Price, Analogs, Reviews
Neurocholine
Neurocholine: instructions for use and reviews
1. Release form and composition
2. Pharmacological properties
3. Indications for use
4. Contraindications
5. Method of application and dosage
6. Side effects
7. Overdose
8. Special instructions
9. Application during pregnancy and lactation
10. Use in childhood
11. Use in the elderly
12. Drug interactions
13. Analogs
14. Terms and conditions of storage
15. Terms of dispensing from pharmacies
16. Reviews
17. Price in pharmacies
Latin name: Neurocholine
ATX code: N06BX06
Active ingredient: citicoline (Citicoline)
Manufacturer: JSC "Binnopharm" (Russia)
Description and photo update: 09.10.2019
Prices in pharmacies: from 276 rubles.
Buy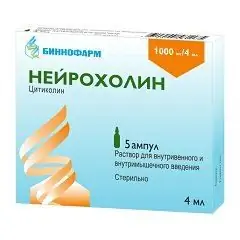 Neurocholine is a nootropic agent.
Release form and composition
The drug is produced in the form of a solution for intravenous (i / v) and intramuscular (i / m) administration: colorless transparent liquid (4 ml each in an ampoule of colorless neutral glass with a colored dot and a notch / with a colored break ring, and with additional colored rings from 1 to 3 pieces or without them; in a blister strip made of polyvinyl chloride film 3 or 5 ampoules, in a cardboard box 1 or 2 packages and instructions for use of Neurocholine).
4 ml of solution (1 ampoule) contains:
active substance: citicoline sodium - 522.5 or 1045 mg, which is equivalent to citicoline at a dose of 500 or 1000 mg;
additional components: 1M sodium hydroxide solution or 1M hydrochloric acid solution - up to pH 6.5–7.5; water for injection - up to 4 ml.
Pharmacological properties
Pharmacodynamics
Citicoline is a precursor of key ultrastructural components of the cell membrane (mainly phospholipids). It has a broad spectrum of pharmacological action: it participates in the restoration of damaged cell membranes, inhibits the activity of phospholipases, blocks the excessive formation of free radicals, and also, by influencing the mechanisms of apoptosis, prevents cell death.
In the acute stage of stroke, the active substance Neurocholine reduces the volume of damaged tissue and improves cholinergic transmission. In traumatic brain injury (TBI), citicoline shortens the duration of post-traumatic coma, reduces the severity of neurological symptoms, and helps to reduce the duration of the recovery period.
The nootropic agent demonstrates a positive effect in the treatment of cognitive disorders against the background of chronic hypoxia of the brain, which include lack of initiative, memory impairment, difficulties in performing daily activities and self-care. Neurocholine provides an increase in the level of attention and consciousness, and also reduces the manifestations of amnesia. The use of the drug is effective in the treatment of sensitive and motor neurological disorders of degenerative and vascular genesis.
Pharmacokinetics
Citicoline is well absorbed with intravenous and intramuscular administration, the metabolic transformation process takes place in the liver with the formation of choline and cytidine. Plasma level of choline in the blood after administration of Neurocholine increases significantly. Citicoline is fairly well distributed in the structures of the brain, demonstrating the rapid incorporation of the choline fraction into structural phospholipids, and the cytidine fraction into cytidine nucleotides and nucleic acids. Upon reaching the brain, citicoline is actively incorporated into the mitochondrial, cytoplasmic and cell membranes, forming a fraction of the fraction of structural phospholipids.
From introduced into the body of citicoline dose eliminated only 15%: about 12% of the exhaled CO 2 and less than 3% is excreted in the urine. In the process of elimination of the drug by the kidneys, two phases can be distinguished, of which the 1st phase lasts approximately 36 hours and is characterized by a rapid decrease in the rate of excretion, and the 2nd phase is characterized by a significantly slower decrease in the rate. The same is fixed in the exhaled CO 2 - elimination rate decreases rapidly during the first ~ 15 h and then decreases much more slowly.
Indications for use
ischemic stroke, acute stage (as part of combined treatment);
ischemic and hemorrhagic stroke, recovery period;
TBI, acute (as part of combined treatment) and recovery periods;
behavioral and cognitive disorders in degenerative and vascular pathologies of the brain.
Contraindications
Absolute:
children and adolescents up to 18 years old;
severe vagotonia (predominance of the tone of the parasympathetic division of the autonomic nervous system);
period of breastfeeding;
hypersensitivity to any ingredient in the solution.
Pregnancy is a relative contraindication for the use of Neurocholine, requiring the appointment and supervision of a doctor.
Neurocholine, instructions for use: method and dosage
Neurocholine solution is administered intravenously or intramuscularly.
The intravenous solution is prescribed as a slow intravenous injection with a duration of 3 to 5 minutes, depending on the administered dose, or as a drip intravenous infusion at a rate of 40-60 drops per minute. Neurocholine can be used in conjunction with all types of isotonic solutions for intravenous use and dextrose solutions.
The intravenous route of administration of the solution is more preferred than the intramuscular route. When prescribing intramuscular injections, it is necessary to avoid repeated administration of the drug in the same place.
The recommended dosage regimen of Neurocholine:
acute stage of ischemic stroke and TBI: from the first day after diagnosis, every 12 hours at a dose of 1000 mg; the course of therapy is at least 6 weeks;
the recovery period of TBI, the recovery period of ischemic and hemorrhagic strokes, cognitive and behavioral disorders against the background of degenerative and vascular pathologies of the brain: in a daily dose of 500-2000 mg; the dose and course of treatment are determined taking into account the severity of the symptoms of the lesion.
Side effects
cardiovascular system: short-term changes in blood pressure;
mental disorders: agitation, hallucinations;
nervous system: dizziness, headache, insomnia, numbness in paralyzed limbs, tremors, stimulation of the parasympathetic nervous system;
allergic reactions: itching, rashes, anaphylactic shock;
digestive system: decreased appetite, nausea, diarrhea, vomiting, changes in the activity of liver enzymes;
others: feeling of heat, shortness of breath, swelling.
Overdose
Overdose cases of Neurocholine have not been described due to its low toxicity.
special instructions
The solution contained in the ampoule is intended for single use and must be administered immediately after opening the ampoule.
Used in high doses, citicoline in persistent hemorrhagic stroke can worsen blood flow in the brain.
Influence on the ability to drive vehicles and complex mechanisms
During the period of therapy with Neurocholine, it is recommended to exercise caution when engaging in activities that require increased concentration of attention and speed of reaction. Such as the work of a dispatcher / operator, driving a car, control of other potentially dangerous moving mechanisms.
Application during pregnancy and lactation
There are insufficient data on the use of the drug in women during pregnancy to analyze the safety and efficacy of the drug in humans. In the course of preclinical studies on animals, the negative effect of citicoline on the course of pregnancy and fetal development was not revealed. Despite this, the use of Neurocholine during gestation is allowed only if the expected benefit to the woman outweighs the possible risk to the health of the fetus.
If it is necessary to use Neurocholine during lactation, it is necessary to transfer the child to artificial feeding, since there is no data on the excretion of citicoline in human milk in humans.
Pediatric use
Neurocholine therapy is contraindicated in patients under 18 years of age due to the lack of sufficient clinical data.
Use in the elderly
When using citicoline in elderly patients, dose adjustment is not required.
Drug interactions
nootropic medicines containing b-dimethylaminoethyl ester of parachlorophenoxyacetic acid hydrochloride (meclofenoxate): it is not recommended to combine these drugs with Neurocholine;
levodopa: when combined with citicoline, the effects of levodopa are enhanced.
Analogs
Neurocholine analogs are Ceraxon, Recognan, Ronocyte, Neipilept, Quinel, Lexuver, Citicoline, Proneiro, Ceresil Canon.
Terms and conditions of storage
Keep out of the reach of children, at a temperature not exceeding 25 ° C.
Shelf life is 2 years.
Terms of dispensing from pharmacies
Dispensed by prescription.
Reviews about Neurocholine
Since there are currently no reviews of Neurocholine on specialized sites, it is not possible to objectively assess the effectiveness and disadvantages of drug therapy. Its analogs (the active substance of which is also citicoline sodium), according to the available reviews of patients, showed good results during rehabilitation after a stroke, and also led to a decrease in the severity of neurological symptoms and a reduction in the recovery period during course use after a head injury.
The price of Neurocholine in pharmacies
The price of Neurocholine, a solution for i / v and i / m administration, for a package containing 5 ampoules of 4 ml each, can be: at a dosage of 1000 mg / 4 ml - 780 rubles; at a dosage of 500 mg / 4 ml - 440 rubles.
Neurocholine: prices in online pharmacies
Drug name
Price
Pharmacy
Neurocholine 500 mg / 4 ml solution for intravenous and intramuscular administration 4 ml 5 pcs.
276 r
Buy
Neurocholine 1000 mg / 4 ml solution for intravenous and intramuscular administration 4 ml 5 pcs.
823 RUB
Buy
Neurocholine solution for intravenous and intramuscular injection. 1000mg / 4ml amp. 5 pieces.
854 r
Buy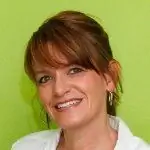 Maria Kulkes Medical journalist About the author
Education: First Moscow State Medical University named after I. M. Sechenov, specialty "General Medicine".
Information about the drug is generalized, provided for informational purposes only and does not replace the official instructions. Self-medication is hazardous to health!
Popular by topic