Table of contents: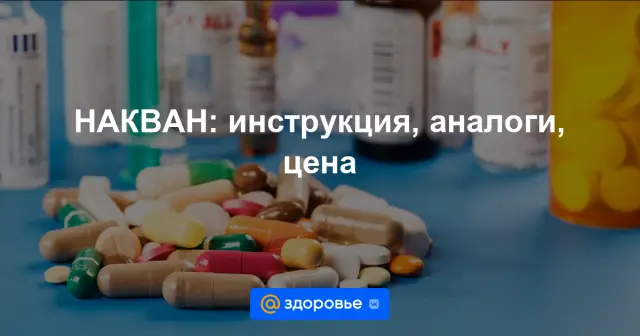 Video: NAKVAN - Instructions For The Use Of Eye Drops, Price, Reviews, Analogues
NACQUAN
NAKVAN: instructions for use and reviews
1. Release form and composition
2. Pharmacological properties
3. Indications for use
4. Contraindications
5. Method of application and dosage
6. Side effects
7. Overdose
8. Special instructions
9. Application during pregnancy and lactation
10. Use in childhood
11. Drug interactions
12. Analogs
13. Terms and conditions of storage
14. Terms of dispensing from pharmacies
15. Reviews
16. Prices in pharmacies
Latin name: Nakvan
ATX code: S01BC11
Active ingredient: bromfenac (Bromfenac)
Producer: Senju Pharmaceutical Co., Ltd (Japan)
Description and photo update: 09.10.2019
Prices in pharmacies: from 540 rubles.
Buy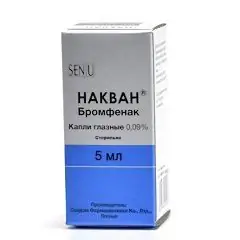 NAKVAN is a non-steroidal anti-inflammatory drug (NSAID) for use in ophthalmology.
Release form and composition
Dosage form - eye drops 0.09%: transparent yellow solution (in a cardboard box 1 polyethylene bottle, sealed with a dropper stopper with a screw cap, containing 5 ml of solution, and instructions for use of NAKVAN).
Composition of 1 ml drops:
active substance: sodium bromfenac sesquihydrate - 1.035 mg (corresponds to the content of bromfenac - 0.9 mg);
auxiliary components: polysorbate 80 (E433) - 1.5 mg; povidone (K30) - 20 mg; disodium edetate dihydrate - 0.2 mg; sodium sulfite - 2 mg; sodium borate - 11 mg; boric acid - 11 mg; purified water - up to 1 ml; sodium hydroxide - to pH 8 to 8.6; benzalkonium chloride solution 10% - 0.0001 ml.
Pharmacological properties
Pharmacodynamics
Bromfenac is an NSAID, the anti-inflammatory activity of which is manifested by inhibition of cyclooxygenase 1 and 2 by blocking the synthesis of prostaglandins.
According to in vitro studies, it was found that the drug had a depressing effect on the synthesis of prostaglandins in the ciliary body of a rabbit. At the same time, the content of half-maximal inhibition for bromfenac (1.1 μmol) was lower than for pranoprofen and indomethacin (11.9 and 4.2 μmol, respectively).
The drug at a concentration of 0.02 / 0.05 / 0.1 / 0.2% in an experimental model of uveitis in rabbits inhibited practically all manifestations of ocular inflammation.
Pharmacokinetics
absorption: in cataracts, bromfenac effectively penetrates the cornea - the average peak concentration in aqueous humor 150–180 minutes after a single injection is 79 ± 68 ng per 1 ml. This concentration in aqueous humor persists for 12 hours, while measurable levels in the main tissues of the eye, including the retina, remain up to 24 hours. When using eye drops 2 times a day, the concentration of bromfenac in blood plasma could not be measured quantitatively;
distribution: binding of bromfenac to plasma proteins is active. According to in vitro studies, protein binding in human blood plasma reached 99.8%. This study did not reveal a biologically significant binding to melanin. In rabbits, according to a study using radioactively labeled bromfenac, after topical application, the maximum concentration was observed in the cornea, high - in the aqueous humor of the eye and conjunctiva, low - in the vitreous body and lens;
metabolism: the main metabolism of bromfenac, according to the results of in vitro studies, is carried out with the participation of the CYP2C9 enzyme, which is absent in the choroid, retina and iridociliary zone. In the cornea, the level of this enzyme does not exceed 1% in comparison with the corresponding hepatic level. When taken orally in humans, the unchanged parent substance is mostly noted in the blood plasma. Several metabolites (conjugated and unconjugated) have been isolated, the main one among them is the cyclic amide, which is excreted in the urine;
Elimination: the half-life of the drug from aqueous humor after instillation is 1.4 hours. This indicates its rapid elimination. After oral administration of 14 C-bromfenac in healthy volunteers, the drug was mainly excreted in the urine (approximately 82% of the dose), and 13% of the administered substance was excreted in feces.
Indications for use
NAKVAN is prescribed for the treatment of postoperative inflammation and inflammatory pathologies of the anterior segment of the eye of non-infectious origin.
Contraindications
Absolute:
increased manifestations of acute rhinitis, urticaria and attacks of bronchial asthma while taking acetylsalicylic acid and other NSAIDs;
III trimester of pregnancy;
age under 18;
individual intolerance to the components of the drug.
With caution, under medical supervision, NAKVAN is prescribed during pregnancy.
NAKVAN, instructions for use: method and dosage
NAKVAN eye drops are used conjunctivally (instilled into the conjunctival sac).
The recommended dose is 1-2 drops, 2 times a day. The duration of therapy should not exceed 15 days.
If you skip the next instillation, it must be done as soon as possible in the recommended dose. If the period of missing a dose is about 24 hours, NAKVAN drops should be administered at the next scheduled time. The dose of the drug is not doubled in order to compensate for the missed one.
Side effects
In clinical trials and post-registration use of NAKVAN, the development of adverse events was noted in 72 out of 3843 patients, which is 1.87%. Serious side effects included:
burning sensation in the eyelids (1 case; 0.03%);
detachment of the corneal epithelium (1 case; 0.03%);
itching (6 cases; 0.16%);
superficial punctate keratitis (6 cases; 0.16%);
transient eye pain (8 cases; 0.21%);
irritation (8 cases; 0.21%);
blepharitis (9 cases; 0.23%);
conjunctivitis, including conjunctival infection and conjunctival follicles (11 cases; 0.29%);
corneal erosion (16 cases; 0.42%).
Possible adverse reactions (> 10% - very common;> 1% and 0.1% and 0.01% and <0.1% - rarely; <0.01%, including isolated messages - very rare):
organ of vision: infrequently - itching, superficial punctate keratitis, transient pain in the eye, irritation, conjunctivitis blepharitis, corneal erosion (with the development of these undesirable reactions, drug therapy is canceled); rarely - a burning sensation in the eyelids, detachment of the corneal epithelium (the appearance of these side effects requires discontinuation of treatment); frequency not established - corneal perforation / ulcer (in such cases, drug withdrawal and appropriate therapeutic measures are necessary);
hypersensitivity reactions: frequency not established - contact dermatitis (requires the abolition of NAKVAN drops).
Overdose
With local use of NAKVAN, no overdose development has been reported.
According to foreign reports, in patients receiving oral bromfenac sodium in a total dose exceeding 1.5 g over a long period (more than 1 month), serious liver dysfunctions were recorded, including fatal ones. In this regard, if abnormalities are found, presumably associated with early manifestations of liver failure, drug therapy is canceled and appropriate therapeutic measures are taken.
special instructions
NAKVAN eye drops should be used as part of symptomatic therapy, and not for etiotropic treatment. The medication should only be used as eye drops. It must be instilled with care, not touching the tip of the bottle to the surface of the eye.
NAKVAN contains sodium sulfite, which can cause allergic-type reactions, including symptoms of anaphylaxis and life-threatening or less severe asthmatic episodes in susceptible patients.
All topical NSAIDs, like topical glucocorticosteroids, can slow or delay the healing process. The combined use of NSAIDs and topical steroids may increase the risk of developing healing problems.
There is a possibility of cross-susceptibility of NAKVAN to derivatives of phenylacetylic acid, acetylsalicylic acid and other NSAIDs. In this regard, it is recommended to be careful when prescribing the drug to patients who have previously had a sensitivity to these drugs. It is also important to carefully balance the anticipated benefits of therapy with the potential risks before prescribing such combinations.
Prolonged use of topical NSAIDs, including bromfenac, in susceptible patients can cause perforation / ulceration / erosion / thinning of the cornea, as well as rupture of the epithelium, which subsequently lead to loss of vision. When symptoms of corneal epithelium destruction appear, it is important to immediately discontinue topical NSAIDs and closely monitor the condition of the cornea. On this basis, if there is a risk, the combined use of ophthalmic corticosteroids with NSAIDs may increase the likelihood of corneal side effects.
Post-registration experience with the use of local NSAIDs indicates that in the presence of diabetes mellitus, rheumatoid arthritis, complications after ophthalmic operations, superficial eye pathologies, epithelial defects or corneal denervation, as well as in cases of repeated ophthalmic surgical interventions performed within a short period, it may increase the risk of corneal side effects that threaten vision loss. In such cases, topical NSAIDs should be used with caution.
There are reports that NSAIDs intended for use in ophthalmology can lead to increased bleeding in the tissues of the eye, including hyphema, in combination with ophthalmic surgery. Local NSAIDs for patients with a history of bleeding tendencies or those receiving other drugs that can increase the blood clotting time should be prescribed with caution.
Since NAKVAN can mask the manifestations of infectious eye pathologies, it is important to prescribe with caution and carefully monitor its use in inflammation caused by infections.
Wearing contact lenses during drug therapy is not recommended. Patients should not wear contact lenses unless instructed otherwise by their healthcare professional.
Since eye drops contain benzalkonium chloride, with frequent or prolonged use, patients should be carefully monitored. It has been established that the use of benzalkonium chloride can cause discoloration of soft contact lenses, and therefore it is recommended not to allow their contact with the drug.
There are reports of the development of toxic ulcerative keratopathy, punctate keratopathy and / or eye irritation with the use of benzalkonium chloride.
It should be borne in mind that the effect of NAKVAN in patients with hepatic / renal insufficiency has not been studied.
Influence on the ability to drive vehicles and complex mechanisms
After instillation of NAKVAN drops, transient blurred vision may occur. In such cases, it is recommended to refrain from driving vehicles or working with complex mechanisms until the moment when the clarity of vision is restored.
Application during pregnancy and lactation
There are no data on the use of NAKVAN during pregnancy. The reproductive toxicity of the solution was established by conducted studies on animals. The likely risk to humans is unknown. Since the systemic exposure after therapy to the drug in non-pregnant patients is negligible, the risk during pregnancy can be considered low.
However, due to the known effects of the drug, which inhibit the biosynthesis of prostaglandins on the cardiovascular system of the fetus (closure of the duct), it is necessary to avoid its appointment in the third trimester. In general, the use of NAKVAN during pregnancy is not recommended. The exceptions are cases where the expected benefits of therapy to the mother outweigh the possible risks to the fetus.
Pediatric use
NAKVAN is not prescribed for children and adolescents under the age of 18, since the safety and effectiveness of its use in patients of this age group have not been established.
Drug interactions
There are no data on the interaction of bromfenac with other drugs.
Analogs
NAKVAN analogs are Akular LS, Broksinak, Diklo-F, Diclofenac-SOLOfarm, Diclofenac, Indokollyr, Nevanak.
Terms and conditions of storage
Store in a place protected from light and moisture at temperatures up to 25 ° C. Keep out of the reach of children.
Shelf life is 2 years.
The bottle with drops after the first opening is stored for 30 days (no more).
Terms of dispensing from pharmacies
Dispensed by prescription.
Reviews about NAKVAN
According to a few reviews, NAKVAN effectively relieves eyelid redness.
Among the disadvantages are the high cost of the drug and side reactions in the form of pain in the eyes against the background of its use. Some patients complain about the lack of a therapeutic effect.
Price for NAKVAN in pharmacies
The approximate price for NAKVAN (in the package 1 dropper bottle with 5 ml of 0.09% eye drops) is from 258 to 638 rubles.
NAKVAN: prices in online pharmacies
Drug name
Price
Pharmacy
Nakwan 0.09% eye drops 5 ml 1 pc.
RUB 540
Buy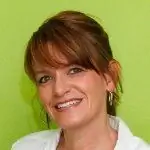 Maria Kulkes Medical journalist About the author
Education: First Moscow State Medical University named after I. M. Sechenov, specialty "General Medicine".
Information about the drug is generalized, provided for informational purposes only and does not replace the official instructions. Self-medication is hazardous to health!
Popular by topic