Table of contents: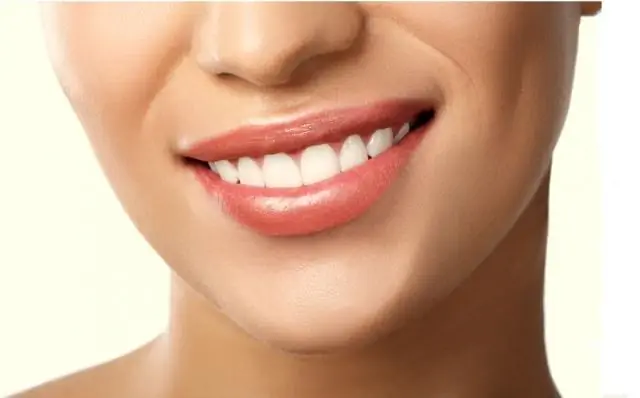 Video: Cuprenil - Instructions For The Use Of Tablets, Price, Analogs, Reviews
Cuprenil
Cuprenil: instructions for use and reviews
1. Release form and composition
2. Pharmacological properties
3. Indications for use
4. Contraindications
5. Method of application and dosage
6. Side effects
7. Overdose
8. Special instructions
9. Application during pregnancy and lactation
10. Use in childhood
11. In case of impaired renal function
12. Use in the elderly
13. Drug interactions
14. Analogs
15. Terms and conditions of storage
16. Terms of dispensing from pharmacies
17. Reviews
18. Price in pharmacies
Latin name: Cuprenyl
ATX code: M01CC01
Active ingredient: penicillamine (penicillamine)
Manufacturer: Teva Operations Poland, Sp. z o.o (Poland)
Description and photo update: 2018-27-07
Prices in pharmacies: from 1259 rubles.
Buy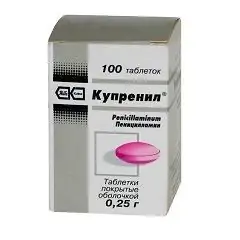 Cuprenil is an anti-inflammatory, complexing, immunosuppressive agent.
Release form and composition
Dosage form Cuprenil - film-coated tablets: round, biconvex, dark pink with a purple tint (15 pcs. In blisters, 2 blisters in a cardboard box; 100 pcs. In cans, 1 can in a cardboard box) …
Composition of 1 tablet:
active substance: penicillamine - 250 mg;
additional components: povidone, lactose monohydrate, potato starch, magnesium stearate, talc;
shell: macrogol-4000, hypromellose, azorubin dye (E 122), titanium dioxide (E 171).
Pharmacological properties
Pharmacodynamics
Penicillamine, the active substance of Cuprenil, has a high complexing activity against metals, mainly mercury, lead, arsenic, copper, calcium and iron. Reduces the resorption of copper from food, removes its excess in tissues. Affects various parts of the immune system, in particular, inhibits the T-helper function of lymphocytes, inhibits chemotaxis of neutrophils and the release of enzymes from the lysosomes of these cells.
Penicillamine is capable of disrupting collagen synthesis by breaking down cross-links between newly synthesized tropocollagen molecules.
It has anti-inflammatory properties. It is a pyridoxine antagonist.
Pharmacokinetics
Penicillamine with heavy metal ions forms chelates - persistent complex compounds that dissolve in water and are excreted in the urine.
After oral administration, it is easily absorbed from the digestive tract (up to 50% of the dose taken). The maximum concentration in the blood reaches within 1-3 hours. Metabolized in the liver. It is excreted in two stages: the half-life of the first phase is 1 hour, the second is 90 hours.
About 70–80% of adsorbed penicillamine is excreted in the urine as metabolites (disulfide and cysteine-penicillamine).
Indications for use
cystine nephrolithiasis;
Wilson-Konovalov disease;
rheumatoid arthritis;
systemic scleroderma;
poisoning with copper, inorganic compounds of zinc, gold, mercury, iron, lead (if further ingestion of lead through the gastrointestinal tract is excluded).
Contraindications
disorders of hematopoiesis;
renal failure;
agranulocytosis;
pregnancy and lactation (with the exception of Wilson-Konovalov disease);
children under 3 years old;
simultaneous use of gold preparations, phenylbutazone, aminoquinoline or cytostatic drugs;
hypersensitivity to any substance in the composition of Cuprenil.
The drug should be used with caution in case of anemia, proteinuria, and surgical interventions.
Instructions for the use of Curenil: method and dosage
Cuprenil tablets should be taken orally, at least half an hour before meals or 2 hours after meals or other drugs, swallowed whole and washed down with water.
Cystinuria
The drug is prescribed in the minimum effective dose, having previously determined the concentration of amino acids in the urine by chromatographic method.
Dissolution of cystine stones
Adults are prescribed 1000-3000 mg of Cuprenil per day in several doses.
The dose should be calculated so that it keeps the urinary cystine concentration below the 200 mg / L mark.
Prevention of cystine lithiasis
For adults, the drug is prescribed in a daily dose of 500-1000 mg until the concentration of cystine in the urine is below 300 mg / l.
Elderly patients and children should use Cuprenil in the minimum effective dose until the level of cystine in the urine is below 200 mg / l.
During treatment, it is necessary to ensure the optimal drinking regimen. The body should receive at least 3 liters of fluid per day. It is imperative to drink 0.5 liters of water before bedtime and 0.5 liters every night, since at this time the urine is more acidic and concentrated than during the day. As a rule, the need for penicillamine is lower the more fluids the patient drinks.
In addition, it is worth sticking to a diet low in methionine, this will minimize the synthesis of cystine. Since this diet is low in protein, the diet is not recommended for pregnant women and children.
Wilson's disease - Konovalov
For adults, Cuprenil is prescribed in a daily dose of 1500–2000 mg in several doses. As soon as it is possible to achieve remission of the disease, the dose can be reduced to 750-1000 mg per day.
For patients with negative copper balance, penicillamine is prescribed in the minimum effective dose.
In a daily dose of 2000 mg, Cuprenil can be taken for no more than 1 year.
In elderly patients, the recommended daily dose is 20 mg / kg in divided doses. The dose is selected in such a way as to achieve remission of the disease and maintain a negative copper balance.
For children, the dose is selected individually, usually 20 mg / kg / day in several doses.
The minimum daily dose of Cuprenil is 500 mg.
Rheumatoid arthritis
At the beginning of treatment (first month), adults and elderly patients are prescribed 250 mg of penicillamine per day. Then every 4–12 weeks the dose is increased by 250 mg until remission of the disease is achieved. Then Cuprenil is used in the minimum effective dose that allows to stop the symptoms of the disease. The maintenance daily dose is usually 500-750 mg. The maximum daily dose is 1500 mg, for elderly patients - 1000 mg.
If the therapeutic effect is not achieved within 6 months of therapy, further administration of the drug is inappropriate.
If remission persists for 6 months, the dose of Cuprenil is gradually reduced: by 250 mg every 12 weeks.
Children are usually prescribed the drug in a daily dose of 15–20 mg / kg. Treatment begins with a minimum dose (2.5–5 mg / kg per day) and gradually, every 4 weeks for 3–6 months, it is increased to the lowest effective daily dose, but not more than 500 mg.
Systemic scleroderma
The initial recommended dose is 250 mg per day. After a month, the dose of Cuprenil is increased by 250 mg every 4–12 weeks. The maximum daily dose is 1000 mg.
After reaching the therapeutic effect, the dose is gradually reduced to 250-500 mg per day. The effect is assessed after 6-12 months of continuous therapy.
Lead poisoning
The recommended daily dose of Cuprenil for adults is 1000-1500 mg in several doses, for elderly patients and children - 20 mg / kg in several doses.
Treatment is continued until the amount of lead excreted in the urine is about 0.5 mg per day.
Side effects
During the treatment with Cuprenil, the following side effects may occur:
complete loss or distortion of taste, glossitis, aphthous stomatitis, nausea, vomiting, anorexia, diarrhea;
pancreatitis, intrahepatic cholestasis;
hematuria, nephritis;
dermatomyositis, polymyositis, myasthenia gravis, polyneuritis;
skin rash, alopecia, epidermal necrolysis;
reversible polyneuritis (associated with pyridoxine deficiency);
lupus-like reactions (erythematous rash, myalgia, arthralgia, the appearance of antinuclear antibodies and antibodies to DNA);
fever;
diffuse fibrosing alveolitis, interstitial pneumonitis, allergic alveolitis, Goodpasture's syndrome;
anemia (aplastic or hemolytic), thrombocytopenia, agranulocytosis, leukopenia, eosinophilia;
enlargement of the mammary glands with the development of galactorrhea (in women).
Overdose
Overdose cases have not been registered. The specific antidote to penicillamine is unknown. Treatment is symptomatic.
special instructions
During the period of treatment with Cuprenil, the patient should be under close medical supervision. It is necessary to conduct blood tests, including the level of platelets, and urine: at the beginning of treatment - every 3 days, for the next 6 months - once every 1-2 weeks, then - once a month. It also requires monitoring of kidney and liver function, general and neurological examinations every month.
In the event of side effects, the drug is temporarily canceled. After stabilization of the condition, the physician should assess the feasibility of resuming treatment, starting with the lowest dose of Cuprenil.
In case of cancellation of gold preparations due to the lack of effect, penicillamine can be prescribed no earlier than 6 months later.
With cystinuria and Wilson-Konovalov's disease, pyridoxine is prescribed simultaneously with Cuprenil, which is associated with dietary restrictions necessary for these diseases. With prolonged treatment, regular ultrasound or X-ray examination of the urinary tract and kidneys is indicated.
Patients with rheumatoid arthritis during the treatment time penicillamine may require replenishment of a lack of vitamin B 6. If the symptoms of pyridoxine deficiency do not go away on their own, pyridoxine should be additionally prescribed in a daily dose of 25 mg.
Penicillamine affects elastin and collagen, therefore, any surgical interventions, including dental ones, should be carried out with caution during treatment.
If proteinuria increases during drug therapy, lesions of the lungs or liver, fever, hematuria, severe neurological or hematological disorders, myasthenia gravis, lupus-like reactions or other adverse reactions occur, Cuprenil is canceled and glucocorticosteroids are prescribed, if necessary. With isolated proteinuria, if it does not exceed 1 g / day and does not increase, penicillamine treatment can be continued, otherwise it must be canceled.
Caution should be exercised when it is necessary to concomitantly use other anti-inflammatory drugs or drugs that can cause bone marrow dysfunction.
Patients who are shown to take iron supplements at the same time should observe at least 2-hour intervals between doses.
Influence on the ability to drive vehicles and complex mechanisms
According to the instructions, Cuprenil does not impair the mental and motor functions of a person, therefore it does not affect the ability to drive vehicles and perform potentially hazardous work.
Application during pregnancy and lactation
During pregnancy and lactation, Cuprenil can be used only for the treatment of Wilson-Konovalov disease, for other indications, the use of the drug is contraindicated.
Pediatric use
The use of Cuprenil is contraindicated in children under 3 years of age (due to the form of release of the drug).
With impaired renal function
In case of renal failure, the drug is prohibited. For patients with impaired renal function, the dose of Cuprenil is reduced and used with caution.
Use in the elderly
Elderly people need a dose adjustment of penicillamine.
Drug interactions
Penicillamine is a vitamin B 6 antagonist.
Antacids reduce the absorption of the drug in the digestive tract.
Cuprenil should not be used in combination with drugs that can cause bone marrow dysfunction.
Penicillamine forms stable complex compounds with heavy metals.
With the simultaneous use of levamisole, phenylbutazone or antimalarial drugs, the risk of side effects increases.
Analogs
The analogues of Cuprenil are the drugs Artamine and Bianodin.
Terms and conditions of storage
Store no more than 3 years from the date of production out of the reach of children, observing a temperature regime of 15-25 ° С.
Terms of dispensing from pharmacies
Dispensed by prescription.
Reviews about Cuprenil
There are few reviews of Cuprenil on specialized medical sites, since it is used mainly to correct such a rare genetic disorder as Wilson-Konovalov disease, characterized by the accumulation of copper in the body. Penicillamine is the only unparalleled drug that reduces the amount of copper entering the body and reduces its excess in tissues, and therefore this drug is vital for this disease.
Another indication for taking Cuprenil is systemic scleroderma, a rare disease in which penicillamine is also used for symptomatic treatment. According to reviews, it improves the condition of the skin (reduces dense swelling and pigmentation of the skin), increases the mobility of joints and muscles, increases the blood supply to tissues, thereby inhibiting the progression of the disease.
The price of Cuprenil in pharmacies
Approximate prices for Cuprenil: 350-450 rubles. for a pack of 30 tablets, 1350-1470 rubles. per pack containing 100 tablets.
Cuprenil: prices in online pharmacies
Drug name
Price
Pharmacy
Cuprenil 250 mg film-coated tablets 100 pcs.
1259 RUB
Buy
Cuprenil tablets p.p. 250mg 100 pcs.
1276 RUB
Buy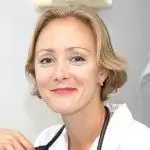 Anna Kozlova Medical journalist About the author
Education: Rostov State Medical University, specialty "General Medicine".
Information about the drug is generalized, provided for informational purposes only and does not replace the official instructions. Self-medication is hazardous to health!
Popular by topic