Table of contents:

Video: Cosopt - Instructions For The Use Of Eye Drops, Price, Analogues, Reviews
Cosopt
Cosopt: instructions for use and reviews
1. Release form and composition
2. Pharmacological properties
3. Indications for use
4. Contraindications
5. Method of application and dosage
6. Side effects
7. Overdose
8. Special instructions
9. Application during pregnancy and lactation
10. Use in childhood
11. In case of impaired renal function
12. For violations of liver function
13. Use in the elderly
14. Drug interactions
15. Analogs
16. Terms and conditions of storage
17. Terms of dispensing from pharmacies
18. Reviews
19. Price in pharmacies
Latin name: Cosopt
ATX code: S01ED51
Active ingredient: dorzolamide + timolol (dorzolamide + timolol)
Producer: Merck Sharp & Dohme (France)
Description and photo update: 2018-21-11
Prices in pharmacies: from 780 rubles.
Buy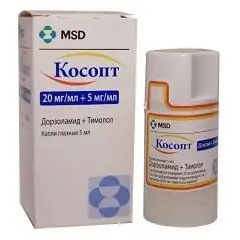 Cosopt is a combined antiglaucoma agent for topical use in ophthalmology.
Release form and composition
Cosopt is produced in the form of eye drops: slightly viscous, transparent, almost colorless or colorless liquid (5 ml each in a plastic bottle of the Okumeter Plus type, 1 bottle in a cardboard box).
Composition of 1 ml drops:
active ingredients: dorzolamide hydrochloride - 22.26 mg (equivalent to dorzolamide base in an amount of 20 mg); timolol maleate - 6.83 mg (equivalent to timolol base in the amount of 5 mg);
additional components: sodium citrate, benzalkonium chloride (in the form of a 50% solution of benzalkonium chloride), hyetellose (hydroxyethyl cellulose), 1M sodium hydroxide solution, mannitol, water for injection.
Pharmacological properties
Pharmacodynamics
Cosopt is an anti-glaucoma drug that contains two active components: dorzolamide hydrochloride and timolol maleate. Each of these substances reduces increased intraocular pressure (IOP) by reducing the production of intraocular fluid (aqueous humor).
The total effect of the active ingredients of the agent causes a more pronounced decrease in IOP due to the following pharmacological properties:
dorzolamide hydrochloride is a selective type II carbonic anhydrase blocker. Suppression of carbonic anhydrase of the ciliary (ciliary) body contributes to a decrease in the production of aqueous humor of the eye, presumably as a result of a decrease in the number of formed bicarbonate ions, which is the reason for the slowdown in the transport of sodium ions and liquid;
timolol maleate is a non-selective beta-blocker. Despite the fact that the mechanism of action of this substance, leading to a decrease in IOP, has not yet been finally established, the results of a number of studies conducted indicate a decrease in the secretion of intraocular fluid and a slight increase in its outflow.
Pharmacokinetics
When used topically, dorzolamide hydrochloride enters the systemic circulation. Against the background of long-term use, the substance accumulates in erythrocytes due to selective interaction with type II carbonic anhydrase, providing extremely low plasma concentrations of the free agent. The result of the metabolic transformation of dorzolamide is the formation of a single N-desethyl metabolite, which inhibits type II carbonic anhydrase less than its initial form, but at the same time suppresses type I carbonic anhydrase, which is a less active isoenzyme. This metabolite also accumulates in erythrocytes, where it binds mainly to type I carbonic anhydrase.
Approximately 33% of dorzolamide binds to blood plasma proteins. In unchanged form and in the form of a metabolite, it is excreted in the urine. After the end of the use of Cosopt, dorzolamide is nonlinearly excreted from erythrocytes, which at first causes a rapid decrease in its concentration, and then - a slow elimination, the half-life is approximately 4 months.
When this substance was taken orally to determine the maximum possible systemic effect during the period of its topical use, a stable state was achieved after 13 weeks. In this case, practically no free substance or its metabolites were detected in blood plasma. Pharmacological effect on renal and respiratory function was not observed due to insufficient suppression of erythrocyte carbonic anhydrase. A similar pharmacokinetic effect was observed against the background of prolonged local use of dorzolamide hydrochloride.
When used topically, timolol maleate can enter the systemic circulation. According to a study carried out in 6 patients, with topical application of 0.5% timolol maleate eye drops 2 times a day, the average maximum concentration of timolol in plasma after morning administration was 0.46 ng / ml, after daytime - 0.35 ng / ml … After instillation, the hypotensive effect is noted after 20 minutes, its maximum is reached after 2 hours and lasts at least 24 hours.
Indications for use
According to the instructions, Cosopt is recommended for the treatment of increased IOP against the background of open-angle glaucoma and pseudoexfoliative glaucoma in case of insufficient effectiveness of monotherapy.
Contraindications
Absolute:
atrioventricular block (AV block) of II and III degrees without a pacemaker, sinoatrial block;
sinus bradycardia, sick sinus syndrome (SSS);
severe heart failure;
cardiogenic shock;
bronchial asthma (including data in anamnesis);
severe chronic obstructive pulmonary disease (COPD);
airway hyperresponsiveness;
dystrophic processes in the cornea;
hyperchloremic acidosis;
severe renal failure with creatinine clearance (CC) less than 30 ml / min;
pregnancy and lactation;
age up to 18 years;
hypersensitivity to any of the constituents of Cosopt.
Relative (requires using Cosopt with extreme caution):
I degree heart block (beta-blockers can increase the risk of impulse conduction slowdown);
severe peripheral circulatory disorders (Raynaud's disease or Raynaud's syndrome in severe form);
diabetes mellitus (especially a labile course), a predisposition to spontaneous hypoglycemia (beta-blockers are able to mask the signs / symptoms of acute hypoglycemia);
COPD of mild to moderate severity;
thyrotoxicosis (during the period of therapy, individual clinical signs of the disease may be masked);
disorders of the cornea.
Instructions for the use of Cosopt: method and dosage
Cosopt eye drops are instilled into the conjunctival sac of the affected eye (or both eyes) 2 times a day, 1 drop.
If Cosopt is used to replace other antiglaucoma drops, treatment with the latter must be stopped 1 day before the start of its administration. In the case of the combined use of Cosopt with another local ophthalmic agent, the interval between injections of these drugs should be at least 10 minutes.
When the eyelids are closed (nasolacrimal occlusion) within 2 minutes after instillation of the drug, a decrease in its systemic absorption is noted, which may cause an increase in local action.
Since Cosopt is a sterile solution, before using it for the first time, make sure that the protective strip applied to the outside of the bottle is not damaged. In unopened vials, a gap between the cap and the vial is allowed. In order to open the bottle, you need to release the cap by removing the protective strip, and then unscrew it by turning it in the direction of the direction arrows on the top surface of the cap.
When carrying out instillation, it is recommended to tilt your head back and pull the lower eyelid slightly to create a space between it and the eye. After that, the bottle with drops should be turned over and, avoiding contact of its tip with any surfaces, gently press with your thumb or index finger in the place specially marked on the bottle, so that 1 drop gets into the conjunctival sac.
If used improperly, the vial can become infected, which can lead to serious eye infections and possible subsequent decrease or loss of vision. After instillation, the eyes should be closed by pressing on the inner corner with a finger and pressing it against the bridge of the nose for 2 minutes in order to keep the drops in the eye longer. If necessary, Cosopt is injected into the other eye in accordance with the above recommendations.
After completing the procedure, the bottle must be closed with a cap by tightening it tightly, but at the same time not pressing the cap too hard to avoid damage to the bottle. If everything is done correctly, the arrow on the bottle label should match the arrow on its cap. Do not enlarge the dispensing tip opening.
Side effects
In general, Cosopt is well tolerated. In clinical studies, adverse effects inherent only to this combination drug were not observed. The disorders observed during therapy were limited to previously recorded adverse reactions of dorzolamide hydrochloride and / or timolol maleate. Systemic adverse reactions in most cases were mild and did not require discontinuation of Cosopt.
Adverse reactions possible when using dorzolamide hydrochloride:
nervous system: dizziness, headache, paresthesia;
allergic reactions: urticaria, itching, bronchospasm, angioedema;
organ of vision: peeling, irritation, inflammation of the eyelid; punctate keratitis, iridocyclitis, transient myopia (disappears after drug withdrawal);
others: rash, fatigue / asthenia, throat irritation, nosebleeds, dry mouth.
Adverse reactions that may occur while using timolol maleate:
cardiovascular system: local application - edema, ringing in the ears, lowering the temperature of the hands and feet, hypotension, arrhythmia, lameness, Raynaud's phenomenon, paresthesia, cardiovascular disorders, fainting, rhythm disturbances, cardiac arrest; systemic use - aggravation of arterial insufficiency, vasodilation, worsening of angina pectoris, sinoauricular block, AV block II – III degree;
organ of vision: local application - keratitis, blepharitis, conjunctivitis, dryness, decreased sensitivity of the cornea, ptosis, diplopia, visual disturbances (including changes in the refractive power of the eye, in some cases due to the cancellation of miotics);
respiratory system: local application - cough, bronchospasm (mainly in the presence of broncho-obstructive pathology); systemic use - wheezing, pulmonary edema;
nervous system: dizziness, topical application - headache, paresthesia, an increase in myasthenia gravis symptoms, insomnia, depression, nightmares, memory loss; systemic use - increased drowsiness, decreased concentration;
allergic reactions: local application - local or generalized rash, urticaria, anaphylaxis, angioedema;
dermatological reactions: local application - psoriasis-like rashes or exacerbation of psoriasis, alopecia; systemic use - increased sweating, itching of the skin, exfoliative dermatitis;
metabolism: systemic use - hypoglycemia, hyperglycemia;
digestive system: topical application - dry mouth, dyspepsia, diarrhea; systemic use - vomiting;
others: topical application - chest pain, fatigue, asthenia, Peyronie's disease, decreased libido, systemic lupus erythematosus; systemic use - decreased exercise tolerance, weakness, pain in the extremities, arthralgia, urinary disorders, impotence, non-thrombocytopenic purpura.
The use of beta-blockers can exacerbate pseudoparalytic myasthenia gravis.
Overdose
There is no data on Cosopt's overdose.
There are descriptions of cases of unintentional overdose of eye drops containing timolol maleate, accompanied by the systemic effects of an overdose of beta-blockers used orally: headache, dizziness, shortness of breath, bronchospasm, bradycardia, cardiac arrest.
The most likely symptoms that occur with an overdose of dorzolamide may be the development of acidosis, electrolyte imbalance, and adverse reactions from the central nervous system.
In this condition, symptomatic and supportive therapy is prescribed. It is recommended to monitor the level of electrolytes (especially potassium) and blood plasma pH. On dialysis, timolol is not excreted.
special instructions
Cosopt eye drops, as well as other ophthalmic agents used topically, can be absorbed systemically. Since one of the active substances of the drug is timolol (beta-blocker), when used topically, undesirable conditions may also occur that appear against the background of systemic use of beta-blockers.
Patients with a history of cardiovascular diseases, including heart failure, require regular monitoring to identify possible signs of worsening of these diseases. They also need to control their pulse.
On the background of treatment with eye drops with timolol maleate, cases of heart failure with a fatal outcome were recorded, and in the presence of bronchial asthma, bronchospasm with a fatal outcome. For patients with mild to moderate COPD, the drug is prescribed only after a careful balance of benefit with potential risk.
It is not recommended to abruptly cancel beta-blockers in the presence of thyrotoxicosis due to the possible development of a thyrotoxic crisis.
If an extensive surgical intervention is to be carried out during the period of therapy, the effects of beta-blockers during the operation can be eliminated by introducing sufficient doses of adrenergic agonists.
The use of beta-blockers in ophthalmology can cause dry eyes. Patients with low endothelial cell counts increase the risk of corneal edema.
Dorzolamide, being a sulfonamide, when used topically, can provoke undesirable effects observed with systemic use of this group of drugs - toxic epidermal necrolysis, Stevens-Johnson syndrome. With the development of severe hypersensitivity reactions, the drug must be canceled.
In the treatment of acute angle-closure glaucoma, in addition to drugs that reduce IOP, it is also necessary to prescribe other therapeutic measures. In patients with acute angle-closure glaucoma, the study of the effect of Cosopt was not carried out.
Patients with a history of atopy or severe anaphylactic reactions to various allergens may experience an increased response in case of repeated exposure to these allergens. Epinephrine, used for the relief of allergic reactions in patients of this risk group, may be ineffective when taking a standard therapeutic dose.
It is not recommended to combine the use of Cosopt with other beta-blockers, due to the possible mutual enhancement of the pharmacological action of these drugs.
Against the background of coronary heart disease, treatment should be discontinued gradually.
Since Cosopt contains a carbonic anhydrase inhibitor, which has the property of systemically absorbed when applied topically, the use of the drug by patients with a history of urolithiasis aggravates their risk of urolithiasis due to acid-base imbalance.
Cosopt contains benzalkonium chloride, which can cause eye irritation. Patients using contact lenses must be removed before instillation, and then installed no earlier than 15 minutes after drug administration. It should be borne in mind that benzalkonium chloride can lead to discoloration of soft contact lenses.
Influence on the ability to drive vehicles and complex mechanisms
With Cosopt therapy, disorders may appear that can negatively affect the speed of psychomotor reactions and concentration of attention in some patients, impairing the skills of driving or other complex mechanisms.
Application during pregnancy and lactation
During pregnancy and lactation, use of Cosopt is contraindicated.
There are insufficient data on the use of dorzolamide and timolol during pregnancy.
As a result of animal studies, a teratogenic effect of dorzolamide was found.
In the course of epidemiological studies, the negative effect of oral beta-blockers on the development of congenital malformations was not revealed, however, the threat of intrauterine growth retardation was found. In addition, in the case when beta-blockers were used before childbirth, signs and symptoms of blockade of beta-adrenergic receptors in the form of hypoglycemia, hypotension, bradycardia, and respiratory failure were revealed in newborns. In connection with the above, if the use of Cosopt was prescribed before childbirth, in the first days of life, newborns require careful medical supervision.
It is not known whether dorzolamide penetrates into breast milk. Timolol, like other beta-blockers, has the ability to be excreted in breast milk. If it is necessary to use the drug during lactation, the attending physician must decide whether to stop breastfeeding or discontinue Cosopt therapy.
Pediatric use
For patients under 18 years of age, the use of Cosopt is contraindicated, since its efficacy and safety in patients of this age category has not been sufficiently studied.
With impaired renal function
Cosopt is contraindicated for use in the presence of severe renal failure (CC less than 30 ml / min).
For violations of liver function
Since there are no data from studies of the use of Cosopt in patients with functional disorders of the liver, such patients need to use an anti-glaucoma agent with extreme caution.
Use in the elderly
In some elderly patients, the possibility of a higher individual sensitivity to Cosopt cannot be excluded.
Drug interactions
antiarrhythmics (including amiodarone), systemic calcium channel blockers, beta-blockers, catecholamine-depleting agents, opioid analgesics, parasympathomimetics, digitalis glycosides, monoamine oxidase (MAO) inhibitors: it is possible to increase the hypotensive effect and / or the development of pronounced ophthalmic combination with a bradycardic solution timolol maleate;
inhibitors of the isoenzyme CYP2D6 (including selective serotonin reuptake inhibitors and quinidine): when combined with timolol, it is possible to potentiate the effect of systemic blockade of beta-adrenergic receptors (including a decrease in heart rate and depression);
salicylates (in high doses): the threat of toxicity associated with therapy with these drugs is aggravated;
adrenaline: there is a possibility of developing mydriasis when combined with timolol maleate;
antidiabetic drugs: the hypoglycemic effect of these drugs is enhanced due to the influence of systemic beta-blockers;
clonidine (clonidine): it is possible to increase the hypertension that occurs when the drug is discontinued;
systemic carbonic anhydrase inhibitors: there may be an increase in the systemic effects of carbonic anhydrase inhibition, this combination is not recommended.
Analogs
Cosopt's analogues are Dorzotimol, Dorzopt Plus, Rozak, Mardosia.
Terms and conditions of storage
Store in a place protected from light, out of reach of children, at a temperature not exceeding 25 ° C.
Shelf life is 2 years.
The bottle must not be used for more than 28 days after opening.
Terms of dispensing from pharmacies
Dispensed by prescription.
Reviews about Kosopt
The few reviews about Kosopt are mostly positive. Patients describe the drug as an effective agent used to treat glaucoma.
The disadvantages of the drug include the development of side effects (mainly in the form of allergies, headaches, shortness of breath).
Price for Cosopt in pharmacies
The price of Cosopt for a 5 ml bottle can be approximately 770-970 rubles.
Cosopt: prices in online pharmacies
Drug name
Price
Pharmacy
Cosopt 20 mg / ml + 5 mg / ml eye drops 5 ml 1 pc.
RUB 780
Buy
Cosopt eye drops 20mg / ml + 5mg / ml 5ml
803 r
Buy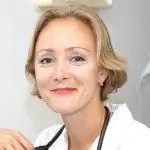 Anna Kozlova Medical journalist About the author
Education: Rostov State Medical University, specialty "General Medicine".
Information about the drug is generalized, provided for informational purposes only and does not replace the official instructions. Self-medication is hazardous to health!
Popular by topic