Table of contents: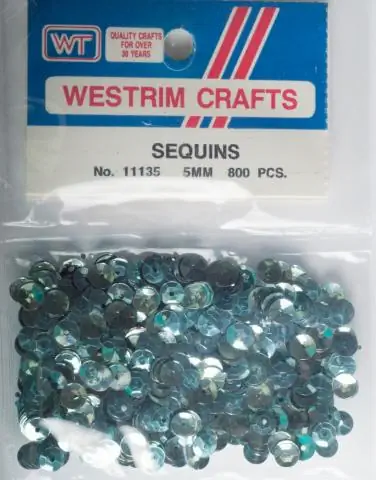 Video: Complivit Aqua D3 - Instructions For The Use Of Drops, Reviews, Price
Complivit Aqua D3
Complivit Aqua D3: instructions for use and reviews
1. Release form and composition
2. Pharmacological properties
3. Indications for use
4. Contraindications
5. Method of application and dosage
6. Side effects
7. Overdose
8. Special instructions
9. Application during pregnancy and lactation
10. Use in childhood
11. In case of impaired renal function
12. For violations of liver function
13. Drug interactions
14. Analogs
15. Terms and conditions of storage
16. Terms of dispensing from pharmacies
17. Reviews
18. Price in pharmacies
Latin name: Complivit Aqua D3
ATX code: A.11. CC05
Active ingredient: colecalciferol (Colecalciferolum)
Producer: Pharmstandard-Leksredstva, JSC (Russia)
Description and photo update: 2019-12-07
Prices in pharmacies: from 100 rubles.
Buy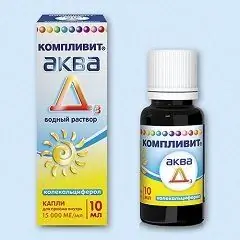 Complivit Aqua D3 is a regulator of calcium-phosphorus metabolism.
Release form and composition
Dosage form - drops for oral administration: transparent or slightly opalescent, colorless, with a characteristic odor (in a cardboard box 1 dropper bottle of amber or dark glass containing 10 ml of drops and instructions for use of Complivit Aqua D3).
Composition of 1 ml drops:
active substance: vitamin D 3 (colecalciferol) - 0.375 mg [15,000 international units (ME); 1 mg of colecalciferol corresponds to 40,000 IU of vitamin D 3 activity];
auxiliary components: benzyl alcohol - 15 mg; anethole - 0.825 mg; citric acid monohydrate (citric acid) - 0.43 mg; sodium hydrogen phosphate dodecahydrate - 7 mg; white sugar (sucrose) - 250 mg; macrogol glyceryl ricinoleate - 75 mg; purified water - up to 1 ml.
Pharmacological properties
Pharmacodynamics
Colecalciferol is an active antirachitic factor. Its most important function is to regulate the metabolism of phosphate and calcium, which contributes to the proper growth and mineralization of the skeleton.
Vitamin D 3 is a natural form of vitamin D, which is formed in humans in the skin when exposed to sunlight. Compared with vitamin D 2, cholecalciferol has a higher activity (by 25%). It regulates the excretion of phosphates and calcium by the kidneys, plays an important role in the process of bone calcification, absorption of phosphates and calcium from the intestines, and the transport of mineral salts.
The concentration of calcium ions in the blood regulates blood clotting, promotes the conduction of nervous excitement, determines the function of the myocardium and maintains muscle tone of the skeletal muscles. Vitamin D is required for the normal functioning of the parathyroid glands. By influencing the production of lymphokines, it takes part in the functioning of the immune system.
Calcium deficiency, insufficient exposure to sunlight, malabsorption and lack of vitamin D intake with food in newborns leads to impaired bone calcification, in children during periods of intensive growth - to the development of rickets, in adults - to the appearance of osteomalacia, during pregnancy - to the emergence of manifestations of tetany. A high need for vitamin D is observed in patients during menopause, which is associated with hormonal disorders leading to osteoporosis.
Pharmacokinetics
Colecalciferol oil solution is absorbed worse than aqueous solution. The formation and flow of bile into the intestines in premature babies is insufficient, due to which the absorption of vitamins in the form of oil solutions is impaired.
After oral administration, absorption of vitamin D 3 occurs in the small intestine, metabolism in the kidneys and liver. Its half-life from the blood is several days and can be extended against the background of renal failure. Colecalciferol penetrates the placental barrier and into breast milk, has the property of cumulation. Excretion from the body mainly occurs with bile, in a small amount, the substance is excreted by the kidneys.
Indications for use
deficiency of vitamin D, as well as pathologies associated with its deficiency, for example, osteomalacia (for prevention);
rickets (therapy and prevention);
osteoporosis of various origins (as part of complex treatment).
Contraindications
Absolute:
hypervitaminosis D;
renal osteodystrophy with hyperphosphatemia, urolithiasis (including history), hypercalciuria, hypercalcemia;
renal failure;
chronic and acute liver / kidney pathologies;
pseudohypoparathyroidism;
sarcoidosis;
active form of pulmonary tuberculosis;
glucose-galactose malabsorption, fructose intolerance, isomaltase / sucrase deficiency;
children's age up to 28 days of life;
individual intolerance to the components of the drug.
Relative (Complivit Aqua D3 drops are prescribed under medical supervision):
peptic ulcer of the stomach and duodenum;
pathology of the gastrointestinal tract;
heart failure;
organic heart damage;
phosphate nephrourolithiasis;
hyperphosphatemia;
granulomatosis;
atherosclerosis;
predisposition to early overgrowth of fontanelles in infants (in cases where the small size of the anterior crown is established from birth);
violation of the excretion of calcium and phosphate in the urine;
the state of immobilization of the patient (due to the risk of hypercalciuria / hypercalcemia);
hypothyroidism;
combined therapy with thiazide diuretics, benzodiazepine derivatives, preparations containing vitamin D and calcium, as well as cardiac glycosides in patients with cardiovascular pathologies;
pregnancy and lactation.
Complivit Aqua D3, instructions for use: method and dosage
Drops Complivit Aqua D3 are taken orally. One drop contains approximately 500 IU of colecalciferol.
Depending on the indications, the recommended doses of Complivit Aqua D3 are:
rickets (prevention): full-term newborns from 28 days of life - 1 drop a day; premature newborns from 28 days of life - 2 drops per day during the first year of life, then - 1 drop per day. The drug is used during periods of low insolation (especially in winter) during the first two years of a child's life;
rickets (therapy): if there is no visible deformation of the skeletal system (mild disease) - 2-3 drops per day for 1 month; with the existing deformation of the skeletal system (moderate and severe pathology) - 4-8 drops per day for a period from 1 to 1.5 months. The dose of Complivit Aqua D3 and the duration of its administration is determined by the doctor depending on the degree of changes;
deficiency of vitamin D and pathologies associated with its deficiency (prevention): 1 drop per day for at least 1 month. It is recommended to take the drug during the entire period, accompanied by a deficiency in the intake of vitamin D;
osteoporosis (complex therapy): 1-2 drops per day for 3 months with a possible repetition of the course on the recommendation of a doctor (depending on the results of the assessment of markers of calcium and bone metabolism).
Side effects
metabolism and nutrition: hypercalciuria, hypercalcemia;
nervous system: headache;
cardiovascular system: arrhythmia, increased blood pressure;
respiratory system, organs of the chest and mediastinum: exacerbation of the tuberculous process in the lungs;
gastrointestinal tract: diarrhea, abdominal pain, nausea, flatulence, constipation, decreased appetite;
skin and subcutaneous tissues: hypersensitivity reactions (itching / rash, urticaria);
musculoskeletal and connective tissue: myalgia, arthralgia;
kidneys and urinary tract: polyuria, impaired renal function.
Overdose
The main symptoms are:
acute overdose of cholecalciferol: early manifestations (due to hypercalcemia) - nausea, diarrhea / constipation, vomiting, headache, dehydration, nocturia, thirst, metallic taste in the mouth, hypercalciuria, anorexia, dryness of the oral mucosa, hypercalcemia, general fatigue and polyuria, pollakiuria; late manifestations - nausea, pancreatitis, vomiting, pruritus, weight loss, increased blood pressure, arrhythmia, eye photosensitivity, gastralgia, drowsiness, conjunctival hyperemia, myalgia, bone pain, clouding of urine (the appearance of leukocyturia, proteinuria, hyaline casts in it); rarely - changes in the psyche (psychosis) and mood;
chronic overdose of cholecalciferol (use of the drug for several weeks / months at a dose of 2,000 to 4,000 IU per day in children and from 20,000 to 60,000 IU per day in adults): chronic heart failure, arterial hypertension, calcification of blood vessels, lungs, kidney or soft tissue, renal failure (these manifestations most often develop when hyperphosphatemia joins hypercalcemia), impaired growth in children (with prolonged use of the drug at a dose of 1800 IU per day).
Therapy: if symptoms of an overdose appear, you should stop taking the medication and seek the advice of a doctor. It is recommended to adhere to a diet with a low calcium content for several weeks, consume large amounts of fluid, carry out forced diuresis using furosemide and electrolytes, as well as the use of calcitonin and glucocorticosteroids. Calcium levels in patients with normal renal function can be significantly reduced by the administration of isotonic sodium chloride solution (from 3 to 6 liters over 24 hours) with the addition of furosemide, and in some cases also sodium edetate (at a dose of 15 mg per 1 kg of body weight in 1 h). Calcium levels and electrocardiogram data should be monitored at the same time as injections. With the development of oligoanuria, hemodialysis is required (dialysate without calcium). There is no specific antidote.
In order to prevent overdose, in some cases it is necessary to control the concentration of calcium in the blood.
special instructions
It is important to avoid an overdose of Complivit Aqua D3 and take into account how much calcium and vitamin D enters the body with food or other drugs.
Taking colecalciferol in high doses for an extended period, as well as taking its loading doses, can lead to the development of chronic hypervitaminosis D 3.
Along with the drug Complivit Aqua D3, you should not take calcium in high doses.
In view of the potential risk of hypercalciuria / hypercalcemia, the drug in immobilized patients, with the combined use of benzodiazepine derivatives, against the background of impaired excretion of phosphates and calcium in the urine should be administered with caution. In such cases, it is important to control the level of calcium in urine and blood plasma.
Since the need for vitamin D in patients with pseudohypoparathyroidism can be reduced, cholecalciferol is not used in them (there is a possibility of a prolonged overdose).
The development of a mild degree of rickets can be recognized by the following clinical manifestations:
suppleness of the edges of the large fontanelle;
baldness of the back of the head;
itchy skin;
excessive sweating;
superficial (disturbing) sleep;
sleep rhythm disturbances;
anxiety;
flinching when there is a flash of light or harsh sounds;
nervous irritability.
Visible bone deformities indicate moderate / severe rickets. Such patients usually need hospitalization and complex treatment, which is prescribed by a doctor based on the results of an examination.
On the recommendation of a physician, depending on the results of the assessment of markers of calcium and bone metabolism, repeated courses of osteoporosis therapy can be carried out. If it is necessary to carry out a longer therapy than recommended in the instructions, a regular assessment of renal function should be performed (by measuring the level of creatinine in the blood serum) and the level of calcium in urine and serum should be determined. The doctor may adjust the doses used according to the serum calcium level.
Reducing the dose of Complivit Aqua D3 or stopping therapy is necessary if manifestations of impaired renal function or hyperkalemia are detected, as well as if the level of calcium in the urine is more than 7.5 mmol at 24 hours (300 mg at 24 hours).
Influence on the ability to drive vehicles and complex mechanisms
There is no data on the possible effect of Complivit Aqua D3 on the ability to drive vehicles or complex mechanisms, to engage in activities that require a high concentration of attention and speed of psychomotor reactions.
Application during pregnancy and lactation
During pregnancy, Complivit Aqua D3 for the prevention of vitamin D deficiency can be used in doses not exceeding the recommended ones, since there is a risk of teratogenic effects due to an overdose.
During lactation, Complivit Aqua D3 is used with caution, since its intake in high doses by the mother can lead to manifestations of an overdose in the child.
During pregnancy / breastfeeding, the intake of vitamin D from other sources should be considered. Its dose should not exceed 600 IU per day.
Pediatric use
Complivit Aqua D3 is not prescribed for patients under 28 days of age.
With impaired renal function
The use of Complivit Aqua D3 is contraindicated in the following cases:
renal osteodystrophy with hyperphosphatemia;
acute and chronic kidney pathologies;
renal failure.
For violations of liver function
Against the background of acute and chronic liver diseases, the drug is not prescribed.
Drug interactions
Possible interactions of colcalciferol with other substances / preparations:
cholestyramine, rifampicin, antiepileptic drugs (especially primidone, phenobarbital, phenytoin): reduce its reabsorption;
thiazide diuretics: the likelihood of hypercalcemia increases. Requires constant monitoring of the concentration of calcium in the blood;
glucocorticosteroids: may decrease its effectiveness;
antacids containing magnesium and aluminum: long-term therapy with such drugs can lead to an increase in the concentration of magnesium / aluminum in the blood. As a result, the toxic effect of aluminum on bone tissue and the development of hypermagnesemia in patients with renal failure are manifested;
mineral oils, colestipol, cholestyramine: in the gastrointestinal tract, the absorption of fat-soluble vitamins is reduced, which leads to the need to increase their dose;
benzodiazepines: the likelihood of developing hypercalcemia increases;
medicines that contain high concentrations of phosphorus and calcium: the risk of developing hyperphosphatemia increases;
other analogs of vitamin D: the likelihood of hypervitaminosis D increases;
ketoconazole: may inhibit the biosynthesis and catabolism of 1,25 (OH) 2 -colecalciferol;
rifampicin, isoniazid: can reduce its therapeutic effect by increasing the rate of biotransformation;
cardiac glycosides: against the background of hypervitaminosis D 3, their effect may increase and the likelihood of arrhythmia may increase, which causes the development of hypercalcemia. In such cases, it is recommended to control the electrocardiogram, the calcium content in the blood, and adjust the doses of cardiac glycosides.
Interaction of cholecalciferol with food is not observed.
When used simultaneously with sodium fluoride, the interval between doses should be at least 2 hours, with oral forms of tetracyclines - at least 3 hours.
Vitamin D is an antagonist of drugs used in hypercalcemia - gallium nitrate, plicamycin, pamidronate, etidronate and calcitonin.
Analogs
Analogs of Complivit Aqua D3 are: Vigantol, DeTriFerol, Vitamin D3, Aquadetrim, Vitamin D3 dry 100 GFP, Videhol, Vitamin D3 aqueous solution, D3-Droplet, Videhola solution in oil, Vitamin D3 100 SD / S dry, Cholecalciferol, Vitamin D3 BON, Vitamin D3 1 million IU / g.
Terms and conditions of storage
Store in a place protected from light and moisture at temperatures up to 25 ° C. Keep out of the reach of children.
Shelf life is 2 years.
Terms of dispensing from pharmacies
Available without a prescription.
Reviews of Complivite Aqua D3
According to reviews, Complivit Aqua D3 is a safe, effective and affordable drug used to prevent vitamin D deficiency, as well as rickets in children. In addition, they note the convenient dosage form of the drops and their pleasant taste.
Among the disadvantages of Complivit Aqua D3, the possible development of side effects while taking the drug is most often indicated. Some people note that the dispenser supplied with the drops is not very convenient to use and air gets into it.
Price for Complivit Aqua D3 in pharmacies
The approximate price for Complivit Aqua D3 (in a cardboard box 1 dropper bottle with 10 ml drops) is 148–163 rubles.
Complivit Aqua D3: prices in online pharmacies
Drug name
Price
Pharmacy
Complivit Aqua D3 15000 IU / ml drops for oral administration 10 ml 1 pc.
RUB 100
Buy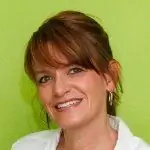 Maria Kulkes Medical journalist About the author
Education: First Moscow State Medical University named after I. M. Sechenov, specialty "General Medicine".
Information about the drug is generalized, provided for informational purposes only and does not replace the official instructions. Self-medication is hazardous to health!
Popular by topic