Table of contents: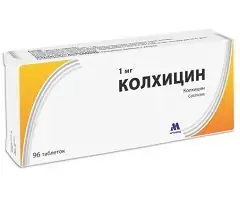 Video: Colchicine - Instructions, Application, Reviews
Colchicine
Instructions for use:
1. Composition and form of release
2. Pharmacological action
3. Indications for use
4. Contraindications
5. Side effects
6. Overdose
7. Method of application and dosage
8. Special instructions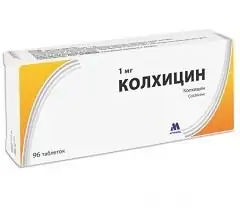 Colchicine is a remedy for gout.
Composition and form of release
The drug is available in the form of 1 mg film-coated tablets, 20 pieces per pack. One tablet contains the active ingredient - colchicine 1 mg.
Colchicine analogs are: Colchicum Dispert, Kolkhimin, Kolchitsein.
pharmachologic effect
Colchicine is able to reduce the migration of leukocytes to the site of inflammation and inhibit the phagocytosis of microcrystals of uric acid salts. Partially or completely inhibits cell division at the stage of metaphase and anaphase, has an anti-miotic effect, and stops neutrophil degranulation. Prevents the development of amyloidosis, reduces the formation of amyloid fibrils.
Highly effective in preventing acute gout attacks. According to reviews, Colchicine helps more than 75% of patients in the first 12 hours of use.
Indications for use
Colchicine according to the instructions is prescribed for:
gout to prevent or prevent acute attacks;
scleroderma, chondrocalcinosis, gouty arthritis;
inflammatory diseases in otolaryngology and dentistry, some forms of phlebitis;
familial Mediterranean fever, amyloidosis.
Contraindications Colchicine
According to the instructions, Colchicine is contraindicated for use with:
acute hepatic or renal failure;
neutropenia;
alcoholism;
severe dysfunction of the bone marrow, gastrointestinal tract, CVS;
purulent infections;
old age;
pregnancy;
hypersensitivity to colchicine.
Side effects
According to reviews, Colchicine is capable of causing the following side effects:
Central nervous system: peripheral neuritis, depression, neuropathy.
Digestive system: nausea, abdominal pain, vomiting, decreased appetite, impaired liver function, diarrhea, malabsorption syndrome (manifested in a lack of vitamin B12).
Hematopoietic system: myelosuppression - aplastic anemia, neutropenia, agranulocytosis, leukopenia. With prolonged use, reviews of Colchicine indicate a possible manifestation of thrombocytopenia.
Allergic reactions: measles-like rash, urticaria.
Others: temporary alopecia, impaired renal function, myopathy, azoospermia.
Overdose
An overdose of Colchicine according to reviews causes the following symptoms: severe diarrhea, abdominal pain, vomiting, nausea, oral pain, burning of the skin, hemorrhagic gastroenteritis, severe dehydration and a decrease in blood pressure (up to hypovolemic shock), hematuria, convulsions, ST segment elevation by ECG, oliguria, decreased myocardial contractility, depression of respiratory function, ascending paralysis.
There were reviews about Colchicine about the occurrence of pulmonary infiltrates, acute renal failure, the development of hepatocellular damage as a result of an overdose.
Treatment for an overdose of Colchicine and its analogues is carried out in a toxicological center. Hemodialysis is ineffective. There is no specific antidote. It is necessary to control the patency of the airways, maintain vital functions, do auxiliary ventilation, normalize blood gas composition, electrolyte balance, and carry out anti-shock measures.
Method of administration of Colchicine and dosage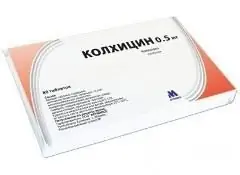 According to the instructions, Colchicine is taken orally. In the presence of an inflammatory process and an acute attack of gout, the dosage is: on the first day - one tablet three times a day, on the second and third days - one tablet twice a day, on the fourth and subsequent days - one tablet once a day day (preferably in the evening). According to another scheme, one tablet is taken, and then, with an interval of one to two hours, another half or a whole tablet is taken until the acute pain disappears.
For preventive purposes, the dosage of Colchicine according to the instructions is one tablet once a day (preferably in the evening) for three months.
The maximum dosage is 8 tablets per day. With amyloidosis, take from one to three tablets per day. The duration of treatment is at least five years.
special instructions
Treatment with Colchicine or its analogues is carried out under close clinical and hematological supervision. With the manifestation of side effects from the gastrointestinal tract, it is necessary to reduce the dosage or completely cancel the drug.
In the case of a decrease in platelets below 100 thousand / μl and leukocytes below 3 thousand / μl, you should stop taking Colchicine or its analogues.
Information about the drug is generalized, provided for informational purposes only and does not replace the official instructions. Self-medication is hazardous to health!
Popular by topic