Table of contents: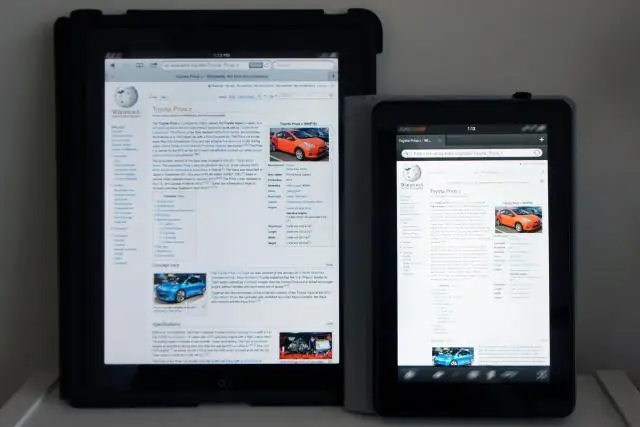 Video: Klimakt-Hel - Instructions For The Use Of Tablets, Reviews, Price, Analogues
Klimakt-Hel
Klimakt-Hel: instructions for use and reviews
1. Release form and composition
2. Pharmacological properties
3. Indications for use
4. Contraindications
5. Method of application and dosage
6. Side effects
7. Overdose
8. Special instructions
9. Application during pregnancy and lactation
10. For violations of liver function
11. Drug interactions
12. Analogs
13. Terms and conditions of storage
14. Terms of dispensing from pharmacies
15. Reviews
16. Price in pharmacies
Latin name: Klimakt-Heel
ATX code: G02CX
Active ingredient: Simarouba cedron (simarouba cedron), Sanguinaria canadensis (sanguinaria canadensis), Sulfur (sulfur), Sepia officinalis (sepia officinalis), Lachesis mutus (lachesis mutus), Strychnos ignatii (Strychnos ignaties), strychnos ignatii
Producer: Biologische Heilmittel Heel GmbH (Germany)
Description and photo update: 2018-26-10
Prices in pharmacies: from 245 rubles.
Buy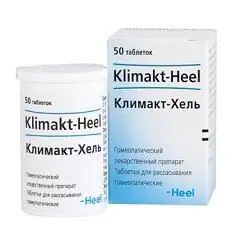 Climakt-Hel is a multicomponent homeopathic medicine used in the climacteric period for the treatment of vegetative disorders.
Release form and composition
The dosage form of the release is homeopathic resorption tablets: round flat cylindrical shape, from white to orange-white, dotted blotches of orange or black color, with a bevel, have a peculiar smell (in a cardboard box 1 polypropylene case containing 50 tablets).
Active ingredients in 1 tablet:
Simarouba cedron (Cedron) [simarouba cedron (cedron)] D4 - 0.03 g;
Sanguinaria canadensis (Sanguinaria) [sanguinaria canadensis (sanguinaria)] D3 - 0.03 g;
Sulfur (sulfur) D4 - 0.03 g;
Sepia officinalis (Sepia) [sepia officinalis (sepia)] D4 - 0.03 g;
Lachesis mutus (Lachesis) [lachesis mutus (lachesis)] D12 - 0.09 g;
Strychnos ignatii (Ignatia) [strychnos ignatii (ignation)] D4 - 0.03 g;
Stannum metallicum (stannum metallicum) D12 - 0.06 g.
Auxiliary components: magnesium stearate - 0.001 5 g; lactose - in the amount necessary to obtain a tablet weighing about 0.302 g.
Pharmacological properties
Pharmacodynamics
Climakt-Hel is one of the multicomponent homeopathic remedies. Its action is due to the active substances included in the composition.
Indications for use
According to the instructions, Climakt-Hel is prescribed in the climacteric period in combination with other drugs for the treatment of autonomic disorders (in the form of increased nervous excitability, hot flashes, headache, etc.).
Contraindications
lactase deficiency, lactose intolerance, glucose-galactose malabsorption;
pregnancy and lactation;
individual intolerance to any component of the drug.
Climakt-Hel for liver diseases can be prescribed only after medical advice.
Instructions for use Klimakt-Hel: method and dosage
Climakt-Hel is taken sublingually (the tablet must be kept in the mouth until it is completely absorbed).
Recommended dosage regimen: 3 times a day, 1 tablet for a course of 1-2 months (by a doctor, if necessary, the duration of admission may be increased).
It is advisable to take the drug 30 minutes / 60 minutes after a meal.
Side effects
The development of allergic reactions is possible.
Due to the sanguinaria, which is part of the Climakt-Hel, in some cases, the indicators of the functional activity of the liver (hepatic transaminases) and the concentration of bilirubin, up to jaundice (drug-toxic hepatitis), may increase. Violations are reversible, indicators normalize after discontinuation of therapy.
Overdose
There are no data on cases of overdose.
special instructions
While taking the drug, there may be a primary deterioration (manifested in the form of a short exacerbation of symptoms). In such cases, you need to consult a doctor (the drug may need to be canceled).
The carbohydrate content in 1 tablet corresponds to 0.025 XE (bread units).
Application during pregnancy and lactation
Climakt-Hel is not prescribed to women during pregnancy / breastfeeding (due to the sanguinaria included in it).
For violations of liver function
The drug for liver diseases can be prescribed only after a medical consultation.
Drug interactions
Reception of Klimakt-Hel does not exclude the use of other drugs / substances.
Analogs
Klimakt-Hel analogs are: Klimalanin, Remens, Cyclodinon, Klimadinon and others.
Terms and conditions of storage
Store in a place protected from light and moisture at a temperature of 15-25 ° C. The pencil case must be kept closed. Keep out of the reach of children.
The shelf life is 5 years.
Terms of dispensing from pharmacies
Available without a prescription.
Reviews about Klimakt-Hel
Reviews about Klimakt-Hel are contradictory. In some cases, the drug effectively relieves the symptoms characteristic of the climacteric period. Other patients report insufficient therapeutic effect or its complete absence. No side effects have been reported.
Price for Klimakt-Hel in pharmacies
The approximate price for Klimakt-Hel (50 pcs. Per pack) is 350–408 rubles.
Klimakt-Hel: prices in online pharmacies
Drug name
Price
Pharmacy
Climakt-Hel homeopathic resorption tablets 50 pcs.
245 RUB
Buy
Climact-hel tab. sublingual. n50
442 r
Buy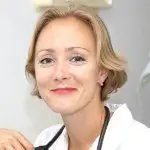 Anna Kozlova Medical journalist About the author
Education: Rostov State Medical University, specialty "General Medicine".
Information about the drug is generalized, provided for informational purposes only and does not replace the official instructions. Self-medication is hazardous to health!
Popular by topic