Table of contents:

Video: Klabaks OD - Instructions For Use, 500 Mg, Price, Reviews, Analogues
Klabaks OD
Klabaks OD: instructions for use and reviews
1. Release form and composition
2. Pharmacological properties
3. Indications for use
4. Contraindications
5. Method of application and dosage
6. Side effects
7. Overdose
8. Special instructions
9. Application during pregnancy and lactation
10. Use in childhood
11. In case of impaired renal function
12. For violations of liver function
13. Drug interactions
14. Analogs
15. Terms and conditions of storage
16. Terms of dispensing from pharmacies
17. Reviews
18. Price in pharmacies
Latin name: Klabax OD
ATX code: J01FA09
Active ingredient: clarithromycin (Clarithromycin)
Manufacturer: San Pharmaceutical Industries, Ltd. (Sun Pharmaceutical Industries, Ltd.) (India); Runbaxi Laboratories, Ltd. (Ranbaxy Laboratories, Ltd.) (India)
Description and photo update: 2019-05-07
Prices in pharmacies: from 219 rubles.
Buy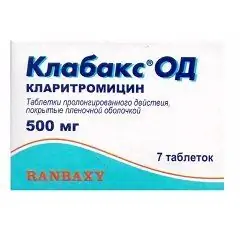 Klabaks OD is an antibacterial drug of the macrolide group for oral administration.
Release form and composition
Dosage form - tablets of prolonged action, film-coated: light yellow, oval biconvex, on one side with overprinting "CLNXL" in black ink (in a cardboard box 1 or 2 blisters of 5 or 7 tablets and instructions for the use of Klabaks OD).
Composition of 1 tablet:
active substance: clarithromycin - 500 mg;
auxiliary components: sodium stearyl fumarate - 16 mg; magnesium stearate - 4 mg; talc - 15 mg; microcrystalline cellulose - 85.2 mg; povidone - 12 mg; hypromellose - 35 mg; lactose monohydrate - 127.8 mg; colloidal silicon dioxide - 5 mg;
film shell: Opadry yellow 20H52875 dye (propylene glycol - 12.315%; titanium dioxide - 7.266%; talc - 5.131%; hyprolose - 6.157%; vanillin - 7.266%; hypromellose - 61.574%; 18-24% quinoline yellow dye - 0.291%) - 16 mg;
ink: Opacode S – 1–17823 black: (isopropanol - 26.882%; shellac 45% in ethanol - 44.467%; dye iron oxide black - 23.409%; propylene glycol - 2%; n-butanol - 2.242%; 28% ammonium hydroxide - 1%) - in sufficient quantity.
Pharmacological properties
Pharmacodynamics
Clarithromycin, the active substance of Klabax OD, is a second generation macrolide bacteriostatic antibiotic from the group of broad-spectrum macrolides. Its effect is based on disruption of microbial protein synthesis (it binds to the 50S subunit of the ribosome membrane of a microbial cell).
Active against: Streptococcus agalactiae (S. pyogenes, S. viridans, S. pneumoniae), Haemophilus ducreyi, Haemophilus influenzae (parainfluenzae), Neisseria meningitidis, Neisseria gonorrhoeae, Legionella pneumophila, Listeria monocyella Branhamella) catarrhalis, Staphylococcus aureus, Propionibacterium acnes, Toxoplasma gondii, Ureaplasma urealyticum, Mycoplasma pneumoniae, Chlamydia pneumoniae (trachomatis), Pasteurella multocida, Treicobacter. (Campylobacter) Clostridium perfringens, Peptococcus spp., Eubacterium spp., Propionibacterium spp.) And all mycobacteria except M. tuberculosis.
The main metabolite of clarithromycin is 14-hydroxyclarithromycin. In terms of microbiological activity, it is not inferior to the original substance, or in relation to most microorganisms, it is 1–2 times weaker. The exception is H. influenzae, in relation to which the efficiency of the metabolite is 2 times higher. Clarithromycin and its main metabolite to H. influenzae have an additive or synergistic effect (depending on the culture of bacteria).
Pharmacokinetics
Clarithromycin metabolism occurs in the liver in the cytochrome P4503A (CYP3A) system. The absolute bioavailability is approximately 50%. With repeated administration of Klabax OD, cumulation was not detected, the nature of metabolism in the human body does not change.
The connection of clarithromycin with blood plasma proteins is at the level of 70% at a concentration of 0.45–4.5 µg / ml. If the concentration is 45 μg / ml, there is a decrease in binding to 41%, which is presumably caused by saturation of the binding sites. This effect occurs only at concentrations that are many times higher than the therapeutic one.
With oral administration of long-acting clarithromycin in a daily dose of 500 mg, it is possible to maintain an equilibrium level of C max (maximum concentration) of clarithromycin and its active metabolite in the blood. Equilibrium C max and T 1/2 (half-life) are, respectively, for clarithromycin 1.3 μg / ml and 5.3 hours; for 14-hydroxyclarithromycin - 0.48 μg / ml and 7.7 hours.
When taking clarithromycin of prolonged action in a daily dose of 2 tablets of 500 mg (1000 mg), the values of the equilibrium level C max and T 1/2, respectively, are on average: for the substance - 2.4 μg / ml and 5.8 hours; for its metabolite and 0.67 μg / ml and 8.9 hours.
T max (time to reach the maximum concentration of the substance) when taking 500 and 1000 mg of Klabax OD per day is about 6 hours. The level of 14-hydroxyclarithromycin in the equilibrium state does not increase in proportion to the doses of clarithromycin taken, and T 1/2 of the substance and its main metabolite increases simultaneously with an increase in the dose.
The nonlinear characteristics of the pharmacokinetic parameters of clarithromycin are associated with a decrease in the formation of N-demethylated and 14-hydroxylated metabolites when higher doses are used, which is evidence of the nonlinearity of clarithromycin metabolism when using high doses.
Excretion of clarithromycin is carried out: through the intestines - approximately 30% of the dose, with urine - approximately 40%.
Clarithromycin and its major metabolite are widely distributed in body fluids and tissues. After oral administration, the content of the substance in the cerebrospinal fluid remains low (in the absence of violations of the blood-brain barrier permeability, in the range from 1 to 2% of the serum level in the blood). The concentration in the tissues is usually several times higher than the concentration in the blood serum.
With moderate / severe violations of the functional state of the liver in patients with preserved renal function, there is no need for dose adjustment. The systemic clearance and C ss (equilibrium concentration) of clarithromycin in blood plasma in patients of this group and healthy patients does not differ. With ss 14-hydroxyclarithromycin in patients with impaired hepatic function is lower than in healthy patients.
Against the background of impaired renal function, the value of C min (minimum concentration of the substance) and C max of clarithromycin in blood plasma, T 1/2, AUC (area under the concentration-time curve) of clarithromycin and its main metabolite increases. Simultaneously with this, there is a decrease in the constant of elimination and excretion in the urine. The severity of these changes is determined by the degree of impaired renal function.
In elderly patients, in comparison with patients of young age, the level of the substance and its 14-OH metabolite in the blood is higher, while there is a slowdown in their excretion. It is believed that changes in pharmacokinetic parameters in elderly patients are mainly associated not with age, but with changes in creatinine clearance and functional state of the kidneys.
Indications for use
Klabaks OD 500 mg tablets are prescribed for the treatment of infectious diseases caused by microorganisms sensitive to the effects of clarithromycin:
folliculitis, erysipelas (skin and soft tissue lesions);
sinusitis, pharyngitis, otitis media (damage to the upper respiratory tract and the organ of hearing);
bronchitis, pneumonia (damage to the lower respiratory tract);
mycobacterial infections (widespread or localized) caused by Mycobacterium intracellulare and Mycobacterium avium; localized infections caused by Mycobacterium chelonae, Mycobacterium kansasii and Mycobacterium fortuitum;
H. pylori infection: in order to eliminate and reduce the frequency of recurrence of duodenal ulcers associated with H. pylori.
Contraindications
Absolute:
porphyria;
severe impairment of liver and / or kidney function (in patients with creatinine clearance less than 30 ml / min);
combination therapy with ergot derivatives;
combined therapy with cisapride, pimozide, astemizole and terfenadine (in this case, their concentration in the blood increases; against this background, an increase in the QT interval and the occurrence of cardiac arrhythmias, including ventricular paroxysmal tachycardia, ventricular fibrillation and ventricular flutter / fibrillation);
age up to 12 years;
lactation period;
individual intolerance to the components of the drug, as well as antibiotics from the macrolide group.
Klabaks OD during pregnancy is prescribed under medical supervision.
Klabaks OD, instructions for use: method and dosage
Klabaks OD 500 mg tablets are intended for oral administration. They are taken with meals, swallowing whole. The tablets must not be chewed or broken.
The usual daily dose is 500 mg in 1 dose, in severe cases it is possible to increase the frequency of use up to 2 times a day.
The duration of the course is from 7 to 14 days.
Patients with creatinine clearance of 30-60 ml / min only with severe infections Klabax OD can be prescribed in a daily dose of 500 mg in one dose.
Side effects
Most often, against the background of therapy with Klabax OD, there are disturbances from the digestive system, which manifest themselves in the form of nausea, dyspepsia, abdominal pain, vomiting and diarrhea. There is information about the development of pseudomembranous colitis from moderate to life-threatening degree. Other adverse reactions include taste disturbances, headache, increased activity of liver enzymes (transient).
There is evidence of rare cases of paresthesia, as well as hepatitis, which occurs with an increase in the level of liver enzymes in the blood, the development of jaundice and cholestasis. In some cases, hepatitis was severe, but most often it was reversible. Fatal liver failure has been observed in exceptional cases.
In rare cases, there is an increase in serum creatinine concentration, the development of renal failure and interstitial nephritis.
During the treatment period, allergic reactions may occur, their intensity varies from minor (skin rash and urticaria) to serious (Stevens-Johnson syndrome and anaphylaxis). There are reports of hearing loss, usually after the cancellation of Klabaks OD, it is restored. It is also possible to change the perception of taste, as a rule, this symptom occurs simultaneously with a violation of taste.
There is information about the occurrence of stomatitis, glossitis, candidiasis of the oral mucosa, as well as a change in the color of the tongue. Teeth discoloration is possible (usually reversible).
In rare cases, hypoglycemia occurs. This disorder is observed in patients on the background of combined therapy with oral hypoglycemic agents or insulin.
There are reports of isolated episodes of leukopenia and thrombocytopenia.
On the background of clarithromycin therapy, transient adverse reactions from the central nervous system were observed. They manifested in the form of dizziness, anxiety, fear, insomnia, tinnitus, nightmares, confusion, hallucinations, disorientation, depersonalization, and psychosis.
As with the use of other macrolides, lengthening of the QT interval, ventricular arrhythmias, including ventricular paroxysmal tachycardia and ventricular fibrillation / flutter are observed in extremely rare cases during treatment with clarithromycin.
Overdose
the main symptoms of a clarithromycin overdose: headache, confusion, nausea, diarrhea, vomiting;
therapy: immediate gastric lavage is performed, after which symptomatic treatment is prescribed. Peritoneal dialysis and hemodialysis do not significantly alter the serum clarithromycin level in the blood.
special instructions
Patients with chronic liver disease require regular monitoring of serum liver enzymes.
When combined therapy with drugs metabolized by the liver, caution and control of the concentration of these drugs in the blood is required.
In the case of combined administration with warfarin or other indirect anticoagulants, it is necessary to monitor the prothrombin time.
It is necessary to take into account the possibility of cross-resistance between Klabax OD and other macrolide antibiotics, clindamycin and lincomycin.
With repeated / prolonged use of Klabax OD, superinfection may develop, characterized by secondary infection with the same pathogens against the background of the developed disease.
Children under 12 years of age are advised to take Klabax in the form of granules for the preparation of a suspension intended for oral administration.
Application during pregnancy and lactation
pregnancy: Klabax OD can be used only in cases where the intended benefit is higher than the possible risk in the absence of alternative therapy;
lactation period: therapy is contraindicated, since clarithromycin passes into human milk.
The safety profile of clarithromycin during pregnancy / lactation has not been studied.
Pediatric use
For patients under 12 years of age, Klabaks OD is not prescribed.
With impaired renal function
Application depending on the creatinine clearance value:
less than 30 ml / min: therapy is contraindicated;
30-60 ml / min: Klabaks OD can be used only in the treatment of severe infections in a 2-fold reduced daily dose.
For violations of liver function
Klabaks OD is contraindicated for severe hepatic impairment.
Drug interactions
lovastatin, ergot alkaloids, oral anticoagulants, disopyramide, carbamazepine, terfenadine, theophylline, cisapride, astemizole, triazolam, midazolam, cyclosporin, phenytoin, rifabutin, digoxin and other drugs, metabolism which occurs in the liver using enzyme cytochrome P 450: if combined use with clarithromycin, the concentration of the above drugs in the blood increases;
lovastatin, simvastatin (hydroxymethylglutaryl-CoA reductase inhibitors): there have been reports of rare cases of acute skeletal muscle necrosis, which coincide in time with the simultaneous administration of clarithromycin;
digoxin: there is evidence of an increase in its plasma concentration; if necessary, simultaneous use, in order to avoid digitalis intoxication, it is necessary to carry out constant monitoring of the serum content of digoxin;
triazolam: clarithromycin can lead to a decrease in its clearance and, as a consequence, to an increase in its pharmacological effects with the development of confusion and drowsiness;
ergotamine: with combined use, it is possible to develop acute ergotamine intoxication, this disorder manifests itself as severe vasospasm, ischemia of the limbs and other tissues;
zidovudine (oral in HIV-infected adults): may decrease steady-state concentrations; Taking into account that clarithromycin most likely affects the absorption of zidovudine, the development of such an interaction can be largely avoided when these drugs are used at different hours of the day (with a break of at least 4 hours);
ritonavir: with concomitant use, serum clarithromycin concentrations increase. In patients with normal renal function, clarithromycin dose adjustment is not required; in patients with creatinine clearance of 30-60 ml / min, the clarithromycin dose should be reduced by 2 times, and if this indicator is less than 30 ml / min, Klabax OD should not be prescribed. In this case, the use of 250 or 500 mg of rapid-release clarithromycin is indicated. In combination therapy with ritonavir, clarithromycin greater than 1000 mg daily should not be given.
Analogs
Analogues of Klabaks OD are Bacticap, Binoclar, Lecoclar, Crixan, Mitsetinum, Clerimad, Clarithromycin, Klabaks, Kispar, Ecositrin, Clarbakt, Zimbaktar, Fromilid, etc.
Terms and conditions of storage
Store at temperatures up to 25 ° C. Keep out of the reach of children.
Shelf life is 2 years.
Terms of dispensing from pharmacies
Dispensed by prescription.
Reviews about Clubax OD
On specialized medical sites, patients leave mostly positive reviews about Clubax OD. The main advantages of the drug indicate its high efficiency, convenient dosing regimen and good tolerance.
The cost of the drug is estimated to be high.
Price for Klabaks OD in pharmacies
Approximate price for Klabaks OD, film-coated tablets of prolonged action, in a dosage of 500 mg, 7 pcs. in a blister: 1 blister in a package - 259-273 rubles; 2 blisters per pack - 345-500 rubles.
Klabaks OD: prices in online pharmacies
Drug name
Price
Pharmacy
Klabaks OD 500 mg film-coated tablets of prolonged action 7 pcs.
219 r
Buy
Klabaks OD tablets p.o. 500mg 7 pcs.
280 RUB
Buy
Klabaks OD 500 mg film-coated tablets of prolonged action 14 pcs.
399 RUB
Buy
Klabaks OD tablets p.o. 500mg 14 pcs.
486 r
Buy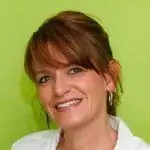 Maria Kulkes Medical journalist About the author
Education: First Moscow State Medical University named after I. M. Sechenov, specialty "General Medicine".
Information about the drug is generalized, provided for informational purposes only and does not replace the official instructions. Self-medication is hazardous to health!
Popular by topic