Table of contents:

Video: Keravort - Instructions For Using The Cream, Analogues, Price, Reviews
Keraworth
Keravort: instructions for use and reviews
1. Release form and composition
2. Pharmacological properties
3. Indications for use
4. Contraindications
5. Method of application and dosage
6. Side effects
7. Overdose
8. Special instructions
9. Application during pregnancy and lactation
10. Use in childhood
11. Drug interactions
12. Analogs
13. Terms and conditions of storage
14. Terms of dispensing from pharmacies
15. Reviews
16. Price in pharmacies
Latin name: Keravort
ATX code: D06BB10
Active ingredient: Imiquimod (Imiquimod)
Manufacturer: Glenmark Pharmaceuticals Ltd. (India)
Description and photo update: 2018-25-10
Prices in pharmacies: from 2019 rubles.
Buy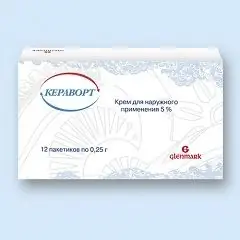 Keravort is an external immunomodulatory drug used in the treatment of genital warts.
Release form and composition
The dosage form of Keravort is a cream for external use 5%: white or almost white, of a homogeneous soft consistency (in disposable laminate sachets of 250 mg, in a cardboard box 12 or 24 sachets).
Composition of 100 mg cream:
active substance: imiquimod - 5 mg;
auxiliary components: xanthan gum (Xantural 75) - 0.5 mg; propyl parahydroxybenzoate - 0.02 mg; benzyl alcohol - 2 mg; isostearic acid (Emersol 874) - 25 mg; cetyl alcohol (Speziol C15 Pharma) - 2.2 mg; myristyl alcohol (Speziol C14) - 7 mg; stearyl alcohol (Speziol C18 Pharma) - 3.1 mg; white soft paraffin - 3 mg; Polysorbate 60 (Tween 60) - 3.4 mg; Sorbitan Monostearate (Motane 60 PHA) 0.6 mg methyl parahydroxybenzoate - 0.2 mg; glycerol - 2 mg; purified water - up to 100 mg.
Pharmacological properties
Pharmacodynamics
Keravort is one of the external immunomodulatory drugs.
Imichimod is a compound that modifies the immune response. It has no direct antiviral effect. The effect is due to the induction of interferon alpha (IFNα) and other cytokines.
Pharmacokinetics
Less than 0.9% of radiolabeled imiquimod is absorbed through the skin after a single dose is applied and enters the systemic circulation. It is excreted from the body by the kidneys and through the intestines (ratio of about 3: 1) without delay. The serum concentration of Keravort in the blood after a single / repeated external application does not reach a quantifiable level (> 5 ng / ml).
Indications for use
According to the instructions, Keravort is prescribed for the treatment of external genital warts in adults, localized in the perianal region or on the external genitals.
Contraindications
age up to 18 years;
lactation period;
individual intolerance to any component of the drug.
For women during pregnancy, Keravort cream can be prescribed for strict indications after evaluating the benefit / risk ratio.
Instructions for the use of Keravort: method and dosage
Keravort is used externally.
The cream should be applied to the previously cleansed surface of the affected skin with a thin layer and rubbed gently until completely absorbed. Do not use excess cream. The drug should remain on the skin for 6-10 hours. After the specified time, the cream must be washed off with warm water and soap.
Avoid getting the drug on internal surfaces.
Do not apply a bandage to the area where the product is applied.
Frequency rate of application - 3 times a week before bedtime. You should not use the cream more than 1 time a day.
Therapy is carried out until the disappearance of visible genital / perianal warts, the maximum duration of the course is 16 weeks.
The content of 1 sachet is sufficient for application to the affected skin area of 20 cm 2.
Side effects
Possible adverse reactions (> 10% - very common;> 1% and 0.1% and 0.01% and <0.1% - rarely; <0.01%, including isolated messages - very rare):
local skin reactions: very often - itching / pain at the site of Keravort application; often - infection, erosion, erythema, edema, excoriation / desquamation; infrequently - urticaria, pruritus, folliculitis, dermatitis, eczema, erythematous rash; rarely - ulceration, induration, blistering, scabbing, hyperpigmentation, local hypopigmentation;
digestive system: infrequently - lesions of the rectum, pain in the anus;
genitourinary system: infrequently - herpes simplex, fungal / bacterial infection, vaginitis, atrophic vaginitis, painful intercourse, vulvitis, pain in the penis / vagina.
In cases of local adverse reactions, the cream must be removed by washing it off with soap and water. After stopping the skin reaction, therapy can be resumed.
Overdose
Due to the low absorption of the drug, overdose is unlikely. In case of accidental ingestion of a dose of imiquimod 200 mg (approximately 16 sachets), nausea, vomiting, headache, myalgia and fever may develop. Among the most clinically serious side effects of oral administration of several doses of Keravort 200 mg is a decrease in blood pressure.
Therapy: symptomatic, medical advice is required.
special instructions
Avoid getting Keravort on mucous membranes. The cream should only be applied to the affected areas.
In case of contact with the eyes, it is recommended to rinse them with water.
You cannot reuse the cream from a previously opened sachet.
Before / after applying Keravort cream, hands should be washed with warm water and soap.
For men who have not been circumcised, during the period of therapy, genital warts located under the foreskin should wash the affected area daily by pulling the foreskin. If early signs of phimosis are detected, the drug is immediately canceled.
If during the application of the cream serious discomfort is felt, or the development of an infection is noted in the area of application of Keravort, it is permissible to take a break in therapy for several days. In case of infection, appropriate measures must be taken.
In patients with immunodeficiency, the use of Keravort cream is not recommended again.
During the treatment period, an exacerbation of inflammatory skin diseases may be observed.
Until the skin has healed after other types of medical / surgical treatment, Keravort should not be used. Do not start therapy on areas with open ulcers / wounds until they are completely healed.
Additional components of the drug (propyl parahydroxybenzoate, methyl parahydroxybenzoate, stearyl alcohol and cetyl alcohol) can cause an allergic reaction.
When a hypersensitivity reaction occurs, therapy is canceled.
The use of the drug in high doses may increase the likelihood of severe local reactions.
During the period of therapy, it is recommended to avoid / minimize exposure to sunlight (including sunlight lamps), which is associated with the threat of sunburn.
Imichimod does not have a direct antiviral / cytotoxic effect, therefore, after the therapy, new condylomas of the genital and perianal regions may appear.
The use of Keravort for the treatment of urethral, cervical, intravaginal, intraanal or rectal genital warts is not recommended.
Before intercourse, the cream must be washed off. The drug can weaken the effect of condoms / vaginal diaphragms, and therefore it is not recommended to use these contraceptives during therapy.
Application during pregnancy and lactation
pregnancy: Keravort can be prescribed according to strict indications after evaluating the benefit / risk ratio;
lactation period: therapy is contraindicated.
Pediatric use
For patients under 18 years of age, the drug is not prescribed.
Drug interactions
There are no data on the interaction of Keravort with other drugs / substances.
Analogs
The analogues of Keravort are: ALDARA, Imichimod, Imiquimod, Vartocid.
Terms and conditions of storage
Store in a place protected from light at a temperature of 2-25 ° C. Keep out of the reach of children.
Shelf life is 2 years.
Terms of dispensing from pharmacies
Dispensed by prescription.
Reviews about Keravort
Reviews about Keravort are different. Many indicate its high efficiency, in other cases the drug does not have a therapeutic effect.
To reduce the severity of local adverse reactions, some doctors advise to additionally use external remedies with a healing effect.
Price for Keravort in pharmacies
The approximate price for Keravort (12 sachets per pack) is 2090 rubles.
Keravort: prices in online pharmacies
Drug name
Price
Pharmacy
Keravort 5% cream for external use 0.25 g 12 pcs.
2019 RUB
Buy
Keravort cream sachet 5% 25g 12 pcs.
2510 RUB
Buy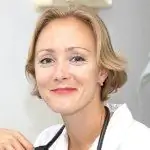 Anna Kozlova Medical journalist About the author
Education: Rostov State Medical University, specialty "General Medicine".
Information about the drug is generalized, provided for informational purposes only and does not replace the official instructions. Self-medication is hazardous to health!
Popular by topic