Table of contents: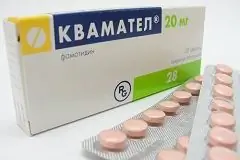 Video: Kvamatel - Instructions For Use, Indications, Doses, Analogues
Kvamatel
Instructions for use:
1. Release form and composition
2. Indications for use
3. Contraindications
4. Method of application and dosage
5. Side effects
6. Special instructions
7. Drug interactions
8. Analogs
9. Terms and conditions of storage
10. Terms of dispensing from pharmacies
Prices in online pharmacies:
from 110 rubles.
Buy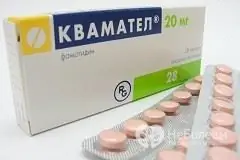 Kvamatel is an antiulcer agent, a blocker of histamine H 2 receptors.
Release form and composition
Dosage forms:
Film-coated tablets: have a convex shape, engraved on one of the sides, on pink tablets - "F20", dark pink - "F40", at the break, the structure is white or almost white (14 pcs. In blisters, in a cardboard box 2 blisters with tablets of 20 mg or 1 - 40 mg);
Lyophilisate for the preparation of a solution for intravenous (iv) administration: has an almost white or white color, the solvent is a clear, colorless odorless liquid (72.8 mg each in glass colorless vials, in a cardboard box 5 vials complete with a solvent in ampoules according to 5 ml, in a contour plastic package 5 ampoules).
The active substance is famotidine:
1 tablet - 20 or 40 mg;
1 bottle - 20 mg.
Auxiliary components:
Tablets: magnesium stearate, colloidal silicon dioxide, povidone K90, sodium carboxymethyl starch (type A), lactose monohydrate, corn starch, talc;
Lyophilisate: mannitol, aspartic acid.
Additionally:
The composition of the film shell of the tablets: colloidal silicon dioxide, red iron oxide, titanium dioxide, sepifilm 003 (microcrystalline cellulose (E460), macrogol-40 OE stearate (E431), hypromellose (E464)), macrogol 6000;
Solvent for lyophilisate: 0.9% sodium chloride solution.
Indications for use
Treatment in the phase of exacerbation and prevention of relapse in gastric ulcer and duodenal ulcer;
Prevention and treatment of symptomatic gastric and duodenal ulcers caused by stress, taking non-steroidal anti-inflammatory drugs, performing operations;
Functional dyspepsia associated with increased gastric secretory function;
Erosive gastroduodenitis;
Reflux esophagitis;
Prevention of recurrent bleeding from the upper gastrointestinal tract (GIT);
Zollinger-Ellison syndrome;
Prevention of aspiration of gastric juice during general anesthesia (Mendelssohn's syndrome).
Contraindications
Childhood;
The period of pregnancy and breastfeeding;
Hypersensitivity to the components of the drug and other blockers of histamine H 2 receptors.
It is recommended to prescribe Kvamatel with caution to patients with renal and / or hepatic insufficiency, cirrhosis of the liver with a history of portosystemic encephalopathy.
Method of administration and dosage
Tablets: taken orally. Dosage and treatment period are prescribed by the doctor based on clinical indications. With exacerbation of gastric and duodenal ulcers: 40 mg 1 time per day in the evening or 20 mg 2 times a day (morning and evening). If necessary, an increase in the daily dose to 80-160 mg is allowed. The course of treatment is 4 to 8 weeks. For the prevention of exacerbations of ulcers: 20 mg 1 time per day in the evening. In the treatment of reflux esophagitis: 20 mg 2 times a day for 6 weeks, if necessary, it is possible to increase the daily dose to 80 mg. Therapy for Zollinger-Ellison syndrome is recommended to start with 20-40 mg every 6 hours, if necessary, increase the daily dose can be adjusted to 480 mg. Prevention of aspiration of stomach contents during the period of general anesthesia is carried out in a dose of 40 mg taken the night before and / or in the morning on the day of surgery;
Lyophilisate for the preparation of a solution for (i / v) administration: intended for jet or drip administration only in a hospital setting in patients with a severe form of the disease or when oral administration of the drug is impossible. Immediately before the introduction, the contents of one bottle of the drug should be diluted with 5-10 ml of solvent. The duration of the jet intravenous injection should be at least 2 minutes, infusion - 15-30 minutes. The stability of the finished solution is maintained at room temperature for 24 hours. A single dosage should not exceed 20 mg. The average daily dose is 20 mg 2 times with an interval of 12 hours. The initial dose for Zollinger-Ellison syndrome is 20 mg every 6 hours, then the dose is adjusted taking into account the clinical condition of the patient and the secretion of hydrochloric acid. Prevention of aspiration of gastric juice under general anesthesia is carried out by intravenous administration of 20 mg of Kvamatel the night before or 2 hours before the operation. At the first opportunity, the patient is recommended to transfer to taking pills.
For patients with impaired renal function (CC less than 30 ml / min or plasma creatinine level more than 3 mg / dL), when prescribing each of the dosage forms of Kvamatel, it is recommended to reduce the daily dose to 20 mg, and if necessary to maintain the usual dose, it should be increased up to 36-48 hours interval between doses of the drug.
The dose of the drug should be reduced in case of impaired liver function.
Side effects
The use of Kvamatel can cause side effects:
From the side of the cardiovascular system: bradycardia, arrhythmia, decreased blood pressure, atrioventricular block;
From the digestive system: dry mouth, decreased appetite, nausea, abdominal pain, vomiting, flatulence, diarrhea or constipation; increased activity of hepatic transaminases, acute pancreatitis, cholestatic, hepatocellular or mixed hepatitis;
From the nervous system: drowsiness, headache, increased fatigue, dizziness, confusion, hallucinations, depression, anxiety, agitation;
From the hematopoietic system: very rarely - leukopenia, agranulocytosis, thrombocytopenia, bone marrow hypo- or aplasia, pancytopenia;
Dermatological reactions: dry skin, alopecia, toxic epidermal necrolysis, acne vulgaris;
Allergic reactions: itching, skin rash, urticaria, bronchospasm, anaphylactic shock, angioedema;
On the part of the reproductive system: long-term use in high doses - gynecomastia, hyperprolactinemia, decreased libido, amenorrhea;
From the senses: tinnitus, decreased visual acuity;
From the musculoskeletal system: muscle spasms, arthralgia;
Others: fever.
special instructions
When prescribing Kvamatel, the doctor must make sure that the patient does not have malignant neoplasms, since taking the drug is able to mask their symptoms.
During the period of use of the drug, the patient should not use drugs, food and drinks that can irritate the gastric mucosa.
It is impossible to abruptly interrupt treatment with famotidine - this can cause a withdrawal syndrome in the patient, therefore, when the drug is discontinued, the dose should be reduced gradually.
Against the background of long-term therapy under stress or in debilitated patients, bacterial infections of the stomach may develop.
Patients with functional disorders of the liver are prescribed the drug with caution and in low doses.
If simultaneous use is necessary, the drug is taken only 2 hours after ketoconazole or itraconazole, it is also recommended to take a 1-2 hour break when taking antacids in order to exclude the interaction of these drugs.
Since Kvamatel can inhibit the acid-stimulating activity of histamine and pentagastrin, it is recommended to stop taking the drug 24 hours before the test.
Skin tests in the diagnosis of immediate allergic skin reactions should be carried out after the drug is discontinued, since histamine H 2 receptor blockers can suppress the skin reaction to histamine and distort the research results.
During the period of treatment with Kvamatel, patients should be careful when engaging in potentially hazardous activities, the implementation of which requires the speed of psychomotor reactions and a high concentration of attention, including when driving vehicles and mechanisms.
Drug interactions
The action of Kvamatel increases the acidity in the stomach, this helps to reduce the absorption of itraconazole and ketoconazole and increase the absorption of clavulanic acid and amoxicillin while taking the drug.
When combined with drugs that inhibit bone marrow hematopoiesis, the likelihood of developing neutropenia increases.
When taken simultaneously with sucralfate and antacids, the absorption of famotidine slows down.
Analogs
Analogs of Kvamatel are: Gasterogen, Gastrosidin, Pepsidin, Famotel, Famosan, Famotidine, Famotidin-Akos, Ulfamid.
Terms and conditions of storage
Store in a dark place at a temperature: tablets - up to 30 ° C, lyophilisate - 15-25 ° C. Keep out of the reach of children.
Shelf life: tablets - 5 years, lyophilisate - 3 years.
Terms of dispensing from pharmacies
Dispensed by prescription.
Kvamatel: prices in online pharmacies
Drug name
Price
Pharmacy
Kvamatel 40 mg film-coated tablets 14 pcs.
110 RUB
Buy
Kvamatel 20 mg film-coated tablets 28 pcs.
126 RUB
Buy
Kvamatel 20 mg lyophilisate for preparation of solution for intravenous administration complete with solvent 5 pcs.
383 r
Buy
Information about the drug is generalized, provided for informational purposes only and does not replace the official instructions. Self-medication is hazardous to health!
Popular by topic