Table of contents: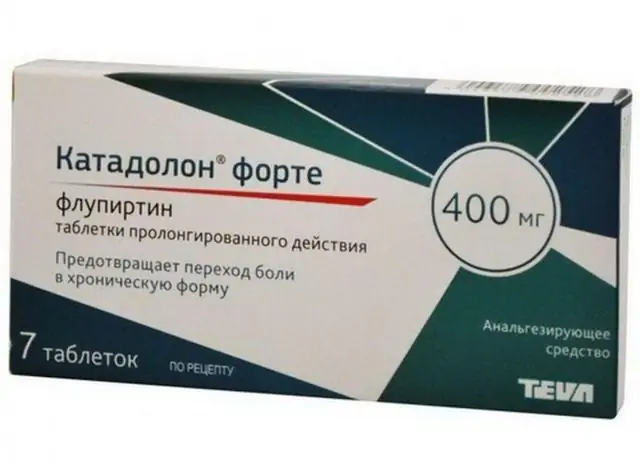 Video: Katadolon Forte - Instructions For Use, Price, Reviews, Tablets 400 Mg
Katadolon forte
Katadolon forte: instructions for use and reviews
1. Release form and composition
2. Pharmacological properties
3. Indications for use
4. Contraindications
5. Method of application and dosage
6. Side effects
7. Overdose
8. Special instructions
9. Application during pregnancy and lactation
10. Use in childhood
11. In case of impaired renal function
12. For violations of liver function
13. Use in the elderly
14. Drug interactions
15. Analogs
16. Terms and conditions of storage
17. Terms of dispensing from pharmacies
18. Reviews
19. Price in pharmacies
Latin name: Katadolon forte
ATX code: N02BG07
Active ingredient: flupirtine (flupirtine)
Manufacturer: TEVA Operations Poland, Sp. z oo (Poland)
Description and photo updated: 22.11.2018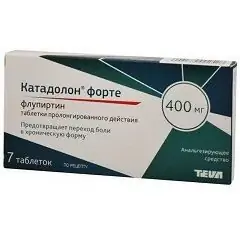 Katadolon forte is an analgesic, non-opioid drug of central action, designed to relieve pain.
Release form and composition
Katadolon forte is produced in the form of prolonged-release tablets: biconvex, oblong, a dividing line is applied on one side, the color of the tablets is from light yellow to yellow, there are light and dark inclusions (7 pcs. In blisters, in a cardboard box 1 blister; by 10 pcs. In blisters, in a cardboard box 2 blisters; 14 pcs. In blisters, in a cardboard box 1, 3 or 6 blisters).
Composition for 1 tablet:
active ingredient: flupirtine maleate - 400 mg;
auxiliary ingredients: copolymer of ethyl acrylate and methyl methacrylate (1: 2) - 22.5 mg; calcium hydrogen phosphate dihydrate - 38 mg; talc - 22.5 mg; croscarmellose sodium - 34.95 mg; microcrystalline cellulose - 59.74 mg; hypromellose - 8 mg; dye iron oxide yellow (E172) - 6.25 mg; anhydrous colloidal silicon dioxide - 2.06 mg; magnesium stearate - 6 mg.
Pharmacological properties
Pharmacodynamics
The active substance of Katadolon forte is flupirtine, which is a selective activator of neuronal potassium channels (Selective Neuronal Potassium Channel Opener - SNEPCO). Due to its pharmacological properties, it belongs to non-narcotic analgesics of central action that do not cause addiction and dependence.
By activating neuronal potassium channels of internal rectification associated with the G-protein, flupirtine, due to the release of K + ions, stabilizes the resting potential and inhibits the excitability of neuronal membranes. This results in an indirect inhibition of NMDA receptors, since Mg 2+ ions provide their blockade until the depolarization of the cell membrane (indirect antagonistic effect on NMDA receptors).
The use of flupirtine in therapeutically significant concentrations does not lead to its binding with 5HT 1 (5-hydroxytryptophan) and 5HT 2 -serotonin receptors, α 1 - and α 2 -adrenergic receptors, dopamine, opioid, benzodiazepine, central muscarinic and nicotine-sensitive cholinergic receptors. This central action of flupirtine provides three main drug effects:
analgesic effect: as a result of selective opening of potassium voltage-gated channels of neurons, accompanied by the release of K + ions, the resting neuronal potential is stabilized, the neuron becomes less excitable. Due to its indirect antagonism towards NMDA receptors, flupirtine protects neurons from the entrance of Ca 2+ ions, which mitigates the sensitizing effect of the growth of the intracellular level of Ca 2+ ions. As a result, when the neuron is excited, the transmission of ascending nociceptive signals is inhibited;
muscle relaxant effect: the analgesic pharmaceutical effect is functionally reinforced by an increase in the absorption of Ca 2+ ions by mitochondria due to the intake of therapeutically significant doses of flupirtine. The muscle relaxant effect is manifested as a result of the concomitant suppression of the transmission of impulses to motor neurons, as well as the corresponding influence of intercalary neurons. It acts primarily on local muscle cramps, and not on the entire musculature as a whole;
the effect of chronicity processes (neuronal conduction due to the plasticity of neuronal functions): the elasticity of neuronal functions through the induction of processes occurring inside the cell creates conditions for the implementation of mechanisms such as inflation, which enhance the response to each subsequent impulse. These changes are triggered in most cases by NMDA receptors (gene expression). Under the influence of flupirtine, these receptors are indirectly blocked, resulting in the suppression of their effectiveness. For clinically significant chronic pain, unfavorable conditions are created, and if it was present earlier, then pain memory is erased due to stabilization of the membrane potential, which leads to a decrease in sensitivity.
Pharmacokinetics
1 tablet of Katadolon Forte contains a fast-releasing fraction of flupirtine (100 mg) and a slow-releasing fraction of flupirtine (300 mg), which additionally affects the pharmacokinetic characteristics of flupirtine:
absorption: due to oral administration, about 90% of flupirtine is absorbed from the gastrointestinal tract (GIT). In the dose range of 50–300 mg, the plasma concentration of the substance is dose-dependent;
distribution: the maximum plasma concentration (C max) with a single use of flupirtine is 0.8 μg / ml (from 0.4 to 1.5 μg / ml) and is achieved after 2.4 hours, with repeated administration (400 mg daily in within 1 week) - 1 μg / ml (from 0.6 to 2.4 μg / ml), the time to reach - 1.9 h. Simultaneous food intake slightly increases absorption [AUC 0 – ∞ (area under the curve "concentration - time ") 14.1 μg / ml × h compared to 10.7 μg / ml × h] and increases C max (up to 1 μg / ml from 0.8 μg / ml). In this case, the time to reach C max increased from 2.4 h to 3.2 h;
metabolism: about 3 / 4 of the dose in the liver is split to form two metabolites: active metabolite M1 [2-amino-3-acetamino-6- (4-fluoro) -benzilaminopiridin], analgesic action of which is 1 / 4 from the action of flupirtine, due to which it is involved in the therapeutic effect of the drug, and the inactive metabolite M2. Studies aimed at determining the isoenzyme responsible for a less significant metabolic pathway (oxidative) have not yet been carried out. It is generally accepted that the potential for drug interactions for flupirtine is negligible;
excretion: up to 69% is excreted by the kidneys, including 27% - unchanged, 28% - in the form of an acetyl metabolite (metabolite M1), 12% - in the form of para-fluoro-hippuric acid (metabolite M2); the remaining 1 / 3 consists of several metabolites in structure unexplored today. The maximum amount of flupirtine is excreted in feces and urine, with a half-life (T 1/2) ~ 15 hours; food intake decreases the indicator. M1 is displayed a little slower, the T 1/2 value is 20 and 16 hours, respectively.
Indications for use
According to the instructions, Katadolon Forte is recommended for the treatment of acute pain of mild to moderate severity in adult patients.
Contraindications
the risk of developing hepatic encephalopathy and cholestasis (possibly the development of encephalopathy or aggravation of an existing encephalopathy / ataxia);
myasthenia gravis (due to the possible muscle relaxant effect of flupirtine);
concomitant liver disease, alcoholism;
simultaneous use with other drugs with hepatotoxic efficacy;
Recently healed or existing ringing in the ears (high risk of increased liver enzyme activity);
children and adolescents under 18 years of age;
hypersensitivity to any component of the drug.
With caution, Katadolon Forte is taken with renal failure and in the elderly over 65 years of age.
In patients with hypoalbuminemia, since there is no data on the efficacy and safety of taking long-acting Katadolon forte 400 mg tablets, it is recommended to use Katadolon capsules (100 mg).
Instructions for the use of Katadolon forte: method and dosage
The tablets are taken orally, without chewing and drinking a sufficient amount of liquid (preferably water).
The dose of Katadolon forte is selected depending on the individual tolerance of the drug and the intensity of pain. It should be minimally effective and applied for the shortest possible period of time.
In order to reduce pain, it is recommended to take 1 tablet (400 mg) per day for the shortest possible period of time. This is the total daily dose, if it is not enough, then you need to use Katadolon in the form of capsules in a larger daily dose.
The total duration of the course of therapy should not exceed two weeks.
Side effects
The frequency of side effects (very often -> 0.1; often -> 0.01 - 0.001 - 0.0001 - 0.0001; with an unknown frequency - cannot be estimated based on the available data):
hepatobiliary system: very often - increased activity of liver enzymes; with an unknown frequency - liver failure, hepatitis;
digestive system: often - dyspepsia, nausea / vomiting, epigastric pain, constipation, dryness of the oral mucosa, flatulence, diarrhea;
immune system: infrequently - hypersensitivity reactions, accompanied in some cases by an increase in body temperature, hives, skin rash and itching;
metabolism: often - loss of appetite;
nervous system: often - depression, nervousness, anxiety, sleep disturbance, dizziness, headache, tremor; infrequently - confusion of consciousness;
organ of vision: infrequently - impaired visual perception;
skin and subcutaneous tissues: often - hyperhidrosis;
others: very often - fatigue and / or weakness (in 15% of patients), especially at the beginning of treatment.
Adverse reactions are mainly dose-dependent (with the exception of allergic reactions). In most cases, they pass on their own as the course progresses or after completion.
Overdose
Symptoms of an overdose of flupirtine (dose 5 g) are: tachycardia, nausea, a state of prostration, confusion / deafness, tearfulness, dryness of the oral mucosa. In such a state and in the presence of signs of intoxication, it is necessary to take into account the risk of disturbances from the central nervous system, as well as hepatotoxicity by the type of increased metabolic pathologies of the liver.
Isolated cases of overdose with manifestation of suicidal intentions were recorded.
It is recommended to induce the patient to vomit or apply forced diuresis, use activated charcoal and introduce electrolytes. After these measures, the patient's state of health was restored within 6–12 hours. There were no reports of life-threatening conditions. If necessary, symptomatic therapy is performed. The specific antidote for flupirtine is unknown.
special instructions
Catadolon forte is used only when therapy with other analgesic drugs (light opioids or non-steroidal anti-inflammatory drugs) is contraindicated.
During the treatment course, the liver function is monitored once a week, since flupirtine is able to increase the activity of hepatic transaminases, aggravate the development of hepatitis and liver failure. If these studies differ from the norm or the manifestation of clinical symptoms indicating liver damage, the use of Katadolon forte should be discontinued.
Patients should be advised to monitor for any symptoms suggestive of liver damage (lack of appetite, nausea / vomiting, fatigue, stomach pain, dark urine, pruritus, jaundice). When they appear, taking Katadolon Forte tablets must be interrupted and urgently consult a specialist.
Flupirtine can produce false positives when using a urine protein, bilirubin, or urobilinogen diagnostic strip test. Similarly, the drug can act in the quantitative determination of the level of bilirubin in the blood plasma.
In some cases, high doses of flupirtine can contribute to the staining of urine in green, this is not a clinical sign of any pathology.
Influence on the ability to drive vehicles and complex mechanisms
Due to the likelihood of dizziness and drowsiness, you should refrain from driving vehicles and operating other potentially dangerous machinery. It is especially important to comply with this requirement while consuming Katadolon forte with alcohol.
Application during pregnancy and lactation
There are insufficient data from clinical studies of the use of flupirtine during pregnancy. Animal experiments have shown that it has reproductive toxicity, but not teratogenicity. For humans, the potential risk of the drug is unknown. As a result, taking Katadolon forte during gestation is allowed only if the benefit to the mother exceeds the potential risk to the fetus.
A slight release of flupirtine in breast milk was found, therefore, breastfeeding should be interrupted while taking Katadolon forte during lactation.
Pediatric use
Katadolon forte is not used in children and adolescents under 18 years of age.
With impaired renal function
Patients with renal insufficiency need to monitor the plasma concentration of creatinine in the blood.
Correction of the dosage regimen of Katadolon forte in patients with renal insufficiency:
mild to moderate severity: no correction required;
severe degree: initial dose - 1 / 2 tablets (200 mg), 1 time per day. In case of good tolerance, the daily dose can be increased to 1 tablet (400 mg) per dose. The use of higher doses requires medical supervision.
For violations of liver function
The drug is contraindicated in patients with liver diseases, especially those accompanied by cholestasis and an increased risk of hepatic encephalopathy.
Use in the elderly
Katadolon forte is contraindicated in patients over 65 years of age. In the case of the need for treatment of elderly patients it is recommended following correction dosing regimen: initial dose - 1 / 2 tablets (200 mg), 1 time per day in the case of good tolerability daily dose can be increased to 1 tablet (400 mg) for 1 reception; the maximum daily dose is 400 mg.
Drug interactions
ethanol, sedatives, muscle relaxants: flupirtine enhances their effectiveness;
warfarin, diazepam, acetylsalicylic acid, benzylpenicillin, digoxin, glibenclamide, propranolol, clonidine (according to in vitro studies): when interacting with flupirtine, it was found that it displaces only diazepam and verapamil from the connection with plasma proteins, as a result of which it is possible … Due to the high degree of binding of flupirtine to proteins, it is also able to influence this indicator in other substances / drugs used simultaneously;
indirect anticoagulants, coumarin derivatives (warfarin): it is recommended to carry out regular monitoring of prothrombin time in order to timely adjust the dosage regimen of indirect anticoagulants (there is no information on interactions with other anticoagulant / antiplatelet drugs, including acetylsalicylic acid);
drugs metabolized in the liver: use with flupirtine requires regular monitoring of the activity of liver enzymes;
paracetamol, carbamazepine: combined use with flupirtine should be avoided.
Analogs
Analogs of Katadolon forte are: Katadolon, Neurodolon, Nolodatak, Flugesik, etc.
Terms and conditions of storage
Store in a place protected from light, storage temperature - no higher than 25 ° C. Keep out of the reach of children.
The shelf life is 3 years.
Terms of dispensing from pharmacies
Dispensed by prescription.
Reviews of Katadolon Fort
The few reviews about Katadolon forte are very contradictory, so it is rather difficult to draw a conclusion about the effectiveness of the drug. But all patients, regardless of whether they help or not, agree on the cost of the pills, defining it as very high.
Price for Katadolon forte in pharmacies
The approximate price of Catadolon forte 400 mg is 885-940 rubles (in a package of 7 extended-release tablets) or 1310-1570 rubles (in a package of 14 prolonged-release tablets).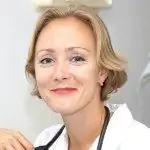 Anna Kozlova Medical journalist About the author
Education: Rostov State Medical University, specialty "General Medicine".
Information about the drug is generalized, provided for informational purposes only and does not replace the official instructions. Self-medication is hazardous to health!
Popular by topic