Table of contents: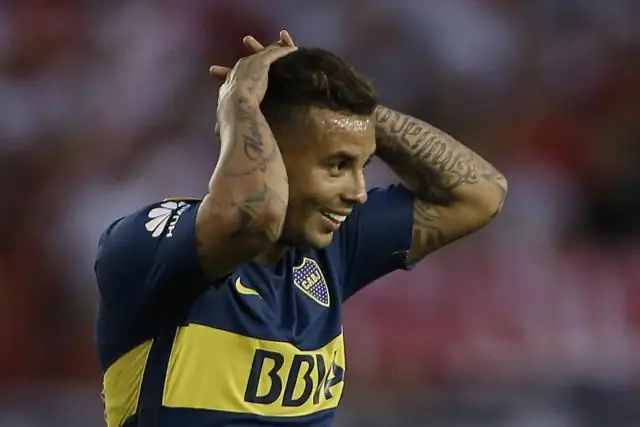 Video: Cardonat - Instructions, Use For Children, Price, Reviews, Analogues
Cardonat
Cardonat: instructions for use and reviews
1. Release form and composition
2. Pharmacological properties
3. Indications for use
4. Contraindications
5. Method of application and dosage
6. Side effects
7. Overdose
8. Special instructions
9. Application during pregnancy and lactation
10. Drug interactions
11. Analogs
12. Terms and conditions of storage
13. Terms of dispensing from pharmacies
14. Reviews
15. Price in pharmacies
Latin name: Cardonat
ATX code: A11JC
Active ingredient: Cobamamid (Cobamamid), Pyridoxal-5-phosphate (Pyridoxal 5-Phosphate), Lysine hydrochloride (Lysine hydrochloride), Cocarboxylase (Cocarboxylase chloride), Carnitine chloride (Carnitini chloridum)
Manufacturer: Sperko Ukraine (Ukraine)
Description and photo update: 2019-12-08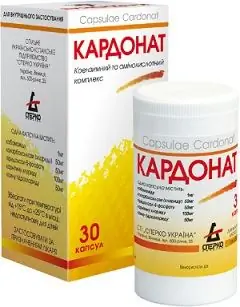 Cardonate is a complex preparation that helps to normalize carbohydrate, fat and protein metabolism.
Release form and composition
Cardonat is produced in the form of capsules (in plastic containers of 30 or 60 pcs; in blister packs of 10 pcs., 3 or 6 packs in a cardboard box).
1 capsule contains active substances:
Lysine hydrochloride - 50 mg;
Carnitine chloride - 100 mg;
Pyridoxal-5-phosphate (coenzyme B 6) - 50 mg;
Cocarboxylase chloride (coenzyme B 1) - 50 mg;
Cobamamide (dibencoside, coenzyme B 12) - 1 mg.
Auxiliary components: aerosil, talc.
Pharmacological properties
Carnitine is an anabolic that breaks down in the central nervous system, kidneys and liver to form ascorbic acid and iron. In plasma, it is found in free form or in the form of acylcarnitine esters. This active component is mainly responsible for the regulation of fatty acid metabolism in the muscles of the skeleton, liver and myocardium. Also, carnitine improves metabolic processes and promotes the elimination of metabolites and toxins from the cytoplasm. Under normal cell oxygen saturation, the substance enhances the metabolic processes of fatty acid oxidation, and under hypoxic conditions it ensures the removal of their toxins from mitochondria, stimulating glucose oxidation. This is responsible for the antihypoxic effect of Cardonat.
Carnitine increases performance, increases muscle mass, reduces the effect of thyroid hormones, accelerates growth and helps to reduce body weight and normalize metabolic processes in hyperthyroidism. It also reduces symptoms of physical and mental fatigue, has an anti-ischemic effect, improves the transmission of nerve impulses by activating the production of acetylcholine, glutamic acid and choline.
Carnitine is characterized by cardio-, neuro- and hepatoprotective effects. It reduces the concentration of ammonia in nerve tissues, increases cellular immunity, and ensures the limitation of the infarction zone. In patients with chronic intoxication, taking a drug containing carnitine eliminates problems in the functioning of the central nervous system, reduces the manifestations of withdrawal symptoms, and prevents degenerative changes in the retina. Also, this compound exhibits antiketogenic properties, inhibiting the synthesis of ketone bodies from higher fatty acids.
Cobamamide has anabolic activity, participates in the synthesis of labile methyl groups, ensures the accumulation of compounds with sulfhydryl groups in erythrocytes, improves metabolic processes, activates the production of creatine, methionine, nucleic acids and choline. Also, the substance is characterized by an antiketogenic effect, normalizes the function of the bone marrow, improves the functioning of the liver and central nervous system, has a positive effect on the blood coagulation system, and in high doses enhances the activity of prothrombin and thromboplastin.
Pyridoxal-5-phosphate affects metabolic processes, as well as the central nervous system. It is a coenzyme of many enzymes that play an important role in non-oxidative amino acid metabolism. Also, pyridoxal-5-phosphate is involved in the metabolic processes of methionine, tryptophan, cysteine, glutamic and other amino acids. The compound is of great importance for the metabolism of histamine, catabolizes neuromuscular processes, improves fat metabolism, increases the concentration of glycogen in the liver and normalizes the detoxification processes in it.
Lysine is an amino acid that is essential for assimilation and growth. It exhibits antiviral properties in relation to the herpes simplex virus, enhances cellular mitosis, normalizes spermatogenesis and oogenesis, restores normal parameters of bone tissue growth and ossification.
Cocarboxylase affects metabolic activity, reduces the concentration of pyruvic and lactic acids in the body, improves the trophism of nerve tissues and glucose uptake, and is also a cardioprotector.
Pharmacodynamics
At the moment, there is no reliable information about the pharmacodynamics of Cardonat.
Pharmacokinetics
Due to the multicomponent composition of the composition, it is not possible to accurately describe the pharmacokinetics of the drug.
Indications for use
Cardonate is prescribed to normalize carbohydrate, fat and protein metabolism.
Also, the drug is used for the following diseases / conditions:
Lagging in physical and mental development in children (lack of appetite, malnutrition, asthenia, growth retardation);
Lack of appetite in adults due to physical and nervous strain;
Physical and mental stress, including in athletes, decreased performance;
Ischemic heart disease (myocardial infarction, angina pectoris; simultaneously with other drugs);
Eating disorders of the heart muscle with pain in the heart;
Chronic heart failure (along with other drugs);
Bronchial asthma and chronic bronchitis (along with other drugs);
Chronic alcoholism;
Mild forms of excess thyroid function;
Chronic and acute disorders of cerebral circulation;
Hepatic and renal failure (concurrently with other drugs);
Liver diseases (hepatitis, cirrhosis);
Inflammation of the peripheral nerves with pain symptoms, sciatica;
Iron deficiency and B 12- deficiency anemia (along with other drugs);
Toxicosis of pregnant women;
Conditions requiring an improvement in fat and carbohydrate metabolism;
Conditions after the transferred infectious and non-infectious diseases (in the postoperative period).
Contraindications
Malignant tumors;
Hypersensitivity to drug components.
Children are not prescribed Cardonat under the age of 1 year.
Instructions for the use of Cardonat: method and dosage
Cardonate is taken orally with water, fruit juice or tea. The capsules can be taken before or after meals.
Single dose - 1 capsule. The frequency of admission is determined by age:
Adults and children from 15 years old: 2-3 times a day;
Children 5-15 years old: 2 times a day;
Children 1-5 years old: once a day.
Before taking Cardonat for children 1-5 years old, the contents of the capsule should be dissolved in 50-100 ml of sweet water or any fruit juice. This method of application is also allowed in patients in the postoperative period and in patients who have had a stroke, myocardial infarction.
The average duration of therapy is 3-4 weeks.
Side effects
As a rule, Cardonat is well tolerated, but in rare cases (usually with individual intolerance), agitation, heart palpitations, a decrease or increase in blood pressure, itchy skin, stool disorders, and bloating may develop.
In the event of the development of the described disorders, you should consult your doctor regarding the appropriateness of further therapy.
Overdose
When taking Cardonat in high doses, patients often experience a decrease or increase in blood pressure, tachycardia, dyspeptic disorders, and nervous agitation. These symptoms quickly disappear after discontinuation of the drug.
special instructions
Before using Cardonat, or if there is no improvement or if the condition worsens, you should consult a doctor.
Cardonat should not be taken longer than the recommended period without medical advice.
Patients with diabetes mellitus need to control the level of glucose in the blood, as carnitine improves its absorption.
Application during pregnancy and lactation
During pregnancy, Cardonat may only be taken as directed by a doctor and under strict medical supervision. The exact mechanism of the drug's effect on the body during lactation is still unknown, so during breastfeeding, its appointment is justified only if the potential benefit of therapy to the mother significantly outweighs the risk to the child.
Drug interactions
According to the instructions, Cardonate can enhance the effect of cardiac glycosides, antihypertensive drugs, insulin and other hypoglycemic drugs, as well as drugs that expand peripheral blood vessels.
It is not recommended to take the drug in patients with Parkinson's disease taking levodopa.
Cardonate does not interact with food or alcohol.
Analogs
The analogues of Cardonat are: Pantogar, Fish oil.
Terms and conditions of storage
Keep out of reach of children at a temperature of 15-25 ° C.
Shelf life is 2 years.
Terms of dispensing from pharmacies
Available without a prescription.
Reviews about Cardonata
Often, reviews about Cardonate are left not only by patients who use it according to indications, but also by women who aim to improve metabolism. It is often used to change body mass indicators. Many patients report an improvement in well-being during treatment and a dramatic weight loss. However, for some patients, Cardonat turned out to be useless.
Bodybuilders also take the drug to normalize metabolic processes. Opinions about the use of Cardonate in children are rare, but parents generally find it useful. However, they recommend not relying on this remedy as a panacea and complain about its high cost.
Price for Cardonat in pharmacies
The price of Cardonat is unknown, since the drug is not available in the assortment of Russian pharmacy chains.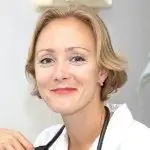 Anna Kozlova Medical journalist About the author
Education: Rostov State Medical University, specialty "General Medicine".
Information about the drug is generalized, provided for informational purposes only and does not replace the official instructions. Self-medication is hazardous to health!
Popular by topic