Table of contents: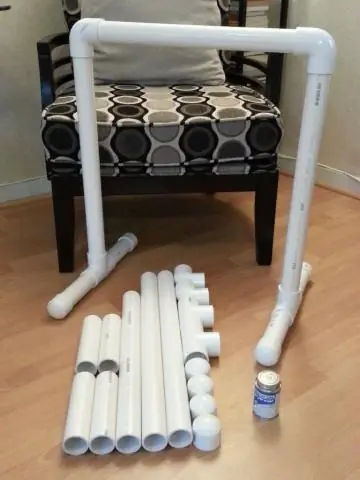 Video: Cardiostatin - Instructions For Use, Price, Reviews, Analogs Of Tablets
Cardiostatin
Cardiostatin: instructions for use and reviews
1. Release form and composition
2. Pharmacological properties
3. Indications for use
4. Contraindications
5. Method of application and dosage
6. Side effects
7. Overdose
8. Special instructions
9. Application during pregnancy and lactation
10. Use in childhood
11. In case of impaired renal function
12. For violations of liver function
13. Drug interactions
14. Analogs
15. Terms and conditions of storage
16. Terms of dispensing from pharmacies
17. Reviews
18. Price in pharmacies
Latin name: Cardiostatin
ATX code: C10AA02
Active ingredient: lovastatin (lovastatinum)
Manufacturer: CJSC Makiz-Pharma (Russia), LLC Hemofarm (Russia)
Description and photo update: 28.11.2018
Prices in pharmacies: from 316 rubles.
Buy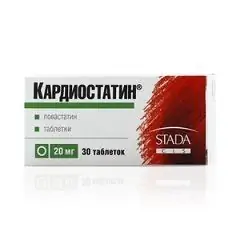 Cardiostatin is a lipid-lowering drug.
Release form and composition
The drug is available in the form of tablets: almost white or white, flat-cylindrical, with a chamfer and a dividing line (10 pcs. In blister packs, 3 packs in a cardboard box; 30 pcs. In blister packs, 1 pack in a cardboard box and instructions for the use of Cardiostatin).
1 tablet contains:
active substance: lovastatin - 20 mg or 40 mg;
auxiliary components: pregelatinized potato starch, croscarmellose sodium, lactose, microcrystalline cellulose, calcium stearate, butyloxyanisole.
Pharmacological properties
Pharmacodynamics
Cardiostatin is a lipid-lowering drug, its active ingredient is lovastatin. As an inhibitor of endogenous cholesterol synthesis, it causes disruption of cholesterol synthesis in the liver in the early stages. The mechanism of action of lovastatin is associated with the formation of free beta-hydroxy acid in the body, which competitively inhibits HMG-CoA reductase (3-hydroxy-3-methylglutaryl coenzyme A reductase). This leads to a disruption in the conversion of HMG-CoA reductase to mevalonate, which contributes to a decrease in the synthesis and increased catabolism of cholesterol, a decrease in the level of triglycerides, LDL (low density lipoproteins) and VLDL (very low density lipoproteins) in the blood plasma, a significant decrease in the amount of circulating LDL components including apoprotein B. There is a moderate increase in HDL (high density lipoprotein) levels.
Cardiostatin is indicated for use in primary hypercholesterolemia in patients with uncomplicated compensated type 1 and 2 diabetes mellitus.
A pronounced therapeutic effect occurs after 14 days of using the drug and reaches a maximum after 28–42 days of therapy.
Pharmacokinetics
After oral administration, lovastatin is slowly absorbed from the gastrointestinal tract. Its absorption is about 30% of the dose taken; when Cardiostatin is taken on an empty stomach, it decreases by 30%. The maximum concentration (C max) of lovastatin in the blood plasma is reached after 2–4 hours, then decreases rapidly. After 24 hours, 10% of the active substance of C max remains in the blood plasma.
Plasma protein binding is 95%.
Overcomes the blood-brain and placental barriers.
It is extensively metabolized during the first passage through the liver. As a result of oxidation, beta-hydroxy acid, its 6-hydroxy derivative and other metabolites are formed. The pharmacologically active part of metabolites is involved in blocking HMG-CoA reductase.
A stable equilibrium concentration (C ss) of lovastatin and its active metabolites when administered 1 time per day at night is achieved after 48–72 hours of therapy, C ss is 1.5 times higher than after a single dose.
The half-life (T 1/2) is 3 hours.
It is excreted mainly (83%) through the intestines, the rest through the kidneys.
Indications for use
primary hypercholesterolemia (type IIa and IIb) with a high LDL content - in the absence of the effect of a special diet and physical activity;
combined hypercholesterolemia and hypertriglyceridemia;
coronary atherosclerosis in ischemic heart disease - in order to reduce the rate of its progression.
Contraindications
Absolute:
period of exacerbation of liver disease;
increased activity of hepatic transaminases of unknown etiology;
general serious condition of the patient;
period of pregnancy;
breast-feeding;
age up to 18 years;
individual hypersensitivity to the components of the drug.
Caution should be exercised when prescribing Cardiostatin tablets to patients with liver disease (including a history), chronic renal failure, chronic alcoholism, organ transplantation, urgent surgical procedures (including dental), concomitant use of immunosuppressants, fibrates (including gemfibrozil) or nicotinamide (daily dose more than 1 g).
Cardiostatin, instructions for use: method and dosage
Cardiostatin tablets are taken orally with meals.
When prescribing the drug, the doctor should recommend to the patient a standard low-cholesterol diet, which must be followed during the entire period of treatment.
Recommended dosage:
hypercholesterolemia: initial dose - 10–20 mg once a day (in the evening);
coronary atherosclerosis: 20–40 mg once a day.
In the absence of a sufficient therapeutic effect, the dose of Cardiostatin can be increased with an interval of 28 days. The maximum daily dose is 80 mg, it can be taken once or divided into 2 doses (morning and evening).
If the concentration of LDL in plasma decreases to 75 mg / dL (1.94 mmol / L) or the concentration of total cholesterol to 140 mg / dL (3.6 mmol / L), the dose of lovastatin must be reduced.
For the treatment of patients on concomitant therapy with immunosuppressants, fibrates or nicotinamide, Cardiostatin is prescribed in a daily dose of 20 mg.
In severe chronic renal failure with creatinine clearance (CC) less than 30 ml / min, no more than 20 mg of lovastatin per day should be used.
If you accidentally miss the next dose at the right time, you can take it immediately, as soon as you remember, if this does not correspond to taking a double dose.
Side effects
from the nervous system: general weakness, dizziness, insomnia, headache, mental disorders, convulsions, paresthesia;
from the digestive system: dry mouth, heartburn, taste disturbance, nausea, abdominal pain, diarrhea, flatulence, constipation, anorexia, cholestatic jaundice, gastralgia, acute pancreatitis, hepatitis, increased bilirubin levels, liver transaminase activity, alkaline phosphatase;
on the part of the organ of vision: fog before the eyes, cataracts, opacity of the lens, atrophy of the optic nerve;
from the musculoskeletal system: arthralgia, against the background of concomitant therapy with cyclosporine, gemfibrozil or nicotinic acid - myositis, myalgia, myopathy or rhabdomyolysis;
allergic reactions: skin rash, itching, Quincke's edema, urticaria, toxic epidermal necrolysis;
laboratory indicators: eosinophilia, increased ESR (erythrocyte sedimentation rate), increased creatine phosphokinase (CPK) activity, positive analysis for antinuclear antibodies;
others: palpitations, chest pain, acute renal failure (due to rhabdomyolysis), decreased potency.
Overdose
Overdose symptoms have not been established.
special instructions
When prescribing Cardiostatin, the patient should be informed about the need for immediate medical attention if muscle weakness, muscle pain occurs while taking pills, especially if they are accompanied by fever.
The drug should be discontinued if the increase in transaminase and / or CPK activity remains stable, or if the patient's condition deteriorates significantly as a result of any disease.
With prolonged use of Cardiostatin, biochemical control of the functional state of the liver is shown. The activity of the liver enzymes must be determined before starting treatment, then during the first 12 months of therapy, the activity indicator is monitored at intervals of 2 months, then every 6 months. In the case of using the maximum daily dose (80 mg), studies should be carried out 1 time in 3 months. Patients with increased transaminase activity should be re-examined. If the activity of alanine aminotransferase (ALT) and / or aspartate aminotransferase (AST) exceeds the upper limit of the norm by 3 times, lovastatin should be discontinued.
Application during pregnancy and lactation
The use of Cardiostatin is contraindicated during the period of gestation and breastfeeding.
Pediatric use
The use of the drug for the treatment of children and adolescents is contraindicated due to the lack of data on the safety and efficacy of Cardiostatin in patients under the age of 18 years.
With impaired renal function
Cardiostatin should be used with caution in patients with chronic renal failure.
In mild to moderate chronic renal failure, dose adjustment of lovastatin is not required; in severe chronic renal failure (CC less than 30 ml / min), it is recommended to use Cardiostatin in a daily dose of not more than 20 mg.
For violations of liver function
The use of the drug is contraindicated with an increase in the activity of hepatic transaminases of an unknown etiology, during an exacerbation of liver disease.
Caution should be exercised when prescribing Cardiostatin for liver disease (including history).
Drug interactions
Possible interactions with the simultaneous use of Cardiostatin:
immunosuppressants, gemfibrozil, nicotinic acid, cyclosporine, erythromycin, antifungal agents from the azole group: concomitant therapy with these agents increases the risk of myopathy, rhabdomyolysis and acute renal failure;
indirect anticoagulants: the effect of indirect anticoagulants is enhanced, which increases the likelihood of bleeding. Therefore, if necessary, concomitant therapy with indirect anticoagulants requires regular monitoring of prothrombin time;
cholestyramine, colestipol: while taking cholestyramine or colestipol, the bioavailability of lovastatin decreases, and an additive effect is noted, therefore, these drugs should be taken no later than 4 hours before taking lovastatin;
cyclosporine: taking cyclosporine increases the plasma levels of lovastatin metabolites.
Analogs
Analogues of Cardiostatin are: Atorvastatin, Apextatin, Lovastatin, Vero-Lovastatin, Holetar, Simvastatin, Mevacor, Lovacor, Rosuvastatin, Lovasterol, Mevinacor, Fluvastatin, Pravastatin.
Terms and conditions of storage
Keep out of the reach of children.
Store at a temperature of 12 to 15 ° C, protected from moisture and light.
Shelf life is 2 years.
Terms of dispensing from pharmacies
Dispensed by prescription.
Reviews about Cardiostatin
Reviews of Cardiostatin are positive. Patients indicate the effectiveness of the drug in the treatment of hypercholesterolemia and atherosclerosis. It is reported that after the first month of therapy, the examination showed a significant decrease in blood cholesterol. The advantages of the drug include good tolerance. For many, one of the main arguments when choosing a lipid-lowering agent was the affordable price of Cardiostatin, as well as the recommendations and positive reviews of the attending physician about this drug.
Price for Cardiostatin in pharmacies
The price for Cardiostatin for a package containing 30 tablets can be 220-318 rubles.
Cardiostatin: prices in online pharmacies
Drug name
Price
Pharmacy
Cardiostatin 20 mg tablets 30 pcs.
316 RUB
Buy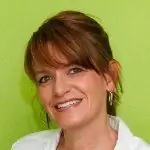 Maria Kulkes Medical journalist About the author
Education: First Moscow State Medical University named after I. M. Sechenov, specialty "General Medicine".
Information about the drug is generalized, provided for informational purposes only and does not replace the official instructions. Self-medication is hazardous to health!
Popular by topic