Table of contents: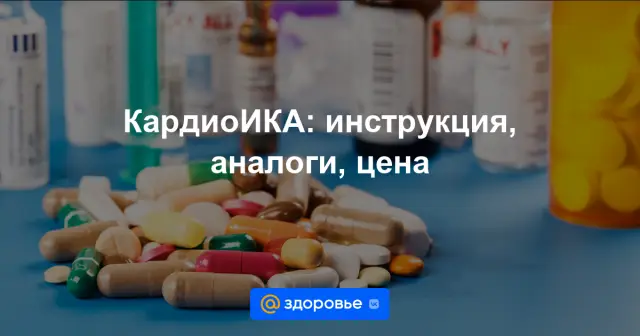 Video: CardioICA - Instructions For Use, Reviews, Price Of Granules, Analogues
CardioIC
CardioIC: instructions for use and reviews
1. Release form and composition
2. Pharmacological properties
3. Indications for use
4. Contraindications
5. Method of application and dosage
6. Side effects
7. Overdose
8. Special instructions
9. Application during pregnancy and lactation
10. Use in childhood
11. Drug interactions
12. Analogs
13. Terms and conditions of storage
14. Terms of dispensing from pharmacies
15. Reviews
16. Price in pharmacies
Latin name: CardioIKA
ATX code: not assigned
Active ingredient: a complex of specially selected herbal ingredients in homeopathic dilution C50: Strychnos ignatii (Ignatia) [Strychnos ignatii (Ignatia)]; Crataegus (Crataegus); Arnica Montana (Arnica) [Arnica Montana (Arnica)]
Manufacturer: NPF Materia Medica Holding LLC (Russia)
Description and photo update: 2019-12-07
Prices in pharmacies: from 77 rubles.
Buy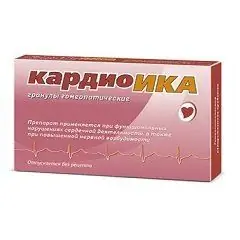 CardioICA is a multicomponent homeopathic drug of sedative and moderate cardiotonic action.
Release form and composition
The drug is produced in the form of homeopathic granules: homogeneous, spherical, from white to almost white (10 g each in packages made of a combined material based on aluminum foil, one package in a cardboard box and instructions for use of CardioICA).
Composition for 1 g of the preparation:
active ingredients: Arnica Montana (mountain arnica) C50, Crataegus (hawthorn) C50, Strychnos ignatii Berg (chilybukha ignation) C50;
auxiliary components: sucrose.
Pharmacological properties
Pharmacodynamics
CardioICA is a multicomponent homeopathic remedy with a sedative (sedative) effect. In addition, the drug has moderate cardiotonic properties.
Pharmacokinetics
Data on the pharmacokinetics of the homeopathic remedy are not provided.
Indications for use
Homeopathic remedy CardioICA is used in the complex treatment of functional disorders of cardiac activity, which are manifested by a feeling of heaviness and painful sensations in the heart, palpitations, feeling of lack of air.
The drug is also prescribed to patients with fluctuations in blood pressure and people with increased nervous excitability.
Contraindications
intolerance to fructose, lack of isomaltase / sucrase, glucose-galactose malabsorption syndrome (since the granules contain sucrose);
children and adolescents up to 18 years old;
period of pregnancy;
breast-feeding;
hypersensitivity to any component of the CardioICA granules.
CardioICA, instructions for use: method and dosage
The drug is taken orally, not with meals, once a day. The recommended single dose is 5 granules, which should be kept in the mouth until completely dissolved.
CardioICA should be taken in the morning. The course of treatment is from 1 to 2 months. If necessary, therapy can be repeated after 2–3 weeks.
With cardialgia (painful sensations in the heart), you can increase the dose of the drug to 15 granules (5 granules three times with an interval of 15-20 minutes). If the patient's condition does not improve, it is recommended to see a doctor.
Side effects
In rare cases, hypersensitivity reactions to the individual components of the homeopathic remedy may occur.
The appearance of side effects is a reason for stopping therapy and contacting your doctor.
Overdose
An overdose of CardioICA is unlikely, since the doses of active ingredients are small, and sucrose (sugar) acts as an auxiliary component.
In case of an overdose of the drug, patients with diabetes mellitus should know that one package (10 g) contains 2 teaspoons of sucrose (corresponds to 1.08 XE).
special instructions
At the beginning of treatment with homeopathic medicines, a temporary aggravation of the existing symptoms is possible (the so-called primary aggravation). If the patient shows signs of such deterioration, the remedy should be canceled and a doctor should be consulted.
Patients with diabetes should take into account that a single dose (5 granules) contains about 0.3 g of sucrose (corresponds to 0.03 XE), and the maximum daily dose (15 granules) contains approximately 0.9 g of sucrose (corresponds to 0.09 XE).
Application during pregnancy and lactation
KardioICA granules are contraindicated in pregnant women and women who are breastfeeding, since there are no reliable data on the safety and efficacy of the drug in this category of patients.
Pediatric use
Children and adolescents under 18 years of age are not prescribed the drug due to limited information about the appropriateness and safety of its use at this age.
Drug interactions
Homeopathic remedies can be used in conjunction with other drugs and substances. No drug interactions or cases of incompatibility with other drugs have been registered.
Analogs
The analogues of CardioICA are Pumpan, Valerianahel, Tenoten, Gomeostres, etc.
Terms and conditions of storage
Keep out of reach of children at a temperature not exceeding 25 ° C.
The shelf life of the granules is 3 years.
Terms of dispensing from pharmacies
Available without a prescription.
Reviews about CardioIC
On specialized sites, there are only positive reviews about CardioICA. Patients characterize the homeopathic remedy as really effective, helping with pain in the heart of various origins, reducing pressure, soothing.
The tool is convenient to take. It has very few contraindications, and there are almost no side effects. The cost of the medicine is low.
Price for CardioICA in pharmacies
In pharmacies, the price for CardioICA in sachets of 10 g (1 sachet in a carton box) ranges from 67 to 115 rubles.
CardioIC: prices in online pharmacies
Drug name
Price
Pharmacy
Cardioica granules homeopathic 10 g 1 pc.
77 RUB
Buy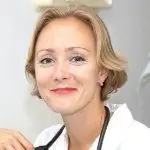 Anna Kozlova Medical journalist About the author
Education: Rostov State Medical University, specialty "General Medicine".
Information about the drug is generalized, provided for informational purposes only and does not replace the official instructions. Self-medication is hazardous to health!
Popular by topic