Table of contents: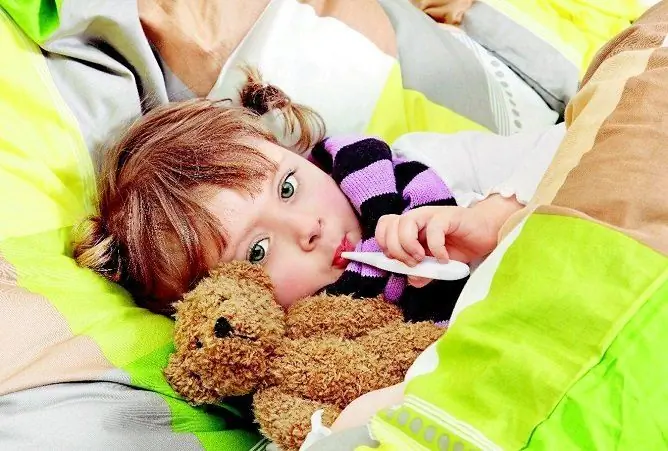 Video: Child Cough Compress: From Cabbage Leaf, Honey, With Dimexidum
Cough compress for a child: rules of application, recipes
The content of the article:
Rules for using compresses for coughing in children

Compresses with medications

Compress with Dimexidum
Compress with Euphyllin and Dimexidum

Compresses with folk remedies

Radish compress
Honey compress
Cabbage compress with honey
Cottage cheese compress
Alcohol compress
Mustard compress
Potato compress
Salt compress

Video
Applying a cough compress is one of the most popular treatments. There are several reasons for this. Firstly, the remedy is local, which means that it has an effect only where it is located, without affecting other organs and systems, and this is always safer than a systemic action. Its duration can be easily adjusted. An important advantage of this remedy is its ease of preparation at home.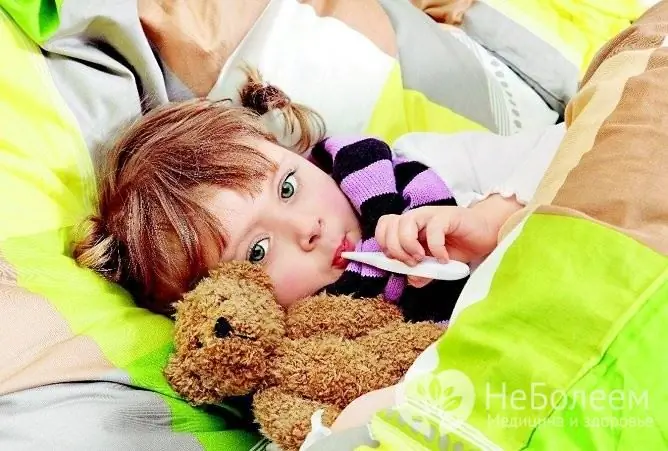 Compresses are not used if the child has a fever
Compresses are used not only in folk medicine, sometimes they are also used in clinical practice, usually such compresses contain a drug in their composition. Penetrating deep into tissues under the influence of temperature and prolonged exposure, the drugs have a therapeutic effect.
How to quickly get rid of a cough with just compresses? It is hardly possible. Compresses are an adjunct to mainstream treatment and can be quite effective, but are not used as the only therapy.
Rules for using compresses for coughing in children
To avoid unpleasant complications, you need to know the rules for preparing and applying compresses.
A cough compress for a child should be prescribed by a doctor, independently, at your own peril and risk, this procedure should not be carried out - it is not indicated in all cases.
Compresses should not be used at elevated body temperature, even a temperature of 37 ° C is a contraindication.
In no case should a compress be applied to the heart area! Breasts should also be avoided.
Building a compress. The inner layer is usually made of gauze or bandage, which absorb moisture well. They are impregnated with an active substance that comes into contact with the body, but not directly, but through the fabric of the bandage - this protects the sensitive baby's skin from possible irritation. Then comes the insulating layer, which is usually made of polyethylene in order to avoid leakage and ingress of the substance from the compress onto the outer layer - heat insulating. This is usually a thick bandage, scarf, or towel. This layer of the base of the compress is designed to keep warm. In some cases, for this purpose, the patient with a compress is also placed under a blanket.
Before starting the procedure, it is necessary to clean the area of application of the compress, you can gently wipe it with a damp towel. After that, a bandage is applied, while it is necessary to monitor the coverage area and folds - the folded tissue can neutralize the beneficial properties of the compress. Keep the compress as long as prescribed, unless itching, burning, or other signs of irritation (such as a rash) appear when removed immediately. It is impossible to ignore the child's complaints of discomfort, it is necessary to urgently remove the compress, and wash the area of its application with warm water and dry it, gently blotting it with a soft cloth. In other cases, after removing the compress, it is enough to wipe the skin with a damp and then dry towel.
It is not recommended to leave the warm room for several hours after the procedure.
Compresses with medications
These are the most effective compresses, but for their application it is necessary to prepare the solution very carefully and choose the correct exposure time. When they say that a compress heals in the evening, they usually mean just that. Compresses with medicines can be prescribed for both a child and an adult, however, not all drugs for adults are suitable for children.
Compress with Dimexidum
This is one of the most popular compresses. Dimexide penetrates well through the skin, produces an anti-inflammatory, antipyretic effect, enhances local blood circulation, promotes a faster resolution of the pathological condition. However, this substance belongs to the potent and toxic, has a number of contraindications, therefore, it is strictly forbidden to apply a compress with Dimexide for coughing to a child without consulting a doctor. Many experts believe that Dimexide should not be used at all in children's practice.
Usually, such a compress is put in the evening, before bedtime. To prepare a compress, it is necessary to dilute 20 ml of Dimexide solution with 80 ml of warm water and stir. Then, a thick bandage or gauze folded several times should be lowered into the resulting solution so that the bandage absorbs as much of the active substance as possible. Then a compress is placed on the target area - the back between the shoulder blades or the chest (necessarily bypassing the projection of the heart, as well as the mammary glands). The dressing is covered with polyethylene and insulated with a warm scarf or blanket. The compress is kept for 30-40 minutes. After removing it, you should wipe the skin dry, dress and cover with a warm blanket. The procedure can be repeated every evening throughout the week.
Compress with Euphyllin and Dimexidum
Eufillin additionally expands the bronchi, thereby facilitating breathing, relieving prolonged coughing attacks, improving blood circulation in the projection of the inflammation focus. Preparation and application are no different from the compress with Dimexide, only at the mixing stage it is necessary to add the contents of the Euphyllin ampoule. It is also recommended to reduce the exposure time by 10 minutes.
Compresses with folk remedies
Traditional methods of cough treatment, including compresses, are very popular, their ingredients are available, there are no special rules and exact dosages. Common sense and safety considerations should guide their use.
Radish compress
Radish compress is one of those that can be done by both adults and children. Adding radish to meals while coughing is also encouraged, as it has a pronounced antibacterial, anti-inflammatory effect. Contact use of radish is due to the fact that it irritates and warms up the skin, enhancing circulation in them - as if "drawing attention" of the immune system to the focus of the disease.
To prepare the compress, the root crop should be thoroughly washed and grated finely. Wrap the resulting gruel in bandage or gauze and apply on the chest. Keep the compress for no longer than 30 minutes, after which it is removed, the skin is wiped with a warm damp towel and wiped dry. Exposure should be stopped immediately if the patient complains of burning sensation, pain, or severe redness under the compress or around it.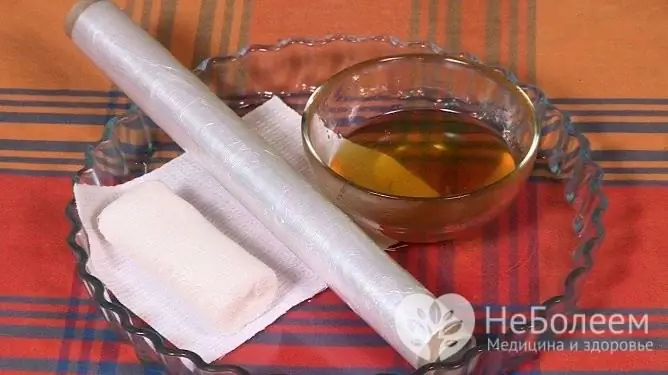 Honey compress can be used if the child is not allergic to bee products
Honey compress
A honey compress for a child's cough is a classic remedy used for inflammatory pathologies of the respiratory system, which has many positive reviews. Unlike most others, it can be used by children from the age of 2 years, due to the extremely positive properties of honey (if there is no intolerance to bee products).
There are many ways to make a honey compress. The simplest method is to apply honey directly to the child's back, after which the area of application is covered with gauze, polyethylene and an insulating layer. Sometimes a crushed clove of garlic is added to honey for greater effectiveness. You can also do otherwise - melt honey in a water bath, without bringing it to a high temperature, wet a bandage or gauze in it, and then place a bandage on the back or chest, isolating and securing. This compress can be left overnight.
Cabbage compress with honey
Another recipe is cabbage leaf with cough honey. To prepare it, you will need fresh cabbage leaves that can let the juice out. They are boiled for 2-3 minutes, after which they are taken out of the water on a towel, wiped thoroughly and slightly kneaded so that the juice comes out to the surface. The honey heated in a water bath is applied to the leaf in an even layer. The resulting compress must be tightly applied to the back and fixed. Combination of cabbage leaf with honey treats dry cough. The minimum holding time for honey compresses is 30 minutes, although you can leave them for up to 2 hours.
Cottage cheese compress
Cottage cheese cakes with the addition of honey are popular for the treatment of cough. To 100 g of well-squeezed cottage cheese at room temperature, add 2 tablespoons of slightly warmed honey and mix. The resulting mass is spread on cheesecloth and applied, creating a classic cough compress.
Alcohol compress
For children from 1 to 3 years old, vodka for dressing is diluted with water in a ratio of 1: 1, for older children and adults - 1: 0.5. In children under one year old, such compresses are not used. This is a fairly powerful agent that activates blood circulation at the site of application. A slightly warmed solution is impregnated with gauze or bandage and applied to the body. The use of vodka compress is contraindicated for thyroid pathology, but even if there is none, it is not recommended to apply it to the neck.
Mustard compress
Another remedy, whose therapeutic effect is based on local irritation of the skin and the subsequent improvement of local circulation. There is practically no difference between pharmaceutical mustard plasters and homemade compress. The only thing that sets them apart is the ability to add a few additional ingredients to mitigate the irritating effects of mustard.
For cooking, you need dry mustard powder, which is mixed with sunflower oil to form a mushy consistency. A tablespoon of honey is added to it, everything is evenly mixed. The mixture must be evenly distributed over the bandage, which is in contact with the skin. The compress is kept from 2-3 minutes to half an hour, when pronounced redness of the skin appears, it is removed, regardless of the exposure time.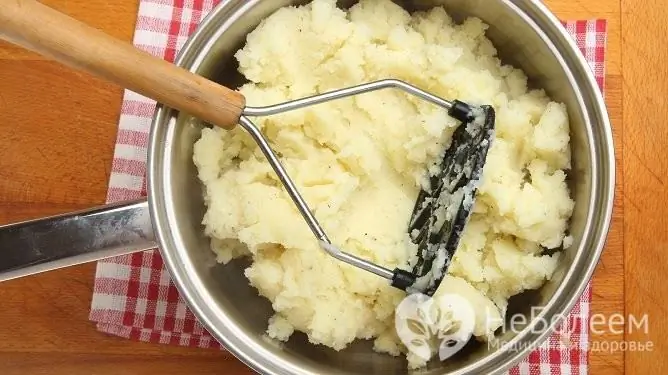 Potato compress has a warming effect
Potato compress
Potato cough compress is a simple and reliable remedy. Mashed potatoes are able to retain heat for a long time, therefore they are widely used as a warming agent.
Boil 3 medium potatoes, mash them with a fork, add a spoonful of butter and honey to the resulting mass, mix quickly and thoroughly and form a cake. Lay it out on parchment paper or cellophane, place it on your chest and wrap it in a thick cloth. Make sure that the compress is intensely warm, but not hot.
Salt compress
To prepare the solution, take 100 g of salt and 1 liter of water heated to 50 ° C. Iodized or sea salt is recommended. Having completely dissolved the salt in water, a thick layer of fabric is impregnated with the resulting solution. Before applying the salt compress, the skin should be lubricated with a moisturizing baby cream so as not to dry out the epidermis. The compress can be kept for up to 1 hour.
Video
We offer for viewing a video on the topic of the article.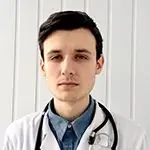 Nikita Gaidukov About the author
Education: 4th year student of the Faculty of Medicine No. 1, specializing in General Medicine, Vinnitsa National Medical University. N. I. Pirogov.
Work experience: Nurse of the cardiology department of the Tyachiv Regional Hospital No. 1, geneticist / molecular biologist in the Polymerase Chain Reaction Laboratory at VNMU named after N. I. Pirogov.
Found a mistake in the text? Select it and press Ctrl + Enter.
Popular by topic