Table of contents: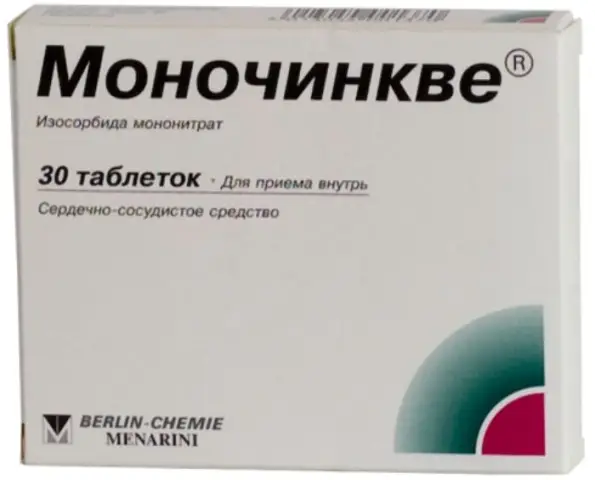 Video: Monocinque - Instructions For The Use Of Tablets, Analogues, Reviews, Price
Monocinque
Monocinque: instructions for use and reviews
1. Release form and composition
2. Pharmacological properties
3. Indications for use
4. Contraindications
5. Method of application and dosage
6. Side effects
7. Overdose
8. Special instructions
9. Application during pregnancy and lactation
10. Use in childhood
11. In case of impaired renal function
12. For violations of liver function
13. Drug interactions
14. Analogs
15. Terms and conditions of storage
16. Terms of dispensing from pharmacies
17. Reviews
18. Price in pharmacies
Latin name: Monocinque
ATX code: С01DA14
Active ingredient: Isosorbide mononitrate (Isosorbide mononitrate)
Manufacturer: Berlin-Chemie (Germany)
Description and photo update: 2019-07-08
Prices in pharmacies: from 140 rubles.
Buy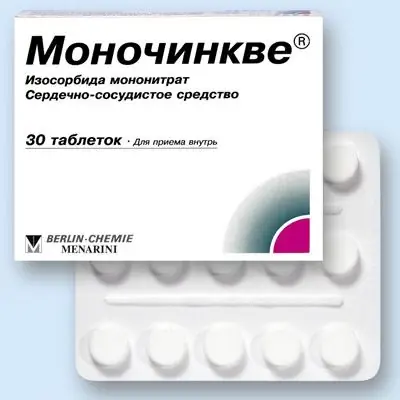 Monocinque is a peripheral vasodilator, antianginal agent.
Release form and composition
Dosage form Monocinque - tablets: round, white, on one side of the risk (15 tablets in blisters, 2 blisters in a cardboard box).
Active ingredient: isosorbide-5-mononitrate, its content in 1 tablet is 40 mg.
Additional components: microcrystalline cellulose, lactose monohydrate, corn starch, talc, magnesium stearate.
Pharmacological properties
Pharmacodynamics
Isosorbide-5-mononitrate, the active ingredient of the drug, is the main metabolite of isosorbide dinitrate, which is widely used for the treatment and prevention of coronary artery disease (ischemic heart disease).
From a pharmacodynamic point of view, isosorbide mononitrate is a peripheral vasodilator with a predominant effect on venous vessels. It stimulates the production of nitric oxide at the molecular level, which in turn activates intracellular guanylate cyclase in the vascular endothelium, which leads to an increase in the synthesis of cGMP (cyclic guanosine monophosphate), which is a mediator of vasodilation.
Isosorbide mononitrate also affects arteries, causing a decrease in peripheral vascular resistance. Due to this, the pre- and afterload on the heart decreases, the pumping function of the heart improves and the need for oxygen in the heart muscle decreases. The drug has a coronary dilating effect, redistributes coronary blood flow in ischemic areas. Increases exercise tolerance in patients with angina pectoris and ischemic heart disease.
By reducing blood flow to the right atrium, the pressure in the pulmonary circulation decreases. The antianginal effect occurs within 30 minutes after taking the drug inside and lasts from 2 to 6 hours.
With prolonged therapy and taking high doses of isosorbide mononitrate, the development of tolerance and cross-tolerance with other nitro compounds is possible. Long-term administration of the drug in high doses is not recommended to prevent loss or decrease in the effectiveness of Monocinque.
Pharmacokinetics
After oral administration of isosorbide, mononitrate is rapidly and completely absorbed from the gastrointestinal tract. The bioavailability of the drug is 100% (after intravenous administration of isosorbide mononitrate and with its oral administration, the concentration in the blood plasma is approximately the same). The maximum concentration is reached after 1–1.5 hours.
Monocinque does not undergo a "primary pass" effect through the liver. The drug metabolism occurs in the liver. It is excreted mainly by the kidneys in the form of glucuronides and unchanged. Isosorbide mononitrate metabolites are pharmacologically inactive. T 1/2 (half-life) - about 5 hours.
Indications for use
Complex therapy of chronic heart failure;
Prevention of angina attacks in patients with coronary heart disease, including in the period after myocardial infarction.
Contraindications
Strict:
Age under 18;
The need for the simultaneous administration of phosphodiesterase inhibitors (for example, tadalafil, sildenafil or vardenafil), because they potentiate the hypotensive effect of nitrates;
Lactase deficiency, hereditary galactose intolerance, galactose and glucose malabsorption syndrome;
Severe anemia;
Severe arterial hypotension (systolic blood pressure less than 90 mm Hg, diastolic - less than 60 mm Hg);
Cardiogenic shock (in the event that it is not possible to achieve a sufficiently high end-diastolic pressure in the left ventricle with the help of intra-aortic counterpulsation or by the introduction of agents that have a positive inotropic effect);
Acute myocardial infarction, accompanied by severe arterial hypotension;
Acute circulatory disorders (shock and vascular collapse);
Toxic pulmonary edema;
Hypersensitivity to drug components or nitrates.
Carefully:
Recently suffered head injury;
Glaucoma;
Liver failure;
Severe renal impairment;
Aortic and / or mitral stenosis;
Low filling pressure in patients with acute myocardial infarction, left ventricular failure (systolic blood pressure should not be allowed to drop below 90 mm Hg);
Tendency to orthostatic disorders of vascular regulation;
Pericardial tamponade, constrictive pericarditis, hypertrophic obstructive cardiomyopathy;
Diseases accompanied by increased intracranial pressure;
Hemorrhagic stroke;
Thyrotoxicosis.
Instructions for use Monocinque: method and dosage
Monocinque should be taken orally after meals, without chewing, drinking plenty of water.
The doctor determines the dosage regimen and duration of therapy individually.
Starting recommended dose - 20 mg (1 / 2 tablets), 2 times a day. Then it is gradually increased to the optimal therapeutic dose - 40 mg 2-3 times a day (at intervals of 7-8 hours).
The highest permitted daily dose is 120 mg.
Side effects
Very often (≥10%): "nitrate" headache (occurs at the beginning of treatment and usually disappears within a few days with continued treatment);
Often (≥1% - <10%): a decrease in blood pressure and / or the development of orthostatic hypotension (after taking the first dose and / or with a subsequent dose increase), which may be accompanied by dizziness, weakness and tachycardia; on the part of the nervous system - blurred vision, drowsiness, stiffness of movements, decreased speed of mental and motor reactions (especially at the beginning of treatment);
Rarely (≥0.1% - <1%): a slight burning sensation of the tongue, nausea, facial redness, vomiting, allergic reactions, a marked decrease in blood pressure (accompanied by an aggravation of the symptoms of angina pectoris), collaptoid conditions, sometimes accompanied by fainting and bradyarrhythmia;
In some cases (<0.01%): exfoliative dermatitis.
Overdose
In case of an overdose of Monocinque, a pronounced decrease in blood pressure, headache and reflex tachycardia are observed. The following symptoms may also occur: dizziness, nausea, "threadlike" pulse, weakness, pallor, vomiting, hot flashes, diarrhea. In case of a severe overdose (when taking the drug in doses of more than 20 mg / kg), cyanosis, rapid shallow breathing, dyspnea and methemoglobinemia may appear. Very high doses increase intracranial pressure and cerebral symptoms. Chronic overdose can lead to an increase in methemoglobin.
Treatment of an overdose consists in observing general recommendations for drug intoxication (gastric lavage, placing the patient in a supine position with legs raised high, etc.), as well as in monitoring and necessary adjustment of the basic indicators of vital functions. With a pronounced decrease in blood pressure and / or shock, the introduction of fluid is recommended; in exceptional situations, in order to improve blood circulation, an infusion of dopamine and / or norepinephrine (norepinephrine) is performed. The introduction of adrenaline (epinephrine), as well as related compounds is prohibited.
With methemoglobinemia, the following antidotes can be used (depending on the severity of the condition):
intravenous administration of ascorbic acid in the form of sodium salt (solution of 1% concentration) at a dose of 0.1–0.15 ml / kg (up to 50 ml);
exchange blood transfusion;
hemodialysis;
oxygen therapy.
In case of cardiac and respiratory arrest, resuscitation measures are performed.
special instructions
The drug is not intended for the relief of acute attacks of angina pectoris and the treatment of acute myocardial infarction.
Blood pressure and heart rate should be monitored during therapy.
During pregnancy and lactation, Monocinque can be used strictly as directed by the attending physician, after a careful assessment of the ratio of the expected benefits and possible risks, under special medical supervision. When taking the drug by a nursing woman, supervision is also necessary for the child.
The risk of developing tolerance to isosorbide-5-mononitrate or cross-tolerance to other nitrite-containing compounds should be considered. To prevent such a reaction, it is recommended to avoid long-term continuous use of Monocinque in high doses.
In patients with circulatory lability, symptoms of acute circulatory failure may develop even at the first dose of the drug.
It is possible to significantly prevent "nitrate" headaches by taking ½ tablets of Monocinque 2 times a day at the beginning of therapy - in the morning and in the evening.
It is not recommended to abruptly cancel the drug, you should gradually reduce its dose.
During therapy, it is necessary to refrain from drinking alcohol, as well as to be careful when driving a car and performing activities that require an increased speed of reactions.
Application during pregnancy and lactation
Monocinque is not recommended for pregnant and lactating women. The drug can be used only as directed by the attending physician after the ratio of the expected benefit to the mother and the potential risk to the fetus or child, since the available data on the consequences of its use during pregnancy and lactation is insufficient.
According to some reports, nitrates can be excreted in breast milk and cause methemoglobinemia in children whose mothers take Monocinque, therefore, the drug is used with caution during lactation. In this case, the child receiving breast milk should be under constant supervision for possible adverse reactions from the use of the drug.
Pediatric use
Monocinque is contraindicated in children and adolescents under 18 years of age.
With impaired renal function
The drug is prescribed with caution in patients with severe renal insufficiency.
For violations of liver function
For patients with hepatic insufficiency, the drug is prescribed with caution, since in such patients the risk of methemoglobinemia increases.
Drug interactions
Norepinephrine (norepinephrine): its therapeutic effect decreases;
Adsorbents, coating and astringent agents: decreases the absorption of isosorbide mononitrate from the gastrointestinal tract;
M-anticholinergics (including atropine): the risk of increased intraocular pressure increases;
Beta-adrenostimulants, alpha-blockers (dihydroergotamine): the antianginal effect of Monocinque decreases, which is manifested by tachycardia and an excessive decrease in blood pressure;
Slow calcium channel blockers (eg, nifedipine, verapamil), propranolol, amiodarone: the antianginal effect of Monocinque is enhanced;
Vasopressors: their effect decreases;
Barbiturates: the metabolism is accelerated and the concentration of isosorbide mononitrate in the blood decreases;
Other vasodilators, angiotensin-converting enzyme inhibitors, slow calcium channel blockers, antihypertensive agents, beta-blockers, antipsychotics, tricyclic antidepressants, phosphodiesterase inhibitors (including vardenafil, sildenafil, tadolipertalafil: increased), antigenic
Analogs
Monocinque analogs are: Monizid, Bonivix, Korangin, Elantan, Isomonat, Medocor, Monit, Mononit, Monoket, Monosan, Monisol, Mono-Mac, Olikard, Pectrol, Efox 20, Efox Long.
Terms and conditions of storage
Store at a temperature not exceeding 25 ºС in a place protected from light, out of reach of children.
The shelf life is 5 years.
Terms of dispensing from pharmacies
Dispensed by prescription.
Reviews about Monocinque
Doctors and patients leave positive reviews about Monocinque on specialized forums and sites. The drug is an effective remedy for chronic heart failure and coronary artery disease.
Price for Monocinque in pharmacies
The price for an Italian-made Monocinque (40 mg tablets, 30 pcs. In a package) is 170-180 rubles. The drug, manufactured in Germany, can be bought in pharmacies at a similar price.
Monocinque: prices in online pharmacies
Drug name
Price
Pharmacy
Monocinque 40 mg tablets 30 pcs.
140 RUB
Buy
Monocinque 40mg tablets 30 pcs.
146 r
Buy
Monocinque retard 50 mg capsule retard 30 pcs.
280 RUB
Buy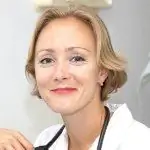 Anna Kozlova Medical journalist About the author
Education: Rostov State Medical University, specialty "General Medicine".
Information about the drug is generalized, provided for informational purposes only and does not replace the official instructions. Self-medication is hazardous to health!
Popular by topic