Table of contents: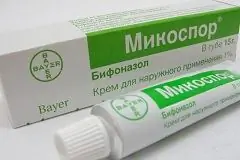 Video: Mikospor - Instructions, Reviews, Analogues
Mycospore
Instructions for use:
1. Pharmacological action
2. Release form
3. Indications for use
4. Instruction method of application
5. Side effects
6. Contraindications to use
Prices in online pharmacies:
from 469 rub.
Buy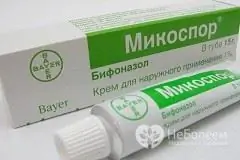 Mikospor is an antifungal agent for external use.
pharmachologic effect
The active substance of Mycospore, bifonazole, prevents the growth of dermatophyte fungi - epidermophyton, microsporum, trichophyton, mold and yeast-like fungi - Scopulariopsis brevicautus, Aspergillus ferrus, Malassezia fufur. In addition, the drug has an antibacterial effect - it suppresses corynebacteria, gram-positive cocci (except for enterococci).
Release form
Produce powder, cream, ointment and solution of Mikospor.
Mikospor's analogs - Bifonazole, Bifosin, Bifonazole with urea.
Indications for use
Means Mikospor are prescribed for the treatment of trichophytosis of smooth skin, microsporia, favus, inguinal epidermophytosis, mycoses of the hands, feet, pityriasis versicolor, erythrasma, superficial cutaneous candidiasis, candidiasis affecting the nails, nail folds or genitals.
Good reviews about Mikospore, used for onychomycosis, foot hyperhidrosis, as well as for the removal of interdigital diaper rash.
Mycospore instruction: method of application
Ointment or cream Mikospor for fungal skin lesions on the feet or hands, large folds, apply one p / day at night. The duration of therapy is determined individually.
A solution of Mikospor is applied in a thin layer one r / day, also before bedtime.
Judging by the reviews about Mikospore, to treat a palm-sized area of skin, a strip of cream 0.5-1 centimeters, or 3 drops of solution, is enough.
Treatment of mycosis of the feet or areas between the toes lasts three weeks; mycosis of skin folds, hands, body - two or three weeks; multi-colored lichen, erythrasma - two weeks; superficial cutaneous candidiasis - two to four weeks.
The solution of Mikospor is convenient to use for the treatment of mycosis that has struck the skin on the head, under the hair, while shaving the hair from the site of the lesion is necessary before treatment. Treatment of this type of mycosis lasts a month.
Powder Mikospor is used to treat hyperhidrosis of the feet - for two or three weeks, the feet are treated with a remedy daily.
A cream or ointment for onychomycosis is used to remove the affected part of the nail. According to the instructions of Mikospor, the funds are applied one r / day to the entire surface of the nail, after which they are covered with a plaster, and a bandage is applied. A fresh portion of the cream or ointment is applied every day, with an interval of 24 hours. After removing the old bandage and plaster, feet or hands with affected nails are immersed in warm water for 10 minutes. After steaming, the softened nail plate affected by the fungus is removed with a scraper. After the nail dries up, apply Mycospor ointment or cream, cover with a plaster and a bandage.
Therapy for onychomycosis lasts until the nail bed is evened out and all of its affected and softened part is removed.
Mycospor cream or ointment acts exclusively on areas affected by the fungus. If irritation is noticed on the skin around the nails, they can be lubricated with zinc ointment before treatment with Mikospor.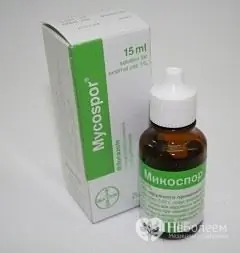 Itching on the skin disappears after 5 days of therapy, inflammation - after 12-13 days, the skin stops peeling after 13-14 days, but it is impossible to stop treatment after such clinical manifestations disappear. On average, according to Mikospora's instructions, treatment lasts 3-4 weeks.
If there is no improvement in the condition against the background of the use of the drug, the patient is recommended to undergo an examination - to check the state of the endocrine system, blood, immunity, blood supply in the area of the fungal infection and, if necessary, adjust the treatment regimen.
Mikospor's analogs are used for the same indications, the method of their application also does not differ.
Side effects
There are reviews about Mikospore, that after using it there was a burning sensation and irritation, redness, peeling of the skin, contact dermatitis appeared.
Contraindications to the use of Mikospora
Mikospor and Mikospor analogs should not be used in case of detected hypersensitivity to their active substance, as well as to lanolin, cetyl stearol. For infants, pregnant women in the first trimester of pregnancy, the drug is prescribed with caution.
There is no data on the possibility of using Mycospora in lactating women.
No clinically significant interactions of Mikospor with other drugs have been found.
The drug should not be used to treat eye diseases.
Mikospor: prices in online pharmacies
Drug name
Price
Pharmacy
Mikospor 1% cream for external use 15 g 1 pc.
469 r
Buy
Mikospor cream 1% 15g
RUB 479
Buy
Mikospor 1% solution for external use 15 ml 1 pc.
544 r
Buy
Mycospore solution outside approx. 1% 15ml
557 r
Buy
Mikospor ointment in a set for nail treatment 10 g 1 pc.
RUB 980
Buy
Information about the drug is generalized, provided for informational purposes only and does not replace the official instructions. Self-medication is hazardous to health!
Popular by topic