Table of contents: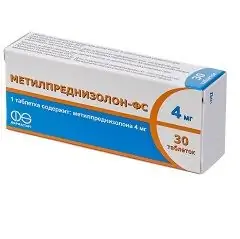 Video: Methylprednisolone-FS - Instructions For Use, Indications, Doses
Methylprednisolone-FS
Instructions for use:
1. Release form and composition
2. Indications for use
3. Contraindications
4. Method of application and dosage
5. Side effects
6. Special instructions
7. Drug interactions
8. Terms and conditions of storage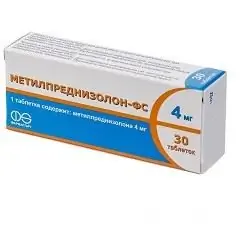 Methylprednisolone-FS is a drug with anti-inflammatory, immunosuppressive and anti-allergic effects.
Release form and composition
Methylprednisolone-FS is available in the form of tablets: white or almost white, flat-cylindrical, round, with a notch in the form of a cross (10 pieces in blisters, 3 packages in a cardboard box).
The composition of 1 tablet includes:
Active ingredient: methylprednisolone - 4 or 8 mg;
Auxiliary components: lactose monohydrate, corn / potato starch, sodium starch glycolate (type A), magnesium stearate, anhydrous colloidal silicon dioxide.
Indications for use
Endocrine diseases: primary and secondary insufficiency of the adrenal cortex (in this case, the first-line drugs are cortisone or hydrocortisone; if necessary, synthetic analogs can be used simultaneously with mineralocorticoids, which is especially important for the treatment of children), non-suppurative thyroiditis, congenital adrenal hyperplasia, hypercalcemia in malignant tumors;
Rheumatic diseases (as an additional therapy for short-term use during an exacerbation of the process or to remove the patient from an acute condition): ankylosing spondylitis, psoriatic and rheumatoid arthritis, including juvenile rheumatoid arthritis (in some cases, maintenance therapy with low doses may be required), subacute and acute bursitis, acute gouty arthritis, acute nonspecific tendosynovitis, post-traumatic osteoarthritis, synovitis with osteoarthritis, epicondylitis;
Collagenoses (during an exacerbation or as maintenance therapy): systemic lupus erythematosus, systemic dermatomyositis (polymyositis), acute rheumatic heart disease, polymyalgia rheumatica with giant cell arteritis;
Skin diseases: bullous herpetiformis dermatitis, severe seborrheic dermatitis, pemphigus, severe erythema multiforme (Stevens-Johnson syndrome), exfoliative dermatitis, fungoid mycosis, severe psoriasis;
Eye diseases (severe acute, chronic inflammatory and allergic processes with damage to the eyes and adnexa): inflammation of the anterior part of the eye, allergic edge corneal ulcers, eye damage caused by Herpes zoster, diffuse posterior uveitis and choroiditis, sympathetic ophthalmia, optic neuritis, keratitis, allergic conjunctivitis, chorioretinitis, iridocyclitis and iritis;
Allergic diseases: bronchial asthma, dermatitis (atopic, contact), drug allergy, serum sickness, perennial or seasonal allergic rhinitis (with the ineffectiveness of standard therapy);
Respiratory diseases: symptomatic sarcoidosis, Loeffler's syndrome (not amenable to therapy with other methods), beryllium disease, fulminant or disseminated pulmonary tuberculosis (simultaneously with appropriate anti-tuberculosis chemotherapy), aspiration pneumonitis;
Hematological diseases: acquired (autoimmune) hemolytic anemia, secondary thrombocytopenia in adults, idiopathic thrombocytopenic purpura in adults, erythroblastopenia (erythrocytic anemia), congenital (erythroid) hypoplastic anemia;
Diseases of the digestive system: ulcerative colitis, Crohn's disease (to remove the patient from a critical state);
Diseases of the nervous system: multiple sclerosis (with exacerbation), cerebral edema caused by a brain tumor;
Oncological diseases: lymphomas and leukemias in adults, acute leukemia in children (as palliative therapy);
Edematous syndrome: proteinuria in nephrotic syndrome without uremia, idiopathic type or associated with systemic lupus erythematosus (for the induction of diuresis or therapy);
Diseases of other organs and systems: tuberculous meningitis with a subarachnoid block or in the presence of a threat of block development (simultaneously with appropriate anti-tuberculosis chemotherapy), trichinosis with damage to the myocardium or nervous system.
Contraindications
Absolute:
Acute and chronic bacterial or viral infections with insufficient antibiotic and chemotherapy;
Systemic fungal infections;
Period from 6 weeks before and 2 weeks after preventive vaccinations;
Administration of live or live attenuated vaccines (with the appointment of immunosuppressive doses of Methylprednisolone-FS);
History of hypersensitivity to drug components.
Relative (Methylprednisolone-FS should be taken with caution in the following diseases / conditions):
Arterial hypertension;
Congestive heart failure;
Diabetes mellitus or family history of the disease;
Pancreatitis;
Diseases of the digestive tract (local ileitis, peptic ulcer, ulcerative colitis or other inflammatory diseases of the digestive tract, or diverticulitis with an increased risk of perforation and bleeding);
Herpes of the eyes (due to possible corneal perforation);
Glaucoma;
History of hypothyroidism, corticosteroid-induced myopathy;
Liver failure;
Cirrhosis of the liver;
Renal failure;
Recent intestinal anastomoses;
An abscess or other pyogenic infections;
Recent myocardial infarction;
Epilepsy;
Blood clotting disorders;
Tendency to develop thrombophlebitis;
Mental disorders.
Method of administration and dosage
The initial dose of Methylprednisolone-FS for adults is determined by the indication. For less severe illness, low doses may be sufficient, although in some cases higher starting doses may be required.
With circadian therapy, Methylprednisolone-FS should be taken after meals, without chewing, with the required amount of liquid, preferably after breakfast. In some cases, for example, in the presence of morning and night attacks in patients with obstructive pulmonary diseases, it is possible to take a daily dose in 2 doses: 2/3 of the dose in the morning (between 6.00 and 8.00), the rest - in the evening (between 18.00 and 20.00).
As a rule, high daily doses are prescribed for the following indications:
Multiple sclerosis: 200 mg
Cerebral edema: 200-1000 mg;
Organ transplantation: up to 7 mg / kg.
In the absence of a sufficient therapeutic effect, the drug should be discontinued and an alternative treatment should be prescribed.
After the end of therapy, Methylprednisolone-FS should be withdrawn gradually.
When a satisfactory result is achieved, the patient needs to individually select a maintenance dose. To do this, gradually, at certain intervals, the initial dose is reduced until the lowest effective dose is found that allows the achieved effect to be maintained.
If the clinical condition changes due to the onset of remission or exacerbation of the disease, the dose should be adjusted. Also, a change in the dosage regimen is possible in stressful situations not directly related to the underlying disease (in some cases, a short dose increase may be required).
It is also possible to prescribe alternating therapy - a dosing regimen in which a double daily dose of Methylprednisolone-FS is prescribed every other day, in the morning. As a rule, this type of therapy is indicated with prolonged use of the drug to minimize some undesirable effects, including growth inhibition in children, cushingoid state, withdrawal syndrome, and suppression of the pituitary-adrenal system.
Side effects
The development of severe adverse reactions depends on the dose of Methylprednisolone-FS and the duration of therapy. As a rule, disorders develop with prolonged use of the drug.
During treatment, the following side effects may occur:
Cardiovascular system: embolism, arterial hyper- or hypotension, heart failure in cardiac patients, myocardial rupture in the zone of myocardial infarction;
Digestive system: pancreatitis, dyspepsia, nausea, gastric bleeding, abdominal pain, bloating, diarrhea, peptic ulcers with perforation and bleeding, esophagitis, ulcerative esophagitis, ulcerative colitis with possible intestinal perforation, increased activity of alanine aminotransferase and alkaline aminotransferase, asp as a rule, it is not significant and is reversible);
Endocrine system and metabolism: increased urinary calcium levels, suppression of the hypothalamic-pituitary-adrenal system, growth retardation in children, menstrual irregularities, weight gain, cushingoid syndrome, increased appetite, hirsutism, decreased carbohydrate tolerance, manifestation of latent diabetes mellitus, increased need for insulin and oral hypoglycemic drugs in patients with diabetes mellitus, negative nitrogen and calcium balance, electrolyte imbalance and mineral metabolism, epidural lipomatosis, hypokalemia and hypokalemic alkalosis, metabolic acidosis, fluid and sodium retention in the body;
Nervous system: pseudotumor of the brain, increased intracranial pressure (with edema of the optic nerve head (benign intracranial hypertension)), seizures, amnesia, headache, dizziness;
Immune system: hypersensitivity to the components of the drug (including anaphylactoid and anaphylactic reactions), changes in reactions to skin tests;
Musculoskeletal system: osteoporosis, steroid myopathy, pathological fractures, rupture of tendons (especially the Achilles tendon), arthralgia, muscle weakness, neuropathic arthropathy, osteonecrosis, myalgia, muscle atrophy, compression fractures of the spine;
Skin: skin atrophy, slowing down of regeneration, dryness and thinning of the skin, erythema, the appearance of hematomas and atrophic stripes of the skin (striae), itching, angioedema, rashes, urticaria, telangiectasia, hyperhidrosis, acne, ecchymosis, petechiae, Kaposi's sarcoma;
Blood and lymphatic system: an increase in the total number of leukocytes with a decrease in the number of eosinophils, lymphocytes and monocytes, an increase in blood clotting;
Hearing organ and balance: vertigo;
Organ of vision: increased intraocular pressure, thinning of the sclera and cornea, posterior subcapsular cataract, glaucoma, exophthalmos, central serous chorioretinopathy;
Infections and infestations: increased susceptibility to viral, bacterial and fungal infections and their severity with masking of signs, relapse of latent tuberculosis, activation of latent infections, opportunistic infections;
Psychiatric disorders: personality changes, depression, irritability, euphoria, suicidal tendencies, mood lability, insomnia, psychosis, psychological dependence, psychotic disorders and behavior, dementia, sleep disorders, pathological behavior, anxiety, cognitive dysfunction (including confusion and amnesia);
General: disruption of the recovery process, malaise, increased fatigue, persistent hiccups when using Methylprednisolone-FS in high doses, hypoglycemia, withdrawal syndrome (with abrupt withdrawal).
special instructions
During therapy, it is necessary to take into account the possibility of the influence of Methylprednisolone-FS on various body systems:
Cardiovascular system: in the presence of risk factors, prolonged use of the drug in high doses can cause the development of additional complications (careful monitoring of the patient's condition is required);
Gastrointestinal tract: Reducing pain can make it difficult to diagnose complications of the digestive tract; also GCS therapy can mask the latent period of hyperparathyroidism, symptoms of peptic ulcers, bleeding or perforation without severe pain syndrome;
Immune system: due to the possibility of developing allergic reactions, the necessary measures should be taken before starting therapy, especially if there is a history of allergy to drugs;
Increased susceptibility to infections / immunosuppressive effects: due to a decrease in resistance to infections, there is a risk of developing secondary infections caused by bacteria, viruses and fungi, protozoa or helminths of any localization in the body; the incidence of infectious complications increases with increasing dose;
Mental disorders: while taking Methylprednisolone-FS, an already existing propensity to psychotic reactions and emotional instability may increase. Symptoms of potentially severe mental disorders usually appear within days or weeks of starting treatment. As a rule, they disappear after dose reduction or discontinuation of therapy, although sometimes special treatment may be required;
Organ of vision: with prolonged therapy, posterior subcapsular cataract and nuclear cataract (especially in children), increased intraocular pressure or exophthalmos may develop, which can lead to glaucoma with possible damage to the optic nerve. The risk of developing secondary eye infections caused by fungi and viruses also increases;
Musculoskeletal system: acute myopathy (most often develops in the presence of disorders of neuromuscular transmission or in patients who simultaneously used anticholinergics); with long-term therapy, in many cases, the development of osteoporosis was noted (the factors of its occurrence include: age from 65 years, frequent fractures in the family history or the patient's history, premenopausal amenorrhea, early menopause (up to 45 years), low body weight);
Endocrine system: in diabetes mellitus, prolonged use of Methylprednisolone-FS can lead to an increase in blood glucose and a worsening of the patient's condition. With a sharp cancellation of therapy, it is possible to develop acute adrenal insufficiency, which can be fatal, so the drug should be canceled gradually, over several weeks;
Others: due to the risk of increased blood pressure, water and salt retention and increased secretion of potassium during prolonged therapy, it is recommended to regularly measure the level of glucose in urine and blood, monitor blood pressure, perform fecal occult blood tests, X-ray monitoring of the spine, determination of sedimentation indicators erythrocytes. When combined with diuretics, electrolyte balance should be carefully monitored. When using Methylprednisolone-FS for the prevention of hypokalemia, an appropriate diet with limited salt intake and potassium supplements should be followed.
During the use of Methylprednisolone-FS, there is a risk of developing such adverse reactions as vertigo, dizziness, fatigue, visual disturbances, and mood disturbances. In these cases, it is not recommended for patients to drive vehicles or work with other mechanisms.
Drug interactions
With the simultaneous use of Methylprednisolone-FS with certain drugs, the following effects may occur:
Rifampin, phenytoin, pyramidone, phenobarbital: decreased effect of methylprednisolone (dose increase may be required);
Isoniazid, grapefruit juice, macrolide antibiotics (troleandomycin): an increase in the level of methylprednisolone in the blood plasma, which can lead to an increase in therapeutic and side effects;
Cyclophosphamide, tacrolimus: induction of hepatic clearance of methylprednisolone, increased risk of side effects;
Oral contraceptives: increased risk of developing an atypical immunosuppressive effect;
Cyclosporine: the likelihood of developing seizures;
Ritonavir, indinavir: an increase in the concentration of methylprednisolone-FS in blood plasma;
Inhibitors of HIV protease: induction of their metabolism, due to which their concentration in blood plasma decreases;
Aminoglutethimide: exacerbation of endocrine changes caused by long-term methylprednisolone-FS therapy;
Salicylates and other non-steroidal anti-inflammatory drugs: an increase in the likelihood of ulcerative lesions of the gastric mucosa and the risk of developing gastrointestinal bleeding;
Anticholinergics: increasing the likelihood of developing acute myopathy;
Anticoagulants: increasing or decreasing their action (prothrombin time must be monitored);
Hypoglycemic drugs: decrease in their effectiveness;
Fluoroquinolones: tendon damage;
Immunization: increasing the risk of developing viral diseases;
Growth hormone: reducing its effect;
Cardiac glycosides: enhancing their action;
Chloroquine, hydroxychloroquine: increased risk of developing cardiomyopathy and myopathy;
Praziquantel: a decrease in its concentration in the blood;
Diuretics, amphotericin: increased likelihood of hypokalemia.
Terms and conditions of storage
Keep out of reach of children at temperatures up to 25 ° C.
The shelf life is 3 years.
Information about the drug is generalized, provided for informational purposes only and does not replace the official instructions. Self-medication is hazardous to health!
Popular by topic