Table of contents: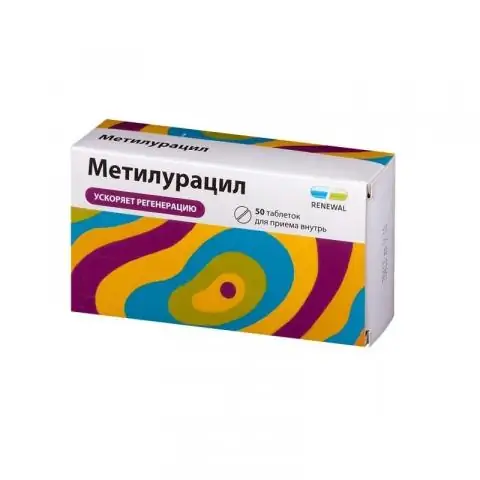 Video: Methyluracil Ointment - Instructions For Use, Price, Reviews, Analogues
Methyluracil ointment
Methyluracil ointment: instructions for use and reviews
1. Release form and composition
2. Pharmacological properties
3. Indications for use
4. Contraindications
5. Method of application and dosage
6. Side effects
7. Overdose
8. Special instructions
9. Drug interactions
10. Analogs
11. Terms and conditions of storage
12. Terms of dispensing from pharmacies
13. Reviews
14. Price in pharmacies
Latin name: Methyluracil ointment
ATX code: D11AX
Active ingredient: Dioxomethyltetrahydropyrimidine (Dioxomethyltetrahydropyrimidine)
Producer: SPbNIIVS FMBA, FSUE (Russia), Promomed Rus, LLC (Russia), Dalkhimpharm (Russia), Tula pharmaceutical factory (Russia), NIZHFARM, JSC (Russia)
Description and photo update: 2018-26-10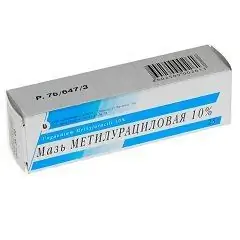 Methyluracil ointment is a drug for external and local use that improves tissue regeneration and trophism.
Release form and composition
The dosage form of the drug is an ointment for local and external use 10%: homogeneous, light yellow or light beige (in a cardboard box 1 aluminum tube of 25 g or 1 dark glass jar of 25, 50 or 75 g).
Composition of 10 mg ointment:
active substance: methyluracil (dioxomethyltetrahydropyrimidine) -1 mg;
auxiliary components: anhydrous lanolin - 3.15 mg; medical petroleum jelly - 4.5 mg; purified water - 1.35 mg.
Pharmacological properties
Pharmacodynamics
Methyluracil has anabolic activity. When applied topically to a wound, it has a photoprotective effect.
The main properties of the drug:
normalization of nucleic acid metabolism;
acceleration of the processes of cellular regeneration in wounds, growth and granulation maturation of tissue, as well as epithelialization.
Indications for use
sluggish wounds, bone fractures, burns, trophic ulcers, photodermatitis, deep wounds, bedsores (therapy);
irradiation of neoplasms with low radiosensitivity (prevention of skin reactions);
radiation therapy of genital neoplasms (prevention in order to reduce the symptoms of radiation dermatitis and late fusion of the vaginal walls).
Contraindications
excessive granulation in the wound;
individual intolerance to any of the components of the drug.
Instructions for use of Methyluracil ointment: method and dosage
Methyluracil ointment is applied topically and topically.
Recommended regimen of application: 5-10 g daily on damaged skin areas for 15-30 days.
The ointment can be used in loose tampons for late radiation damage to the vagina.
Side effects
Possible violations: short burning sensation, allergic reactions.
Overdose
No information provided.
special instructions
No information provided.
Drug interactions
According to the instructions, Methyluracil ointment can be used in combination with external applications of sulfonamides, antiseptics and antibiotics.
Analogs
Analogues of Methyluracil ointment are: Oxolin, Meturakol, Stizamet, Methyluracil.
Terms and conditions of storage
Keep out of reach of children at a temperature of 12-15 ° C.
The shelf life is 3.5 years.
Terms of dispensing from pharmacies
Dispensed by prescription.
Reviews about Methyluracil ointment
According to reviews, Methyluracil ointment is an inexpensive and effective drug used to improve trophism and tissue regeneration. Its fast action is noted. There are practically no reports of adverse reactions. Of the shortcomings, they indicate that the ointment has a greasy consistency and is not easily washed off the hands.
Price for Methyluracil ointment in pharmacies
The price of Methyluracil ointment (1 tube / jar of 25 g) - from 29 rubles.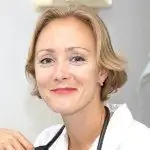 Anna Kozlova Medical journalist About the author
Education: Rostov State Medical University, specialty "General Medicine".
Information about the drug is generalized, provided for informational purposes only and does not replace the official instructions. Self-medication is hazardous to health!
Popular by topic