Table of contents: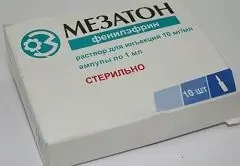 Video: Mezaton - Instructions For Use, Indications, Doses, Analogues
Mezaton
Instructions for use:
1. Release form and composition
2. Indications for use
3. Contraindications
4. Method of application and dosage
5. Side effects
6. Special instructions
7. Drug interactions
8. Analogs
9. Terms and conditions of storage
10. Terms of dispensing from pharmacies
Prices in online pharmacies:
from 77 rubles.
Buy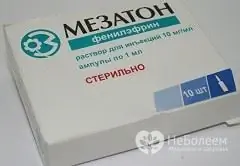 Mezaton is a drug with vasoconstrictor and alpha-adrenomimetic action.
Release form and composition
Mezaton is available in the form of a solution for injection: transparent, colorless (1 ml in ampoules, in a carton pack of 10 ampoules, complete with a ceramic cutting disc or ampoule scarifier).
Active ingredient: phenylephrine hydrochloride, in 1 ml - 10 mg.
Auxiliary components: injection water and glycerin.
Indications for use
Vascular insufficiency (including due to an overdose of vasodilators);
Arterial hypotension;
Allergic and vasomotor rhinitis;
Shock conditions, including toxic and traumatic shock.
In addition, Mezaton is used for local anesthesia as a vasoconstrictor agent.
Contraindications
Absolute:
Hypertrophic obstructive cardiomyopathy;
Ventricular fibrillation;
Pheochromocytoma;
Hypersensitivity to the drug.
Relative (special care should be taken due to the risk of complications):
Arterial hypertension, hypertension in the pulmonary circulation, atrial fibrillation, ventricular arrhythmia, acute myocardial infarction, severe aortic stenosis, angle-closure glaucoma, hypoxia, hypovolemia, hypercapnia, tachyarrhythmia, metabolic acidosis;
Occlusive vascular disease (including history): Buerger's disease (thromboangiitis obliterans), atherosclerosis, Raynaud's disease, arterial thromboembolism, vascular tendency to spasms (including frostbite), porphyria, diabetes mellitus, glucose-6 deficiency phosphate dehydrogenase, thyrotoxicosis, diabetic endarteritis;
Simultaneous use of monoamine oxidase inhibitors (MAO);
Functional disorders of the kidneys;
General fluorothane anesthesia;
Age under 18;
Elderly age.
For pregnant and breastfeeding women, Mezaton can be prescribed only on strict indications, after assessing the balance of benefits and possible risks.
Method of administration and dosage
Mezaton solution is administered intravenously (jet or drip), intramuscularly or subcutaneously.
In case of collapse, it is injected intravenously slowly in a stream at a dose of 0.1-0.3-0.5 ml, previously diluted with 20 ml of 0.9% sodium chloride solution or 5% dextrose solution. Another dose is given as needed.
The drug is injected intravenously in a dose of 1 ml, after diluting 250-500 ml of 5% dextrose solution.
Intramuscularly or subcutaneously, Mezaton is prescribed for adults at a dose of 0.3-1 ml 2-3 times a day, for children over 15 years of age with arterial hypotension during spinal anesthesia - at a dose of 0.5-1 mg per kilogram of body weight.
To reduce inflammation and vasoconstriction of the mucous membranes, the drug (at a concentration of 0.125, 0.25, 0.5, 1%) is used for lubrication or instillation.
When performing local anesthesia, 0.3-0.5 ml of 1% Mezaton solution is added for every 10 ml of anesthetic solution.
Maximum allowable doses for adults:
Intravenous: single - 5 mg, daily - 25 mg;
Intramuscularly and subcutaneously: single - 10 mg, daily - 50 mg.
Side effects
Cardiovascular system: increased blood pressure, heart palpitations, arrhythmia, ventricular fibrillation, cardialgia, bradycardia;
Central nervous system: insomnia, fear, anxiety, dizziness, weakness, paresthesia, tremors, convulsions, headache, cerebral hemorrhage;
Others: ischemia of the skin at the injection site, pallor of the facial skin; in isolated cases - allergic reactions, the formation of a scab and necrosis (with subcutaneous injections and in the case of the solution getting into the tissues).
special instructions
During treatment, it is necessary to monitor the indicators of the electrocardiogram, blood pressure, blood circulation at the injection site and extremities, and minute blood volume.
Before or during treatment of shock conditions, correction of hypoxia, hypovolemia, hypercapnia and acidosis is required.
In the case of drug collapse in patients with arterial hypertension, it is sufficient to maintain systolic blood pressure at a level lower than usual by 30-40 mm Hg.
Persistent heart rhythm disturbances, severe tachycardia or bradycardia, a sharp increase in blood pressure require the abolition of Mezaton.
To prevent a repeated decrease in blood pressure after discontinuation of the drug, it is recommended to reduce the dose gradually, especially after prolonged infusion. However, if systolic blood pressure drops to 70-80 mmHg, the infusion is resumed.
It should be borne in mind that vasoconstrictors used in addition to local anesthetics concurrently with drugs that stimulate labor (ergotamine, vasopressin, methylergometrine, ergometrine), or intended to correct arterial hypotension during childbirth, can lead to a persistent increase in blood pressure in the postpartum period …
With age, the number of adrenergic receptors sensitive to phenylephrine decreases. MAO inhibitors, increasing the pressor effect of sympathomimetics, can contribute to the appearance of vomiting, the development of arrhythmias, headaches, and hypertensive crisis. For this reason, patients who have taken MAO inhibitors in the previous 2-3 weeks, the dose of sympathomimetics should be reduced.
During the period of treatment with Mesaton, it is necessary to refrain from engaging in activities that require the speed of mental and motor reactions, including driving.
Drug interactions
Possible interaction reactions in the case of simultaneous use of Mezaton and other drugs:
Antihypertensive drugs, diuretics: reducing their hypotensive effect;
Monoamine oxidase inhibitors (procarbazine, furazolidone, selegiline), tricyclic antidepressants, ergot alkaloids, adrenostimulants, methylphenidate, oxytocin: increased pressor action and arrhythmogenicity of phenylephrine;
Inhalation anesthetics (halothane, enflurane, methoxyflurane, isoflurane, chloroform): increased risk of severe ventricular and atrial arrhythmias;
Nitrates: a decrease in their antianginal effect, a decrease in the pressor effect of phenylephrine, the risk of arterial hypotension;
Thyroid hormones: synergism of drugs and an increase in the associated risk of developing coronary insufficiency, especially in patients with coronary atherosclerosis;
Alpha-blockers, phenothiazines: reducing the hypertensive effect;
Methylergometrine, doxapram, ergotamine, oxytocin, ergometrine: increased severity of vasoconstrictor action;
Beta-blockers: decrease in cardiac stimulating activity; when using reserpine - the risk of developing arterial hypertension.
Analogs
Analogs of Mezaton are: Irifrin 2.5%, Nazol kids spray.
Terms and conditions of storage
Store at temperatures up to 25ºC. Do not expose to light. Keep out of the reach of children.
The shelf life is 3 years.
Terms of dispensing from pharmacies
Dispensed by prescription.
Mezaton: prices in online pharmacies
Drug name
Price
Pharmacy
Mezaton 10 mg / ml solution for injection 1 ml 10 pcs.
77 RUB
Buy
Mezaton 10 mg / ml solution for injection 1 ml 10 pcs.
RUB 80
Buy
Mezaton solution for in. 10mg / ml amp. 1ml 10 pcs.
RUB 85
Buy
Information about the drug is generalized, provided for informational purposes only and does not replace the official instructions. Self-medication is hazardous to health!
Popular by topic