Table of contents: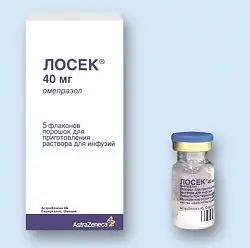 Video: Losek - Instructions For Use, Indications, Doses, Analogues
Losek
Instructions for use:
1. Release form and composition
2. Indications for use
3. Contraindications
4. Method of application and dosage
5. Side effects
6. Special instructions
7. Drug interactions
8. Analogs
9. Terms and conditions of storage
10. Terms of dispensing from pharmacies
Prices in online pharmacies:
from 266 rub.
Buy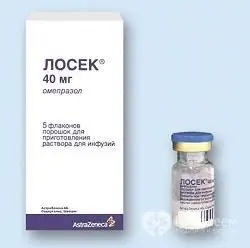 Losek is an antiulcer drug.
Release form and composition
The dosage form of the drug is a lyophilisate for the preparation of a solution for infusion (40 mg in 1 vial, in a cardboard box 5 vials).
1 bottle contains:
Active ingredient: sodium omeprazole - 42.6 mg (corresponds to the content of omeprazole - 40 mg);
Auxiliary components: sodium ethylenediaminetetraacetate, sodium hydroxide (for pH correction).
Indications for use
The drug is indicated for intravenous administration as a replacement for oral dosage forms of omeprazole in the treatment of the following diseases:
Gastrinoma (Zollinger-Ellison syndrome);
Stomach ulcer;
Duodenal ulcer;
Reflux esophagitis.
Contraindications
Concomitant use with nelfinavir and atazanavir;
Children's age (experience of use is limited);
Hypersensitivity to benzimidazole derivatives, omeprazole or to other components of the lyophilisate.
As a result of a number of studies, the absence of side effects of omeprazole on pregnancy was revealed, therefore the drug is approved for use during this period.
During lactation for the duration of therapy, breastfeeding should be discontinued, since omeprazole passes into breast milk, and its effect on children has not been studied.
Method of administration and dosage
The lyophilisate solution should be administered intravenously immediately after preparation, as an infusion, for 20-30 minutes.
Doses are selected individually by the attending physician. If the required daily dose is more than 60 mg, then it must be divided into two administrations.
It is recommended (if oral administration of omeprazole is not possible) for gastric ulcer and duodenal ulcer or reflux esophagitis infusion of Losek at a dose of 40 mg once a day. In Zollinger-Ellison syndrome, the initial dose is 60 mg once a day.
For patients with impaired liver function, the daily dose can be reduced to 10-20 mg, this should be sufficient, since they have an increased T 1/2 - the half-life of omeprazole.
In case of impaired renal function and elderly patients, dose adjustment is not required.
To dilute 1 bottle of Losek lyophilisate, 5% dextrose infusion solution or infusion 0.9% sodium chloride solution in a volume of 100 ml are used.
The solutions are prepared without special precautions under room lighting as follows:
Draw 5 ml of infusion solution from the infusion bag or bottle into the prepared syringe;
Introduce the infusion solution into a vial with Losek lyophilisate, shake the vial until the powder is completely dissolved;
Collect the dissolved lyophilisate into a syringe;
Transfer the omeprazole solution into an infusion bag or bottle;
Repeat steps 1 through 4 to transfer the entire preparation from the vial.
Another way to prepare an infusion solution using a soft container:
Use a double-sided needle-adapter, piercing the membrane of the infusion bag with one end, connecting the other end with the lyophilisate bottle;
By pumping the infusion solution from the bag into the bottle and back, dissolve the lyophilized powder;
After complete dissolution of the powder, disconnect the empty bottle and remove the needle from the infusion bag.
Side effects
Side effects noted in the course of clinical studies and in post-marketing studies of the use of Losek lyophilisate, independent of the dosage regimen:
Hepatobiliary system: infrequently - an increase in the activity of hepatic enzymes; rarely - hepatic encephalopathy in patients with liver disease, hepatitis with or without jaundice;
Gastrointestinal tract (GIT): often - nausea, vomiting, diarrhea, flatulence, constipation, abdominal pain; rarely - gastrointestinal candidiasis, dry mouth, stomatitis;
Immune system: rarely - hypersensitivity reactions such as angioedema, fever, anaphylaxis;
Skin and subcutaneous tissue: infrequently - urticaria, dermatitis, skin rash, pruritus; rarely - photosensitivity reactions, alopecia, Stevens-Johnson syndrome, toxic epidermal necrolysis, erythema multiforme;
Hematopoietic system: rarely - leukopenia, agranulocytosis, thrombocytopenia, pancytopenia;
Urinary system: rarely - interstitial nephritis;
Nervous system (central and peripheral): often - headache; infrequently - paresthesia, dizziness, drowsiness, insomnia; rarely - aggressiveness, increased excitability, depression, hallucinations, impaired consciousness, impaired taste;
Musculoskeletal system: rarely - myalgia, arthralgia, muscle weakness;
Respiratory organs: rarely - bronchospasm;
Reproductive organs: rarely - gynecomastia;
Other: infrequently - general malaise, vertigo; rarely - blurred vision, hyponatremia, peripheral edema, increased sweating; very rarely - hypomagnesemia.
There is evidence of irreversible visual impairment in patients with severe concomitant pathologies on the background of high-dose omeprazole injections, but a reliable causal relationship between omeprazole therapy and visual impairment has not been established.
According to the results of clinical studies, it was found that the intravenous infusion of the drug in a daily dose of up to 270 mg, as well as up to 650 mg for three days for the patient, passed without any significant consequences.
Overdose symptoms can be: lethargy, confusion, dizziness, headache, tachycardia, vascular dilatation, nausea, vomiting, diarrhea, flatulence. In this case, it is recommended to carry out symptomatic therapy, given the insufficient effectiveness of hemodialysis.
special instructions
If there is a suspicion of a stomach ulcer, endoscopic or X-ray examination should be done at an early stage to establish the correct diagnosis and prescribe adequate therapy.
It is required to exclude the possibility of malignant neoplasms in case of any alarming symptoms (dysphagia, frequent vomiting, melena or vomiting with blood, significant spontaneous weight loss), as well as in case of a stomach ulcer or if a stomach ulcer is suspected, since therapy with omeprazole can lead to a weakening of symptoms and postpone diagnosis.
It is important to consider that proton pump inhibitors can increase the risk of developing one of the most common nosocomial infections caused by the microorganism Clostridium difficile in hospital patients.
Omeprazole does not affect the concentration of attention and the speed of psychomotor reactions, but drowsiness and dizziness may occur during therapy, therefore, it is recommended to be careful when driving or working with other complex mechanisms.
Drug interactions
The effect of omeprazole on concurrently used drugs / preparations:
Clopidogrel - its anti-thrombotic effect may decrease (the mechanism of interaction is not fully understood today, therefore it is recommended to be careful when using it together);
Ketoconazole or itraconazole - may decrease their absorption;
Digoxin - increasing its absorption; with the combined use of omeprazole in a daily dose of 20 mg and digoxin, the bioavailability of the latter increases by 10% (in 20% of patients - up to 30%);
Nelfinavir and atazanavir - there is a decrease in their serum concentration (combined use with omeprazole is not recommended);
Saquinavir - increases its serum concentration;
Diazepam, warfarin, phenytoin, other vitamin K antagonists and cilostazol - a decrease in their metabolism is possible (phenytoin - it is necessary to control its concentration in plasma; warfarin, other vitamin K antagonists - monitoring of the international normalized ratio (MHO) index is required);
Lidocaine, quinidine, cyclosporine, erythromycin, estradiol and budesonide - omeprazole does not affect their metabolism;
Theophylline, caffeine, quinidine, diclofenac, piroxicam, naproxen, propranolol, metoprolol, ethanol - no effect of omeprazole was found;
Tacrolimus - increases its concentration in the blood serum.
Effect of substances / preparations on the pharmacokinetics of omeprazole:
Voriconazole and clarithromycin - due to a decrease in the metabolism of omeprazole, an increase in its concentration in the blood plasma is possible (given the good tolerance of high doses of omeprazole, their correction is not required in case of short-term combined use);
St. John's wort preparations, rifampicin - by accelerating the metabolism of omeprazole can reduce its concentration in the blood plasma.
Analogs
Analogs of the drug Losek are: Omeprazole, Gasek, Diaprazole, Zhelkizol, Loseprazole, Ozol, Omealox, Omez, Omez Insta, Omelik, Omep, Omeprazole Euro, Omeprazol-Astrafarm, Omeprazol-Voka, Omeprazol-Darnitsa, Lossek, Ulapt Helicide.
Terms and conditions of storage
Store in its original packaging, protected from light, dry place, at a temperature not exceeding 25 ° C. Keep out of the reach of children.
Shelf life:
5% Dextrose Infusion Solution - Use within 6 hours;
Infusion solution for 0.9% sodium chloride solution - use within 12 hours;
Unpacked bottle (under room lighting, in a dark place) - no more than 24 hours;
Bottle in original packaging - 2 years.
Terms of dispensing from pharmacies
Dispensed by prescription.
Losek: prices in online pharmacies
Drug name
Price
Pharmacy
Losek MAPS 20 mg film-coated tablets 14 pcs.
266 r
Buy
Losek Maps tablets p.p. 20mg 14 pcs.
283 r
Buy
Losek Maps 20 mg film-coated tablets 28 pcs.
RUB 516
Buy
Information about the drug is generalized, provided for informational purposes only and does not replace the official instructions. Self-medication is hazardous to health!
Recommended: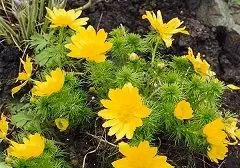 Adonis is a herbaceous plant from the genus of buttercups. The pharmaceutical industry produces on the basis of adonis tincture and tablets of Adonizid, which are prescribed for cardiac neurosis, vegetative vascular dystonia, etc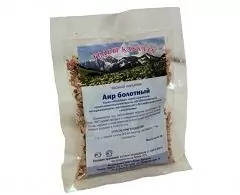 Calamus marsh has a beneficial effect on digestion and reduces gas formation in the intestines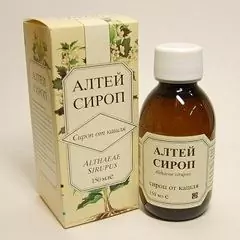 Marshmallow is a medicinal plant with expectorant and anti-inflammatory properties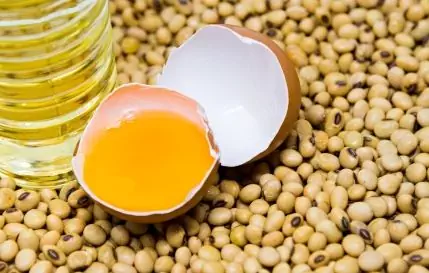 Vitamin B5 is a water-soluble vitamin (aka calcium pantothenate or pantothenic acid). Takes part in the metabolism of amino acids, fats and carbohydrates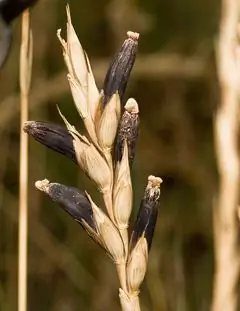 Ergot is a parasitic fungus of the ergot family found on some cereals, most often on ears of wheat and rye. In official medicine, drugs made from ergot alkaloids are used to treat nervous disorders, migraines, and uterine bleeding. In folk medicine, ergot is used for headaches, migraines, mental disorders, and also as a vasodilator in the treatment of hypertension