Table of contents: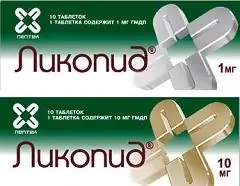 Video: Likopid - Instructions, Reviews, Application
Likopid
Instructions for use:
1. Pharmacological action
2. Indications for use
3. Contraindications
4. Instructions for use
5. Side effects
6. Additional information
Prices in online pharmacies:
from 213 rub.
Buy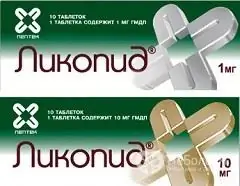 Likopid is an immunomodulating drug intended for the complex treatment of diseases accompanied by a weakened immune system.
pharmachologic effect
The active ingredient of Likopid is glucosaminylmuramyl dipeptide, which has the ability to affect such populations of cells of the immune system as T- and B-lymphocytes, macrophages, neutrophils, thereby enhancing their cytotoxic (cause pathological changes in the cells of bacterial agents, including death) and bactericidal activity.
The use of Likopid allows suppressing inflammatory and infectious processes in the body, as well as stimulating anti-tumor immunity.
The maximum concentration of Licopid in the blood can be observed 1.7 hours after oral administration.
Likopid is excreted mainly in the urine, 4.5 hours after ingestion, its concentration in the body is halved.
Indications for the use of Likopid
The instruction recommends prescribing Likopid for the treatment of chronic recurrent, sluggish and infectious-inflammatory processes, accompanied by acquired immunodeficiency.
Likopid, reviews confirm, is effective as part of complex therapy for:
chronic infections of the lower and upper respiratory tract;
chronic and acute purulent-inflammatory diseases of soft tissues and skin, purulent-septic postoperative complications, recurrent furunculosis;
viral infections: chronic hepatitis B and C, cytomegalovirus infection, herpes;
pulmonary tuberculosis;
lesions of the cervix with human papillomavirus infection, papillomatosis of the cervix;
psoriasis.
Likopid for children is prescribed as part of the complex treatment of diseases such as:
purulent-inflammatory diseases of soft tissues and skin;
chronic respiratory tract infections;
chronic viral hepatitis B and C;
herpes infection.
Contraindications
Likopid, the use should be agreed with the doctor, is not prescribed for:
individual intolerance;
body temperature more than 38 0 С;
autoimmune thyroiditis (inflammatory diseases of the thyroid gland) in the acute phase.
The instruction does not recommend using Likopid for pregnant women due to the lack of information about its effect on the condition of the mother and the unborn child.
Likopid for children is prescribed in accordance with the instructions or recommendations of a doctor.
Instructions for the use of Likopid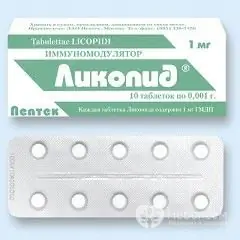 Likopid is available in the form of tablets containing 1 mg or 10 mg of the active ingredient. 10 mg tablets are intended for oral administration half an hour before meals, and 1 mg tablets are for use by placing them under the tongue.
In case of respiratory tract infections, as well as for the prevention of postoperative complications, the instruction recommends using Likopid in the form of tablets under the tongue, 1-2 mg once a day for 10 days. During the same time, once a day, 10 mg of Likopid should be taken orally to prevent recurrent respiratory tract infections, with severe purulent-septic processes, pulmonary tuberculosis and lesions of the cervix with papillomavirus infection.
Purulent-septic processes of soft tissues and skin are treated by applying Likopid 2-3 times a day, 2 mg under the tongue for 10 days.
The same dose of the drug is prescribed 1-2 times a day for 6 days with a mild form of herpes. A severe form of herpes disease is treated according to the same scheme, only a single dose is increased to 10 mg. According to the instructions, Likopid with ophthalmic herpes should be taken orally for 3 days, twice a day, 10 mg, after a three-day break, the course is repeated.
Reviews of Likopid confirm the effectiveness of the drug in the treatment of psoriasis. With a moderate severity of the disease, it is recommended to take Likopid orally 10 mg 1-2 times a day for 10 days, and then switch to taking 10-20 mg a day every other day for 1.5 weeks. Severe forms of psoriasis involve the use of Likopid 2 times a day, 10 mg for 20 days.
Likopid for children is prescribed only in the form of 1 mg tablets, which should be taken orally.
Purulent skin infections and chronic respiratory tract infections in this age group are treated by using Likopid for 10 days once a day, 1 mg.
The same single dose three times a day is prescribed for herpes (10 days) and viral hepatitis (20 days). For the treatment of protracted infectious diseases in newborns, it is recommended to take Likopid for 7-10 days, 2 times a day, 0.5 mg.
Side effects
Likopid reviews are characterized as a well-tolerated drug. In rare cases, allergic reactions to the drug and a slight increase in body temperature were noted, which usually goes away on its own.
Additional Information
A cool and dark place can preserve the medicinal properties of Likopid for 5 years.
Likopid: prices in online pharmacies
Drug name
Price
Pharmacy
Likopid 1 mg tablets 10 pcs.
213 r
Buy
Likopid tablets 1mg 10 pcs.
246 r
Buy
Likopid 10 mg tablets 10 pcs.
1380 RUB
Buy
Likopid tablets 10mg 10 pcs.
RUB 1802
Buy
Information about the drug is generalized, provided for informational purposes only and does not replace the official instructions. Self-medication is hazardous to health!
Popular by topic