Table of contents: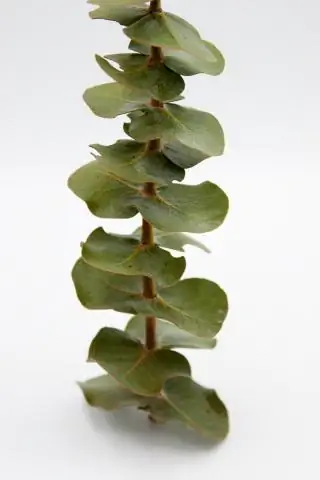 Video: Sanorin With Eucalyptus Oil - Instructions For Use, Price Of Drops
Sanorin with eucalyptus oil
Sanorin with eucalyptus oil: instructions for use and reviews
1. Release form and composition
2. Pharmacological properties
3. Indications for use
4. Contraindications
5., Method of application and dosage
6. Side effects
7. Overdose
8. Special instructions
9. Application during pregnancy and lactation
10. Use in childhood
11. Drug interactions
12. Analogs
13. Terms and conditions of storage
14. Terms of dispensing from pharmacies
15. Reviews Sanorine with eucalyptus oil
16. Price in pharmacies
Latin name: Sanorin with eucaliptum oleum
ATX code: R01AA08
Active ingredient: naphazoline (Naphazolinum)
Manufacturer: TEVA Check Industries, s.r.o. (TEVA Czech Industries, sro) (Czech Republic)
Description and photo update: 2019-18-12
Prices in pharmacies: from 122 rubles.
Buy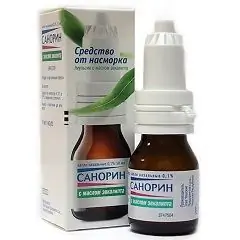 Sanorin with eucalyptus oil is a decongestant drug, α-adrenergic agonist.
Release form and composition
Dosage form of Sanorin with eucalyptus oil - nasal drops: a homogeneous white emulsion (in a cardboard box, 1 bottle of brown glass, equipped with a SANO dropper, containing 10 ml of drops, and instructions for using Sanorin with eucalyptus oil).
Composition of 10 ml drops:
active substance: naphazoline nitrate - 0.01 g;
auxiliary components: liquid paraffin (liquid paraffin) - 1.15 g; cholesterol - 0.008 g; polysorbate 80 - 0.055 g; eucalyptus oil - 0.00025 g; methylparaben - 0.01 g; cetyl alcohol - 0.004 g; ethylenediamine - qs (almost 0.0004 g); boric acid - 0.3 g; purified water - up to 10 ml.
Pharmacological properties
Pharmacodynamics
Sanorin with eucalyptus oil is an α2-adrenergic agonist that has a direct stimulating effect on the α-adrenergic receptors of the sympathetic nervous system.
The drug, when administered intranasally, has a quick, pronounced and prolonged vasoconstrictor effect on the paranasal sinuses, nasopharynx and vessels of the nasal mucous membranes - reduces hyperemia and swelling, which improves the patency of the nasal passages and facilitates breathing through the nose.
In most cases, within 5 minutes after the administration of the drug, a therapeutic effect occurs, which lasts for a period of 4 to 6 hours.
Pharmacokinetics
There are no data on the elimination, metabolism and distribution of naphazoline in humans.
Indications for use
swelling of the nasal mucosa against the background of laryngitis, eustachitis, acute rhinitis of various origins, otitis media, sinusitis (as an additional means to reduce edema);
edema of the nasopharynx, paranasal sinuses and mucous membranes of the nose during medical and diagnostic procedures (to reduce it).
Contraindications
Absolute:
atherosclerosis;
thyrotoxicosis;
arterial hypertension;
tachycardia;
severe eye pathologies;
chronic atrophic rhinitis;
diabetes;
angle-closure glaucoma;
the combined use of monoamine oxidase (MAO) inhibitors and the period up to 14 days after their cancellation;
age under 15;
individual intolerance to the components of the drug.
Relative (Sanorin with eucalyptus oil is prescribed under medical supervision):
pheochromocytoma;
hyperplasia of the prostate;
ischemic heart disease, including angina pectoris;
pregnancy;
period of breastfeeding.
Sanorin with eucalyptus oil, instructions for use: method and dosage
Drops of Sanorin with eucalyptus oil are used intranasally. Instillation is performed in each nasal passage, slightly tilting the head back. If the drug is instilled into the left nostril, the head is tilted to the right, if in the right - to the left.
The recommended dose of the drug is 1-3 drops 3-4 times a day.
The duration of the course of treatment should not exceed 5-7 days. After a few days, therapy can be resumed (if necessary).
Side effects
respiratory system: atrophic rhinitis, reactive hyperemia of the nasal mucosa, dryness of the nose, edema and irritation of the nasal mucosa when using the drug for more than 7 days;
nervous system: tremor, headache, irritability;
cardiovascular system: hot flashes, increased blood pressure, tachycardia;
others: increased sweating.
Overdose
The main symptoms are: increased blood pressure, headache, tachycardia, palpitations, tremors, irritability. Also, possible manifestations of an overdose of Sanorin with eucalyptus oil can be a decrease in blood pressure, nausea, increased sweating, a decrease in body temperature, drowsiness, weakness, bradycardia, mental disorders, respiratory failure, pulmonary edema, acute heart failure, convulsions, fever, cyanosis; extremely rare - the development of a coma.
Therapy: symptomatic treatment.
special instructions
Patients receiving high doses of naphazoline should be closely monitored, as they may experience undesirable effects on the part of the cardiovascular system.
It should be taken into account that the use of drops of Sanorin with eucalyptus oil for more than 5 days can cause swelling and swelling of the nasal mucosa, sinuses and nasopharynx.
Long-term drug therapy leads to a decrease in ciliary activity, damage to the mucous membrane and irreversible disorders that contribute to the appearance of chronic atrophic rhinitis.
Application during pregnancy and lactation
Sanorin with eucalyptus oil during pregnancy / lactation is prescribed with caution.
There are no data on whether naphazoline crosses the placental barrier or into breast milk. In this regard, before starting therapy in such cases, the intended benefit to the mother should be weighed against the potential risks to the fetus or infant.
Pediatric use
Patients under 15 years old are not prescribed Sanorin with eucalyptus oil.
Drug interactions
The combined use of naphazoline with tricyclic antidepressants, including maprotiline, MAO inhibitors, and even several days after their withdrawal, can lead to an increase in blood pressure. This is due to the release of deposited catecholamines under the action of naphazoline.
It is important to be careful when prescribing general anesthesia using anesthetics that increase the sensitivity of the myocardium to sympathomimetics (halothane), especially in patients with bronchial asthma.
Analogs
Analogs of Sanorin with eucalyptus oil are Adrianol, Afrin, Vicks Active Sinex, Galazolin, Xylometazoline, SIGIDA crystal, Naphtizin, Sanorin, Naftizin plus, Naftizin-DIA, etc.
Terms and conditions of storage
Store in a place protected from light and moisture at temperatures up to 25 ° C. Keep out of the reach of children.
Shelf life is 4 years.
Terms of dispensing from pharmacies
Available without a prescription.
Reviews of Sanorin with eucalyptus oil
According to reviews, Sanorin with eucalyptus oil is a safe and effective drug used in the treatment of nasal congestion. The nasal drops contain eucalyptus oil to soften and improve their effectiveness.
Among the shortcomings, most often noted are the high cost of the drug, the presence of contraindications (including use in young children), a short therapeutic effect, as well as an inconvenient pipette to use, attached to the bottle.
Price for Sanorin with eucalyptus oil in pharmacies
The approximate price for Sanorin with eucalyptus oil (1 bottle with 10 ml drops in the package) is 157 rubles.
Sanorin with eucalyptus oil: prices in online pharmacies
Drug name
Price
Pharmacy
Sanorin with eucalyptus oil 0.1% nasal drops 10 ml 1 pc.
122 RUB
Buy
Sanorin nasal drops with eucalyptus oil. emulsion 0.1% 10ml
135 RUB
Buy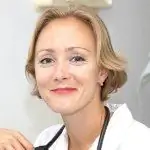 Anna Kozlova Medical journalist About the author
Education: Rostov State Medical University, specialty "General Medicine".
Information about the drug is generalized, provided for informational purposes only and does not replace the official instructions. Self-medication is hazardous to health!
Popular by topic