Table of contents:
Video: Salticazon-native - Instructions For Use, Price, Reviews, Analogues
Salticazon-native
Salticazon-native: instructions for use and reviews
1. Release form and composition
2. Pharmacological properties
3. Indications for use
4. Contraindications
5. Method of application and dosage
6. Side effects
7. Overdose
8. Special instructions
9. Application during pregnancy and lactation
10. Use in childhood
11. In case of impaired renal function
12. For violations of liver function
13. Use in the elderly
14. Drug interactions
15. Analogs
16. Terms and conditions of storage
17. Terms of dispensing from pharmacies
18. Reviews
19. Price in pharmacies
Latin name: Salticasone-nativ
ATX code: R03AK06
Active ingredient: salmeterol (Salmeterol) + fluticasone (Fluticasone)
Producer: Nativa LLC (Russia)
Description and photo update: 2019-08-07
Prices in pharmacies: from 685 rubles.
Buy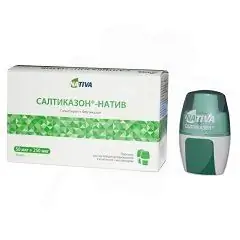 Salticasone-native is a combined bronchodilatory drug of glucocorticoid and β-adrenomimetic action.
Release form and composition
The drug is produced in the form of a powder for inhalation of a metered, almost white or white color, contained in gelatinous hard capsules of size No. 3:
dosage 50 mcg + 100 mcg - white cap and capsule body;
dosage 50 mcg + 250 mcg - green capsule cap, white body;
dosage 50 mcg + 500 mcg - green cap and capsule body.
In a blister strip of 10 capsules, in a carton pack of 3 or 6 packs together with instructions for the use of Saltikasone-native and a device for inhalation or without it.
1 capsule (100/250/500 mcg) contains:
active ingredients: salmeterol xinafoate - 72.5 mcg (equivalent to 50 mcg of salmeterol); fluticasone propionate - 100, 250 or 500 mcg;
additional components: lactose monohydrate, sodium benzoate;
capsule shell: gelatin, titanium dioxide, quinoline yellow, brilliant black, proprietary blue, azorubin; additionally for the cap - yellow iron oxide, indigotine.
Pharmacological properties
Pharmacodynamics
Saltikasone-native is a combined preparation containing 2 active components: fluticasone propionate and salmeterol xinafoate, which have different mechanisms of action. Fluticasone improves pulmonary function and prevents exacerbation, salmeterol prevents the development of bronchospasm symptoms. Salticasone-native can be an alternative for patients who simultaneously receive a β 2 -adrenoreceptor agonist and an inhaled glucocorticosteroid (GCS) from different inhalers.
Salmeterol is a selective β 2 -adrenergic receptor agonist that has a long-term stimulating effect on them (up to 12 hours), which has a long side chain that forms a bond with the outer domain of the receptor. The pharmacological properties of this substance provide protection against histamine-induced bronchoconstriction and longer bronchodilation (at least 12 hours) in comparison with short-acting β 2 -adrenoreceptor agonists. The onset of the bronchodilator effect is noted 10–20 minutes after the administration of Salticasone-native.
Salmeterol is a potent inhibitor of the release mechanism of mast cell mediators from the human lung parenchyma, such as leukotrienes, histamine and prostaglandin D 2, and has a long period of action. It leads to suppression of the early and late phase of the immune response to inhaled allergens. The suppression of the late phase of the response is noted for more than 30 hours after the administration of a single dose, at a time when the bronchodilatory effect is no longer observed. With a single use of salmeterol, the hyperreactivity of the bronchial tree decreases. This reaction indicates that the substance, in addition to the bronchodilatory effect, exhibits additional activity not associated with bronchial dilatation, the clinical significance of which has not been fully established. This mechanism differs from the anti-inflammatory action of GCS.
Fluticasone is part of the GCS group for topical use. When used in recommended doses after inhalation administration, a pronounced anti-inflammatory and antiallergic effect in the lungs is demonstrated. Due to this, the manifestation of clinical symptoms decreases and the frequency of exacerbations of bronchial asthma decreases. However, it does not lead to the appearance of undesirable conditions that arise when prescribing systemic GCS.
Against the background of long-term treatment with fluticasone inhalation, even with its use in the maximum recommended doses, both in children and in adults, the daily production of adrenal hormones does not go beyond the normal range. When transferring patients using other inhaled GCS to the introduction of fluticasone, the daily production of hormones of the adrenal cortical zone is gradually improving, despite the previous and current periodic intake of oral steroids. This indicates the normalization of the activity of the adrenal glands with inhalation of fluticasone propionate.
With a long course of fluticasone therapy, the reserve function of the adrenal cortex also does not go beyond the normal range, as indicated by a normal increase in cortisol production as a result of appropriate stimulation (it must be borne in mind that a residual decrease in adrenal reserve caused by previous treatment can persist for a long period).
Pharmacokinetics
There are no data indicating the effect of fluticasone and salmeterol on the pharmacokinetics of each other with their combined inhalation administration. As a result, the pharmacokinetic parameters of each of the active substances of Salticasone-native can be analyzed separately.
Salmeterol has a local effect in the lung tissue, therefore its plasma level in the blood is not an indicator of therapeutic efficacy. Information on the pharmacokinetics of the drug is rather limited due to technical problems, since when inhaled in therapeutic doses, its maximum concentration (C max) in blood plasma is extremely low (approximately 0.2 ng / ml and below). After systematic inhalation of salmeterol, hydroxynaphthoic acid is detected in the blood, the equilibrium concentration values (C ss) of which are on average 100 ng / ml. These concentrations are 1000 times lower than the C ss valuesdetermined in toxicity studies. Against the background of prolonged (more than 1 year), regular use, the negative effect of salmeterol in patients with airway obstruction was not recorded.
The absolute bioavailability of fluticasone propionate used by inhalation in healthy volunteers can vary depending on the inhaler used. With the inhalation of a combination of salmeterol and fluticasone, this figure is 5.5%. In patients with chronic obstructive pulmonary disease (COPD) and bronchial asthma, a lower content of fluticasone is determined in the blood plasma. Systemic absorption of the active substance is carried out mainly through the lungs, while at first it proceeds more rapidly, and then its rate decreases.
Part of the inhaled dose can be swallowed, but its systemic effect is minimal, due to the low degree of solubility of fluticasone propionate in water and due to its first-pass metabolism. Bioavailability for absorption from the gastrointestinal tract (GIT) is less than 1%. There is a direct relationship between an increase in the plasma concentration of fluticasone in the blood and an increase in its inhalation dose.
There is no information on the distribution of salmeterol. Fluticasone is characterized by a large volume of distribution (V d) in an equilibrium state (about 300 l) and a fairly high degree of binding to blood plasma proteins (91%).
According to the available data, salmeterol is extensively metabolized with the participation of the CYP3A4 isoenzyme of the cytochrome P 450 system through aliphatic oxidation to the formation of α-hydroxysalmeterol. Fluticasone also undergoes metabolic transformation under the action of the above enzyme to form an inactive carboxylic metabolite, which is rapidly cleared from the blood. With the simultaneous use of fluticasone and known CYP3A4 inhibitors, caution is required, since in such situations, an increase in plasma levels of fluticasone may be observed.
There is no information regarding the elimination of salmeterol. Fluticasone has a fast plasma clearance (1150 ml / min) and a terminal half-life (T 1/2) of approximately 8 hours. The renal clearance of unchanged fluticasone is extremely small (less than 0.2%), in the form of a metabolite, less than 5% of the dose is excreted in the urine.
Indications for use
Salticasone-native is recommended for the regular treatment of bronchial asthma in patients who are indicated for combination therapy with inhaled GCS and long-acting β 2 -adrenomimetic in the following cases:
insufficient control of the disease against the background of constant use of inhaled corticosteroids in monotherapy mode and with periodic use of short-acting β 2 -adrenomimetic;
adequate control of the disease during treatment with inhaled corticosteroids and long-acting β 2 -adrenomimetic;
starting maintenance therapy of persistent bronchial asthma with the available indications for the appointment of GCS to achieve control over the disease.
Also, Salticasone-native is recommended for use as a maintenance therapy for COPD in patients with a forced expiratory volume (FEV 1) of less than 60% of the required values (before inhalation of a bronchodilator) and a history of indications of repeated exacerbations when, despite regular treatment with bronchodilators severe symptoms of the disease persist.
Contraindications
Absolute:
age up to 4 years;
hypersensitivity to any of the constituents of the drug.
Relative (use Salticasone-native with caution):
pulmonary tuberculosis (acute and latent);
thyrotoxicosis;
viral, fungal or bacterial infections of the respiratory system;
diseases of the cardiovascular system, including idiopathic hypertrophic subaortic stenosis, ischemic heart disease (IHD), uncontrolled arterial hypertension, prolongation of the QT interval on the electrocardiogram (ECG); arrhythmias - atrial fibrillation, ventricular premature beats, supraventricular tachycardia and extrasystoles [since when taking any drugs from the group of sympathomimetics, especially when therapeutic doses are exceeded, an increase in heart rate (HR) and systolic blood pressure (BP) is possible];
hypokalemia (since all sympathomimetic drugs in doses exceeding therapeutic ones can lead to a transient decrease in the plasma level of potassium in the blood);
a history of allergic reactions to milk protein and lactose (Saltikason-native contains lactose, and may be partially swallowed during inhalation; residual amounts of protein may be included in lactose);
osteoporosis, glaucoma, cataract (inhaled corticosteroids can provoke systemic effects, especially with prolonged use in high doses);
diabetes mellitus (in rare cases, an increase in blood glucose levels was recorded).
Saltikazon-native, instructions for use: method and dosage
Salticazone-native is used only as inhalation.
To achieve the optimal effect, the drug must be used regularly, even in the absence of clinical symptoms of bronchial asthma and COPD. The duration of the course of treatment and the need to adjust the dose of the drug are determined by the doctor on an individual basis, with a regular assessment of the effectiveness of therapy.
In case of bronchial asthma, the dose of Salticasone-native is recommended to be reduced to the lowest effective dose, allowing optimal control of the symptoms of the disease. If, when using the drug 2 times a day, the desired therapeutic effect is achieved, then in order to reduce the dose to the minimum effective, inhalation can be carried out 1 time per day.
The patient should take Salticasone-native in a fixed dose that contains fluticasone propionate in an amount appropriate to the severity of the lesion.
If the patient receives GCS therapy, in which it is not possible to establish effective control over the disease, then when switching to Salticasone-native in a dose therapeutically equivalent to the GCS used, an improvement in the control of the course of bronchial asthma may be observed. If patients can control the course of the disease only with the help of inhaled GCS, when replacing the latter with Salticasone-native, it becomes possible to reduce the GCS dose required to control the course of the disease.
Adolescents from 12 years and older and adults are recommended to carry out 2 times a day for 1 inhalation - salmeterol 50 mcg + fluticasone propionate 100, 250 or 500 mcg.
In adults, against the background of the use of any fixed combination, in the case of a doubling of the dose of Salticasone-native, the same safety and tolerability is noted as with regular use of the drug 2 times a day, 1 inhalation. Doubling of the dose is allowed only if it is necessary to prescribe additional short-term (not exceeding 14 days) therapy with inhaled corticosteroids.
Children from 4 to 12 years old are recommended to carry out 1 inhalation 2 times a day - salmeterol 50 mcg + fluticasone propionate 100 mcg.
For the treatment of COPD, the maximum recommended dose of Salticasone-native in adults is 1 inhalation (salmeterol 50 mcg + fluticasone propionate 500 mcg) 2 times a day.
Powder capsules are only recommended for inhalation use, they are not intended for oral administration.
In order to ensure correct administration of Salticasone-native, it should be used using a single-dose powder inhaler "Inhaler CDM", which is a plastic device with a movable upper part and a retractable capsule compartment with a height of about 6 cm. Thanks to the use of the inhaler, it is possible to dose and inhale the powder in low doses. The drug enters the respiratory tract along with the air currents during a strong inhalation through the mouthpiece.
The capsule should be removed from the packaging immediately before inhalation.
Instructions for using the inhaler:
Remove the transparent cap from the device.
With one hand, hold the inhaler vertically, and with the index and thumb of the other hand, open the capsule compartment by pressing the "press" inscription in the moving part of the device, moving it in the opposite direction.
Insert the capsule with powder into the slot provided for this.
Close the compartment, holding the inhaler in an upright position and pushing with your thumb all the way in the opposite direction, until you hear a click.
Bring the device into working condition, keeping it strictly vertical and pressing the mouthpiece vigorously, so that the arrow applied to the body disappears beyond the boundaries of the lower part of the inhaler to the upper line.
Release the mouthpiece to return it to its original position in order to ensure the puncture of the capsule and open the drug access to the mouthpiece lumen.
Exhale before inhalation. Do not exhale through the mouthpiece!
Gently squeeze the mouthpiece with your teeth, clasping it tightly with your lips, and take a strong and deepest breath through your mouth. A vibrating sound should appear inside the capsule compartment as a result of its rotation and dispersion of the drug.
Hold your breath as much as possible (at least 10 seconds).
Remove the inhaler from your mouth, exhale slowly. To ensure that the dose is obtained, it is recommended to repeat the procedure from paragraphs 5 to 10.
Open the capsule compartment after completing the procedure and remove the empty capsule, then close the compartment.
Do not bite or chew the mouthpiece.
During inhalation, the openings on the sides of the mouthpiece should not be covered, as this can interfere with the free movement of air in the inhaler and prevent the contents of the capsule from scattering. When inhaling the medication, do not press on the mouthpiece, as this can block the movement of the capsule.
After each spraying, the inhaler should be tightly closed with a cap to prevent contamination of the mouthpiece. It is recommended to clean the outside with a dry cloth once a week.
Side effects
All of the disorders listed below are characteristic of salmeterol and fluticasone propionate when used in monotherapy with each of them. Additional adverse reactions with the combined use of two active components of the drug were not recorded.
The frequency of adverse reactions possible with the use of Salticasone-native:
immune system: infrequently - shortness of breath, skin hypersensitivity reactions (including skin rash); rarely - bronchospasm, angioedema (mostly swelling of the oropharynx and face), anaphylactic reactions;
metabolism and nutritional disorders: infrequently - hyperglycemia; extremely rare - hypokalemia;
nervous system: very often - headache; infrequently - tremor;
endocrine system: rarely - a decrease in bone mineral density; suppression of adrenal function, cushingoid symptoms, Cushing's syndrome, growth retardation in children and adolescents;
mental disorders: infrequently - sleep disturbances, anxiety; rarely - changes in behavior, including irritability and increased activity (especially in children); with an unknown frequency - depression;
infectious and parasitic diseases: often - candidiasis of the pharynx and oral cavity, pneumonia (in patients with COPD); rarely - esophageal candidiasis;
respiratory system, chest and mediastinal organs: often - hoarseness and / or dysphonia; infrequently - throat irritation; rarely - paradoxical bronchospasm;
cardiovascular system: infrequently - heart palpitations, atrial fibrillation, tachycardia; rarely - arrhythmia, including supraventricular tachycardia, ventricular extrasystole, extrasystole;
organ of vision: infrequently - cataract; rarely - glaucoma;
skin and subcutaneous tissue: infrequently - bruising;
musculoskeletal and connective tissue: often - arthralgia, muscle spasms; with an unknown frequency - bone fractures, myalgia;
Gastrointestinal tract: very rarely - vomiting, nausea, abdominal pain; infrequently - a change in taste (dysgeusia).
Overdose
Symptoms and signs of salmeterol overdose may include the following disorders: headache, tremor, increased systolic blood pressure, hypokalemia, tachycardia.
When administered by inhalation, an acute overdose of fluticasone propionate can cause temporary suppression of the hypothalamic-pituitary-adrenal system. As a rule, this phenomenon does not require any emergency measures, since the normal activity of the adrenal glands is restored within several days.
With prolonged use of Salticasone-native in doses exceeding the recommended ones, significant inhibition of the adrenal cortex is possible. Rare cases of acute adrenal crisis have been reported, mainly in children who received combination treatment with salmeterol and fluticasone in excessively high doses for several months or years. This complication is manifested by such disorders as hypoglycemia, proceeding with convulsions and / or confusion. The factors that can trigger the onset of an acute adrenal crisis include infections, surgery, trauma, or any sharp decrease in the dose of fluticasone, which is part of Salticasone-native.
There is no specific therapy for overdose of fluticasone and salmeterol. In this case, supportive treatment should be carried out and the patient's condition should be monitored. Against the background of chronic overdose, it is recommended to monitor the reserve capacity of the adrenal cortex.
Regular assessment of the effectiveness of treatment and reducing the dose of the drug to the minimum effective is important to prevent the development of an overdose of the drug.
special instructions
Salticasone-native is not indicated for the relief of seizures. If acute symptoms need to be alleviated, use of fast- and short-acting inhaled bronchodilators (including salbutamol), which should always be kept on hand.
Therapy of bronchial asthma is recommended to be carried out in stages, under the control of the clinical response to the intake of Salticasone-native and lung function.
In patients with persistent bronchial asthma (daily onset of symptoms or daily use of drugs to relieve attacks), a fixed combination of salmeterol and fluticasone can be used as initial maintenance therapy if there are indications for the use of GCS and their approximate dosage is established.
An increase in the frequency of use of short-acting bronchodilators to relieve symptoms of bronchial asthma indicates a deterioration in its control, and therefore requires a doctor's consultation.
A sudden and worsening deterioration in disease control is potentially life threatening. In such cases, the patient needs to urgently seek medical attention, since the possibility of using a higher dose of GCS should be considered. If, against the background of the use of Salticazone-native in the recommended doses, it is not possible to ensure effective control of the symptoms of the disease, you should also consult a doctor.
In patients with bronchial asthma, the use of the drug should not be abruptly stopped due to the possible threat of an exacerbation of the disease, in such cases it is recommended to reduce the dose gradually under medical supervision.
In patients with COPD, the withdrawal of Salticasone-native can lead to the appearance of symptoms of decompensation, therefore, it requires medical supervision. Against the background of the combined use of salmeterol with fluticasone, cases of an increase in the incidence of pneumonia in patients with COPD were recorded. The doctor should take into account the possibility of pneumonia in Cushing's syndrome and adrenal suppression.
Salmeterol treatment for people of African American descent is believed to increase the risk of severe adverse respiratory effects or death when compared with other patients.
Salticasone-native, like other inhalation agents, can provoke paradoxical bronchospasm, the manifestation of which is expressed in an increase in shortness of breath immediately after administration of the drug. In this case, it is necessary to immediately apply a short-acting inhaled bronchodilator, discontinue treatment with the drug and, after examination, if necessary, proceed with alternative therapy.
There have been reports of adverse reactions due to the pharmacological action of β 2 -antagonists, including disorders such as tremor, headache, subjective palpitations. These effects are short-term, and their severity decreases with regular treatment.
Influence on the ability to drive vehicles and complex mechanisms
Patients driving vehicles and other complex moving mechanisms during the period of therapy should be careful, since Salticasone-native can contribute to the appearance of headaches, tremors and muscle spasms.
Application during pregnancy and lactation
There are insufficient data on the use of fluticasone and salmeterol in pregnant and breastfeeding women. During pregnancy and breastfeeding, Salticasone-native should be used only if the expected benefit of therapy for a woman significantly outweighs any possible threat to the health of the fetus or child.
According to the results of preclinical studies, in the presence of an excessive systemic concentration of active β 2 -adrenomimetic and GCS, an effect on the fetus was recorded. However, considerable experience in the clinical practice of using drugs of this class indicates that the use in therapeutic doses does not have a clinically significant effect on the fetus. Both active substances are not genotoxic.
Since the plasma levels of salmeterol and fluticasone after inhalation of the drug in therapeutic doses are very low, their content in breast milk should be just as low. In studies on animals, low concentrations of both active substances were detected in the milk of females. There are no data on the level of the latter in the breast milk of women.
Pediatric use
Salticazone-native is contraindicated for use in therapy for children under 4 years of age.
With impaired renal function
Patients with functional impairment of renal function do not need to reduce the dose of Salticasone-native.
For violations of liver function
Patients with functional impairments of hepatic function do not need to reduce the dose of Salticasone-native.
Use in the elderly
Elderly persons do not need to reduce the dose of the drug.
Drug interactions
nonselective β-blockers: the risk of developing bronchospasm is aggravated when they are used in combination with selective β-blockers; it is required to avoid this combination, except when it is vital;
ritonavir (a highly active inhibitor of the isoenzyme CYP3A4): a sharp increase in plasma fluticasone levels is possible, leading to a significant decrease in serum cortisol; there have been cases of clinically significant drug interactions between ritonavir and fluticasone (obtained intranasally or by inhalation), causing the appearance of systemic side reactions of GCS, such as suppression of adrenal function and Cushing's syndrome; simultaneous use of fluticasone and ritonavir is allowed only in cases where the expected benefit of combination therapy exceeds the threat of systemic adverse reactions of GCS;
erythromycin, ketoconazole (inhibitors of the isoenzyme CYP3A4): there is a slight increase in plasma levels of fluticasone, despite this, it is recommended to be careful when combining fluticasone with strong inhibitors of CYP3A4 because of the possible risk of an increase in its plasma concentration and an increase in systemic effects; ketoconazole leads to a significant increase in the level of salmeterol in plasma - C max increases by 1.4 times, and the area under the concentration-time curve (AUC) by 15 times, which can provoke an increase in the QTc interval; should be used with caution in the combined administration of salmeterol and strong inhibitors of CYP3A4;
diuretics, xanthine derivatives, GCS: the risk of hypokalemia increases (especially in the presence of exacerbation of bronchial asthma, hypoxia) against the background of the simultaneous use of these funds with Saltikasone-native;
tricyclic antidepressants, monoamine oxidase (MAO) inhibitors: the threat of the development of undesirable reactions from the cardiovascular system is aggravated;
cromoglycic acid: the compatibility of Salticasone-native with this substance is noted.
Analogs
The analogues of Saltikazon-native are Saltikazon-aeronativ, Seretid Multidisk, Seretid, Seroflo, Respisalf, Seroflo Multihaler, Salmekort, Erflyusal, Seroflo Inhaler, etc.
Terms and conditions of storage
Store in a place out of the reach of children, protected from light, at a temperature not exceeding 25 ° C.
Shelf life is 2 years.
Terms of dispensing from pharmacies
Dispensed by prescription.
Reviews about Salticazon-native
Reviews of Salticazon-native are mostly positive. Experts note that the combined drug, which appeared on the Russian pharmaceutical market in 2016, was created to increase ease of use, adherence to therapy and reduce unwanted effects, as a result of a decrease in the amount of active ingredient. They indicate that, according to the results of clinical studies, the efficacy, tolerability and safety of this drug in patients with uncontrolled or partially controlled persistent bronchial asthma do not differ from those of the analogue, comparator drug, Seretid Multidisk. At the same time, the cost of a Russian generic drug is significantly lower than that of original drugs produced by well-known foreign pharmaceutical companies.
Few patient reviews generally also confirm the effectiveness of treatment, which allows adequate control of asthma symptoms and effective supportive therapy for COPD. There are practically no complaints about side effects.
Price for Salticazon-native in pharmacies
The price of Saltikazon-native, dosed powder for inhalation, per pack of 60 capsules:
dosage of 50 mcg + 100 mcg: 450-750 rubles;
dosage 50 mcg + 250 mcg: 550–970 rubles;
dosage 50 mcg + 500 mcg: 800-1300 rubles.
Salticazon-native: prices in online pharmacies
Drug name
Price
Pharmacy
Salticasone-native 50 mcg + 250 mcg / dose powder for inhalation, dosed 30 pcs.
RUB 685
Buy
Salticasone-native 50 mcg + 500 mcg / dose powder for inhalation, dosed 30 pcs.
786 r
Buy
Salticasone-native 50 mcg + 250 mcg / dose powder for inhalation, dosed 60 pcs.
1230 RUB
Buy
Salticasone-native 50 mcg + 500 mcg / dose powder for inhalation, dosed 60 pcs.
1549 RUB
Buy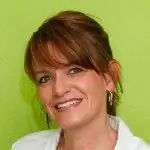 Maria Kulkes Medical journalist About the author
Education: First Moscow State Medical University named after I. M. Sechenov, specialty "General Medicine".
Information about the drug is generalized, provided for informational purposes only and does not replace the official instructions. Self-medication is hazardous to health!
Popular by topic