Table of contents: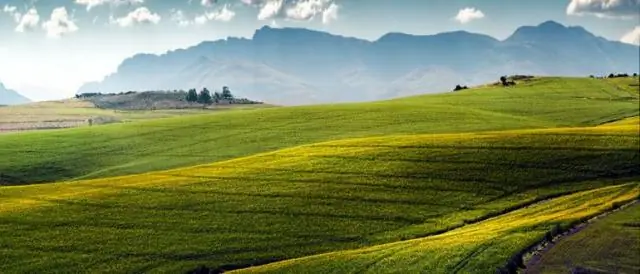 Video: Salvisar - Instructions For Using The Ointment, Price, Reviews, Analogues
Salvisar
Salvisar: instructions for use and reviews
1. Release form and composition
2. Pharmacological properties
3. Indications for use
4. Contraindications
5. Method of application and dosage
6. Side effects
7. Overdose
8. Special instructions
9. Application during pregnancy and lactation
10. Use in childhood
11. Drug interactions
12. Analogs
13. Terms and conditions of storage
14. Terms of dispensing from pharmacies
15. Reviews
16. Price in pharmacies
Latin name: Salvisar
ATX code: М02AX10
Active ingredient: Camphor + Gum turpentine + Salicylic acid + Viper Venom (Camphor + Terebinthinae oleum + Salicylic acid + Adder venom)
Manufacturer: JSC "Biochemist" (Russia)
Description and photo update: 2018-24-10
Prices in pharmacies: from 125 rubles.
Buy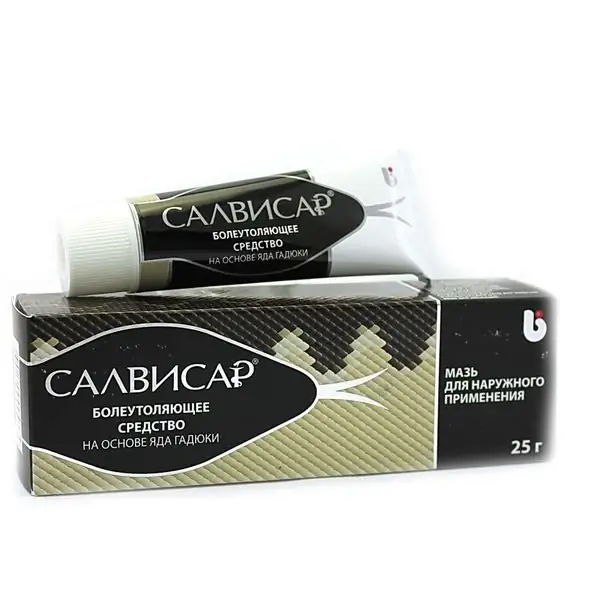 Salvisar is a local irritating drug based on viper venom for external use. It has an analgesic and anti-inflammatory effect, improves trophism in the tissues of joints and muscles, while maintaining their mobility.
Release form and composition
The dosage form of the Salvisar preparation is an ointment for external use: a thick mass from white to white with a yellowish tinge, with a specific turpentine-camphor odor (15, 25, 40, 50, 75 or 100 g in tubes, in a cardboard box 1 tube) …
Composition of 100 g of ointment:
active ingredients: common viper venom - 5 HONEY (mouse action units); synthetic camphor - 3 g; salicylic acid - 1 g; gum turpentine - 3 g;
auxiliary components: Lanette SX (anionic self-emulsifying base) - 8 g; medical vaseline - 7 g; solid petroleum paraffins - 3 g; glycerol (glycerin) - 2 g; solution for infusion isotonic NaCl 0.9% - 8 g; water for injection - up to 100 g.
Pharmacological properties
Pharmacodynamics
The effectiveness of Salvisar ointment is mainly due to the presence of the viper venom in its composition and is provided by the action of the components of the snake venom:
neurotropic component: has an analgesic effect;
an enzymatic component with hyaluronidase activity: stimulates the healing process; causing irritation of sensitive skin receptors and receptors of subcutaneous tissue, dilates blood vessels and improves tissue trophism.
Indications for use
According to the instructions, Salvisar is recommended for use in diseases of the musculoskeletal system and diseases of the peripheral nervous system, accompanied by pain syndrome: arthralgia, arthritis of various etiologies (including age-related changes in the joints), myalgia, neuralgia.
The drug is also used during the rehabilitation period after domestic and sports injuries.
Contraindications
Absolute:
skin diseases (including allergic skin diseases and pyoderma, violations of the integrity of the skin in the places where the ointment is applied);
pulmonary tuberculosis in active form;
general exhaustion;
feverish conditions;
severe failure of cerebral / coronary circulation;
a tendency to develop angiospasms;
severe hepatic and / or renal failure;
the period of pregnancy and breastfeeding;
children under 6 years old;
intolerance to salicylates;
hypersensitivity to any component of the drug.
Relative (Salvisar is used with caution):
children and adolescents from 6 to 18 years old;
history of bronchial asthma triggered by the intake of acetylsalicylic acid or other NSAIDs (non-steroidal anti-inflammatory drugs).
Instructions for the use of Salvisar: method and dosage
Salvisar ointment is applied externally to painful areas and rubbed into the skin.
Recommended dosage: 5-10 g of ointment (corresponding to the volume of 1-2 teaspoons) is applied once a day, in parts, and gradually rubbed into the skin. With severe pain, it is possible to increase the frequency of application up to 2 times a day.
The course of therapy continues until the pain syndrome disappears, but without consulting a doctor, you cannot use the drug for more than 10 days.
Side effects
When rubbing Salvisar ointment, a burning sensation is possible, which usually disappears after a few minutes. In isolated cases, allergic skin reactions occur that go away on their own after the drug is discontinued.
To determine the patient's sensitivity to the drug and in order to avoid unwanted side reactions, it is recommended to check by first applying a small amount of ointment to the skin.
Overdose
There is no data.
special instructions
After applying the ointment, wash your hands thoroughly.
It is required to avoid getting Salvisar ointment on damaged skin, mucous membranes and eyes. In case of accidental contact, rinse the affected area with plenty of water.
Influence on the ability to drive vehicles and complex mechanisms
There is no data.
Application during pregnancy and lactation
Salvisar ointment is contraindicated for use during pregnancy and during breastfeeding.
Pediatric use
In pediatrics, it is contraindicated to apply ointment to children under the age of 6 years. For children and adolescents from 6 to 18 years old, the doctor determines the need to use the drug individually.
Drug interactions
Since the ointment causes flushing of the skin, reflexively increasing blood circulation in the subcutaneous tissue, its combined use with other drugs for local use can lead to increased absorption.
Applying a large amount of Salvisar ointment can increase the toxicity of methotrexate and reduce the therapeutic effect of hypoglycemic agents.
It is forbidden to use Salvisar ointment simultaneously with oral anticoagulants.
Analogs
Salvisar's analogs are: Viprosal, Alvipsal, Apizartron, Bom-Benge, Bengey, Gavkamen, Kapsikam, Camfart, Menovazin, Finalgon, Espol, etc.
Terms and conditions of storage
Store in a dark place at temperatures up to 25 ° C. Keep out of the reach of children.
The shelf life is 3 years.
Terms of dispensing from pharmacies
Available without a prescription.
Reviews about Salvisar
According to reviews, Salvisar is an effective analogue of more expensive means of similar action. The ointment quickly relieves all types of pain, including rheumatoid pain, pain from bruises, hematomas, and practically does not cause a burning sensation at the site of application. Many patients like its smell.
The price of Salvisar in pharmacies
The approximate price of Salvisar ointment for external use for a 25 ml tube is 150–170 rubles.
Salvisar: prices in online pharmacies
Drug name
Price
Pharmacy
Salvisar ointment for external use 25 g 1 pc.
125 RUB
Buy
Salvisar ointment for outside. approx. tube 25g
141 r
Buy
Salvisar ointment for external use 25 g 2 pcs.
166 r
Buy
Salvisar ointment for outside. approx. tube 25g 2 pcs.
RUB 250
Buy
Salvisar ointment for external use 100 g 1 pc.
317 r
Buy
Salvisar ointment for external use tube 100g
323 r
Buy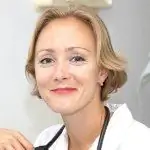 Anna Kozlova Medical journalist About the author
Education: Rostov State Medical University, specialty "General Medicine".
Information about the drug is generalized, provided for informational purposes only and does not replace the official instructions. Self-medication is hazardous to health!
Popular by topic