Table of contents:
Video: Oriflame Omega-3 - Instructions For Use, Price, Reviews, Analogues
Oriflame Omega-3
Oriflame Omega-3: instructions for use and reviews
1. Release form and composition
2. Pharmacological properties
3. Indications for use
4. Contraindications
5. Method of application and dosage
6. Side effects
7. Overdose
8. Special instructions
9. Drug interactions
10. Analogs
11. Terms and conditions of storage
12. Terms of dispensing from pharmacies
13. Reviews
14. Price in pharmacies
Latin name: Oriflame Omega-3
Active ingredient: fish oil
Producer: Vitamex Production AB Oriflame (Sweden)
Description and photo updated: 2018-26-11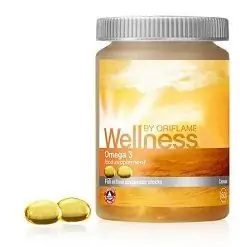 Oriflame Omega-3 is a food supplement, a source of Omega-3 polyunsaturated fatty acids (PUFA).
Release form and composition
The drug is available in the form of capsules, 60 pcs. in a plastic jar.
1 capsule contains:
active substance: fish oil - 500 mg [includes PUFA: eicosapentaenoic acid (EPA) - 82 mg, docosahexaenoic acid (DHA) - 55 mg, Omega-3 - 150 mg];
additional ingredients: glycerol, fish gelatin, water.
Pharmacological properties
Pharmacodynamics
Oriflame Omega-3 contains concentrated natural fish oil, which undergoes multi-stage purification from heavy metals and other toxic substances. The daily use of the complex ensures the stability of the immune system and high brain activity, improves the condition of the skin, increasing its elasticity and preventing excessive dryness. PUFAs reduce the negative effects of ultraviolet radiation, help reduce the number of wrinkles, eliminate brittle hair and nails.
The acids contained in fish oil also help to improve the function of the cardiovascular system and the organ of vision, normalize blood circulation and cholesterol levels, and prevent the formation of blood clots. Taking the product improves the general condition, reduces muscle pain, slows down the inflammatory processes in the joints, increasing their endurance.
Indications for use
According to the instructions, Oriflame Omega-3 is recommended for intake as a dietary supplement that replenishes the lack of Omega-3 PUFAs in the body for the following diseases / conditions:
decreased immunity;
impaired absorption of fats;
high cholesterol levels;
deterioration in the activity of the cardiovascular system;
joint inflammation;
violation of cerebral circulation;
fragility of hair, nails;
excessive dryness of the skin.
Contraindications
If you have an individual intolerance to the components of the product, including an allergy to fish (fish protein), you must refrain from using the product.
Instructions for use Oriflame Omega-3: method and dosage
The drug is taken orally.
Adults are recommended to use 1 capsule 2 times a day after meals with a glass of water.
Side effects
Data not specified.
Overdose
Data not specified.
special instructions
The complex is not intended as a substitute for dietary food and does not belong to medications; it is recommended to consult a doctor before taking it.
Oriflame Omega-3 is an environmentally friendly and safe product that has been purified from harmful impurities at the molecular level.
Drug interactions
Data not specified.
Analogs
Analogues of Oriflame Omega-3 are PHARMANEX Marine Omega, NSP Omega 3, Omega-3 Tianshi, Ravsin Doctor Nona, Vitrum Cardio Omega-3, Doppelhertz - Active Omega 3, Betancourt Nutrition Omega-3, NOW Omega-3, Ultimate Nutrition Omega 3, etc.
Terms and conditions of storage
Store in a place protected from moisture and light, out of reach of children, at temperatures up to 25 ° C.
The shelf life is 24 months.
Terms of dispensing from pharmacies
Available without a prescription.
Reviews about Oriflame Omega-3
As a natural, certified product that supplies the body with essential fatty acids, according to many reviews, Oriflame Omega-3 helps to strengthen the immune system, relieve increased nervousness and fatigue. Thanks to its action, the skin becomes more moisturized, elastic, hair does not split, acquire shine and density, nails do not exfoliate or break.
However, some patients indicate that they did not notice any positive changes after taking the capsules. The disadvantages of the drug, almost all refer to its high cost. Sometimes it is noted that this tool can be easily replaced with cheaper counterparts. There are practically no complaints about negative reactions caused by taking the drug.
Price for Oriflame Omega-3 in pharmacies
The approximate price for Oriflame Omega-3 is 1200 rubles. per package containing 60 capsules.
Maria Kulkes Medical journalist About the author
Education: First Moscow State Medical University named after I. M. Sechenov, specialty "General Medicine".
Information about the drug is generalized, provided for informational purposes only and does not replace the official instructions. Self-medication is hazardous to health!
Popular by topic