Table of contents: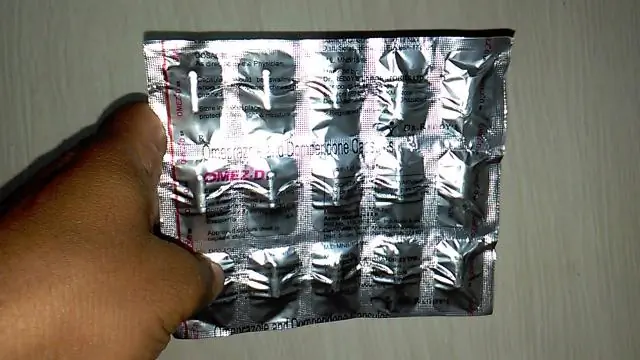 Video: Omez DSR - Instructions For Use, Price, Reviews, Capsule Analogues
Omez DSR
Omez DSR: instructions for use and reviews
1. Release form and composition
2. Pharmacological properties
3. Indications for use
4. Contraindications
5. Method of application and dosage
6. Side effects
7. Overdose
8. Special instructions
9. Application during pregnancy and lactation
10. Use in childhood
11. In case of impaired renal function
12. For violations of liver function
13. Use in the elderly
14. Drug interactions
15. Analogs
16. Terms and conditions of storage
17. Terms of dispensing from pharmacies
18. Reviews
19. Price in pharmacies
Latin name: Omez DSR
ATX code: A02BX
Active ingredient: domperidone (Domperidone); omeprazole (Omeprazole)
Manufacturer: Dr. Reddy's Laboratories, Ltd. (Dr. Reddy`s Laboratories, Ltd.) (India)
Description and photo update: 19.10.2019
Prices in pharmacies: from 300 rubles.
Buy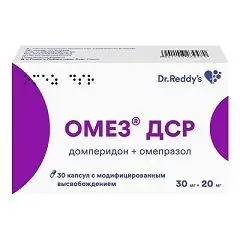 Omez DSR is a combined drug for regulating the motor function of the digestive tract, inhibiting the production of hydrochloric acid in the stomach.
Release form and composition
Dosage form - capsules with modified release 30 mg + 20 mg: size No. 1, hard, gelatinous, colorless, transparent, black marking on the lid in the form of a pharmaceutical company logo and a stylized inscription Dr. Reddy's, red marking on the case in the form of an inscription OMEZ-DSR; the capsule contains granules of two colors: from grayish-white to white and from yellowish-brown to brown (10 pcs. in a blister made of polyvinyl chloride / aluminum or polyamide foil / aluminum foil; 1, 3, 8 or 10 are placed in a cardboard box blisters and instructions for use of Omez DSR).
Composition for 1 capsule:
active ingredients: omeprazole (enteric coated granules) - 20 mg; domperidone (sustained-release granules) - 30 mg;
excipients in the composition of enteric coated granules (267 mg): lactose monohydrate - 9.66 mg; mannitol - 137.86 mg; sodium hydrogen phosphate - 0.89 mg; sodium lauryl sulfate - 0.52 mg; sucrose - 8.54 mg; sucrose (25/30) - 24.35 mg; hypromellose 6 cP - 0.14 mg;
coating of white granules, enteric: hypromellose 6 cP - 13 mg; enteric coating: copolymer of methacrylic acid and ethyl acrylate in a ratio of 1 ÷ 1 (copolymer of methacrylic acid, type C) - 40.47 mg; macrogol 6000 - 4.85 mg; sodium hydroxide - 0.54 mg; titanium dioxide - 2.13 mg; talc - 4.05 mg;
excipients of sustained-release granules (100 mg): colloidal silicon dioxide - 0.48 mg; Nonparelle, sugar grits - 58.98 mg; hypromellose 5 cP - 0.57 mg; talc - 4.51 mg;
coating of brown granules, prolonged release: hypromellose 5 cP - 2.34 mg; dye iron oxide red - 0.04 mg; dye iron oxide yellow - 0.12 mg; titanium dioxide - 0.47 mg; talc - 0.71 mg; extended release coating: ethylcellulose 10 cP - 1.18 mg; hypromellose 5 cP - 0.4 mg; triacetin - 0.12 mg; talc - 0.086 mg;
capsule shell: gelatin - 85.42%; sodium lauryl sulfate - 0.08%; water - 14.5%;
black ink for inscription on the cap: ethanol - 29–33%; butanol - 4-7%; isopropanol - 9-12%; shellac - 24-28%; iron dye black oxide (E172) - 24–28%; aqueous ammonia - 1–3%; propylene glycol - 0.5-2%;
red ink for writing on the case: ethanol - 21-25%; butanol - 7-10%; isopropanol - 12-16%; shellac - 22-27%; crimson dye Ponso 4R (E124) - 18-24%; aqueous ammonia - 1–3%; polysorbate-80 - 0.5-2%; titanium dioxide (E171) - 5-9%; propylene glycol 0.5-2%.
As part of the filler, each capsule contains an anti-caking auxiliary component - talc, in an amount of 2 mg.
Pharmacological properties
Pharmacodynamics
The combination of two active components in Omez DSR - domperidone and omeprazole - has a complex effect on the main elements of the pathogenesis of GERD (gastroesophageal reflux disease) and on dyspeptic disorders of various etiologies. Omeprazole inhibits both basal and stimulated gastric secretion of hydrochloric acid, while domperidone synchronizes and enhances natural peristaltic waves in the digestive tract.
Omeprazole
The mechanism of action of omeprazole is based on the concentration of the substance in the acidic medium of the tubules of the parietal cells of the gastric mucosa, where it is activated. Omeprazole inhibits the proton pump (H + / K + -ATPase enzyme), thereby providing a stimulating factor-independent highly effective dose-dependent inhibition of basal and stimulated hydrochloric acid secretion.
The maximum effect of the substance on the acidity of the stomach is achieved in four days of therapy. In case of duodenal ulcer, taking omeprazole at a daily dose of 20 mg steadily reduces the 24-hour gastric acidity by 80% or more. In this case, a decrease in the average maximum level of hydrochloric acid after stimulation with pentagastrin for 24 hours by 70% is established. In patients with duodenal ulcer, oral administration of omeprazole 20 mg daily maintains the value of acidity in the intragastric environment at a pH> 3 for an average of 17 hours a day. The inhibition of hydrochloric acid secretion does not depend on the plasma level of omeprazole in the blood at a given time, but on the AUC value (area under the concentration-time pharmacokinetic curve).
In the case of the use of omeprazole for the eradication of Helicobacter pylori (a widespread causative agent of stomach infection) in combination with antibacterial drugs, there is a rapid elimination of symptoms, good healing of defects in the mucous membrane of the gastrointestinal tract (gastrointestinal tract) and long-term remission of peptic ulcer disease. This effectiveness of the drug reduces the likelihood of bleeding at the level of continuous maintenance therapy.
A decrease in the production of hydrochloric acid in the stomach under the influence of omeprazole leads to a slight increase in the risk of developing infectious diseases of the digestive tract caused by Campylobacter spp., Salmonella spp., Clostridium difficile. During the course of therapy with inhibitors of the acid-forming function of the stomach, the serum concentration of gastrin in the blood increases. As a result of a decrease in the secretion of hydrochloric acid, the concentration of chromogranin A increases.
Domperidone
As a dopamine antagonist, domperidone, along with a gastrokinetic effect by blocking peripheral dopamine D 2 receptors, also has a central effect, showing antagonism to dopamine receptors in the trigger zone of the brain. Thanks to this combined effect, the substance has an antiemetic effect, stimulates the release of prolactin by the pituitary gland, eliminates dopamine inhibition of the motor function of the digestive tract, enhances peristaltic waves and synchronizes their passage, thereby accelerating the natural emptying of the stomach and increasing pressure on the lower esophageal sphincter.
Pharmacokinetics
The main pharmacokinetic characteristics of omeprazole:
absorption: omeprazole has a high degree of absorption, T Cmax (time to reach the maximum plasma concentration) is 1 / 2–1 h. Bioavailability after a single dose is 30–40%, with regular administration of the drug once a day, it increases to 60%;
distribution to tissues and organs: binds to plasma proteins at a level of 90–95%. The volume of distribution is 0.3 l / kg;
metabolism: partly omeprazole undergoes presystemic metabolism in the liver with the participation of a greater extent of the CYP2C19 enzyme than CYP3A4, as a result of which inactive metabolites are formed. Omeprazole, not included by parietal cells in the formation of active metabolites, is completely biotransformed in the liver. The total plasma clearance of the substance is 0.3–0.6 l / min;
excretion: T 1/2 (half-life) of omeprazole ~ 40 min. The substance is excreted mostly by the kidneys - 70-80%, with bile from 20 to 30%.
In patients with impaired hepatic function, the bioavailability of omeprazole increases, and the plasma clearance decreases.
In patients with impaired renal function, as in elderly patients, there were no changes in the bioavailability of the substance.
In Omez DSR capsules, domperidone is contained in the form of prolonged-release granules, which ensures its gradual entry into the gastrointestinal tract. According to the results of tests of dissolution of domperidone in an acidic medium, from the nominal amount in 1 capsule is determined: after 8 hours - 75-83%, after 12 hours - 86-94%.
The main pharmacokinetic characteristics of domperidone:
absorption: the absorption occurs rapidly fasting substance, T Cmax is 1 / 2 -1 h Its bioavailability is low, is about 15% due to the metabolism in the first pass through the liver and intestinal wall;.
distribution to tissues and organs: binds to plasma proteins at a level of 90%, penetrates into various tissues, passes through the BBB (blood-brain barrier) poorly;
metabolism: biotransformation occurs in the liver (including the first pass effect), as well as in the intestinal wall through hydroxylation and N-dealkylation, with the participation of isoenzymes CYP1A2, CYP2E1, CYP3A4;
excretion: up to 66% is excreted through the intestines, including 10% unchanged; through the kidneys in the form of glucuronides is excreted up to 33%, unchanged 1%.
In patients with severe chronic renal failure, T 1/2 of domperidone is lengthened.
Indications for use
Omez DEM is recommended for use in GERD (gastroesophageal reflux disease) to relieve nausea, vomiting, heartburn associated with the disease. The drug is prescribed for gastritis, gastric ulcer and duodenal ulcer, including after Helicobacter pylori eradication.
Indications for the use of Omez DSR are also dyspepsia with esophagitis, expressed by a feeling of fullness in the epigastrium, pain in the upper abdomen, a feeling of bloating, nausea, vomiting, belching, flatulence, heartburn with or without gastric contents in the oral cavity, as well as gastroesophageal reflux or delayed gastric emptying.
Contraindications
Absolute:
mechanical obstruction / perforation, gastrointestinal bleeding, other conditions in which stimulation of gastrointestinal tract motility can be dangerous;
violations of hepatic function of moderate and severe degree;
prolactinoma (prolactin-secreting pituitary tumor);
lack of lactase, lactose intolerance, glucose-galactose malabsorption;
fructose intolerance, sucrase-isomaltase deficiency;
pregnancy;
breast-feeding;
children and adolescents up to 18 years old;
combined use with atazanavir, posaconazole, nelfinavir, erlotinib, oral ketoconazole, erythromycin or other CYP3A4 inhibitors, for example, fluconazole, voriconazole, clarithromycin, amiodarone and telithromycin, which can cause prolongation of the QT interval;
hypersensitivity to benzimidazoles and / or drug components.
Relative contraindications (Omez DS capsules are used with caution):
stomach ulcer (or suspicion of it);
previous surgical intervention on the digestive tract;
vomiting with blood, repeated vomiting, significant spontaneous weight loss, dysphagia (impaired swallowing), discoloration of feces (tarry stools - melena), other alarming symptoms indicating possible serious pathologies;
the appearance of new or change in existing disorders of the gastrointestinal tract;
osteoporosis;
renal failure;
severe violations of water and electrolyte balance and / or heart disease, such as heart failure.
Omez DSR, instructions for use: method and dosage
Omez DSR capsules are intended for oral administration. They are taken orally, without chewing, 20-30 minutes before meals (on an empty stomach), with a little water.
Recommended daily dose for all indications: 1 capsule. Frequency of admission - 1 time per day, in the morning (before breakfast).
Maximum per day is allowed to take 20 mg of omeprazole and 30 mg of domperidone, which corresponds to the contents of 1 capsule.
Side effects
The scale of the incidence of systemic organ side reactions for omeprazole and domperidone: very often - more than 0.1%; often - from 0.1 to 0.01%; infrequently - from 0.01 to 0.001%; rarely from 0.001 to 0.000 1%; extremely rare (including isolated cases and episodes with an unknown frequency) - less than 0.000 1%.
Possible side effects from taking omeprazole:
hematopoietic system: rarely - leukopenia, thrombocytopenia; extremely rare - pancytopenia, agranulocytosis, eosinophilia;
immune system: rarely - allergic reactions (fever, anaphylactic reaction / anaphylactic shock, angioedema);
metabolism and nutrition: rarely - hyponatremia; with an unknown frequency - hypomagnesemia (in especially severe cases, it can lead to hypocalcemia), hypokalemia;
psyche: infrequently - insomnia; rarely - depression, hyperexcitability, reversible confusion; extremely rarely - aggression, hallucinations;
nervous system: often - headache; infrequently - paresthesia, dizziness, drowsiness; rarely - taste disturbance;
organ of vision: infrequently - visual disturbances, including a decrease in visual fields, a decrease in the acuity / clarity of visual perception (usually transient and disappear after completion of therapy);
hearing organ and labyrinthine disorders: infrequently - hearing impairment, including ringing in the ears (usually disappear after discontinuation of therapy), vertigo (feeling of dizziness or rotation of surrounding objects);
respiratory system: rarely - bronchospasm;
digestive tract: often - abdominal pain, constipation, nausea, vomiting, diarrhea, flatulence; rarely - dryness of the oral mucosa, stomatitis, microscopic colitis, gastrointestinal candidiasis; with the combined use of Omez DSR with clarithromycin, it is possible to change the color of the plaque in the tongue to brown-black, as well as the appearance of benign cysts of the salivary glands (the phenomena are reversible after termination of the course); isolated cases (with long-term combined use of Omez DSR with clarithromycin) - the formation of benign gastric glandular cysts due to inhibition of the secretion of hydrochloric acid (is reversible);
hepatobiliary system: infrequently - increased activity of hepatic transaminases and alkaline phosphatase (is reversible); rarely - liver failure, hepatitis (with or without jaundice); with previous severe liver diseases - encephalopathy;
skin and subcutaneous fat: infrequently - itchy skin, dermatitis, skin rash, nettle rash; rarely - photosensitivity reactions (skin redness after ultraviolet irradiation), exudative erythema multiforme, alopecia, toxic epidermal necrolysis, Stevens-Johnson syndrome (a severe form of erythema multiforme exudative erythema multiforme with characteristic appearance of spots / blisters on the skin and mucous membranes accompanied by high fever and joints);
musculoskeletal system: infrequently - osteoporosis-related fractures of the bones of the wrist, vertebrae, and femoral head; rarely - myalgia, arthralgia, muscle weakness;
genitals and mammary gland: rarely - gynecomastia;
urinary system: rarely - interstitial nephritis;
general disorders: infrequently - malaise; rarely - hyperhidrosis, peripheral edema.
Possible side effects from taking domperidone:
immune system: extremely rarely - anaphylactic reaction / anaphylactic shock, angioedema;
psyche: extremely rarely - agitation, increased excitability / irritability, nervousness;
nervous system: very rarely - convulsions, drowsiness, extrapyramidal phenomena, headache;
cardiovascular system: extremely rare - prolongation of the QT interval, ventricular tachycardia of the "pirouette" type, sudden coronary death (more often observed in patients over 60 years of age taking domperidone in a daily dose of more than 30 mg);
skin and subcutaneous fat: extremely rare - urticaria, Quincke's edema;
urinary system: extremely rare - urinary retention;
data from laboratory and instrumental examinations: extremely rarely - an increase in the level of prolactin in the blood, changes in the indicators of liver function tests.
The patient must immediately inform the attending physician about the occurrence of any side effects not listed above.
Overdose
Symptoms of an Omeza DSR overdose may include apathy, confusion, dizziness, drowsiness, blurred vision, headache, vascular dilatation, nausea / vomiting, flatulence, diarrhea, tachycardia, hyperhidrosis, dry mouth. With an increase in the dose taken, the rate of elimination of the drug does not change.
At the initial stage, it is recommended to take activated charcoal by mouth and / or gastric lavage. In the future, as necessary, symptomatic treatment is carried out and careful observation of the patient is provided. In the event of extrapyramidal reactions, drugs used to treat parkinsonism, anticholinergic and antihistamines can be effective. Hemodialysis is not effective enough.
special instructions
Since the composition of granules with omeprazole as an auxiliary component includes lactose, Omez DSR should not be used in patients with galactosemia, lactose intolerance, impaired absorption of glucose and galactose.
Due to the fact that domperidone is able to lengthen the QT interval, its effect on the cardiovascular system may increase the risk of ventricular arrhythmias or sudden coronary death. Such reactions are more likely for elderly patients (over 60 years old), provided that the substance is taken in a daily dose of more than 30 mg. In the case of existing conduction disturbances (with prolongation of the QT interval, severe disturbance of the water-electrolyte balance, congestive heart failure), domperidone should be used with caution, like other drugs that lead to a prolongation of the QT interval.
Despite the fact that a causal relationship between the use of omeprazole and bone fractures against the background of osteoporosis has not been established, patients at risk of developing this pathology should be provided with appropriate clinical observation.
According to reports, patients taking proton pump inhibitors (including omeprazole) for more than one year may develop severe hypomagnesemia. As a result, long-term use of omeprazole, especially as part of a combination treatment with digoxin or other drugs that reduce the plasma concentration of magnesium (diuretics), should be accompanied by regular monitoring of the magnesium content in the blood.
An increase in the content of chromogranin A (CgA) as a result of a reduced formation of hydrochloric acid may affect the results of examination in order to detect neuroendocrine tumors. To avoid this effect, it is necessary to interrupt the course of proton pump inhibitors 5 days before taking analyzes to determine the level of CgA.
Influence on the ability to drive vehicles and complex mechanisms
During the period of taking Omez DSR, caution should be exercised while driving vehicles and performing other potentially hazardous types of work that require increased concentration of attention and high speed of psychomotor reactions.
Application during pregnancy and lactation
It is contraindicated to use Omez DSR for pregnant and breastfeeding women.
Pediatric use
It is contraindicated to use Omez DSR in pediatric practice for the treatment of children and adolescents under 18 years of age.
With impaired renal function
Patients with impaired renal function do not require adjustment of a single dose of Omez DSR.
For violations of liver function
moderate and severe hepatic failure: drug therapy is contraindicated;
mild hepatic failure: no correction of the dosage regimen of Omez DSR is required.
Use in the elderly
The use of Omez DSR for the treatment of elderly patients does not require correction of the dosage regimen.
Drug interactions
There have been no special studies of the drug interaction of the drug Omez DSR with other substances / drugs.
Separately, for the active components of Omez DSR, the following types of pharmacological interactions were noted:
ketoconazole, itraconazole, posaconazole, erlotinib, iron and cyanocobalamin preparations, other drugs, the absorption of which depends on the pH of gastric juice: omeprazole, like other substances that inhibit the acidity of gastric juice, may inhibit their absorption; it is required to avoid combined admission with Omez DSR;
cimetidine and sodium bicarbonate (antacids and proton pump inhibitors): decrease the availability of oral domperidone;
digoxin: simultaneous use with omeprazole increases its bioavailability by 10%, which requires caution in elderly patients when taking digoxin with Omez DSR. Digoxin has no effect on the concentration of domperidone;
clopidogrel: according to studies of the interaction of clopidogrel (at a loading dose of 300 mg and a maintenance dose of 75 mg / day) and omeprazole (at a daily dose of 80 mg, orally), there was a decrease in the exposure of the active metabolite of clopidogrel and a decrease in inhibition of platelet aggregation; this combination at the indicated doses should be avoided;
antiretroviral drugs: an increase in gastric acidity under the influence of omeprazole can change the degree of their absorption, however, their interaction is likely at the level of the cytochrome P 450 isoenzyme CYP2C19. In this regard, the use of atazanavir and nelfinavir in conjunction with Omez DSR is contraindicated. Omeprazole increases the plasma concentration of saquinavir and ritonavir up to 70%, which does not impair the tolerance of therapy in patients with HIV infection. Inhibitors of HIV protease have an overwhelming effect on the CYP3A4 isoenzyme, which may be the reason for an increase in the concentration of domperidone when used together with Omez DSR;
tacrolimus: with simultaneous use with omeprazole, an increase in its concentration in the blood serum was noted, which requires control of the CC (creatinine clearance) and the content of tacrolimus in the blood plasma if combined use with Omez DSR is necessary;
Methotrexate: Omeprazole, like other proton pump inhibitors, is able to slightly increase the plasma concentration of methotrexate. If high-dose methotrexate therapy is required, Omez DSR should be temporarily discontinued;
drugs whose metabolism is mediated by the cytochrome CYP2C19 isoenzyme [diazepam, disulfiram, warfarin (R-warfarin), imipramine, clomipramine, citalopram, hexobarbital, phenytoin, cilostazol, as well as other drugs metabolized in the liver with the participation of CYP2C19] omeprazole can increase their plasma concentration and increase T 1/2, which requires a reduction in doses of the listed drugs. Omeprazole in a daily dose of 20 mg does not affect the plasma concentration of phenytoin in patients taking it for a long time. When omeprazole is used concomitantly with warfarin or other vitamin K antagonists, monitoring of the INR (International Normalized Ratio) is required. Moreover, in patients taking warfarin for a long time, concomitant administration of omeprazole in a daily dose of 20 mg does not lead to a change in the coagulation time;
inhibitors of the cytochrome CYP2C19 and CYP3A4 enzymes (simultaneous use with Omez DSR leads to a slowdown in the metabolism of omeprazole): clarithromycin, erythromycin - increase the plasma concentration of omeprazole and domperidone; voriconazole - increases the AUC of omeprazole; itraconazole, fluconazole, ketoconazole, voriconazole - increase the plasma concentration of domperidone; the inhibitory effect of HIV protease inhibitors on the CYP3A4 isoenzyme can cause an increase in the concentration of domperidone; calcium antagonists diltiazem and verapamil, as well as amiodarone and nefazodone (strong inhibitors of CYP3A4) - in the course of in vitro clinical studies, the possibility of increasing the concentration of domperidone in plasma was revealed; amiodarone, ketoconazole, erythromycin - when taken with domperidone, the QT interval may be prolonged;
inducers of cytochrome CYP2C19 and CYP3A4 enzymes [rifampicin and preparations of St. John's wort (Hypericum perforatum)]: can reduce the concentration of omeprazole in plasma by accelerating its metabolism;
anticholinergic drugs: can neutralize the effects of domperidone.
Substances / preparations with which Omeza DSR does not affect their metabolism:
amoxicillin, metronidazole: do not affect the plasma concentration of omeprazole;
metoprolol, phenacetin, estradiol, budesonide, diclofenac, naproxen, piroxicam, S-warfarin: no clinically significant interaction with omeprazole has been established;
antacids, theophylline, caffeine, quinidine, lidocaine, propranolol, ethanol: the effect of omeprazole on them was not revealed;
paracetamol, digoxin: domperidone had no effect on blood levels of these drugs;
antipsychotic drugs (neuroleptics), dopaminergic receptor agonists (bromocriptine, levodopa): domperidone is compatible with taking these drugs, since it does not affect their central action and inhibits such undesirable peripheral effects as nausea and vomiting.
Analogs
Omez DSR analogues are Omez D, Motilium, Motilak, Emanera, Omeprazole, Rabeprazole, Khairabezol, Antareit, etc.
Terms and conditions of storage
Store at temperatures up to 25 ° C. Keep out of the reach of children.
Shelf life is 2 years.
Terms of dispensing from pharmacies
Dispensed by prescription.
Reviews about Omez DSR
The main advantages of the drug Omez DSR, according to patients' reviews, are the combined composition, modified release, taken once a day, a quick pronounced long-term effect and an affordable cost. The effect of the drug appears almost immediately after taking the capsule and lasts all day. Symptoms of exacerbation of chronic gastritis and GERD, such as discomfort and spasms in the intestines, bloating, pain in the epigastric region after eating, periodic heartburn and nausea, as well as reflux (including nocturnal) into the esophagus of stomach contents, are stopped.
Some patients indicate that when taking Omez DSR, their mouth dries out.
The price of Omez DSR in pharmacies
Estimated price of Omez DSR, 30 mg + 20 mg modified release capsules, 30 pcs. in a carton pack, is 347-466 rubles.
Omez DSR: prices in online pharmacies
Drug name
Price
Pharmacy
Omez DSR 30 mg + 20 mg modified release capsules 30 pcs.
RUB 300
Buy
Omez DSR capsules with modif. release 30mg + 20mg 30 pcs.
452 RUB
Buy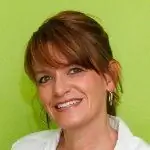 Maria Kulkes Medical journalist About the author
Education: First Moscow State Medical University named after I. M. Sechenov, specialty "General Medicine".
Information about the drug is generalized, provided for informational purposes only and does not replace the official instructions. Self-medication is hazardous to health!
Popular by topic