Table of contents: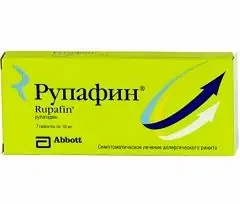 Video: Rupafin Tablets - Instructions For Use, Reviews, Indications
Rupafin
Instructions for use:
1. Release form
2. Analogs
3. Pharmacological action
4. Indications for use
5. Contraindications
6. Method of application
7. Drug interactions
8. Side effects
9. Storage conditions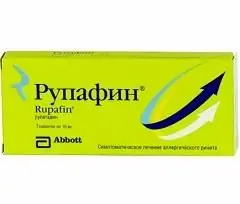 Rupafin is an effective anti-allergic medication used in the treatment of urticaria and rhinitis.
Release form
Rupafin is available in the form of round orange-pink tablets containing 10 mg of rupatadine and excipients. 7 and 10 pieces in a blister.
Rupafin's analogs
Rupafin's analogues for the active ingredient are not produced. By the mechanism of action, Rupafin's analogs include medicines in several dosage forms:
Tablets - Gifast, Dimebon, Gistafen, Dimedrokhin, Alerpriv, Allerfex, Diacin, Dramina, Ketotifen, Klallergin, Claridol, Clarisens, Loratadin, Claritin, Lomilan, Laura Hexal, Fexo, Lordestin, Ciel, Bexistin;
Dragee - Diazolin;
Rectal suppositories - Lotaren;
Syrup - Ketotifen, Klargotil, Kestin, Erolin, Ketotifen Sopharma, Claridol, Clarisens, Klarotadin, Loratadin-Hemofarm, Peritol, Erius;
Oral suspension - Lomilan.
Pharmacological action of Rupafin
The active component of Rupafin (rupatadin), exhibiting high antihistamine activity, selectively acts on peripheral H1-histamine receptors.
The drug in therapeutic doses (10-20 mg per day) has no effect on the activity of the central nervous system.
Indications for Rupafin's use
Rupafin, according to the instructions, is prescribed for the symptomatic treatment of adults and adolescents from 12 years old:
Chronic idiopathic urticaria;
Allergic rhinitis.
Contraindications
Contraindications to the use of Rupafin, according to the instructions, include:
Renal and hepatic impairment;
Hypersensitivity to drug components.
Due to the lack of data on the effectiveness and safety, Rupafin is not prescribed:
During lactation;
During pregnancy;
In pediatrics up to 12 years.
According to the instructions, Rupafin is prescribed with caution:
Against the background of an extended QT interval;
With uncorrected hypokalemia;
With persistent proarrhythmic conditions;
Over the age of 65;
Simultaneously with statins and grapefruit juice.
Method of application of Rupafin
Rupafin tablets are taken orally, while their effectiveness does not depend on food intake.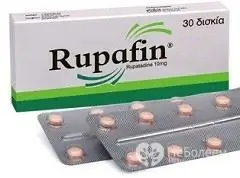 The recommended daily dose of the medication is one tablet.
Drug interactions Rupafin
When using Rupafin tablets together with ketoconazole or erythromycin, their systemic effect increases without changes in the QT interval and an increase in the frequency of adverse reactions.
The use of Rupafin with grapefruit juice is not recommended due to the increased overall effect of the medication, and it should be taken with caution with statins.
Side effects of Rupafin
Most often, when taking Rupafin, according to reviews, fatigue, drowsiness and headache are observed, but usually these side effects do not require withdrawal of the medication.
Among other undesirable effects when using Rupafin, according to reviews, they note:
Dizziness;
Asthenia;
Dry mouth.
In addition, Rupafin tablets can cause disorders of various body systems:
Pain in the throat and larynx, dryness of the nasal mucosa, epistaxis, cough, pharyngitis, dry throat, rhinitis (respiratory system);
Decreased concentration and irritability (nervous system);
Abdominal pain, nausea, dyspepsia, diarrhea, vomiting, constipation (digestive system);
Rash (skin and subcutaneous tissue);
Increased appetite (metabolism);
Arthralgia, back pain, myalgia (musculoskeletal system).
In rare cases, while taking Rupafin, according to reviews, there is general malaise, thirst, fever and weight gain.
Storage conditions
Rupafin belongs to a number of non-prescription antiallergic medicines with a shelf life of 36 months, subject to standard storage conditions (at temperatures up to 25 ° C).
Information about the drug is generalized, provided for informational purposes only and does not replace the official instructions. Self-medication is hazardous to health!
Popular by topic