Table of contents: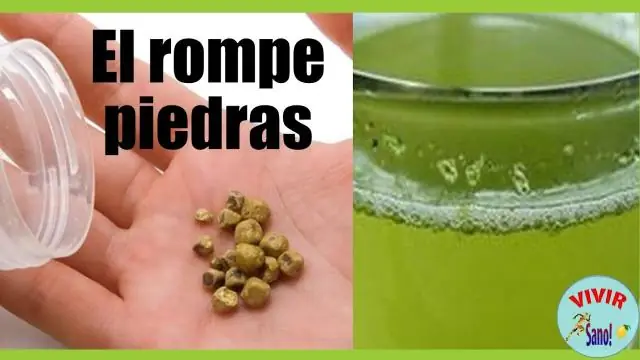 Video: Rovatinex - Instructions For Use, Price, Reviews, Capsule Analogues
Rovatinex
Rovatinex: instructions for use and reviews
1. Release form and composition
2. Pharmacological properties
3. Indications for use
4. Contraindications
5. Method of application and dosage
6. Side effects
7. Overdose
8. Special instructions
9. Application during pregnancy and lactation
10. Use in childhood
11. In case of impaired renal function
12. Drug interactions
13. Analogs
14. Terms and conditions of storage
15. Terms of dispensing from pharmacies
16. Reviews
17. Price in pharmacies
Latin name: Rowatinex
ATX code: G04BC
Active ingredient: α-, β-pinene (alpha beta pinene), camphene (camphene), anethole (anethole), fenchone (fenchone), cineole (cineole), borneol (boras camphor)
Manufacturer: Rowa Pharmaceutikals (Ireland)
Description and photo updated: 2018-26-11
Prices in pharmacies: from 1150 rubles.
Buy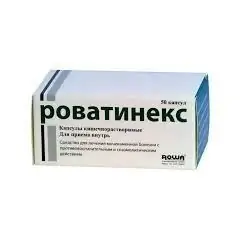 Rovatinex is a herbal remedy for antispasmodic, diuretic and nephrolitholytic action.
Release form and composition
The phytopreparation is produced in the form of capsules: enteric spherical gelatinous, yellow; the contents of the capsules are a pale yellow or green-yellow liquid, with a strong aromatic odor (10 pieces in a blister, in a cardboard box of 5 or 10 blisters).
1 capsule contains:
active substances: cineole - 3 mg, fenchone - 4 mg, anethole - 4 mg, borneol - 10 mg, camphene - 15 mg, pinene (α + β) - 31 mg;
additional component: olive oil;
shell: glycerol 85%, gelatin, sodium ethyl parahydroxybenzoate, quinoline yellow WS 70% (E 104), sodium propyl parahydroxybenzoate, sunset yellow dye FCF 85% (E 110).
Pharmacological properties
Pharmacodynamics
Rovatinex promotes disintegration (destruction) and elimination of crushed stones of the kidney tissue and urinary tract. Borneol, the active substance of a drug from the terpene class, undergoes metabolic transformation and is excreted in the urine, mainly in the form of glucuronides, which leads to an increase in the solubility of calcium salts, which are the main structural component of kidney and urinary tract stones. According to the results of a number of experiments on animals, Rovatinex also has an inhibitory effect on the formation of these calculi.
The active components of the drug show an antispasmodic effect, facilitate the passage of stones through the urinary tract, reduce the intensity of pain in ureteral and renal colic, enhance renal blood flow and improve the activity of the renal system, increase urine output.
The drug demonstrates anti-inflammatory and antimicrobial action against a number of gram-negative and gram-positive microorganisms, increases the concentration of glucuronic acid and protective colloids in the urine.
Pharmacokinetics
The terpenes included in the preparation are fat-soluble and quickly absorbed. Terpenes such as borneol, after biotransformation in the body, are converted into glucuronides and excreted in the urine.
Indications for use
treatment of urolithiasis (urolithiasis, nephrolithiasis);
prevention of the formation of stones in the urinary tract and kidneys.
Contraindications
age up to 6 years;
hypersensitivity to the constituents of the product.
Caution should be exercised when taking Rovatinex in combination with oral anticoagulants and drugs that are metabolized mainly in the liver.
Instructions for the use of Rovatinex: method and dosage
The phytopreparation is taken orally before meals.
For children over 14 years of age and adults, the drug is prescribed 3 times a day, 1-2 capsules, with renal colic - 4-5 times a day, 2-3 capsules.
Children 6-14 years old are recommended to take the drug 2 times a day, 1 capsule.
Side effects
While taking the drug, some patients noted the appearance of mild and transient stomach discomfort. The occurrence of vomiting was extremely rare. In two patients, drug intolerance was recorded, the cause of which was not established.
Overdose
If you suspect an overdose in the case when Rovatinex has been taken recently, you should flush the stomach. It is required to establish observation of the patient and, if necessary, carry out symptomatic treatment, monitoring respiratory, cardiac, renal and hepatic functions.
special instructions
The drug should not be taken if you have severe renal colic, severe urinary tract infection, or anuria. During therapy, you need to increase the amount of fluid consumed.
Application during pregnancy and lactation
According to the instructions, Rovatinex is not recommended for use in the first trimester of pregnancy and during breastfeeding.
Pediatric use
The drug is contraindicated in children under 6 years of age.
With impaired renal function
An antispasmodic should not be used against the background of severe renal colic.
Drug interactions
When used in combination, the drug can affect the activity of oral anticoagulants and drugs, the metabolism of which occurs in the liver.
Analogs
Analogs of Rovatinex are (for a similar therapeutic effect) Cyston, Afala, Kanefron.
Terms and conditions of storage
Store out of the reach of children at a temperature not exceeding 25 ° C.
The shelf life is 5 years.
Terms of dispensing from pharmacies
Dispensed by prescription.
Reviews about Rovatinex
According to most reviews, Rovatinex is an effective agent with antispasmodic, litholytic and diuretic effects. Patients who took the drug indicate that it slowly but effectively dissolves calculi in the kidneys (including oxalate stones without acoustic shadow), removes sand and small particles of stones left after crushing them from the kidneys and urinary tract, reduces pain in renal colic …
In some cases, there are complaints about the side effects of the drug (aching pain in the kidney area, rare cramps in the urethra).
Almost all patients consider its high cost to be a disadvantage of the drug.
Price for Rovatinex in pharmacies
The price of Rovatinex can be 1350–1590 rubles per package containing 50 pcs. enteric capsules.
Rovatinex: prices in online pharmacies
Drug name
Price
Pharmacy
Rovatinex enteric capsules 50 pcs.
1150 RUB
Buy
Rovatinex capsules enteric solution. 50 pcs.
1185 RUB
Buy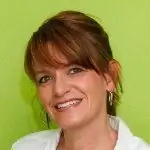 Maria Kulkes Medical journalist About the author
Education: First Moscow State Medical University named after I. M. Sechenov, specialty "General Medicine".
Information about the drug is generalized, provided for informational purposes only and does not replace the official instructions. Self-medication is hazardous to health!
Popular by topic