Table of contents: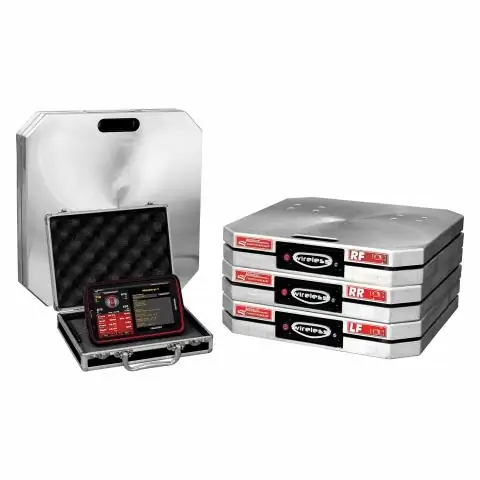 Video: Rimecor - Instructions For Use, Reviews, Price, Tablet Analogues
Rimecor
Rimecor: instructions for use and reviews
1. Release form and composition
2. Pharmacological properties
3. Indications for use
4. Contraindications
5. Method of application and dosage
6. Side effects
7. Overdose
8. Special instructions
9. Application during pregnancy and lactation
10. Use in childhood
11. In case of impaired renal function
12. For violations of liver function
13. Drug interactions
14. Analogs
15. Terms and conditions of storage
16. Terms of dispensing from pharmacies
17. Reviews
18. Price in pharmacies
Latin name: Rimecor
ATX code: C01EB15
Active ingredient: trimetazidine (trimetazidine)
Producer: MAKIZ-PHARMA CJSC (Russia)
Description and photo update: 2019-20-08
Prices in pharmacies: from 101 rubles.
Buy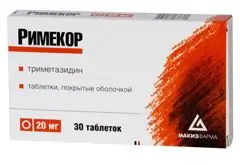 Rimecor is a drug that has an antihypoxic effect, normalizing the energy metabolism of cells under conditions of hypoxia or ischemia.
Release form and composition
Dosage form - film-coated tablets: round, convex on both sides, pink; core - from white to almost white (10 pcs. in blisters, in a cardboard bundle 1, 2, 3 or 6 packs; 30 pcs. in blister packs, in a cardboard bundle 1 or 2 packs; 60 pcs.. in polymer cans, in a cardboard box 1 can).
Active ingredient: trimetazidine dihydrochloride - 20 mg in 1 tablet.
Additional components: magnesium stearate, ludipress LCE (povidone, lactose monohydrate), colloidal silicon dioxide (aerosil), lactose monohydrate, croscarmellose sodium.
The composition of the film shell: macrogol 4000 (polyethylene glycol 4000), titanium dioxide, talc, hypromellose (hydroxypropyl methylcellulose), azorubin dye (E122).
Pharmacological properties
Pharmacodynamics
The active ingredient of Rimecor is trimetazidine, a substance that has an antianginal and antihypoxic effect, which improves the metabolism of the myocardium and neurosensory organs under ischemic conditions.
Trimetazidine directly affects the neurons and cardiomyocytes of the brain, thereby optimizing their metabolism and function. Its cytoprotective effect is explained by the ability to increase the energy potential, activate oxidative decarboxylation and rationalize oxygen consumption (enhance aerobic glycolysis and block fatty acid oxidation). Rimecor maintains myocardial contractility, prevents a decrease in the intracellular content of phosphorus creatine and adenosine triphosphate.
Under conditions of acidosis, trimetazidine prevents the accumulation of calcium and sodium in cardiomyocytes, normalizes the functioning of membrane ion channels and the intracellular content of potassium ions. Reduces intracellular acidosis and increased phosphate levels due to reperfusion and myocardial ischemia. It prevents the activation of neutrophils in the ischemic zone, prevents the damaging action of free radicals, increases the duration of the electric potential, preserves the integrity of cell membranes, reduces the release of creatine phosphokinase from cells, and reduces the severity of ischemic myocardial damage.
With angina pectoris, trimetazidine reduces the frequency of attacks, as a result of which the need for nitrates decreases. After 2 weeks of regular use, exercise tolerance increases, blood pressure drops decrease. In patients taking Rimecor, tinnitus and dizziness decrease, hearing and vestibular test results improve.
In vascular pathology of the eyes, trimetazidine helps to restore the functional activity of the retina.
Pharmacokinetics
Trimetazidine, entering the body in the form of tablets, is rapidly and almost completely absorbed from the gastrointestinal tract. Its bioavailability reaches 90%. The maximum plasma concentration is observed after about 2 hours and is about 55 ng / ml after a single dose of 20 mg.
The drug is characterized by a low binding to plasma proteins - 16%. Easily penetrates histohematogenous barriers.
It is excreted by the kidneys, and in unchanged form ~ 60%. The half-life is 4.5-5 hours.
Indications for use
Ischemic heart disease (as part of complex therapy for the prevention of angina attacks);
Vertigo of vascular origin;
Chorioretinal vascular disorders;
Cochleo-vestibular disorders of an ischemic nature, such as tinnitus, dizziness, hearing impairment.
Contraindications
Severe liver dysfunction;
Renal failure (creatinine clearance less than 15 ml / minute);
Age under 18;
Pregnancy and lactation;
Glucose-galactose malabsorption, lactose intolerance or lactase deficiency;
Hypersensitivity to any component of the drug.
Instructions for the use of Rimecor: method and dosage
Rimecor should be taken orally with food.
Adult patients are prescribed 1 tablet 2-3 times a day.
The duration of treatment in each case is determined individually.
Side effects
From the digestive system: often (more than 1/100 and less than 1/10) - abdominal pain, nausea, dyspepsia, diarrhea, vomiting;
From the side of the cardiovascular system: rarely (more than 1/10 000 and less than 1/1000) - hot flushes to the skin of the face, orthostatic hypotension;
From the side of the central nervous system: often - dizziness, headache, asthenia; very rarely (less than 1/10 000) - extrapyramidal disorders (rigidity, tremor, akinesia), reversible after drug withdrawal;
Skin and subcutaneous tissue disorders: often - rash, urticaria, itching.
Overdose
To date, no cases of overdose have been reported.
special instructions
According to the instructions, Rimecor is not intended to relieve angina attacks, but is used to prevent them.
Trimetazidine is not indicated for the initial course of therapy for unstable angina and myocardial infarction.
If the nature of the attacks of angina pectoris changes, as well as when they become more frequent, you should consult a doctor to review and adapt the course of treatment.
In patients with coronary artery disease, Rimecor significantly reduces the daily requirement for nitrates.
The drug, as a rule, does not affect the speed of psychophysical reactions and the ability to concentrate.
Application during pregnancy and lactation
Rimecor is contraindicated in pregnant women and breastfeeding mothers.
Pediatric use
The drug is not used in pediatric practice for the treatment of children and adolescents under the age of 18.
With impaired renal function
It is forbidden to take Rimecor to patients with renal insufficiency (if creatinine clearance is below 15 ml / min).
For violations of liver function
Patients with concomitant severe hepatic impairment are prohibited from taking Rimecor.
Drug interactions
There is no information on the interaction of Rimecor with other medicinal products.
Analogs
Analogs of Rimecor are: Angiosil retard, Trimetazidin, Trimet, Triducard, Vasomag, Bravadin, Ezafosfina, Idrinol, Kudesan, Cardionat, Preductal MV, Dibikor, Antisten, Histochrome, Coraxan, Antisten MV, Mildronat, Mexinmethonidin, Ribbon, Ethoxidol, Deprenorm-MV, Presidin, Preductal OD, Precard, Trimetazid, Trimetazidine MV, Trimetazidine MV-Teva, Trimitard MV.
Terms and conditions of storage
Store in a place protected from light and moisture, out of the reach of children, at temperatures up to 25 ° C.
The shelf life is 3 years.
Terms of dispensing from pharmacies
Dispensed by prescription.
Reviews about Rimecor
Reviews about Rimecor are mostly positive. Both doctors and the patients themselves note the rapid action of the drug and the excellent effect, especially in case of vestibular disorders of an ischemic nature (such as dizziness, tinnitus and hearing impairment). Good results of the agent were also noted in the prevention of angina attacks in patients with ischemic heart disease.
Patients attribute additional advantages to Rimecor's good tolerance and low cost.
Price for Rimecor in pharmacies
Depending on the pharmacy chain where the drug is sold, the price for Rimecor can vary from 130 to 250 rubles. for one pack of 30 tablets.
Rimecor: prices in online pharmacies
Drug name
Price
Pharmacy
Rimecor 20 mg film-coated tablets 30 pcs.
RUB 101
Buy
Rimecor tablets p.o. 20mg 30 pcs.
170 RUB
Buy
Rimecor MV 35 mg film-coated tablets of prolonged action 60 pcs.
214 r
Buy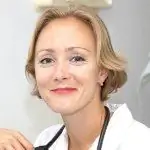 Anna Kozlova Medical journalist About the author
Education: Rostov State Medical University, specialty "General Medicine".
Information about the drug is generalized, provided for informational purposes only and does not replace the official instructions. Self-medication is hazardous to health!
Popular by topic