Table of contents: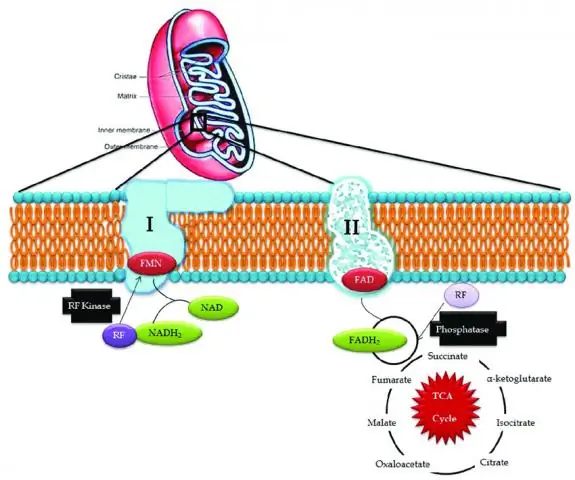 Video: Riboflavin Mononucleotide - Instructions For Use, Reviews, Price
Riboflavin Mononucleotide
Riboflavin mononucleotide: instructions for use and reviews
1. Release form and composition
2. Pharmacological properties
3. Indications for use
4. Contraindications
5. Method of application and dosage
6. Side effects
7. Overdose
8. Special instructions
9. Application during pregnancy and lactation
10. Use in childhood
11. Drug interactions
12. Analogs
13. Terms and conditions of storage
14. Terms of dispensing from pharmacies
15. Reviews
16. Price in pharmacies
Latin name: Riboflavin-mononucletide
ATX code: A11HA04
Active ingredient: Riboflavin (Riboflavin)
Manufacturer: Pharmstandard-UfaVITA (Russia)
Description and photo update: 2018-24-10
Prices in pharmacies: from 86 rubles.
Buy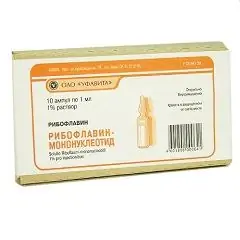 Riboflavin mononucleotide is a B vitamin.
Release form and composition
Dosage form - solution for intramuscular injection: transparent or slightly opalescent, yellow-orange in color (1 ml in colorless glass ampoules, 5 or 10 ampoules in blisters, in a cardboard box 1-2 packs).
Composition of 1 ml solution:
active substance: riboflavin sodium phosphate - 10 mg;
auxiliary component: water for injection, disodium edetate (disodium salt of ethylenediaminetetraacetic acid, Trilon B), chlorobutanol hydrate (chlorobutanol hemihydrate).
Pharmacological properties
Pharmacodynamics
Riboflavin has a metabolic effect. Participates in the transfer of hydrogen (H +), the synthesis of erythropoietin and hemoglobin (Hb), fat, protein and carbohydrate metabolism, tissue respiration, regulates redox processes, and takes part in maintaining normal visual function of the eyes.
Riboflavin activates pyridoxal kinase, which converts pyridoxine (vitamin B 6) into its active form, pyridoxal phosphate. It is a part of xanthine oxidase, glutathione reductase. Promotes the preservation of the integrity of red blood cells, the conversion of tryptophan to niacin.
It is synthesized by normal intestinal microflora and itself is necessary for its maintenance.
Pharmacokinetics
Once injected into the muscle, riboflavin is rapidly absorbed. Its connection with plasma proteins is about 60% (mainly in the form of metabolites - flavin adenine dinucleotide and flavin adenine mononucleotide). It is distributed throughout all tissues and organs, deposited in the spleen, liver, kidneys, myocardium and muscle tissue. Metabolized in the liver.
It is eliminated mainly by the kidneys, almost completely in the form of metabolites, however, when high doses are taken, it is predominantly unchanged; in small amounts - through the intestines. Its half-life (T 1/2) is 66–84 minutes. It is excreted by hemodialysis, but more slowly than by renal excretion.
Riboflavin crosses the placenta and into breast milk.
Indications for use
According to the instructions, Riboflavin mononucleotide is used for hypo- and vitamin B 2 deficiency, as well as in the complex therapy of dermatological diseases, including photodermatosis, chronic eczema, neurodermatitis, and itchy dermatoses.
Contraindications
The use of the drug is contraindicated in case of hypersensitivity to its components.
Instructions for use of riboflavin mononucleotide: method and dosage
Riboflavin mononucleotide is intended for intramuscular administration only.
The recommended dose for adults is 1 ml of solution (10 mg) once a day for 10-20 days.
Children, depending on age, are prescribed 0.5-1 ml of solution (5-10 mg) for 3-5 days, then 2-3 times a week.
Side effects
Riboflavin mononucleotide is well tolerated. In rare cases, it causes allergic reactions.
Overdose
No information available.
special instructions
Intramuscular administration of the drug is accompanied by pain.
Riboflavin stains urine in a light yellow color, this phenomenon has no clinical significance.
It should be borne in mind that vitamin B 2 is destroyed by the rays of the blue part of the solar spectrum (about 450 nm).
Influence on the ability to drive vehicles and complex mechanisms
No information available.
Application during pregnancy and lactation
Pregnancy and lactation are not a contraindication to drug therapy.
Pediatric use
Riboflavin mononucleotide is used in pediatrics according to the doctor's prescription and in the doses recommended by him.
Drug interactions
Riboflavin is incompatible with streptomycin. Compatible with anabolic steroids, antihypoxanths and drugs that stimulate hematopoiesis.
Reduces the effect of tetracycline, erythromycin, oxytetracycline, lincomycin, doxycycline.
Prevents or reduces the severity of side effects of chloramphenicol (optic neuritis, impaired hematopoiesis).
Thyroid hormones speed up the metabolism of riboflavin.
Amitriptyline, imipramine and chlorpromazine disrupt the incorporation of riboflavin into flavinadenine dinucleotide and flavinadenine mononucleotide, and increase its excretion in the urine.
Analogs
Riboflavin-mononucleotide analogues are: Riboflavin High Flow, riboflavin, riboflavin-5-phosphate sodium, Vitamin B 2, riboflavin sodium phosphate.
Terms and conditions of storage
Shelf life - 2 years from the date of production.
Storage conditions: temperature up to 25 ° С, protected from light place away from children.
Terms of dispensing from pharmacies
Dispensed by prescription.
Reviews of Riboflavin Mononucleotide
Reviews of riboflavin mononucleotide are mostly positive. Women often use the drug prophylactically to improve the condition of their hair and facial skin. According to reviews, vitamin B 2 eliminates dryness and flaking of the skin, irritation and burning sensation.
Almost everyone considers the painfulness of injections to be a lack of funds.
Price for riboflavin mononucleotide in pharmacies
The approximate price for Riboflavin mononucleotide is 85–100 rubles per package of 10 ampoules.
Riboflavin mononucleotide: prices in online pharmacies
Drug name
Price
Pharmacy
Riboflavin mononucleotide 10 mg / ml solution for intramuscular administration 1 ml 10 pcs.
RUB 86
Buy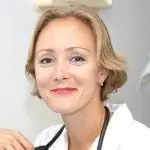 Anna Kozlova Medical journalist About the author
Education: Rostov State Medical University, specialty "General Medicine".
Information about the drug is generalized, provided for informational purposes only and does not replace the official instructions. Self-medication is hazardous to health!
Popular by topic