Table of contents: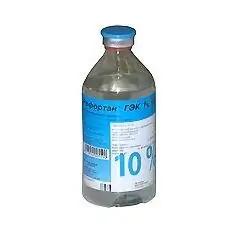 Video: Refortan HES 10% - Instructions For Use, Indications, Doses, Analogues
Refortan HES 10%
Instructions for use:
1. Release form and composition
2. Indications for use
3. Contraindications
4. Method of application and dosage
5. Side effects
6. Special instructions
7. Drug interactions
8. Analogs
9. Terms and conditions of storage
10. Terms of dispensing from pharmacies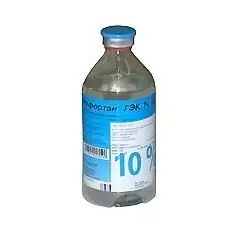 Refortan HES 10% is a plasma-substituting drug.
Release form and composition
Refortan HES 10% is produced in the form of a solution for infusion: transparent or slightly opalescent, from light yellow to colorless (250 or 500 ml in vials, 10 vials in a cardboard box).
Composition of 1 ml of infusion solution:
Active substance: hydroxyethyl starch (HES 200 / 0.5) - 100 mg;
Auxiliary components: sodium chloride - 9 mg, water for injection - 931 mg.
Indications for use
Refortan HES 10% is prescribed for the treatment of hypovolemia in acute blood loss in cases where therapy with crystalloid solutions is insufficient.
Contraindications
Absolute:
Intracranial bleeding or acute cerebrovascular accidents of hemorrhagic type;
Hyperhydration;
Hypokalemia;
Hypervolemia;
Hyperchloremia;
Pulmonary edema;
Hypernatremia;
Dehydration;
Burns;
Sepsis;
Renal failure;
Decompensated chronic heart failure;
Severe bleeding disorders;
Hemodialysis;
Critical conditions (as a rule, patients who are in the intensive care unit / intensive care unit);
Conditions after organ transplantation and open-heart surgery in conditions of artificial circulation;
Severe liver failure;
Intracranial hypertension;
Pregnancy (I trimester);
Age up to 18 years (due to the lack of the necessary clinical data for patients of this age group);
Hypersensitivity to drug components.
Relative (Refortan HES 10% is prescribed with caution in the presence of the following diseases / conditions):
Compensated chronic heart failure;
Liver failure (mild / moderate);
Blood clotting disorders, hemorrhagic diathesis;
Conditions after surgical interventions;
Injuries;
Age from 65 years;
Pregnancy (II-III trimesters; use is possible only for health reasons after assessing the benefit / risk ratio due to the likelihood of anaphylactic reactions and fetal brain damage).
Method of administration and dosage
Refortan HES 10% is used as an intravenous infusion.
Unless otherwise prescribed, the solution should be injected intravenously in doses required to replace the volume of circulating plasma.
The daily dose and rate of administration are calculated depending on blood loss, hematocrit and hemoglobin concentration. It is recommended to use the lowest effective dose whenever possible.
The beginning of the introduction should be limited to the initial stage of the restoration of the circulating blood volume (BCC). Duration of administration is up to 24 hours.
The first 10-20 ml of Refortan HES 10%, due to the likelihood of developing anaphylactic reactions, should be administered slowly, carefully monitoring the patient's condition. If the dose is too high / too fast, the risk of overloading the circulatory system must be taken into account. Therapy is carried out under constant hemodynamic control (so that it is possible to interrupt the infusion immediately after reaching the appropriate target level of hemodynamic parameters).
In young patients without the risk of pulmonary complications, the hematocrit of up to 30% is considered the limit of the use of a volume-substituting colloidal preparation. The maximum infusion rate for adults averages 18 ml / kg / hour (determined by baseline hemodynamic parameters).
The maximum daily dose is 18 ml / kg (1.8 g HES / kg). For patients weighing 75 kg, this corresponds to 1350 ml of Refortan HES 10%.
Side effects
Possible adverse reactions (> 1/10 - very often;> 1/100, 1/1000, 1/10 000, <1/1000 - rarely; <1/10 000 - very rare; with an unknown frequency - if it is impossible to estimate the frequency occurrence according to available data):
Immune system: very rarely - anaphylactoid reactions (most often in the form of chills, slight fever, vomiting, urticaria, itching), flu-like syndrome (including muscle / headache, swelling of the lower extremities), enlargement of the parotid and submandibular salivary glands, severe intolerance reactions with shock and life-threatening symptoms (sometimes up to respiratory / cardiac arrest). In cases of development of reactions of intolerance, it is necessary to immediately interrupt the infusion and at the same time begin to carry out generally accepted emergency measures;
Lymphatic and hematopoietic system: very often - a decrease in hematocrit / plasma protein concentration due to hemodilution; often (depending on the administered dose) - a decrease in the concentration of blood clotting factors at relatively high doses of HES (a transient increase in bleeding / clotting time is possible);
Skin and subcutaneous fat: infrequently (with long-term daily administration of the drug in medium / high doses) - itching that is difficult to stop (it may appear several weeks after the end of treatment and persist for a long time);
Kidneys and urinary tract: rarely - pain in the kidney area (it is recommended to interrupt the infusion, to ensure sufficient intake of fluid in the body, to carry out frequent monitoring of the serum creatinine level); with an unknown frequency - impaired renal function;
Liver and biliary tract: with unknown frequency - liver damage;
Laboratory indicators: very often - an increase in the activity of serum amylase (due to the formation of a complex "HES-amylase", which is slowly excreted by the kidneys; it is not associated with the clinical manifestation of pancreatitis). It is possible to change such laboratory parameters as the concentration of fatty acids, protein, glucose, sorbitol dehydrogenase in blood plasma, cholesterol, biuret test, ESR, urine specific gravity.
special instructions
Refortan HES has no effect on the determination of the blood group by 10%.
It should be borne in mind that with too rapid administration and use of high doses, hemodynamics may be impaired.
During therapy, it is necessary to control the electrolyte composition of blood serum, to monitor sufficient intake of fluid (at least 2-3 liters per day), and to monitor the functional state of the kidneys. To prevent the occurrence of overhydration, which can lead to decompensation of heart failure in the presence of a history of heart disease, the BCC and cardiac activity should be monitored.
With a lack of fibrinogen, Refortan HES 10% can be used only in emergency cases, when the patient's life is in danger in the absence of donor blood components.
Due to the existing likelihood of anaphylactoid (allergic) reactions, careful monitoring of the patient's condition and the establishment of a low rate of drug administration is shown. Anaphylaxis symptoms can develop within minutes. The main symptoms: redness of the skin (a sudden rush of blood to the neck, face), severe itching, suffocation (in the form of a feeling of "lump in the throat"). The next stage is characterized by the appearance of nausea, abdominal cramps, tachycardia, arterial hypotension, which in some cases can lead to loss of consciousness, up to the cessation of cardiac activity and respiratory arrest.
With the development of intolerance reactions, it is necessary to immediately interrupt the introduction of Refortan HES 10% and take urgent measures.
In renal failure, as well as in patients who receive renal replacement therapy, the use of the drug is contraindicated. At the beginning of treatment, serum creatinine levels should be monitored. When the first signs appear, indicating the development of kidney disorders, therapy is canceled. There are reports of an increase in the need for renal replacement therapy after administration of the drug (up to 90 days; during this period it is recommended to monitor the state of renal function).
There is a relationship between the dose and the incidence of itching in otoneurological diseases (tinnitus, sudden hearing loss, sound trauma). Against the background of these diseases, it is recommended to limit the daily dose of Refortan HES 10% to 250 ml.
In severe hepatic impairment, the drug is not prescribed. Patients with mild / moderate severity, as well as with blood clotting disorders, Refortan HES 10% should be used with caution. Severe hemodilution should be avoided when treating hypovolemia. In cases of repeated administration of the drug, careful monitoring of blood coagulation parameters is required. The reason for discontinuation of the drug is the appearance of the first signs of coagulopathy.
Before prescribing Refortan HES, 10% of patients after trauma or surgery should assess the balance of benefit with uncertain long-term safety, since there is no long-term data confirming the safety and efficacy of the drug in this group of patients. It is recommended to consider the possibility of using other available therapeutic measures.
To reduce the likelihood of developing complications associated with hypervolemia from the kidneys and cardiovascular system, elderly patients who are most likely to have heart / renal failure need to carefully consider dose selection and control of the condition during treatment.
Drug interactions
When Refortan HES 10% is mixed with other drugs / substances in one container / system, pharmaceutical incompatibility may develop.
Before each administration, it is necessary to carefully (at least visually) monitor the compatibility of drugs, but this does not exclude cases of pharmacological / chemical interactions that cannot be detected visually.
With the combined use of Refortan HES 10% with aminoglycoside antibiotics, it is possible to potentiate the nephrotoxicity of the latter.
Analogs
Analogs of Refortan HES 10% are: Venofundin, Voluven, Gemohes, GETA-SORB, Infukol, Stabizol HES 6%, Volemkor, Volekam, Volekam HES-200, Hydroxyethyl starch 130 / 0.4, HydroxyethylStarch 200, Hydroxyethyl starch 200 Hydroxyethyl starch-Eskom, Infukol HES, ReoHES 130, ReoHES 200, Refortan HES 6%, HAES-steril.
Terms and conditions of storage
Keep out of reach of children at temperatures up to 25 ° C, do not freeze.
The shelf life is 5 years.
Terms of dispensing from pharmacies
Dispensed by prescription.
Information about the drug is generalized, provided for informational purposes only and does not replace the official instructions. Self-medication is hazardous to health!
Popular by topic