Table of contents: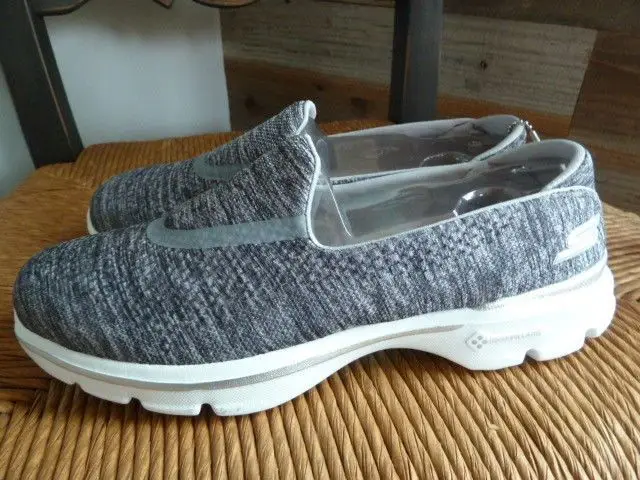 Video: Reslip - Instructions For Use, Reviews, Price, Tablet Analogs
Reslip
Reslip: instructions for use and reviews
1. Release form and composition
2. Pharmacological properties
3. Indications for use
4. Contraindications
5. Method of application and dosage
6. Side effects
7. Overdose
8. Special instructions
9. Application during pregnancy and lactation
10. Use in childhood
11. In case of impaired renal function
12. For violations of liver function
13. Use in the elderly
14. Drug interactions
15. Analogs
16. Terms and conditions of storage
17. Terms of dispensing from pharmacies
18. Reviews
19. Price in pharmacies
Latin name: Reslip
ATX code: R06AA09
Active ingredient: doxylamine (doxylamine)
Producer: JSC Pharmaceutical Enterprise "Obolenskoe" (Russia)
Description and photo updated: 22.11.2018
Prices in pharmacies: from 112 rubles.
Buy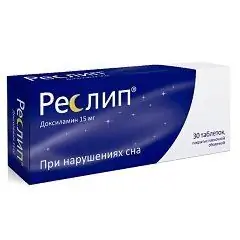 Reslip is a sleeping pill.
Release form and composition
Dosage form Reslip - film-coated tablets: almost white or white, oblong, with slightly rounded edges, biconvex, with a dividing line; on a cross section - a core from white to almost white (in a blister contour package 10, 14, 28 or 30 pcs., in a cardboard box 1, 2, 3 or 4 packages).
Composition of one tablet:
active substance: doxylamine succinate - 15 mg;
auxiliary components (core): lactose monohydrate, colloidal silicon dioxide (aerosil), microcrystalline cellulose, croscarmellose sodium, povidone, magnesium stearate;
shell: hydroxypropyl methylcellulose (hypromellose), polyethylene glycol 6000 (macrogol 6000), titanium dioxide.
Pharmacological properties
Pharmacodynamics
Doxylamine succinate is a histamine H1 receptor blocker from the ethanolamine group. It has m-anticholinergic, hypnotic, antihistamine and sedative effect.
Reslip helps to reduce the time to fall asleep, improve the quality and duration of sleep. Does not affect sleep phases.
The duration of action of doxylamine is 6-8 hours.
Pharmacokinetics
absorption and distribution: doxylamine succinate is absorbed in the gastrointestinal tract quickly and almost completely. The maximum concentration (C max) in blood plasma is reached on average 2 hours after oral administration. The substance has the ability to penetrate the blood-brain and histohematogenous barriers;
metabolism and excretion: doxylamine is metabolized in the liver, excreted unchanged by the kidneys (60%), partially excreted with feces. The half-life (T 1/2) is approximately 10 hours.
In patients with impaired renal and / or liver function, as well as in elderly patients (over 65 years old), T 1/2 may be lengthened.
In the case of repeated courses of therapy with doxylamine, C ss (equilibrium concentration) of the active substance and its metabolites in the blood plasma has a higher value and is reached later.
Indications for use
Indications for the use of Reslip are transient sleep disturbances.
Contraindications
Absolute:
angle-closure glaucoma (including family history);
diseases of the urethra and prostate gland, which are accompanied by disorders of the outflow of urine;
lactase deficiency, lactose intolerance, glucose-galactose malabsorption;
lactation period;
age up to 15 years;
hypersensitivity to doxylamine, any of the auxiliary ingredients of the drug, or to other antihistamines.
Relative (using Reslip requires caution):
dysfunction of the kidneys and / or liver (due to a possible increase in T 1/2);
a history of sleep apnea (since doxylamine can worsen sleep apnea syndrome);
age over 65 years (due to probable dizziness and slowing down of psychophysical reactions with the risk of falls, as well as due to a possible increase in T 1/2).
Instructions for use of Reslip: method and dosage
Reslip tablets are taken orally with a small amount of liquid, 15-30 minutes before bedtime.
The recommended dose is ½ to 1 tablet per day. If there is no effect, after a medical consultation, the dose may be increased to 2 tablets.
The duration of the course of treatment is from 2 to 5 days. If symptoms of sleep disturbance persist, seek medical attention.
Given the change in the pharmacokinetic parameters of Reslip in renal / hepatic insufficiency, as well as in patients over 65 years of age, a reduction in the dose of doxylamine is recommended in such patients.
Side effects
Possible side reactions from systems and organs:
digestive system: dry mouth, constipation;
cardiovascular system: palpitations;
organ of vision: blurred vision, visual impairment and accommodation;
nervous system: drowsiness in the morning and afternoon (while it is recommended to reduce the dose of the drug), confusion, hallucinations;
urinary system: urinary retention;
musculoskeletal system: rhabdomyolysis;
laboratory indicators: increased levels of creatine phosphokinase.
In case of aggravation of these side effects or the occurrence of any other undesirable reactions, it is necessary to inform a specialist about it.
Overdose
In case of an overdose of doxylamine, the following symptoms may occur: agitation, daytime drowsiness, mydriasis, dry mouth, accommodation disturbances, hyperthermia, flushing of the face and neck, anxiety, depression of mood, disturbance of consciousness, sinus tachycardia, impaired coordination of movements, athetosis, tremor, hallucinations, epileptic syndrome (convulsions), coma.
The severe degree of poisoning is evidenced by convulsions and involuntary movements, which sometimes occur in anticipation of them. Severe intoxication with doxylamine, even in the absence of seizures, can cause rhabdomyolysis syndrome, often accompanied by acute renal failure. It is recommended in such cases to conduct standard therapy with constant monitoring of the level of creatine phosphokinase.
If symptoms of poisoning occur, seek immediate medical attention.
In case of an overdose of doxylamine, symptomatic treatment is recommended: the introduction of m-cholinomimetics and other agents, as a first aid - the intake of activated carbon (for adults - 50 g, for children - 1 g / kg of body weight).
special instructions
When prescribing Reslip, it must be borne in mind that sleep disturbances can be caused by reasons for which there is no need to take histamine H1 receptor blockers, and the quality of sleep can be normalized using simpler methods.
It should be borne in mind that the drug has a sedative effect, inhibits cognitive abilities, and reduces the speed of psychomotor reactions. Like many hypnotics / sedatives, doxylamine can increase the duration and number of attacks of sleep apnea.
Information for patients with lapp lactase deficiency, congenital galactose intolerance and glucose-galactose malabsorption: one Reslip tablet contains 50 mg of lactose monohydrate.
Influence on the ability to drive vehicles and complex mechanisms
Since during the period of application of Reslip drowsiness is likely in the morning and daytime, you should refrain from driving vehicles, working with complex mechanisms and other activities that require a quick motor / mental reaction and increased attention.
Application during pregnancy and lactation
As a result of reliable and well-controlled studies, it has been established that doxylamine can be taken by pregnant women throughout the entire period of pregnancy.
During breastfeeding, the use of Reslip is contraindicated. If it is necessary to prescribe the drug during the lactation period, it is recommended to stop breastfeeding.
Pediatric use
According to the instructions, Reslip is contraindicated for children and adolescents under 15 years of age.
With impaired renal function
Doxylamine should be used with caution in patients with renal impairment.
In connection with a possible increase in the concentration of the active substance in the blood plasma and a decrease in plasma clearance in renal failure, a decrease in the dose of Reslip is required.
For violations of liver function
Patients with impaired liver function should take Reslip with caution. In such cases, a dose reduction of doxylamine is recommended.
Use in the elderly
Blockers of histamine H1 receptors should be carefully prescribed to patients over 65 years of age due to probable dizziness, delayed psychomotor reactions with the danger of falls (for example, during nighttime awakenings after taking the drug).
Drug interactions
The use of doxylamine concurrently with certain drugs can lead to the development of the following effects:
sedative antidepressants (mianserin, doxepin, amitriptyline, trimipramine, mirtazapine), barbiturates, benzodiazepines, clonidine, morphine derivatives (antitussive drugs, analgesics), antipsychotics, anxiolytics, histamine blockers with central B1-receptor antipsychotics, thaligenzidamide inhibitors, central antibacterial agents, pizotifen: increased inhibitory effect on the central nervous system;
imipramine antidepressants, atropine, antiparkinsonian drugs, disopyramide, atropine antispasmodics, phenothiazine antipsychotics and other m-anticholinergic drugs: increased risk of side effects such as dry mouth, constipation, urinary retention;
ethyl alcohol: enhances the sedative effect of most histamine H1 receptor antagonists, including doxylamine.
Analogs
Reslip's analogs are Donormil, Zolpidem, Imovan, Nitrazepam, Relaxon and others.
Terms and conditions of storage
Store in a dark, dry place at a temperature not exceeding 25 ° C.
Keep out of the reach of children.
Shelf life is 2 years.
Terms of dispensing from pharmacies
Dispensed by prescription.
Reviews about Reslip
Users in the reviews of Reslip report that the drug is quite effective, so it is advisable to take it in half a tablet and avoid a long course of treatment. In some cases, after the evening reception of Reslip the next day, drowsiness and dizziness occur.
Price for Reslip in pharmacies
The price of Reslip for a pack of 30 tablets is approximately 250 rubles.
Reslip: prices in online pharmacies
Drug name
Price
Pharmacy
Reslip 15 mg film-coated tablets 10 pcs.
112 RUB
Buy
Reslip tab. p.p. 15 mg 10 Pcs.
130 RUB
Buy
Reslip 15 mg film-coated tablets 30 pcs.
204 RUB
Buy
Reslip tablets p.o. 15mg 30 pcs.
243 r
Buy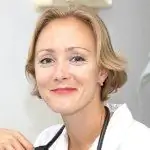 Anna Kozlova Medical journalist About the author
Education: Rostov State Medical University, specialty "General Medicine".
Information about the drug is generalized, provided for informational purposes only and does not replace the official instructions. Self-medication is hazardous to health!
Popular by topic