Table of contents: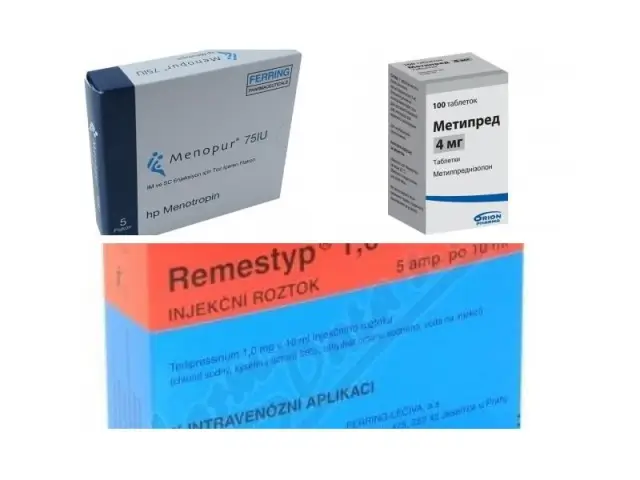 Video: Remestip - Instructions For Use, The Price Of Ampoules, Reviews, Analogues
Remestype
Remestipe: instructions for use and reviews
1. Release form and composition
2. Pharmacological properties
3. Indications for use
4. Contraindications
5. Method of application and dosage
6. Side effects
7. Overdose
8. Special instructions
9. Application during pregnancy and lactation
10. Use in the elderly
11. Drug interactions
12. Analogs
13. Terms and conditions of storage
14. Terms of dispensing from pharmacies
15. Reviews
16. Price in pharmacies
Latin name: Remestyp
ATX code: H01BA04
Active ingredient: terlipressin (Terlipressin)
Manufacturer: Ferring-Lechiva A. S. (Ferring-Leciva, as) (Czech Republic)
Description and photo update: 2019-10-12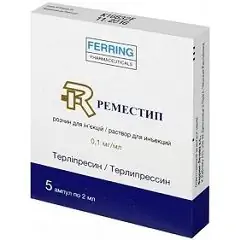 Remestype is an antihemorrhagic drug.
Release form and composition
Dosage form - solution for intravenous (i / v) administration: transparent, colorless (in a cardboard box 1 cell contour package, which contains 5 ampoules containing 2 or 10 ml of solution, and instructions for use of Remestip).
Composition of 1 ml solution:
active substance: terlipressin - 100 μg;
auxiliary components: water for injection, sodium acetate trihydrate, acetic acid, sodium chloride.
Pharmacological properties
Pharmacodynamics
Terlipressin, the active substance of the drug, is a synthetic polypeptide analogous to vasopressin (a hormone of the posterior pituitary gland).
Two changes were made to the natural vasopressin molecule - three glycine residues were attached to the amino group of the final cysteine, and arginine in the eighth position was replaced by lysine. Unlike vasopressin, the structural features of the terlipressin molecule are characterized by a more pronounced vasoconstrictor property against a background of reduced antidiuretic activity. The vasoconstrictor properties of Remestip are most clearly manifested in relation to the smooth muscles of the visceral organs, veins, venules and arterioles. This reduces blood flow through the liver and decreases portal pressure.
Through contraction of the smooth muscles of the intestine, terlipressin causes an increase in its peristalsis and an increase in tone. The drug stimulates contractions of the myometrium.
Pharmacokinetics
The pharmacokinetics of terlipressin after intravenous administration is described by means of a two-chamber model. The metabolism of the substance is carried out in the kidneys, liver and other tissues with the formation of active metabolites. The action of Remestip develops more slowly than the action of lysine-vasopressin, but it is more prolonged.
The therapeutic concentration of active metabolites begins to be determined in the blood after half an hour after drug administration and reaches a maximum after 1–2 hours.
The half-life of the drug is approximately 40 minutes, the clearance is approximately 9 ml per 1 kg per minute, the volume of distribution is 0.5 liters per 1 kg.
Indications for use
type 1 hepatorenal syndrome;
bleeding that develops during operations on the pelvic organs;
bleeding from the gastrointestinal tract (stomach and duodenal ulcer, esophageal varices);
uterine bleeding (dysfunctional, with abortion or childbirth).
Contraindications
Absolute:
epilepsy;
toxicosis during pregnancy;
I trimester of pregnancy;
period of breastfeeding;
individual intolerance to the components of the drug.
Relative (Remestip is prescribed under medical supervision):
cardiac ischemia;
unstable angina;
recent acute myocardial infarction;
severe arterial hypertension;
septic shock with low cardiac output;
heart rhythm disturbances;
bronchial asthma;
pregnancy over 12 weeks (an assessment of the appropriateness of using the drug should be carried out by a doctor in each case);
advanced age (over 70).
Remestip, instructions for use: method and dosage
Remestip solution in ampoules is administered intravenously in the form of short infusions or bolus injections.
Recommended dosage regimen:
bleeding from the gastrointestinal tract (stomach and duodenal ulcers, esophageal varices): 10 ml (1000 μg) of the solution is injected at intervals of 4 to 6 hours until the bleeding stops, and then for another next 3-5 days. In order to prevent repeated bleeding, drug withdrawal is carried out only after complete absence of bleeding for 24–48 hours. Remestip can be used to provide first aid if bleeding from the gastrointestinal tract is suspected;
bleeding that occurred during operations on the abdominal cavity and small pelvis: intravenous drip or jet from 2 to 10 ml (200 to 1000 mcg) solution every 4-6 hours (depending on the activity of tissue endopeptidases);
uterine bleeding (dysfunctional, with termination of pregnancy or childbirth): 4 ml (400 μg) of Remestip is added to 6 ml of 0.9% sodium chloride solution. The resulting solution is injected paracervically and / or intracervically 5-10 minutes before the operation. The dose can be decreased or increased if necessary;
juvenile uterine bleeding: the dose is set in the range of 5–20 μg of solution per 1 kg of the patient's body weight;
hepatorenal syndrome type 1: 10 ml (1000 mcg) 3 to 4 times a day. Therapy can be continued until the plasma creatinine level reaches normal values (less than 130 μmol per 1 L). On average, it lasts for 10 days. In cases where the creatinine level does not decrease by more than 30% over 3 days, further use of the drug is inappropriate.
Side effects
During the period of application of Remestip, diarrhea, nausea, headache, abdominal pain, bradycardia, pallor of the skin, increase intestinal peristalsis up to abdominal colic and blood pressure most often.
In rare cases, shortness of breath, local necrosis at the injection site, heart failure, and myocardial infarction are noted.
Overdose
The main symptoms: severe hemodynamic disturbances (bradycardia, arterial hypertension) are possible when more than 20 ml (2000 μg) of the drug are administered over 4 hours. The recommended dose must not be exceeded.
Therapy: the appointment of clonidine (clonidine) to relieve arterial hypertension, the introduction of atropine when bradycardia appears.
special instructions
When administering a solution, especially at an increased dose (800 μg or more), it is important to monitor urine output, heart rate and blood pressure. This is of particular importance for elderly patients and patients with heart pathologies or arterial hypertension.
With extreme caution, Remestip should be used in elderly patients with bronchial asthma, heart rhythm disturbances, severe arterial hypertension and coronary heart disease.
The drug does not replace measures aimed at restoring the volume of circulating blood in case of bleeding.
In order to prevent the risk of developing local necrosis, the solution should not be injected intramuscularly. Remestype at a dose of 500 mcg or more should be administered strictly intravenously.
Application during pregnancy and lactation
Remestype in the first trimester of pregnancy and during lactation is not prescribed.
The use of terlipressin leads to an increase in the contractile activity of the myometrium and a decrease in blood flow in the uterus. For pregnancies over 12 weeks, an assessment should be made of the appropriateness of its use on a case-by-case basis.
Due to the lack of information regarding the possible release of terlipressin into breast milk, if it is necessary to use Remestip in such cases, breastfeeding is stopped.
Use in the elderly
The drug is used with extreme caution in elderly patients.
Drug interactions
Possible interactions of terlipressin with other substances / drugs:
oxytocin, methylergometrine: their vasoconstrictor and uterotonic action is enhanced;
non-selective beta-blockers: their antihypertensive effect is enhanced;
drugs that slow down the heart rate: development of severe bradycardia is possible.
Analogs
The analogue of Remestip is Octreotide.
Terms and conditions of storage
Store in a place protected from light and moisture at a temperature of 2 to 8 ° C. For 1 month, the solution can be stored at temperatures up to 25 ° C (for example, in an ambulance). Keep out of the reach of children.
Shelf life is 2 years.
Terms of dispensing from pharmacies
Dispensed by prescription.
Reviews about Remestipe
There are few reviews of Remestipe, testifying to its effectiveness.
Price for Remestip in pharmacies
The approximate price for Remestip in ampoules (in a package of 5 pcs. 10 ml of solution) is 9990-10,500 rubles.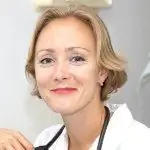 Anna Kozlova Medical journalist About the author
Education: Rostov State Medical University, specialty "General Medicine".
Information about the drug is generalized, provided for informational purposes only and does not replace the official instructions. Self-medication is hazardous to health!
Popular by topic