Table of contents: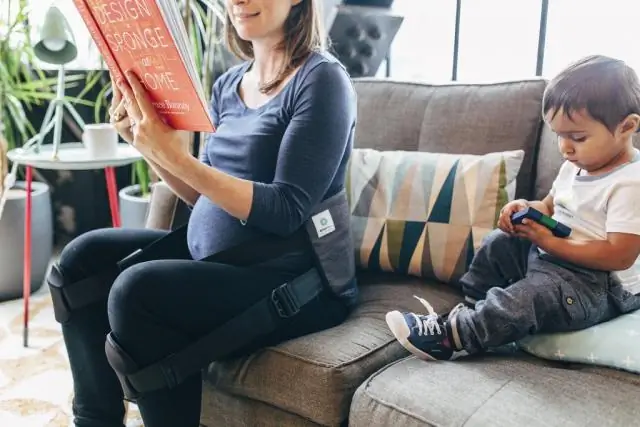 Video: Relief Ultra - Instructions For Use, Price, Reviews, Analogues
Relief Ultra
Relief Ultra: instructions for use and reviews
1. Release form and composition
2. Pharmacological properties
3. Indications for use
4. Contraindications
5. Method of application and dosage
6. Side effects
7. Overdose
8. Special instructions
9. Application during pregnancy and lactation
10. Drug interactions
11. Analogs
12. Terms and conditions of storage
13. Terms of dispensing from pharmacies
14. Reviews
15. Price in pharmacies
Latin name: Relief Ultra
ATX code: C05AA01
Active ingredient: hydrocortisone (Hydrocortisonum)
Manufacturer: Sagmel, Inc. (USA), Istituto De Angeli (Italy)
Description and photo update: 2018-22-10
Prices in pharmacies: from 495 rubles.
Buy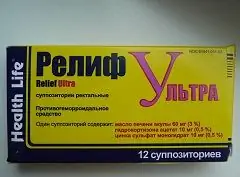 Relief Ultra is a local preparation with a regenerating, glucocorticoid, anti-inflammatory effect.
Release form and composition
Dosage form of Relief Ultra - rectal suppositories: opaque, from light yellow to pale yellow, torpedo-shaped, with a fish smell (6 pcs. In blisters, in a cardboard box 2 blisters).
Active ingredients in 1 suppository:
hydrocortisone acetate - 10 mg;
zinc sulfate monohydrate - 11 mg.
Auxiliary components: shark liver oil - 60 mg; cocoa bean butter - 1914.2 mg; propyl parahydroxybenzoate - 0.4 mg; methyl parahydroxybenzoate - 0.4 mg; anhydrous calcium hydrogen phosphate - 2 mg; magnesium stearate - 2 mg.
Pharmacological properties
Pharmacodynamics
Hydrocortisone acetate is a steroid hormone of the adrenal cortex that inhibits the release of inflammatory mediators. When applied topically, it has anti-inflammatory, desensitizing, anti-allergic, antipruritic and vasoconstrictor effects.
Zinc sulfate promotes the healing of erosions and wounds.
Indications for use
proctitis;
hemorrhoids (internal and external);
cracks, erosion of the anus;
dermatitis / eczema of the perianal area;
anal itching.
Contraindications
Absolute:
neoplasms of the anorectal zone;
infections of bacterial, fungal, viral etiology in the area of application of the drug;
Itsenko-Cushing's syndrome;
tuberculosis;
hypernatremia;
severe diabetes mellitus;
pregnancy and the period of breastfeeding;
individual intolerance to the components of the drug.
Relative (diseases / conditions in the presence of which Relief Ultra can be prescribed only for strict medical indications in cases where the expected effect is higher than the potential risk of side effects or complications of the underlying disease):
hypertension in severe form;
immunodeficiency states;
heart rhythm disturbances;
diabetes mellitus and other endocrine pathologies;
osteoporosis.
Instructions for use of Relief Ultra: method and dosage
Relief Ultra is administered rectally after hygiene procedures.
Single dose - 1 suppository, frequency of application - up to 4 times a day.
Side effects
Itching and hyperemia (local allergic reactions) are possible.
Overdose
In medical practice, information about an overdose of the drug, which poses a danger to the patient's life, is not provided.
It is assumed that with prolonged use in large doses, the development of the same consequences is possible as with the systemic use of excessive doses of glucocorticosteroids: hypernatremia, hyperglycemia, Itsenko-Cushing's syndrome, ulcers and erosion of the gastrointestinal tract, suppression of immunity, osteoporosis, etc. in such cases, it is shown to cancel the drug and carry out conventional symptomatic and detoxification therapy.
special instructions
There is no information.
Application during pregnancy and lactation
According to the instructions, Relief Ultra is not prescribed during pregnancy and lactation.
Drug interactions
There is no information.
Analogs
Relief Ultra analogs are Relief Pro, Ultraproject, Deep Relief, Relief, Posterisan Forte, Relief Advance, etc.
Terms and conditions of storage
Store at temperatures up to 25 ° C. Keep out of the reach of children.
Shelf life is 2 years.
Terms of dispensing from pharmacies
Available without a prescription.
Reviews about Relief Ultra
According to reviews, Relief Ultra usually has a quick and lasting effect on hemorrhoids. The absence of side reactions and the small size of the suppositories are also noted. However, in many cases, it is reported that the drug only relieves symptoms or is ineffective at all.
Price for Relief Ultra in pharmacies
The approximate price for Relief Ultra (12 pcs per pack) is 470-540 rubles.
Relief Ultra: prices in online pharmacies
Drug name
Price
Pharmacy
Relief Ultra rectal suppositories 12 pcs.
495 RUB
Buy
Relief Ultra suppositories rectal. 12 pcs.
509 RUB
Buy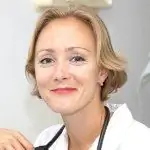 Anna Kozlova Medical journalist About the author
Education: Rostov State Medical University, specialty "General Medicine".
Information about the drug is generalized, provided for informational purposes only and does not replace the official instructions. Self-medication is hazardous to health!
Popular by topic