Table of contents: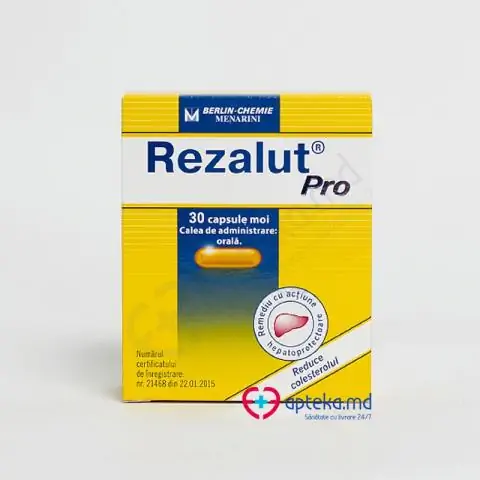 Video: Rezalut Pro - Instructions For The Use Of Capsules, Price, Reviews, Analogues
Rezalut Pro
Latin name: Rezalut Pro
ATX code: A05C
Active ingredient: Phospholipids (Phospholipids)
Manufacturer: RPScherer (Germany)
Description and photo update: 19.10.2018
Prices in pharmacies: from 410 rubles.
Buy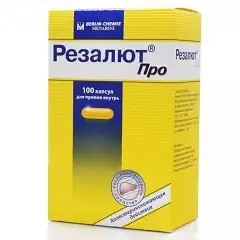 Rezalut Pro is a hepatoprotective drug.
Release form and composition
Dosage form Rezalyut Pro - capsules: colorless, gelatinous, oblong, transparent; inside capsules - a liquid with a viscous structure, color from brown-yellow to golden-yellow (10 pcs. in a blister, in a cardboard box of 1, 3 or 5 blisters; 20 pcs. in a blister, in a cardboard box 5 blisters).
1 capsule contains:
active ingredients: Lipoid PPL 600 - 600 mg, which consists of polyunsaturated phospholipids from soy lecithin - 300 mg; glycerol mono- or dialconate (C14-C18) - 120 mg; medium chain triglycerides - 40.5 mg; purified soybean oil - 138.5 mg; alpha-tocopherol - 1 mg;
excipient: refined soybean oil;
capsule shell composition: glycerol 85%, gelatin.
Pharmacological properties
Pharmacodynamics
The hepatoprotective effect of Rezalyut Pro determines the acceleration of the process of regeneration of liver cells and stabilization of cell membranes, inhibition of the oxidative process of lipids, suppression of collagen synthesis in the liver. The effect of the drug is determined by the extract of soy phospholipids. It contains about 76% phosphatidylcholine and phosphoglycerides, and linoleic acid predominates among fatty acids. The drug lowers cholesterol levels, normalizes lipid metabolism.
Pharmacokinetics
Phosphatidylcholine, after its breakdown in the intestine to lyso-phosphatidylcholine, is absorbed mainly in an unchanged form. Its partial resynthesis to phospholipid occurs in the intestinal wall and enters the circulatory bed through the lymphatic vessels. Some of the lyso-phosphatidylcholine is degraded to choline, fatty acids and glycerol-3-phosphate in the liver.
Phosphoglycerides, including phosphatidylcholine, strongly bind in plasma with albumin and / or lipoproteins.
Most of the accepted soy phospholipids in the form of metabolites combine with the body's phospholipids within a few hours and are excreted similarly to the excretion of its own phospholipids or their metabolites.
Indications for use
fatty liver degeneration of various etiologies;
toxic liver damage;
chronic hepatitis;
cirrhosis of the liver;
hypercholesterolemia, with the ineffectiveness of non-drug measures: diet, physical activity, weight loss.
Contraindications
antiphospholipid syndrome;
breast-feeding;
hypersensitivity to phospholipids, soy, peanuts and other components of the drug.
According to the instructions, Rezalut Pro should be used with caution to treat children under 12 years of age and pregnant women.
Instructions for use Rezalut Pro: method and dosage
Capsules are taken orally, before meals, swallowing whole (without violating the integrity of the shell) and drinking the required amount of liquid.
Recommended dosage: 2 pcs. 3 times a day. The duration of the course depends on the individual clinical indications.
Side effects
from the digestive system: sometimes - diarrhea, discomfort in the epigastric region;
on the part of the hematopoietic system: extremely rarely - petechial rash, in women - breakthrough bleeding;
allergic reactions: rarely - skin rash, urticaria.
Overdose
Overdose symptoms of Rezalyut Pro have not been established.
special instructions
Patients with diabetes should take into account the content of carbohydrates in one capsule, it corresponds to less than 0.1 XE (bread units).
Application during pregnancy and lactation
During pregnancy, the use of Rezalut Pro is indicated in the exceptional case when the expected therapeutic effect of the treatment for the mother exceeds the possible threat to the fetus.
During lactation, breastfeeding should be discontinued for the entire period of taking the drug.
Pediatric use
Caution should be exercised when treating children under 12 years of age.
Drug interactions
If necessary, the simultaneous use of phenprocoumon, warfarin and other coumarin anticoagulants requires careful selection of doses of each drug.
Analogs
Rezalut Pro analogues are: Essentiale, Brenziale, Lipoid, Livolife, Fosfontsiale, Essliver.
Terms and conditions of storage
Keep out of the reach of children.
Store at temperatures up to 25 ° C.
Shelf life is 2 years.
Terms of dispensing from pharmacies
Available without a prescription.
Reviews about Resalute Pro
Reviews of Rezalut Pro are only positive, patients and doctors emphasize the pronounced therapeutic effect of the drug with almost complete absence of negative side reactions.
Price for Rezalut Pro in pharmacies
The price of Rezalut Pro for 30 capsules is approximately 550 rubles, for 50 capsules - from 640 rubles.
Rezalut Pro: prices in online pharmacies
Drug name
Price
Pharmacy
Rezalut Pro 300 mg capsules 30 pcs.
410 RUB
Buy
Rezalut Pro 300 mg capsules 100 pcs.
1171 RUB
Buy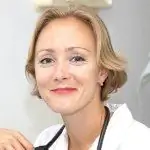 Anna Kozlova Medical journalist About the author
Education: Rostov State Medical University, specialty "General Medicine".
Information about the drug is generalized, provided for informational purposes only and does not replace the official instructions. Self-medication is hazardous to health!
Popular by topic