Table of contents: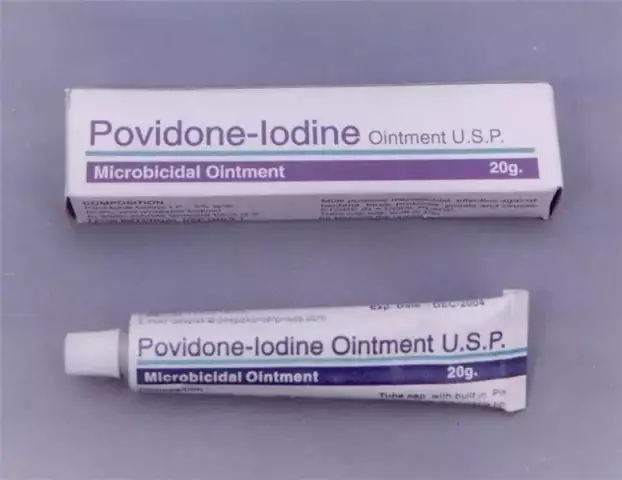 Video: Rederm - Instructions For Using The Ointment, Price, Reviews, Analogues
Rederm
Rederm: instructions for use and reviews
1. Release form and composition
2. Pharmacological properties
3. Indications for use
4. Contraindications
5. Method of application and dosage
6. Side effects
7. Overdose
8. Special instructions
9. Application during pregnancy and lactation
10. Use in childhood
11. For violations of liver function
12. Drug interactions
13. Analogs
14. Terms and conditions of storage
15. Terms of dispensing from pharmacies
16. Reviews
17. Price in pharmacies
Latin name: Rederm
ATX code: D07XC01
Active ingredient: Betamethasone + Salicylic acid (Betamethasone + Salicylic acid)
Manufacturer: Altayvitamins (Russia), VERTEX, CJSC (Russia)
Description and photo update: 2018-25-10
Prices in pharmacies: from 145 rubles.
Buy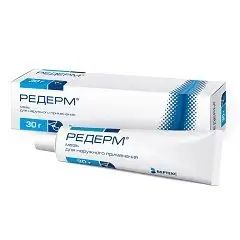 Rederm is an external drug with antiallergic, antipruritic, keratolytic, local anti-inflammatory effect.
Release form and composition
The dosage form of Rederm is an ointment for external use: homogeneous, translucent, almost white (in aluminum tubes of 5, 15 or 30 g, in a cardboard box 1 tube).
Active substances in the composition of 100 mg ointment:
betamethasone - 0.05 mg (betamethasone dipropionate - 0.064 mg);
salicylic acid - 3 mg.
Auxiliary components: liquid paraffin - 40 mg, petroleum jelly - up to 100 mg.
Pharmacological properties
Pharmacodynamics
Rederm is one of the combined preparations for external use. It has anti-inflammatory, anti-allergic, antipruritic, keratolytic action, which is due to the properties of its active ingredients:
betamethasone: helps to prevent the marginal accumulation of neutrophils, inhibit the release of inflammatory mediators, reduce inflammatory exudate and cytokine production, reduce the migration of macrophages, which leads to a decrease in granulation and infiltration processes;
salicylic acid: promotes deeper penetration of betamethasone, and also removes horny layers and softens the skin.
Indications for use
Rederm is prescribed for the treatment of subacute and chronic dermatoses, which are accompanied by desquamation and hyperkeratosis:
psoriasis;
lichen planus;
dyshidrotic dermatitis;
simple chronic lichen (limited neurodermatitis);
neurodermatitis;
dermatoses that do not respond to treatment with other glucocorticosteroids (especially verrucous lichen);
eczema;
dyshidrosis of the skin;
exudative erythema multiforme;
ichthyosis skin lesions and ichthyosis;
atopic dermatitis;
simple and allergic dermatitis;
diffuse neurodermatitis;
hives.
Contraindications
Absolute:
open wounds;
skin diseases of bacterial, viral and fungal etiology (sporotrichosis, skin tuberculosis, pyoderma, syphilis, herpes, blastomycosis, actinomycosis, chickenpox);
trophic ulcers against the background of chronic venous insufficiency;
post-vaccination skin reactions;
rosacea;
perioral dermatitis;
skin tumors (skin cancer, epithelioma, xanthoma, hemangioma, atheroma, nevus, melanoma, sarcoma);
age up to 2 years;
lactation period;
individual intolerance to any component of the drug.
Relative (Rederm is prescribed under medical supervision):
liver failure;
long-term therapy, especially with the use of occlusive dressings;
age 2-18 years;
pregnancy.
Instructions for use of Rederm: method and dosage
Rederm is applied externally. The ointment is applied in a thin layer, lightly rubbing, 2 times a day on the affected areas of the skin at the rate of a column of ointment 5 mm long on a skin area of approximately 7 × 7 cm. Based on the severity of the disease, the doctor can correct the application scheme (in mild cases, the ointment is applied once a day, in severe cases - more than twice a day).
Occlusive dressings may be applied if necessary and should be changed once a day.
The duration of therapy is determined by the effectiveness and tolerability of Rederm, on average it is 2-4 weeks. If there is no improvement, the diagnosis should be clarified.
Side effects
Possible dermatological reactions: hypertrichosis, acne-like rashes, burning, dryness, itching of the skin, dermatitis, folliculitis, irritation, hypopigmentation.
Other possible violations that can be associated with various reasons:
the use of occlusive dressings: skin atrophy, prickly heat, stretch marks, skin maceration, secondary infection;
application to large surfaces: systemic manifestations of side effects of glucocorticosteroids (growth retardation, glucosuria, Itsenko-Cushing's syndrome, hyperglycemia, increased intracranial pressure after the end of treatment, hypokalemia, increased blood pressure) or salicylates (hearing impairment, pallor, increased fatigue, drowsiness, hyperventilation against the background of tachypnea, vomiting, nausea, confusion);
long-term use: telangiectasia, local hirsutism, skin atrophy, purpura, hypertrichosis, hypopigmentation.
Overdose
Acute overdose of Rederm is unlikely, however, with prolonged / excessive use, it is possible to develop a chronic overdose, accompanied by signs of hypercortisolism in the form of reversible suppression of the function of the adrenal cortex, manifestations of Cushing's syndrome, glucosuria, hyperglycemia.
Therapy: symptomatic. In case of chronic toxic effects, a gradual cancellation of Rederm is recommended.
special instructions
Do not apply the ointment to the mucous membranes and skin near the eyes. Avoid getting Rederm in the eyes (it is not intended for use in ophthalmology).
Systemic absorption of the drug is possible during a long course, applying ointment to large areas of the skin, using occlusive dressings.
Rederm is most suitable for patients with fragile and dry skin.
Prolonged use on the face is not recommended as it can lead to perioral dermatitis, rosacea-type dermatitis, acne and skin atrophy. Application to the anogenital area should be avoided.
If there are signs of skin irritation or hypersensitivity associated with the use of the ointment, therapy should be discontinued.
After a long course, the drug should be withdrawn gradually.
Application during pregnancy and lactation
pregnancy: Rederm may be prescribed with caution after assessing the benefit / risk ratio; do not carry out long-term treatment / use the drug in high doses;
period of breastfeeding: therapy is contraindicated.
Pediatric use
up to 2 years: therapy is contraindicated;
2-18 years: Rederm can be prescribed only under medical supervision according to strict indications and for the shortest possible course, which is associated with the likelihood of systemic side effects associated with betamethasone. If the drug is used on large areas and / or under an occlusive dressing, symptoms of hypercortisolism, suppression of the function of the hypothalamic-pituitary-adrenal system, increased intracranial pressure, and decreased excretion of growth hormone are possible.
For violations of liver function
According to the instructions, Rederm with hepatic failure should be prescribed with caution.
Drug interactions
There are no data on the interaction of Rederm with other drugs / substances.
Analogs
Rederm's analogues are: Akriderm SK, Diprosalik, Belosalik, Betaderm A, Betasal.
Terms and conditions of storage
Store in a place protected from light and moisture at temperatures up to 25 ° C. Keep out of the reach of children.
Shelf life is 2 years.
Terms of dispensing from pharmacies
Available without a prescription.
Reviews about Rederme
Reviews about Rederm are different. In some cases, it can help relieve the symptoms of psoriasis (flaking, itching, and redness). The effect lasts for a long time. They also indicate that the ointment is easy to apply to the skin and is quickly absorbed. In other cases, it is noted that Rederm does not have a therapeutic effect and can cause side effects of varying severity.
Price for Rederm in pharmacies
The approximate price for Rederm (1 tube of 15 or 30 g) is 120–159 or 188–254 rubles.
Rederm: prices in online pharmacies
Drug name
Price
Pharmacy
Rederm ointment for external use 15 g 1 pc.
RUB 145
Buy
Rederm ointment tube 15g
195 RUB
Buy
Rederm ointment for external use 30 g 1 pc.
227 r
Buy
Rederm ointment tube 30g
RUB 315
Buy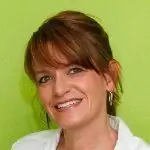 Maria Kulkes Medical journalist About the author
Education: First Moscow State Medical University named after I. M. Sechenov, specialty "General Medicine".
Information about the drug is generalized, provided for informational purposes only and does not replace the official instructions. Self-medication is hazardous to health!
Popular by topic