Table of contents: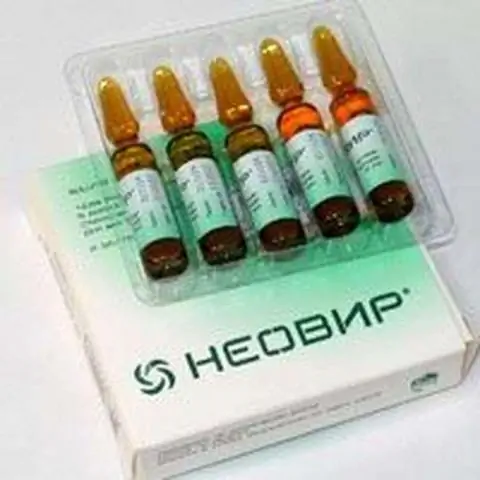 Video: Neovir In Ampoules - Instructions For Use, Reviews, Analogues, Price
Neovir
Neovir: instructions for use and reviews
1. Release form and composition
2. Pharmacological properties
3. Indications for use
4. Contraindications
5. Method of application and dosage
6. Side effects
7. Special instructions
8. Drug interactions
9. Analogs
10. Terms and conditions of storage
11. Terms of dispensing from pharmacies
12. Reviews
13. Price in pharmacies
Latin name: Neovir
ATX code: L03A
Active ingredient: Cridanimod (Cridanimod)
Producer: Pharmsintez CJSC (Russia)
Description and photo update: 2019-12-08
Prices in pharmacies: from 566 rubles.
Buy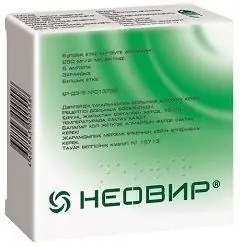 Release form and composition
It is produced in the form of a solution for intramuscular administration: transparent, greenish-yellow in color (2 ml in ampoules made of dark glass, 5 ampoules in blisters, in a cardboard box 1 package).
Solution composition:
Active ingredient: sodium oxodihydroacridinyl acetate, in 1 ml - 125 mg;
Excipients: water for injection, citric acid, sodium citrate.
Pharmacological properties
Pharmacodynamics
Neovir is characterized by antiviral action against DNA and RNA genomic viruses, as well as a pronounced anti-Chlamydial action.
The use of Neovir leads to a rapid increase in the titers of endogenous interferons a, p, y, mainly interferon a. Intramuscular injection of 250 mg of Neovir, based on serum concentrations of interferon, is equivalent to the intake of 6-9 million IU of recombinant interferon a into the body. The maximum activity of interferons in the blood is recorded after 1.5–2 hours and persists for 16–20 hours after drug administration. As a result, a cascade of immune reactions is activated in the body, associated with the destruction and elimination of pathogens and cells affected by them. In cells that produce interferon, the ability to intensively produce interferon appears in response to re-induction caused by a pathological agent. This property remains unchanged for a long period of time after Neovir is discontinued.
The immunomodulatory effect is explained by the ability of the drug to activate hematopoietic stem cells, stimulate the effector links of the immune system, and normalize the balance of T-lymphocyte subpopulations. Neovir significantly enhances the functional activity of polymorphonuclear leukocytes and macrophages, stimulating their phagocytic activity and migration.
The drug corrects tissue growth: increases the activity of NK cells, enhances any form of cytotoxicity, promotes the regeneration of cell adhesion, inhibits their metastatic and proliferative activity.
Pharmacokinetics
When administered intramuscularly, the bioavailability of the drug exceeds 90%. After injection of 100-500 mg of Neovir, the maximum plasma level is determined after 15-30 minutes and is equal to 8.3 μg / ml. 5 hours after the introduction into the body, only insignificant concentrations of the drug are recorded, and after 6 hours its traces in the blood plasma are not detected.
Neovir is excreted through the kidneys unchanged without participating in metabolic processes. The half-life is 1 hour.
15-30 minutes after the introduction of Neovir in the blood plasma titers of endogenous interferons, mainly early interferon a, begin to increase. Found 2 peaks in the concentration of interferon a in plasma: 70 IU / ml after 1.5-2 hours and 110 IU / ml after 8-10 hours, after which the level of the substance begins to gradually decrease. After 24 hours, the level of endogenous interferons remains high enough and returns to the initial values only 46–48 hours after administration.
Indications for use
According to the instructions, Neovir is used as part of a combination therapy for the following diseases:
Radiation immunodeficiency;
Cytomegalovirus infection in immunocompromised patients;
Acute and chronic hepatitis B and C;
Encephalomyelitis and encephalitis of viral etiology;
Oncological diseases;
Lymphogranuloma venereum;
Epididymitis, urethritis, prostatitis, salpingitis and cervicitis of chlamydial etiology;
HIV infection;
Multiple sclerosis;
Infections caused by herpes simplex virus types 1 and 2, as well as the Varicella-Zoster virus (including in patients with impaired immune system);
Candidiasis of the skin and mucous membranes;
Influenza and other acute respiratory diseases, including in persons with immunodeficiency conditions (treatment and prevention).
Contraindications
Autoimmune diseases;
Severe renal failure (creatinine clearance less than 30 ml / minute);
Childhood;
Pregnancy;
Lactation;
Hypersensitivity to drug components.
Elderly patients should be especially careful during treatment.
Instructions for use of Neovir: method and dosage
The drug is intended for intramuscular administration.
A single dose is 250 mg (1 ampoule) or 4-6 mg / kg of body weight. If necessary, it is increased, but not more than up to 500 mg.
Unless otherwise prescribed by the doctor, the course of treatment consists of 5-7 injections with an interval of 48 hours and is 8-12 days. The total course dose depends on the clinical picture of the disease.
With prolonged and prophylactic use, the drug is administered 1 time in 3-7 days.
For HIV infections, Neovir is prescribed as part of complex therapy. The course of treatment in this case consists of 10 injections of 250 mg at intervals of 48 hours. The number of courses is unlimited, subject to 2-month breaks between courses.
Side effects
Local reactions: transient soreness at the injection site;
Others: allergic reactions, low-grade fever.
special instructions
In case of pain at the injection site or poor tolerance of the drug, Neovir is recommended to be administered together with a 0.25-0.5% solution of novocaine (2 ml).
In case of violation of the storage conditions of the drug, the solution may become cloudy to a milky white color. You cannot use it in this form!
Influence on the ability to drive vehicles and complex mechanisms
The negative impact of Neovir on the ability to drive a car and other vehicles, work with moving mechanisms, fulfill the duties of a dispatcher and operator, as well as perform other types of work that require increased concentration and concentration of attention has not been proven.
Drug interactions
There is no information on the physicochemical incompatibility of sodium oxodihydroacridinyl acetate with other drugs.
During clinical studies and practice of using the drug, not a single case of incompatibility and potentiation of the effects was recorded while using Neovir with other drugs.
Analogs
Neovir analogs are: Alokin-alpha, Arbivir, Arbidol, Vilozen, Galavit, Gepon, Glutoxim, Zadaksin, Isofon, Immunomax, Immunoflazid, Lavomax, Lynchi, Nucleinat, Polyoxidonium, Primavir, Simbioflorsk, Timanalin, Tsikhinalis Echinacea rhizomes, Echinacea tincture, Echinacea.
Terms and conditions of storage
Keep out of reach of children, protected from sunlight and moisture, at a temperature of 15-25 ˚С.
The shelf life is 3 years.
Terms of dispensing from pharmacies
Dispensed by prescription.
Reviews about Neovir
Numerous reviews about Neovir are mostly favorable. Many patients mention that drug treatment has given excellent results in infectious diseases and herpes. He has also proven itself well in the treatment of many diseases of the genitourinary system. However, some patients complain of excessive pain in the injections. In some cases, you can't even make them yourself.
According to doctors, in a number of cases, Neovir proved to be ineffective as an element of combination therapy for chlamydial and urogenital infections. It is not recommended to combine it with antibiotics, as it is predominantly a maintenance drug. Sometimes, when using the drug, allergic reactions occur. Also, it should be used strictly in accordance with the scheme prescribed by the doctor.
The price of Neovir in pharmacies
On average, the price of Neovir for a package containing 3 ampoules of solution for intramuscular administration varies from 597 to 718 rubles. You can order a package of the drug containing 5 ampoules for 1039-1165 rubles.
Neovir: prices in online pharmacies
Drug name
Price
Pharmacy
Neovir 125 mg / ml solution for intramuscular injection 2 ml 3 pcs.
566 r
Buy
Neovir 125 mg / ml solution for intramuscular injection 2 ml 5 pcs.
RUB 677
Buy
Neovir solution for in. 125mg / ml 2ml 5 pcs.
1154 RUB
Buy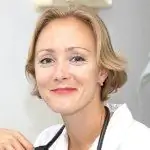 Anna Kozlova Medical journalist About the author
Education: Rostov State Medical University, specialty "General Medicine".
Information about the drug is generalized, provided for informational purposes only and does not replace the official instructions. Self-medication is hazardous to health!
Popular by topic