Table of contents: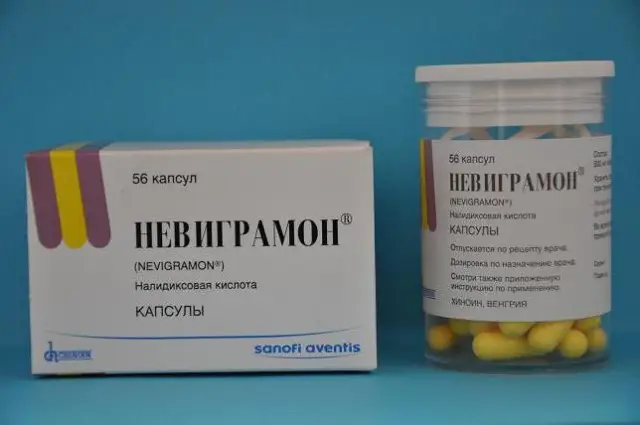 Video: Nevigramon - Instructions For Use, Price, Reviews, Capsule Analogues
Nevigramon
Nevigramon: instructions for use and reviews
1. Release form and composition
2. Pharmacological properties
3. Indications for use
4. Contraindications
5. Method of application and dosage
6. Side effects
7. Overdose
8. Special instructions
9. Application during pregnancy and lactation
10. Use in childhood
11. In case of impaired renal function
12. For violations of liver function
13. Use in the elderly
14. Drug interactions
15. Analogs
16. Terms and conditions of storage
17. Terms of dispensing from pharmacies
18. Reviews
19. Price in pharmacies
Latin name: Nevigramon
ATX code: J01MB02
Active ingredient: nalidixic acid (nalidixic acid)
Manufacturer: Hinoin Pharmaceutical and Chemical Products Plant A. O. (Hungary)
Description and photo updated: 2019-27-08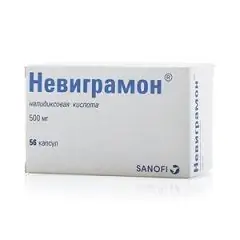 Nevigramone is a uro-antiseptic of the quinolone group with a pronounced antibacterial effect on gram-negative bacteria.
Release form and composition
Dosage form - capsules: gelatinous, size No. 0, solid opaque structure, with a yellow body and lid, inside the capsules - powder from white with a yellow tint to white (56 pcs. In polystyrene bottles, in a cardboard box 1 bottle and instructions on the use of Nevigramon).
The active ingredient is nalidixic acid, in 1 capsule - 0.5 g.
Auxiliary components: stearic acid, colloidal silicon dioxide.
The composition of the capsule shell: titanium dioxide (E171), quinoline yellow dye (E104), gelatin, sunset yellow dye (E110).
Pharmacological properties
Pharmacodynamics
The active ingredient of Nevigramon is nalidixic acid, which has a pronounced antibacterial activity against gram-negative bacteria, including Enterobacter (Aerobacter), Escherichia coli, Klebsiella, P. morganii, Proteus mirabilis, P.rettgeri, P. vulgaris. Pseudomonas strains are usually resistant to the drug.
The mechanism of action of nalidixic acid is explained by the selective suppression of the synthesis of bacterial DNA (deoxyribonucleic acid). Depending on the concentration of the drug and the sensitivity of the microorganism, Nevigramon has a bactericidal or bacteriostatic effect.
In low concentrations, the drug acts only on proliferating microorganisms, inhibiting DNA replication. With prolonged use, it also inhibits bacterial synthesis of RNA (ribonucleic acid) and protein.
The minimum inhibitory concentration of nalidixic acid is 5–75 μg / ml, but already at concentrations up to 10 μg / ml it has an effect on many microorganisms.
Pharmacokinetics
Once in the gastrointestinal tract after oral administration, nalidixic acid is rapidly absorbed. Partially metabolized in the liver and rapidly excreted by the kidneys. Bioavailability is 96%.
The urine contains unchanged nalidixic acid and its active metabolite, hydroxynalidixic acid, which has a similar antibacterial activity. The active metabolite accounts for approximately 30% of the biologically active drug in the blood, 85% in the urine.
About 93% of nalidixic acid and 63% of hydroxynalidixic acid binds to plasma proteins. Nalidixic acid crosses the placenta, in small amounts into breast milk.
The maximum concentration of the active drug in the blood serum after taking Nevigramon at a dose of 1 g on an empty stomach is reached within 2 hours and is 20-50 μg / ml.
The maximum concentration of the active drug in the urine after a single dose of Nevigramon in a dose of 1 g is achieved after 3-6 hours and is about 250 μg / ml. Approximately 4% of nalidixic acid is excreted in the feces.
The half-life is 1–2.5 hours, but when using more accurate methods for determining this indicator, data of 6–7 hours were obtained.
Indications for use
The use of Nevigramon is indicated for the treatment of infectious diseases caused by microorganisms susceptible to the drug:
Cholecystitis;
Gastrointestinal tract (GIT) infections;
Cystitis;
Pyelonephritis;
Urethritis;
Prostatitis.
In addition, capsules are prescribed for the prevention of infections during surgery on the ureters, kidneys, and bladder.
Contraindications
Parkinson's disease;
Epilepsy;
Severe form of cerebral atherosclerosis;
Liver failure;
Porphyria;
Deficiency of glucose-6-phosphate dehydrogenase;
Renal failure;
I trimester of pregnancy;
Age under 12;
Breastfeeding period;
Individual intolerance to the components of the drug.
It is recommended with caution to prescribe Nevigramon capsules to patients aged 12 to 18 years.
For women in the II-III trimesters of pregnancy (especially in the last month of gestation), the drug can be prescribed provided that the benefit to the mother outweighs the potential risk to the fetus, since the safety of using Nevigramon during pregnancy has not been established.
Nevigramon, instructions for use: method and dosage
Nevigramon capsules should be taken orally 1 hour before meals.
Recommended dosage:
Adults: 2 capsules 4 times a day, the duration of treatment is at least 7 days. If it is necessary to extend the period of therapy, a single dose should be reduced to 1 capsule. For elderly patients, dose adjustment is not required;
Children over 12 years old (with a body weight of more than 40 kg): at the rate of 50 mg per 1 kg of body weight per day, the dose is divided into 3-4 doses in equal shares.
Side effects
Nervous system: weakness, drowsiness, dizziness, headache; rarely - toxic psychosis, increased intracranial pressure, convulsions (in patients with epilepsy, cerebral arteriosclerosis); in some cases - paralysis of the sixth cranial nerve (transient);
Gastrointestinal tract: nausea, epigastric pain, vomiting, diarrhea;
Visual system: decreased visual acuity, diplopia, difficulty focusing, impaired color perception (usually disappear when the drug is canceled or reduced);
Dermatological reactions: photosensitivity (redness of the skin, the appearance of bubbles that completely disappear after discontinuation of the drug within 2-8 weeks);
Allergic reactions: itching, rash, urticaria, eosinophilia, joint swelling, arthralgia; rarely - anaphylactoid reactions, angioedema, anaphylactic shock;
Others: rarely - paresthesia, metabolic acidosis, cholestasis, thrombocytopenia, leukopenia, hemolytic anemia with the appearance of glucose-6-phosphate dehydrogenase deficiency.
Overdose
Possible symptoms: nausea, vomiting, metabolic acidosis, increased intracranial pressure, convulsions, toxic psychosis, lethargy.
Conducting symptomatic and supportive therapy is shown. The patient should be under close medical supervision in a hospital setting.
special instructions
It is recommended to approach the appointment of Nevigramon with extreme caution in patients under 18 years of age, since there is a high risk of arthralgia and erosion of the cartilage tissue of the joints. If symptoms of these pathologies appear, the drug should be discontinued immediately.
During the period of treatment, the patient is contraindicated in direct sunlight; when photosensitivity appears, therapy with nalidixic acid is discontinued.
In case of manifestation of symptoms of psychosis, increased intracranial pressure, manifestations of signs of the toxic effect of the drug, its administration should be canceled.
The development of bacterial resistance to nalidixic acid usually occurs within 48 hours after starting the administration. The appearance of cross-resistance is possible with the simultaneous use of the drug with oxolinic acid and cinoxacin.
For urine analysis in patients taking Nevigramon, it is necessary to use glucose oxidase research methods.
Influence on the ability to drive vehicles and complex mechanisms
During the period of taking the drug, the patient is advised to be careful when driving vehicles and mechanisms.
Application during pregnancy and lactation
The safety of nalidixic acid when used during pregnancy has not been established. In the first trimester, taking the drug is contraindicated. In the II and III trimesters (especially in the last month of pregnancy), Nevigramon can be prescribed only if the expected benefit to the mother definitely outweighs the potential risks to the fetus (penetrating the placental barrier, nalidixic acid affects the tissue of the developing cartilage; in a newborn, significant increased concentration of nalidixic acid in the blood).
The drug passes into breast milk, therefore Nevigramon is contraindicated to be taken during lactation.
Pediatric use
The drug therapy is contraindicated in children under 12 years of age. Patients 12–18 years of age should be treated with extreme caution.
With impaired renal function
Renal failure is a contraindication to the appointment of Nevigramon.
For violations of liver function
Liver failure is a contraindication to the appointment of Nevigramon.
Use in the elderly
Elderly patients do not require dosage adjustment.
Drug interactions
With the simultaneous use of Nevigramon:
Warfarin, bis-hydroxycoumarin (oral forms) can enhance their effect, therefore, a dose adjustment of anticoagulants is required;
Melphalan increases the risk of developing gastrointestinal toxicity;
Probenecid, suppressing the secretion of nalidixic acid in the renal tubules, reduces its effect in the treatment of infectious pathologies of the genitourinary system, while increasing the likelihood of systemic side effects.
Nitrofurantoin (nalidixic acid antagonist) and other antibacterial compounds (chloramphenicol, tetracycline), when combined with the drug, suppress its effect.
Analogs
Nevigramon's analogs are: Palin, Negram, Nalidixic acid.
Terms and conditions of storage
Keep out of the reach of children.
Store in a dark place at temperatures up to 25 ° C.
The shelf life is 5 years.
Terms of dispensing from pharmacies
Dispensed by prescription.
Reviews about Nevigramon
In general, the reviews about Nevigramon are positive. According to most patients, this drug is very effective for infectious diseases caused by gram-negative bacteria, including cystitis, urethritis and cholecystitis. Of the side effects, drowsiness and pain in the intestines are most often mentioned.
Despite the fact that the drug is often prescribed to children under 18 years of age, it is recommended to use it with extreme caution, since nalidixic acid negatively affects cartilage tissue, especially in childhood and adolescence.
The cost of the drug is assessed as high, but many patients consider it justified.
The price of Nevigramon in pharmacies
The price of Nevigramon is on average 4493 rubles. per pack of 56 capsules.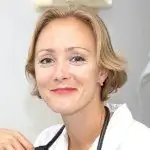 Anna Kozlova Medical journalist About the author
Education: Rostov State Medical University, specialty "General Medicine".
Information about the drug is generalized, provided for informational purposes only and does not replace the official instructions. Self-medication is hazardous to health!
Popular by topic