Table of contents: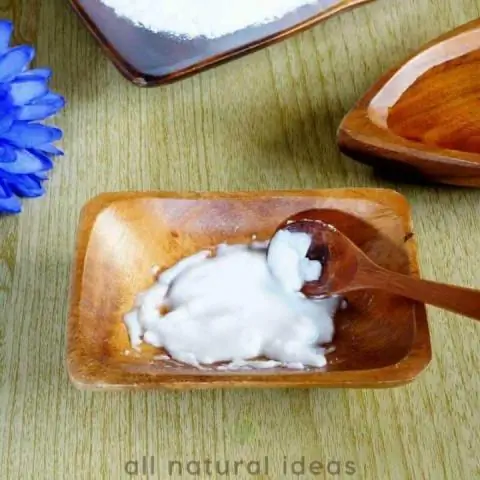 Video: Sodium Bicarbonate - Instructions For Using The Solution, Price, Reviews
Sodium bicarbonate
Sodium bicarbonate: instructions for use and reviews
1. Release form and composition
2. Pharmacological properties
3. Indications for use
4. Contraindications
5. Method of application and dosage
6. Side effects
7. Overdose
8. Special instructions
9. Application during pregnancy and lactation
10. Drug interactions
11. Analogs
12. Terms and conditions of storage
13. Terms of dispensing from pharmacies
14. Reviews
15. Price in pharmacies
Latin name: Sodium hydrocarbonate
ATX code: B05CB04
Active ingredient: Sodium hydrocarbonate
Producer: Yaroslavl Pharmaceutical Factory, CJSC (Russia), Moscow Pharmaceutical Factory, CJSC (Russia), Biosintez, OJSC (Russia), Dalkhimpharm, OJSC (Russia), Biochemist, OJSC (Russia), ABOLmed, LLC (Russia)
Description and photo update: 2018-24-10
Prices in pharmacies: from 2203 rubles.
Buy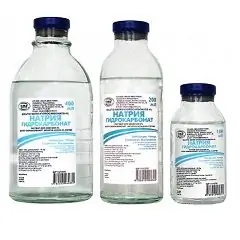 Sodium bicarbonate is a drug that affects the water-electrolyte balance.
Release form and composition
Dosage forms of release:
powder for preparation of solution for oral administration and topical application: crystalline, white, odorless; stable in dry air, in humid air - undergoes slow decomposition (10 g in heat-sealable bags, in a cardboard box 5 bags; 25 g in dark glass jars, in a cardboard box 1 can);
solution for infusion: colorless, transparent (in glass bottles of 100, 200 or 400 ml, in a cardboard box 1 bottle; in polyolefin bags of 100, 200, 250, 400, 500 or 1000 ml, in a cardboard box 12, 15, 24, 28 or 56 bags).
Active ingredient in powder composition: sodium bicarbonate - 100%.
Composition of 1 ml solution:
active substance: sodium bicarbonate - 50 mg;
auxiliary components: disodium edetate dihydrate - 0.2 mg; water for injection - up to 1 ml.
Pharmacological properties
Pharmacodynamics
Sodium bicarbonate is one of the substances with antacid action. The antacid effect is quick but short-lived. The resulting CO 2 neutralization reaction leads to irritation of the receptors of the gastric mucosa, increased gastrin secretion with secondary activation of secretion, which can cause discomfort in the stomach and the appearance of belching.
Increases the excretion of sodium and chlorine ions from the body, increases osmotic diuresis. When absorbed, it leads to alkalosis. Alkalinization of urine helps to prevent uric acid deposition in the urinary tract. The bicarbonate anion does not penetrate into the cells.
When applied topically, it has an anti-inflammatory effect.
Increases bronchial secretion (due to a shift in the alkaline side of the reaction of bronchial mucus), reduces the viscosity of sputum and improves its expectoration.
Indications for use
Powder
heartburn (for the purpose of short-term episodic relief of attacks);
inflammatory diseases of the oral cavity;
conditions / diseases in which dilution of bronchial secretions is indicated.
Infusion solution
Sodium bicarbonate solution is used for uncompensated metabolic acidosis associated with a variety of diseases, including the following:
intoxication of various origins;
large areas of burns;
shock;
diabetic coma;
indomitable vomiting and prolonged diarrhea;
acute massive blood loss;
severe kidney / liver damage;
prolonged febrile conditions;
postoperative period;
severe hypoxia of newborns.
The absolute indicator for the use of the drug is a decrease in blood pH below 7.2 (normal - 7.37-7.42).
Contraindications
Absolute:
metabolic alkalosis;
hyponatremia and hypokalemia (solution);
individual intolerance to any component of the drug.
Relative (sodium bicarbonate infusion solution is prescribed under medical supervision):
pregnancy;
lactation period.
Instructions for the use of sodium bicarbonate: method and dosage
Powder
oral administration: adults - several times a day, 500–1000 mg; children - 100–750 mg per dose (1 teaspoon of powder dissolved in 100 ml of warm water; take 1 teaspoon several times a day);
local application (in the form of rinses): 0.5–2% solution.
Infusion solution
Sodium bicarbonate solution is injected intravenously.
The drug can be used undiluted or after dilution in 0.9% sodium chloride solution or 5% glucose solution (depending on the severity of acidosis).
The recommended dosage regimen (the dose is administered over 4-8 hours):
adults: 5% solution, 50-100 ml;
children: 3–8 ml / kg (depending on body weight and age), the maximum dose for children under 2 years old is 13 ml / kg per day.
During the period of therapy, it is necessary to monitor the acid-base state of the blood.
Side effects
With prolonged use, alkalosis may develop, manifested in the form of decreased appetite, belching, nausea, vomiting, anxiety, headache, abdominal pain, tetanic convulsions, increased blood pressure (requires discontinuation of the drug).
Overdose
The main symptoms are decompensated alkalosis, tetanic convulsions.
In cases of development of alkalosis, sodium bicarbonate is canceled; if there is a danger of seizures, calcium gluconate is injected intravenously.
special instructions
In patients with concomitant kidney or heart disease, excessive sodium ion intake can lead to edema and the development of heart failure. When using sodium bicarbonate, it is necessary to control the acid-base state of the blood.
Systematic administration of the drug is not recommended, which is associated with the likelihood of urine alkalization and an increased risk of phosphate stone formation.
With short-term therapy, a shift of the acid-base state to the alkaline side is not accompanied by clinical symptoms, however, in chronic renal failure, this can cause a significant deterioration in the condition. Vomiting, which often accompanies peptic ulcer disease, can lead to increased severity of alkalosis.
Due to the intense release of CO 2, the development of perforation of the walls of the gastrointestinal tract is possible.
Application during pregnancy and lactation
Sodium bicarbonate infusion solution in women during pregnancy / lactation should be used with caution, which is associated with the likelihood of developing systemic alkalosis.
There is no data on the safety and efficacy of using sodium bicarbonate in powder form during pregnancy and lactation.
Drug interactions
Due to precipitation / hydrolysis of organic compounds, the following drugs / substances should not be dissolved in a solution of sodium bicarbonate: cardiac glycosides, acidic substances (ascorbic, nicotinic and other acids), alkaloids (theobromine, atropine, papaverine, apomorphine, caffeine and others), salts of magnesium, calcium, heavy metals (copper, zinc, iron). Also, do not mix the drug with phosphate-containing solutions.
According to the instructions, sodium bicarbonate can enhance the effect of drugs with hypotensive action.
Analogs
Sodium bicarbonate analogs are: Sodium bicarbonate-Eskom, Sodium bicarbonate.
Terms and conditions of storage
Store in a place protected from light and moisture at temperatures up to 25/30 ° C (solution and powder, respectively). Keep out of the reach of children.
Shelf life:
infusion solution - 2 years;
powder - 5 years.
Terms of dispensing from pharmacies
Released:
infusion solution - by prescription;
powder - without a prescription.
Reviews about Sodium bicarbonate
According to reviews, sodium bicarbonate is an affordable, safe and effective drug that affects the water and electrolyte balance. In addition to being used for the treatment of uncompensated metabolic acidosis, the drug is widely used for hair care, facial cleansing, caries treatment, and teeth whitening.
Price for sodium bicarbonate in pharmacies
The approximate price for Sodium bicarbonate is:
powder (10 g): 7 rubles;
infusion solution (200 ml): 33–39 rubles.
Sodium bicarbonate: prices in online pharmacies
Drug name
Price
Pharmacy
Sodium bicarbonate 40 mg / ml solution for infusion 200 ml 28 pcs.
2203 RUB
Buy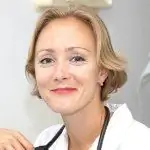 Anna Kozlova Medical journalist About the author
Education: Rostov State Medical University, specialty "General Medicine".
Information about the drug is generalized, provided for informational purposes only and does not replace the official instructions. Self-medication is hazardous to health!
Popular by topic